The Lakes At Litchfield Pawleys Island, SC
Offers Assisted Living and Memory Care
120 Lakes at Litchfield Drive, Pawleys Island, SC 29585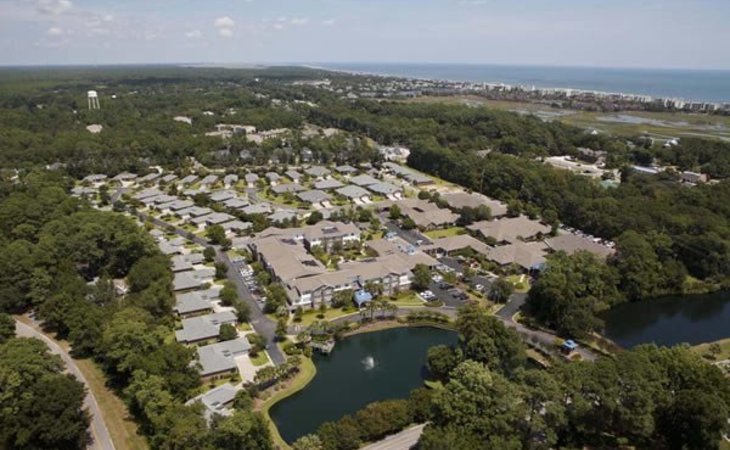 Top Nearby Assisted Living
---
Reviews of The Lakes At Litchfield
Assisted Living Reviews for The Lakes At Litchfield
July 04, 2018
I visited this facility
The Lakes At Litchfield was good. The food was excellent and the staff was good. They have a nice courtyard.
January 27, 2018
I am a friend or relative of a current/past resident
My friend is at The Lakes At Litchfield. He has been there for a month now. It's very expensive and older but very well run. The staff is extremely competent and friendly. The dining room is like a regular restaurant. They have many facilities for activities and a pool. It's a very large and very nice place. They have a rehab section, assisted living, nursing home, and memory care. If you ever get old and need a place to go, you need to go there.
Provider Response
Thank you for your excellent review of The Lakes at Litchfield. We're so happy to hear that your friend is enjoying all of the amenities that the Lakes has to offer! We are in the process of working through renovations in the upcoming months on our common areas as a commitment to our Members to provide them an excellent experience. As a Life Plan community, we have a full continuum of care available within the community from Independent Living, Assisted Living, Memory Care, Skilled Nursing and Rehab which relieves the stress of moving if you are in need of different services. They're all provided under one roof! Thank you again for your excellent review – we'll pass it along to our Executive Team.
August 04, 2017
I am a friend or relative of a current/past resident
My parents, who are in their 90s have lived here for two years now. They do independent living in a townhome which is spacious and beautiful. There are also apartments for independent living. If my parents need anything, they just call the concierge. A van will take Mom to the grocery store or appointments. The dining room is available for all meals (except Sundays, then only brunch). The food is delicious with daily specials, and the service is wonderful.. Once, my father needed extra assistance because he fractured his ankle. He was moved into Assisted Living for a couple of months while it healed. Everyone was SO nice. In addition to independent living, The Lakes also has Assisted Living, Nursing Care and Memory Care. The grounds are beautiful. My parents are happy here and my siblings and I are very comfortable knowing they are well taken care of.
Provider Response
Hi BacardiAK – We're so glad that your parents are enjoying their home and the amenities at Brightwater! Our staff are always here to help with anything that our Members need and go above and beyond to make sure that they're living comfortably! Their safety and security is our number one goal – we strive to help our Members live longer, happier, healthier lives. Thank you for your 5-Star rating.
October 31, 2015
I visited this facility
At Lakes at Litchfield, the food was excellent. The facilities were very enjoyable. You can buy in or you can rent, but they cover everything. You can have your own car, but they will take you wherever you need to go, e.g., doctor's, enjoyable places like concert and things like that. They have recreational facilities there. They have physical activities and hobbies. You live in a place just as if it was your own, but even if you need a light bulb changed, they will come and do it for you.
October 29, 2015
I visited this facility
The Lakes at Litchfield was very far from where we are used to being, but everything was secure, all the clients looked happy, and it was a good presentation. Everything was good. The service was great, and the food was delicious.
Provider Response
Thank you very much for the response and we are so glad you enjoyed your visit. Our Facility Services and Dining Services staff work diligently to make sure our community members are happy and stay happy. We hope to see you again soon. Please let us know if you have any questions or comments.
August 31, 2015
I visited this facility
We visited Lakes of Litchfield. It was a nice and a very clean facility, but my mother didn't like it. For her, she kind of got to a part where everything looked the same. She is really picky, but I can tell that this is a nice facility. It's nice when you drive in. The people there were certainly nice and helpful. They are also very affordable.
August 21, 2015
I visited this facility
Lake at Litchfield was really nice. It had lots of nice accommodations for both assisted living and independent living. It was very fancy. The staff was very helpful. I looked at one of the houses. It was very beautiful. It was very nice. Their dining room looked like a banquet hall. It was really pretty. They had waiters, and the menu of the day was posted. It looked like very comfortable. It was expensive, but it had a lot of accommodations, and I would recommend it. I saw a couple of activities. They were doing an activity at the courtyard. He also showed me the activity board of all the different things that they had. I liked that they were not bored and sitting around. They were able to interact with people, and the community kind of atmosphere was really nice.
Provider Response
Thank you for taking the time to review your visit to The Lakes of Litchfield. Our Interior Design and our Maintenance Teams take great pride in the appearance of the community and we are happy you noticed how hard they work to provide a beautiful place for our members and their families. Our Social Directors are equally dedicated and involved to offer an active and healthy life to our members. Thank you again for your kind words.
September 29, 2014
I visited this facility
I came across The Lakes by word of mouth. The people are friendly, knowledgeable and caring. The rooms were very nice and roomy. They have arts and crafts, lots of exercises, and trips out of the facility. We didn't eat there, but the food looked good. The dining area was very nice. The process was very efficient. It's a gated community.
March 27, 2014
I visited this facility
I visited Litchfield. The location where it's situated is beautiful. It's an older and smaller facility. It's retirement with assisted living and Alzheimer's. The room was fine but smaller and the food wasn't as good. It was clean. The staff was very nice. They had a lot of activities also.
May 31, 2013
I visited this facility
We had lunch at Litchfield. It is beautiful. The sales people are very good. The rooms are very big and very nice.
See all Assisted Living reviews (10)
See fewer reviews
---
Costs for The Lakes At Litchfield
---
Services and Amenities of The Lakes At Litchfield
Costs
Assisted Living Starting At:

$4110/month
Memory Care Starting At:

$4110/month
---
About The Lakes At Litchfield
The Lakes at Litchfield is a preferred retirement community in the Pawleys Island, SC area. Located on 23 acres, The Lakes at Litchfield is a full CCRC offering independent living cottages and apartments, assisted living, skilled nursing and memory care with rehabilitation services on site.
With a focus on wellness, The Lakes at Litchfield enjoys a research partnership with Wake Forest University and was a recipient of the 2011 Best of the Best Award for wellness programming from the Assisted Living Federation of America. The Lakes at Litchfield is a community for people who wish to live a longer, healthier and happier life.
Featuring a community clubhouse that includes dining services, pub, Internet cafe, game and activity rooms, multi-media center plus a wellness center with heated therapy pool and exercise equipment, The Lakes at Litchfield offers more social and fun opportunities than one could receive in their current house and at an affordable price. With The Lakes at Litchfield taking care of all the house and lawn upkeep, the paying of bills, the cooking of meals, and the planning and set up of parties and events, members get to spend more time enjoying their family, friends and interests.
Experience The Lakes at Litchfield and experience a maintenance-free lifestyle in a fun and exciting gated community. Living here could indeed impact your life by helping you live a longer, healthier and happier life.
Apartment Features
Temperature Control, Emergency Call System
Bathrooms: Private
Facility Features
Activities/Recreation, Beauty/Barber Shop, Internet Access, Private Dining Room, Fitness Room/Gym, Gardens/Outside Patio, Facility Parking, Private Laundry, Guest Meals, Room Service, Pharmaceutical Service, Separate Therapy Room, Transportation, Pet Permitted
---
Map of The Lakes At Litchfield
---