Elmcroft of Shippensburg
Offers Assisted Living
129 Walnut Bottom Road, Shippensburg, PA 17257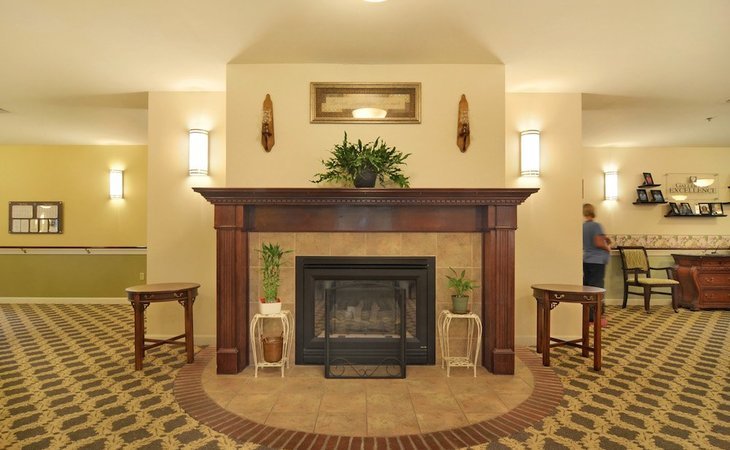 ---
Reviews of Elmcroft of Shippensburg
Assisted Living Reviews for Elmcroft of Shippensburg
November 07, 2016
I visited this facility
Elmcroft was very nice and clean, and the staff seemed nice
October 05, 2016
I visited this facility
The personnel at Elmcroft of Shippensburg seemed quite nice, but the facility was small. The rooms were small in comparison to other facilities I've seen, and that was kind of a detractor from the specific building. They weren't really connected with continuing care; it was like personal care, but more associated living. It seemed to be quite organized but very small.
July 29, 2016
I visited this facility
Overall, Elmcroft of Shippensburg was a good place, but they did not have a memory care unit, so we didn't choose it. They had a very nice dining area where they provide three meals a day, and their menu was very good. Their staff was excellent as well. The rooms were very nice and had their own separate walk-in showers and bath.
October 05, 2014
I visited this facility
We visited Shippenburg Health Care. It was very nice, extremely clean, and well laid out. Everyone was extremely friendly and helpful in answering our questions. We didn't eat there, but their menu was lovely and had a wide variety of food. One of the residents spoke to us and said that the food was excellent. The rooms were well maintained and spacious. We were pleased with the layout of the room and the quality of the furniture. They had a lot of activities for their residents, and they had quite a social calendar. This evening, they had a candle lit dinner. Occasionally, they had dancing. My mother seemed to like it, and she would have moved in tomorrow if there had been an opening. I thought in every facility, there's always room for improvement, and the only thing would possibly be a little bit larger rooms.
March 22, 2012
I am a friend or relative of a resident
Elmcroft of Shippensburg was the first assisted living experience for my grandfather. He was 90 years old at the time and remained independent after the loss of my wife. Upon our first visit to check out the facility the entire staff was genuinely nice. Assisted living facilities are often given a bad reputation but Elmcroft proved my family wrong.The set up of the facility is modeled after an apart setting giving each resident their own privacy, while also being able to be monitored by facility staff. The monthly fee that is charged to residence takes care of their utilities as well as services to keep the facility operational and rooms clean. My grandfather always loved games such as chess and checks, and there was no shortage of that at Elmcroft. The positive atmosphere encourages residents to enjoy their time there as well as each others company.I would recommend Elmcroft to anyone in the Shippensburg area. They helped my grandfather keep his independence while being cared for at the same time. They give assisted living facilities a good name and my opinion has changed regarding facilities such as Elmcroft.
September 10, 2011
I visited this facility
I volunteered at the Elmcroft Assisted Living facility in Shippensburg, Pennsylvania as a part of a college project. Every week, a group of four classmates and I drove to the Elmcroft facility to host multiple BINGO games. The residents of the assisted living home would gather in a large room as we read aloud the letter and number combinations, and the winners would receive small gifts. Upon our arrival each week, we were generously greeted by a member of the Elmcroft staff and were helped to set up our table at the front of the room. The staff then provided us with bottles of water and the prizes that were to be given away. They would then make a friendly announcement to all of the residents that BINGO would begin shortly. The staff at Elmcroft was always very courteous to our group as well as very respectful to the residents of the facility. The facilities such as the bathroom were kept very clean and every common room was kept very clean. Overall, my experience with Elmcroft Assisted Living was exceptional and I would recommend it to anyone in need of friendly and courteous care.
See all Assisted Living reviews (6)
See fewer reviews
---
Costs for Elmcroft of Shippensburg
---
Services and Amenities of Elmcroft of Shippensburg
Costs
Assisted Living Starting At:

$3600/month
---
About Elmcroft of Shippensburg
Elmcroft of Shippensburg is located in the rolling hills of the picturesque Cumberland Valley. Conveniently located off Interstate 81, Elmcroft sits on the northern edge of the historic town of Shippensburg. While maintaining its rural farming community feel, Shippensburg enjoys all the modern conveniences, such as nearby shopping, entertainment and cultural events. Shippensburg is the home of the annual "Corn Festival," a one-day street fair that draws more than 40,000 visitors every year, and to Shippensburg University, a college widely recognized for producing the elementary and secondary teachers of tomorrow.
Accommodations and Services
Elmcroft of Shippensburg is a senior living community offering accommodations for those who may require assistance in their daily living activities. It is staffed 24 hours a day with trained healthcare personnel and offers as much or as little care as a resident may want or need. In addition, Elmcroft of Shippensburg has a licensed Health Care Director on call 24 hours a day.
Elmcroft of Shippensburg features a full sprinkler system and each apartment is equipped with an emergency call system that may be used whenever the need arises. In addition, all exterior doors may be locked so that a secure environment can be maintained.
Each apartment includes all meals and basic utilities as part of the monthly fee. Also, residents enjoy daily activities, library and sitting areas, billiard activity room, housekeeping services and many other amenities. Other services include a beauty/barber shop for a nominal fee.
The emphasis on activities is a main thrust of the service offerings. Social interaction is a vital part of overall good health and Elmcroft of Shippensburg is committed to offering residents a full range of social, recreational and spiritual activities from which to choose. Scheduled transportation on the community van allows all residents to take advantage of travel activities.
Elmcroft of Shippensburg is truly a great place to live and work and is proud to be a part of the Shippensburg, Pennsylvania community.
---
Map of Elmcroft of Shippensburg
---