The Clinard House
Offers Assisted Living and Memory Care
108 Kathland Avenue, Thomasville, NC 27360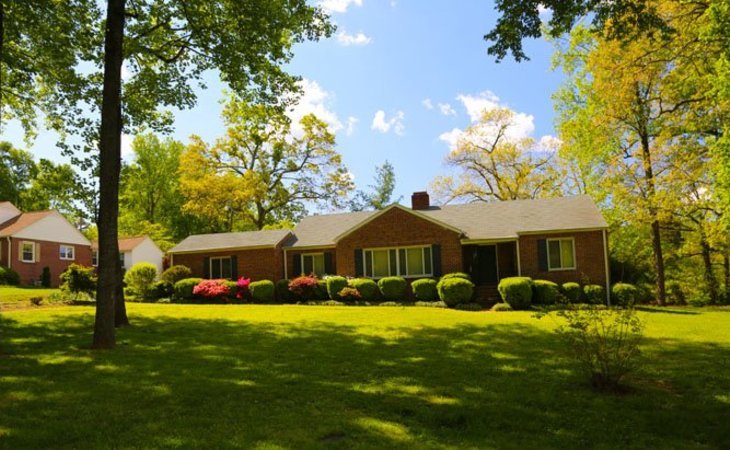 ---
Reviews of The Clinard House
Assisted Living Reviews for The Clinard House
November 04, 2018
I am/was a resident of this facility
The best staff on the planet
September 19, 2018
I am a friend or relative of a current/past resident
This is a home and in this home lives a family. My Mom feels loved and cherished in her final chapter of life in this body. Thank you for being so lovely and genuine in your care.
September 19, 2018
I am a friend or relative of a current/past resident
Kathy and her staff have not only met our expectations but they have exceeded our expectations on all aspects of their care for my brother. The journey that a family takes to make the decision to move a family member from their home is difficult. But that journey is made a bit easier when you know your loved one is truly loved and cared for at the home they have been moved to. We are blessed.
August 14, 2018
I am a friend or relative of a current/past resident
The best thing about Almost Home is the caregivers- they truly love the residents and treat them with respect and dignity and give them as much freedom as possible, while taking care of their needs reliably. My father always said that if he had to be in an assisted living place, this was the best one he could imagine.
August 14, 2018
I am a friend or relative of a current/past resident
I feel my mother has a home until she leaves this body for her eternal home. The team is not like employees more like family who care and engage my mother daily. My mother was always a joyful and socially active lady. Now she can enjoy her final years to laughter and songs at her level of ability, giving her quality of life even though she is in the midst of dementia. Thank you so much for your loving care from the heart. It shows with every communication and visit.
August 14, 2018
I am a friend or relative of a current/past resident
Awesome place. Everyone feels like family. Very clean. Never any odors. I truly believe my mother would not be alive today if I hadn't taken her here. And now she is not alone and in better health. The "Home style " setting is so much better than the institutional type facility. I really resisted taking her here. I always felt a nursing home was a death sentence. This is not typical of most nursing homes though. WHAT A BLESSING! Prayers were definitely answered for me. Kathy H. is an angel.
June 28, 2018
I am a friend or relative of a current/past resident
This new home for my mom has been a true life saver! The staff and facilities are exceptional! The low ratio and attention to personal needs and individual preferences is superb! This is a one of a kind setting and I would highly recommend this facility to anyone looking for a place that feels like home!
January 01, 2016
I visited this facility
We have a close friend who lives at The Clinard House. He was so lucky to have his family find this home for him. He had become to much for his wife to handle at home. Let's be real here no one wants to have to put a family member in a home but sometimes there is no other choice. This place is so wonderful. The people that work here really really do care about the people they care for. You just can't fake it 24-7! There is true caring and love for the patients that live in these homes. The staff has learned what our friend's need's are. They are providing care for him at a very high level. This is the first place our friend has gone to so I can't compare to other places very well. I just know about stories I have heard! We are so glad he is where he is and in such good caring hands. The whole family is so relaxed with him there It's nice to be able to go online and see what he is doing almost anytime. Thank you Kathy and your entire stall! You are all so wonderful!
See all Assisted Living reviews (8)
See fewer reviews
Memory Care Reviews for The Clinard House
February 13, 2020
I am a friend or relative of a current/past resident
My mom has Alzheimer's and struggled with "big box" traditional care. The Almost Home Group leverages an old model (care in a home) and makes it new in today's industry. More than that, they make it successful. No one will work harder to make your loved one safe and loved. And i have never felt such relief and partnership through this horrible disease.
September 25, 2018
I am a friend or relative of a current/past resident
The owner and staff of Clinard House, provided excellent care for my past husband who was afflicted with Lewy Body Dementia.. The staff to patient ratio is unsurpassed. The home is immaculately clean, the beds and bedding are comfy and resident's care is individualized and thorough. If you're in need of care for your loved one, Clinard House is an excellent option.
September 19, 2018
I am a friend or relative of a current/past resident
The Clinard House has been an answer to prayer. This is has become "home"for my mom. She has constant supervision, interaction, love and attention. The personal attention is amazing (they know her favorite ice cream, what she likes to drink, when she feels under the weather and I know she is really happy there). I know she is in very capable hands. I would highly recommend the Clinard House or any of the Almost Home Group Homes!
August 14, 2018
I am a friend or relative of a current/past resident
I cannot say enough good things about The Clinard House. My father was a resident there in 2015-2016 when he had Alzheimers disease. The staff at The Clinard House cared for him in the very late stages of his disease with love and compassion. They were a blessing to our family and to my father, and living there allowed my father to live with dignity. He had 24/7 one on one care in a home environment, and he was surrounded by people who were well qualified to care for him. Our family was extremely lucky to have found The Clinard House, and I give them my highest recommendation.
July 12, 2018
I am a friend or relative of a current/past resident
There should be more places like this. After some really horrible experiences with other facilities, I was finally able to find some peace of mind when my mom became a resident at Clinard House. Kathy and the staff are incredibly caring and treated me and my mom like family; things just felt "right" every time I came for a visit. My mom got individual attention and care and I felt like her welfare was more important than the profit margin. I no longer had to worry about whether she would be able to stay if she had the audacity to start acting like a (gasp) person with dementia. She was not traumatized by constant, needless hospital visits and she was not perpetually over-medicated. Plus I no longer had the sense of doom and anxiety that I did during the years she was in bigger corporate facilities. I'm so very glad I found Clinard House and I can't recommend the Almost Home Group highly enough. They made my mom's last two years so much better than the previous few had been. And they made my life significantly better as well.
June 29, 2018
I am a friend or relative of a current/past resident
The Almost Home Group uses a different approach than most assisted living/memorycare facilities ... as it is not a facility but a home. Kathy, the owner, has a mission to help folks with memory care needs as well as other needs and her approach is to bring them into a home as opposed to a facility or nursing home. Our family could not be more pleased nor thankful.
September 20, 2015
I am a friend or relative of a current/past resident
The Almost Home Group is an exemplary model of care for individuals walking the path of dementia. My Dad is a resident and has 1:1 care, home cooked meals, stellar hygeine care, and uncomparable nursing support in a residential setting nestled in a pristine, historic neighborhood. The Almost Home Group is pioneering a model of dementia care that is uncomparable to any residential facility. We had my father at a very highly rated memory care assisted living facility that was not a good fit for him because it wasn't 'HOME' and further was not able to meet his behavior needs he confronted in the later stages of his Alzheimer's disease. Our family had to weather poor adjustment and an inpatient psychiatric admission prior to having the privilege to ultimately have my father reside at the Clinard House with the Almost Home Group. He has been able to gain back significant weight due to his dramatic increase in appetite, maintain his hygeine with the attention of both the NA's and Hospice care within the loving walls of a residential dementia home. Kathy, the owner of the Almost Home Group has given our family the invaluable gift of peace of mind. I am a Nurse Practitioner and was paramount in our families journey to find care for my father, who has severe Alzheimer's disease. I have visited at least a dozen facilities, read numerous books, talked with endless admission directors and feel confident when I say there is not one residential facility that is delivering the level of dignified, personal and professional care as the Almost Home Group. Kathy's vision, perseverance and love for individuals with dementia is unmistakably her calling. I could scream from the rooftops in praise of Kathy, her husband and her staff.
See all Memory Care reviews (7)
See fewer reviews
Get Costs
---
Services and Amenities of The Clinard House
Room and housing options
Companion Suites:

We Only Offer Companion Suites
General
Resident Capacity:

6

Minimum Age:

65

Pets:

No Pets Allowed
Licenses
State Licenses:

FCL-029-012
Costs
Assisted Living Starting At:

$6000/month
Memory Care Starting At:

$6500/month
Get Costs
---
About The Clinard House
The Clinard House (by The Almost Home Group) is a co-ed home for seniors with memory loss and/or the need for assistance with Activities of Daily Living. Located in the lovely Erwin Heights neighborhood, this 1950's brick ranch is staffed by two (2) caregivers for a maximum of six (6) residents. The Clinard House accepts both ladies and gentlemen.
What Makes Us Special
Our residential care home is an excellent alternative to large nursing homes or locked Alzheimer's units. Our staff also includes a Registered Nurse, a chef, and an NCCAP Certified Activity professional.
Get Costs
---
Senior Living Communities near Davidson County, NC
Senior Living Communities near Thomasville, NC
Other Senior Care in Thomasville, NC