Woodland Assisted Living Waterville, ME
Offers Assisted Living
147 West River Road, Waterville, ME 04901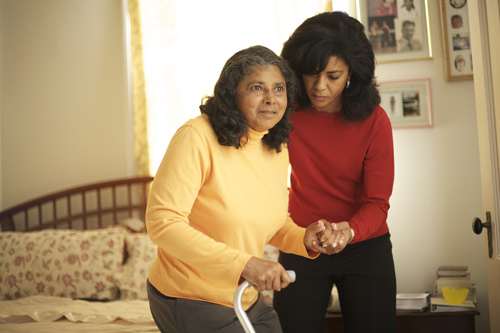 Top Nearby Assisted Living
---
Reviews of Woodland Assisted Living
Assisted Living Reviews for Woodland Assisted Living
November 02, 2017
I visited this facility
5 star. Awesome staff. Very clean environment.
November 02, 2017
I visited this facility
March 08, 2014
I am a friend or relative of resident
My grandmother used to reside here. We lived several hours away and later found out that my grandfather did most of her personal care, when his health declined it was awful. We found her always in the same clothes , not showered , rude staff. On one visit there were a weeks worth of dirty diapers behind her chair and her chair became so urine soaked it stung your eyes when entering the room, they never thought of cleaning or taking care of her so her diapers didn't leak. Many items disappeared , unprofessional management team. My gram basically ran out the door the day we removed her and I can not blame her. To this day I kick myself because early on she pleaded for me to help her leave, and I thought she was imagining things due to dementia. Do not put your family here, it's cheap, with beautiful surroundings , and some good hustlers - they are not licensed for nursing care, although they may lead prospective customers to believe they can provide all levels they can not, and they are not staffed with well trained or enough staff in the assisted living unit. In essence you get what you pay for. It's an overpriced hotel room with bad service. You can do better by finding a location that may not be as new but spends the money on training and retaining staff.
March 09, 2012
I visited this facility
We had a adopted grandmother who was a lovely woman who began to suffer from demntia. She was no longer able to care for herself. She didnt have family close by and she was alone. We did what we could but qwith young families and jobs. The ladies who care for the consumers are caring and profssional. they do not get paid enough. The home was always clean, activites were well planned out and appropriate to the consumer. There was always a homey feel to the place. The food was well thought out and prepared. Workers were postive even on the worse days. they would stop to say hello and update. they played music movies, read to the consumers. Some of the workers would make homemade treats, make warm blanketsor buy a much needed pair of slippers. One lady would always make sure that Grammy looked her best for church. She would curl her hair, make sure her clothes and jewerly were appropriate and her lipstick was straight. All things important to a proud christian woman. She would pray with grammy every night until she passed away. These aren't workers at this facility , they are clearly earth's unsung angels
February 29, 2012
I visited this facility
The facility was very nice and roomy for the residents, but they seemed to be short staffed and that ultimately reflects on the care of the clients. They had a lot of activities for the residents to participate in, which made down times for the residents go by quicker. Some of the staff could be a little friendlier and exhibit more patients with the residents. Overall I would say the whole experience was average. It wasn't so bad that I would never go back, but I probably would not send my relative there for care, unless the facility becomes staffed appropriately. It's very important with care of patients, clients, or residents feel comfortable, and that they feel that their needs are being adequately met on a daily basis. Assisted living care is not cheap, and I personally would want to ensure I was going to be getting the care I was paying for.
February 07, 2012
I visited this facility
My grandmother resides at Woodlands. For now. Not impressed with the facility so far. Very gloomy. Outside appearance is decieving. Looks like the owner pays more paticular attention on the outside architecture of the building then inside the buidling itself. My grandmothers room looked like it hadnt been cleaned in a week. I thought the point of putting here there is that they would help us care for her. Came on a weekend and she had been left on the toliet. The PCA had left the room to answer another call bell. My grandmother was asleep on the toliet. Not enough interaction. They have an activity calender, looks very pretty but rarely do they ever do anything on it. Front desk lied about a trip to dollar tree few weeks ago, found out by asking several other employees the same question. Noticed some of her things were missing. She had a lamp that shes had since I was a little girl, my mother said they removed it for no apparent reason. CRMA's could use an attitude adustment. They seemed more interested in what other employees were doing then the residents. One in particular was quite rude but Ive been told shes been let go since then. I rate this facility one star. Dont let the outer appearance decieve you. Visit often if you have a parent/grandparent living in a facility like this. Call frequently. My mother checks in 3 days a week, never at the same time or day to make sure shes showered and dressed. my mother has had to shower my grandmother herself do to understaffing. Lets just say if I had the room and money to move her out of there I would.
October 24, 2011
I visited this facility
In my time spent at Woodlands visiting my grandmonther, I first noticed the dark atmosphere unpon entering. It was discouraging. The rooms smelt old, and the air was very warm. I was pleased to see they had a community room with a piano. The staff were very pleasant and inviting to show us around and I felt they were kind and neat in appearance. I tried the food one day at lunch hour, and was very underwhelmed. Although, my grandmother enjoyed the company of the other individuals resideing there. The cook was a very large bald man who laughed from his belly, he also was known to sing while he cooked. Overall, I think the environment needed some renovations and upgrades, but all in all, I think she was well cared for.
See all Assisted Living reviews (7)
See fewer reviews
---
About Woodland Assisted Living
Woodland Assisted Living is a senior living provider in Waterville, Maine that offers residents Assisted Living. Contact Woodland Assisted Living for more details on services and rates.
---
Map of Woodland Assisted Living
---