Atria Hearthstone
Offers Assisted Living and Independent Living
3515 SW 6th Avenue, Topeka, KS 66606
PROMOTION! 70 days
The best time to choose Atria is right Now! For a limited time, you can lock in our current rental rate with no increases until at least January 1, 2020 - Details apply. Must sign lease by September 30, 2018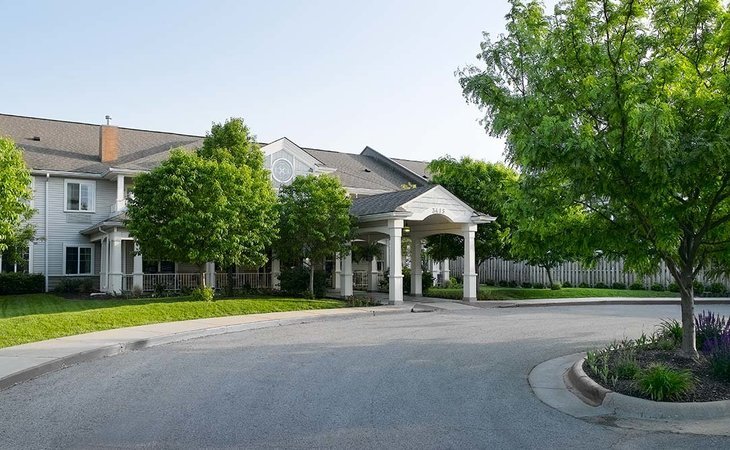 ---
Reviews of Atria Hearthstone
Assisted Living Reviews for Atria Hearthstone
December 16, 2016
I visited this facility
Atria Hearthstone had three meals a day and smaller apartments.
March 31, 2016
I visited this facility
Atria Hearthstone was top notch. We had a good meal. They have a very good, big facility. It's just not memory care; they have different units of care. I thought the rooms were excellent and huge. They had everything, and I was really impressed.
September 30, 2014
I am a friend or relative of a resident
My parents ended at Atria Hearthstone and my impressions about the place is really good. The staff working there has been excellent so far. We have been very pleased with them. I would say that the rooms of my parents are very nice. I like the meal service in particular. It is very much restaurant style, and residents can choose from several options. In totality, we have been very pleased with Atria.
August 31, 2014
I am/was a resident of this facility
Atria Heartstone is a wonderful community and they do a really good job for the residents. The rooms are good as well as the food. I only go down for breakfast so I am not really familiar with the activities, but I know they do a bunch of stuff. The facility is very good all in all.
June 27, 2014
I am a friend or relative of a resident
People I know had been there. I just heard good things about it. I visited it last year, too. I just thought it was the best place.
See all Assisted Living reviews (5)
See fewer reviews
Independent Living Reviews for Atria Hearthstone
March 19, 2018
I am a friend or relative of a current/past resident
Atria Hearthstone (West) is a very nice place, and they serve excellent food now. They provide a lot of opportunities for activities like exercises. The place is pretty clean, and housekeeping is doing a very nice job. The staff has been great and they are doing very well.
April 18, 2017
I visited this facility
My mom is in Atria. It is great, clean, and orderly. The staff is very friendly. The food is very good. They have bingo, card games, and movies. My mom loves it there.
October 21, 2016
I am/was a resident of this facility
The grounds at Atria Hearthstone East were nice. The memory care was secured so people couldn't get out on their own. It had a garden area off to the side, a restaurant within the area, and a workout room, so it was pretty self-contained. My parents were able to get a two-bedroom. They can use the other room as a dining room, so the layout is pretty nice.
September 25, 2015
I am a friend or relative of a resident
Atria is very nice, clean and very friendly. The apartment is just a one room with a bathroom and lots of covered space plus a kitchen. It's very easy and accessible for wheelchairs. They have a nice variety of food and lots of different things to choose from. It's very good and mother enjoys it. She has been there for five months. They have arts and crafts, different special nights or weekend nights, they do different activities, outings and bingo.
July 28, 2015
I am a friend or relative of a resident
My mom was at Atria. She was only there for three days. Her room was the best one. It had a front door and a back door to the garden. It had walk-in closet by the front door just for storage, and then a closet for the bedroom. It had a refrigerator and a stove. The stove was disconnected for safety reasons, but if they deemed you're not going to burn yourself, they would hook it back up. My mom had her own microwave there. Her room also had a nice walk-in shower. However, they kicked her out. They said they made a mistake in letting her come there, but they did refund us $2000. My mom liked the food at Atria, but she didn't have enough personal care for them to encourage her to eat something before she went to bed. They did check her blood sugar at night, which was nice. However, when I went to clean out the place and get her medicines, they didn't give me all of it.
June 22, 2015
I visited this facility
I liked Atria Hearthstone. Everybody was friendly. The dining area was clean, and the food looked attractive. It was very nice.
June 19, 2015
I am a friend or relative of a resident
I moved my husband into Atria in Topeka, Kansas. When I went there, I was pleased when I was walking around and working with the salesperson, but I am not happy at all right now. He had been assessed from another Atria nurse for his level of care, and it moved in one day -- the day that he moved in -- from a level one to a level six, which meant it was $1,500 more, and it was not at all what I expected; they can't substantiate why it is a level six. The room is lovely, but there is just more to that. He tells me that he really enjoys the food, he is not at all disappointed, and he looks forward to the meals. They have an activities director, but he chooses not to participate. To be very honest, I am probably going to move him.
Provider Response
Thanks for your review of Atria Hearthstone. We'd like to continue this conversation about your experience, so if you're open to it, please reach out to us at customerservice@atriaseniorliving.com.
May 06, 2015
I am a friend or relative of a resident
My parents live in Atria Hearthstone. They are helpful at the most part. It is a relatively new facility, so it is pretty modern. They have a studio apartment, and I will not actually call it big. They do have several activities scheduled throughout the day. They have bingo and dominoes. They have wine and cheese on Thursday afternoon. The food is very good. Actually, several members of the family come over and comment thay it is very good too. Their dining area is kind of a restaurant approach. If you have someone who qualifies well for assisted living, it will be fine.
August 27, 2014
I visited this facility
Atria is okay but it is not a continuing care facility. The staff who toured us was okay. We saw a room which was acceptable. We ate lunch there and it was okay. It was a restaurant style dining facility.
July 30, 2012
I visited this facility
From the outside Atria looks pretty nice. There is usually plenty of room for visitor parking, but it does get pretty crowded at times. The entrance of the facility looks a little old, but not uninviting. There is a small cafeteria area right inside the door. It's not very big or fancy, but it is comfortable enough. During the holidays, family members are invited to have dinner with their loved ones in this dining area. The food is decent and sometimes it is much more convenient to have dinner there when mobility is an issue for your loved one. The living quarters there feel like small apartments. There is a small, but fully equipped kitchen, a small living area, a bedroom with attached bathroom, and a balcony big enough for a small table and chairs. Residents have the option of cooking for themselves or going downstairs to the cafeteria for meals. There are also activities that tenants have the option of participating in. The employees of Atria all seem very friendly and helpful. I have never heard any complaints about the facility and overall it seems like a nice place.
June 22, 2012
I am a friend or relative of a resident
This is a first rate facility though the charges are compatible with other, similar facilities. The food service is especially wonderful, and that is very important. The grounds are garden-like, there are many outdoor areas and residents and visitors are encouraged to use the porches and patios in nice weather. The supervisory staff is extremely helpful and attentive and eager to please. We were impressed that Atria even arranged movers for us at no extra charge and that was a tremendous help when we had so much to do in such a short time. Since our relative's stay we have found everything to continue to be first rate. They have planned activities almost every hour of the day including games, exercises and crafts. There is a separate wonderful crafts room. They also have special programs, trips, etc. The residents get wonderful services - cleaning, hairdresser, physician, nursing staff - and comfortable rooms with wonderful views of the park-like grounds.Beautiful place, caring people, clean and safe, friendly and did we mention the food is excellent!
May 09, 2012
I am a friend or relative of a resident
Atria is a lovely facility that cares about their residents. The staff is very friendly and attentive to the needs of their residents. They try to keep their residents very busy with activities such as bus trips to local restaurants, shopping trips to the mall and grocery stores, trips to the local casino to eat and gamble. At Christmas time they go our nightly and see the Christmas lights in the local neighborhoods. A resident life there is not a boring one. They have delicious meals and every monday night during football season they have a Monday Night Football party in the Atrium to watch the game and have food and drinks.
July 20, 2011
I visited this facility
Atria operates several retirement communities throughout the country, and two in Topeka happen to be located next door to each other. This facility is the larger of the two, with a three-story apartment complex in which every single apartment for both Independent and Assisted Living has its own private patio or balcony, which is a nice touch. The facility is located on a small street, but very close to the freeway and a few major arteries with shopping and dining nearby. In addition, the grounds and facilities are very well manicured - it is a priority for this facility. My first impressions of this facility were less than stellar. While the physical facility is beautiful, and impeccably clean, the atmosphere was rather cold. I did not feel warmly welcomed and almost felt as if my tour was a problem for my guide as she had something better to do. She did warm up some as the tour progressed but her insistence that their customer service is what sets this facility apart did not jive with my experience. On the other hand, the residents seemed very happy and friendly, and the facility is certainly a high-end luxury apartment complex with every amenity. The "West" building on campus, operated as a separate business from "East" is the older of the two, but it has been so well maintained and remodelled it would be hard to tell. The facility is pet friendly, and has birds and fish tanks in the entryway. However, some of the hallways are dark, and too warm. The rooms are a good size, but a little smaller than in the other building. In both buildings, however, they have full-size kitchens in many of the Assisted Living apartments, which is extremely rare. For those for whom this poses a safety concern, power to the stoves and ovens can be turned off. I would recommend touring this facility, perhaps a couple of times, to determine whether the prospective resident feels at home. I am confident the care quality is good, but it would probably only suit some personalities to live here.
See all Independent Living reviews (13)
See fewer reviews
---
About Atria Hearthstone
Atria Hearthstone East in Topeka is a senior community with a warm, family-style atmosphere. The beautiful, three-acre campus - shared with Atria Hearthstone West - offers lovely area for walks and for relaxing with friends. Atria Hearthstone East is conveniently located to nearby shopping malls, restaurants, Gage Park and well-known medical facilities.
Atria Hearthstone East offers the following services:
Staff available 24-hours a day
Choice of apartments
Anytime Café
Full-time director of events and activities
Emergency call system in every apartment
Daily restaurant-style meals
Housekeeping services
Maintenance of apartment, community, and grounds
Medication assistance
Scheduled local and medical transportation
On-site beauty salon and barbershop
Memory Care - Life Guidance®
Atria Senior Living is a leading operator of independent living, assisted living, supportive living and memory care communities in more than 180 locations in 28 states and seven Canadian provinces. We are the residence of choice for more than 21,000 seniors, and the workplace of choice for more than 13,500 employees. We create vibrant communities where older adults can thrive and participate, know that their contributions are valued, and enjoy access to opportunities and support that help them keep making a positive difference in our world.
---