Rheumatoid Arthritis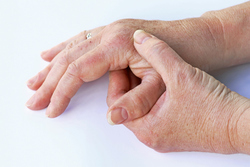 Rheumatoid arthritis is a chronic condition that usually begins slowly, causing stiffness, fatigue, and joint pain. Over time, though, the inflammation can become so severe that the function and appearance of the hands, fingers, ankles, feet, and knees -- as well as other parts of the body -- can become affected.
WHAT KIND OF HELP DO YOU NEED?
Signs and Symptoms of Rheumatoid Arthritis
FAQ: What Is Rheumatoid Arthritis?