Managing Medications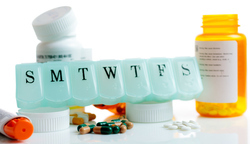 Avoid medication mistakes that kill , get tips on managing meds , and learn how to save money on prescriptions that aren't covered by Medicare . Plus: Read frequently asked questions about medication or ask a question of your own .
Medication Mistakes
How Do We Prevent Drug Interaction Problems?
Side Effects
Medications at the End of Life
Managing Medications for Others
How to Manage Medication for an Uncooperative Patient?
Is Assisted Living the Correct Step if Dad Won't Take His Medications?
Tip: A Little-Known Veterans Benefit Can Pay for Nursing Home Care
A little-known veterans benefit covers nursing home care and other medical expenses. Learn what veterans benefit covers nursing home care, how to qualify and apply.
read more