Manorcare Health Services Carrollwood
Talk to a Family Advisor: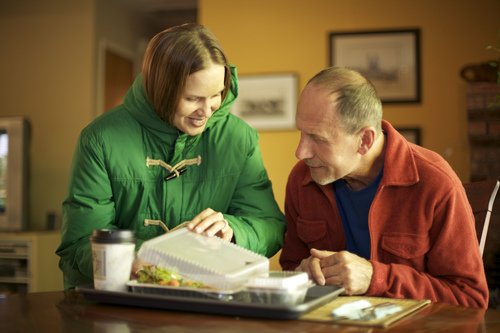 Reviews of Manorcare Health Services Carrollwood
---
Worse than bad
September 18, 2017
I am a friend or relative of a current/past resident
Manorcare didn't know what room they'd placed my father in a few minutes after he arrived there for rehabilitation. I had to find him myself. Then, they left him in the transport wheelchair they had used to move him into his room. The CNA left and thank goodness we were there! My father's wheelchair went over backwards and my husband was able to catch the wheelchair before my dad hit his head! The next morning my father called me at 7:20am to tell me he'd been laying in his own urine for an hour and no one would come to help. My father will not be there any longer than absolutely necessary. Waiting to hear from another facility if they have a bed for him. Manorcare Carrollwood is beyond dreadful!
---
OMendez
July 27, 2017
I am/was a resident of this facility
I was a pre-registered patient, and ManorCare got me into their rehab program without a problem. Everything was phenomenal, from the staff to the therapy. The building was also very clean. I will be back in a few months after my other knee replacement.
---
KDelgado
July 26, 2017
I am/was a resident of this facility
I was a patient at this rehab center, and everything there was excellent! I was very impressed by the nurses and rehab program. Rhoda and Janette in therapy were extremely nice. They worked with me, so I could get better and go home. Pedro, the nurse, was also wonderful. The facility is beautiful and clean.
Provider Response
Thank you for sharing! We are proud to have cared for you!
---
JohnCampo
July 26, 2017
I am/was a resident of this facility
I am very impressed with the exemplary and effective work of the employees. Elba, the CNA, is very good and does things that are not even asked of her. She goes above and beyond not only for me but her other patients as well. The therapists are excellent, especially Xavier and Diana. The nurses are also excellent, and I'd like to give a special thanks to Heather, Vicky, and Sherry for their exemplary work. No one at this facility, from nursing to housekeeping, has a bad attitude. Armando and Stephanie went out of their way to help me. I was a pre-registered orthopedic patient, recovering from hip surgery, and I was able to be admitted to the center in a timely manner. I chose this facility because my mother was a patient here, and she had great care, the building was clean, and the PT was excellent. It was an easy choice for me to come here myself, and I could not have picked a better facility to get me back home in a timely manner!
Provider Response
Thank you for sharing John! We are proud to care for you and help you get home.
---
Sue-Helen M.
July 25, 2017
I am a friend or relative of a current/past resident
My 92 year old father was admitted for rehabilitation after a hospital stay. The facility is very clean. Without exception, everyone that I dealt with, which included rehab staff, nutrition staff, nurses, nursing assistants, social workers, admission staff ... was super capable and skilled and compassionate. I was confident that my father was being well supervised and cared for.
---
marinejimmythomas
April 12, 2017
I am a friend or relative of a current/past resident
My mom has Stage 4 Cancer in the Brain and Spleen in multiple areas. Florida Hospital Tampa was great with her overall care but there is nothing more that they can do but just make her comfortable. My family's wish was to have my mom and dad together for her final days at ManorCare of Carrollwood. Since my dad has been there for a year now; ManorCare granted our wish and later today; she will be brought to their facility! The Administrator, Director of Nursing, Admissions, Unit Managers, Nurses, CNA's and Facility at ManorCare of Carrollwood is nothing but caring, understanding and compassionate for their patients and families. If there was anyway to give them an award from the Department of Health for their outstanding healthcare that they have given to my dad and now my mom; it definitely should be awarded to them. This facility will ALWAYS have my back and blessings. God Bless them all.
Provider Response
We are honored to care for your mom and appreciate you sharing this experience.
---
Peace2012
March 16, 2017
I visited this facility
I first came to ManorCare in February after being at a few other rehab centers previously. I must say, I was pleasantly surprised by ManorCare being that my other rehab experiences were not positive ones. I was given the respect and kindness that I never received elsewhere. My first day at ManorCare I wasn't feeling well and that is when I met Pedro, who offered me soup and was truly genuine. Everyone from there on had that same caring nature, and was extremely kind. Krista the care navigator was very proactive and got me the boots I needed for my feet. Whatever I needed, it was done. ManorCare exceeded my expectations and I have been to other rehab facilities before. I can honestly say that nothing compares to the care I received at ManorCare. If you are in the position where you need to go to a rehab facility, this is the place to go. ManorCare has integrity, kindness and a excellent management team. Thank you for everything!
Provider Response
Thank you for sharing! We are proud to serve you and wish you well.
---
daughterch
February 28, 2017
I am a friend or relative of a current/past resident
My mother was a resident in the long-term section for just over 5 years. When she moved there after being discharged from the hospital, she was in very poor shape and none of us expected her to live more than a few weeks. With the care she received there (as well as answers to prayers), she lived another 5 years.. She was extremely happy there and my sister and I were very pleased with the care she was given. While it was not 100% perfect, we could not have asked for better care.
Provider Response
Thank you for sharing daughterch! We are proud to have served your mother.
---
Jimalee2
June 06, 2016
I am/was a resident of this facility
When I first began the process of looking for a rehab facility, I didn't know where to start. My only inclination was to find a center that was a reasonable distance from my house. By the luck of the draw, I was offered a bed at ManorCare of Carrollwood. It ended up being the best decision I could have made for my recovery process. Having the right team behind me allowed me to exceed my goals and expectations. The singe most important thing about my recovery was to improve my balance and be able to ambulate on my own or with an assisted device. On the first day I was assessed by the rehab team at ManorCare it took three women to hold me up just to walk a step and a half. As I got to know the therapists, I developed a personal relationship with them and we would laugh and joke at times. All joking aside, I thoroughly enjoyed the professionalism the therapists displayed and I would not be where I am today without them. I can now walk around the building everywhere with my walker and I am very excited to return home. I would like to thank Sara and Shante who both made me feel that I needed to push myself more and more each day in order to make them proud. I would also like to recognize the nursing team especially Rhonda, Betty and Heather. I had a Diabetic Ulcer that was as big as a baseball and the nurses changed the bandage, cleaned it, and wrapped it back up on a daily basis. Now my ulcer is completely gone and I don't have to wear a bandage anymore. I don't usually like to give out 10's for any place but this center deserves a 10 out of 10. I would highly recommend this facility.
---
jimmythomas
April 12, 2016
I am a friend or relative of resident
My father is currently a patient at ManorCare Health Services-Carrollwood. Just to start, my father has been at previous facilities which were below standards in patient care. Upon arrival to ManorCare Health Services-Carrollwood, my family and I have felt the care that is being given to my father is above our expectations. His Unit Manager Joan B, RN Laurie D, Speech Therapist Mayri T, Physical Therapist Anna, CNA Mark B and CNA Laura H should all be given 5 out of 5 stars for their tremendous effort in making my father's stay pleasurable as well as his care. I am a former United States Marine and have seen my share of patient care and based on this, I would highly recommend ManorCare Health Services-Carrollwood from any other facility in the Tampa Bay Area! Excellent job!!!!
---
Happy_daughter
February 22, 2016
I am a friend or relative of resident
My mother received excellent care while at ManorCare of Carrollwood! Her recovery was remarkable. The staff was very helpful and we were very pleased. There is nothing I would change. Thank you!
---
lwallace
December 01, 2015
I am a friend or relative of resident
The Nurses and Techs were good but the Social Worker was completely incompetent. My Mom was in there back in May 2015 and the Social Worker back then arranged everything days in advance of her discharge. We had the Medical Equipment in home the day before. This time around we had a different Social Worker who happened to be the first ones boss which I find ridiculous because she was completely unprofessional. She told my Mom on a Friday that she had to leave on the following Tuesday and then on Tuesday my Mom asked if she arranged her Home Health Care and she looked at her with a surprised look and said Oh are you leaving today? The Nurse had the same reaction. My Mom was like well you're the one who said I had to leave. Then I called her multiple times that day to see why they dropped the ball and even had her paged and she was gone before I made it there to pick my Mom up. The Medical Equipment company said they received their order at 5:15 and was told it was to be delivered that night. The Home Health Services had not even been arranged. It was a joke. I am convinced they wanted my Mom out of there because she had a balance from the previous time. The day before they told her she had to leave they called harassing me for a payment when I had just given them a $300 payment days earlier. My Mom was in no condition to be discharged and they could care less and only made arrangements when I left a message threatening to report them to Elder Affairs. I will never use this facility again and will tell everyone I know not to!
---
Carusoville
October 03, 2015
I am a friend or relative of resident
If I could give them NO stars I would. Within the 1st 3 hours my father was there he had a horrible fall. We were told that they can't prevent falls and if we wanted to hire someone to watch him, we could. My family decided to take turns watching him 24/7. When we first got there his room smelled like urine/feces/body order. His roommate smelled like a homeless man, he hadn't been bathed in weeks. I had to create a scene just to have the room cleaned and the urine and feces cleaned from bathroom floor. After speaking with several staff members the room was cleaned, the roommate was bathed and his linens changed. I had to go out and by Lysol and cleaning products to disinfect. After being in the facility for less than 48 hours, my father had to be rushed to ER - after going to ManorCare to heal from a stroke, he now has brain swelling from the fall he had while in the care of ManorCare. No one there except the food service people and Ana the physical therapist really cared or showed any compassion. Every one else was cold and uncaring. Unless you want to stay with your loved one 24/7 to make sure they are not injured, in a clean and safe environment and that they are being attended to regularly, I would NOT recommend this hell hole. Appearances can be deceitful and they strive to make the halls look pristine but that's where it stops.
---
HowardH
June 23, 2015
I am/was a resident of this facility
My stay was all positive. I had ALOT of confidence in all my nurses. They were very competent. Anna and Amy were GREAT therapists. I enjoyed the food. The facilities were always clean. Randy and Iran were always helpful CNA's and had a great work ethic. Manor care was so great I came back for a second stay and would come back for a third if I ever needed them again!
---
Lord
June 11, 2015
I am a friend or relative of resident
PLEASE DO NOT choose thi facility for a loved one. My mother was placed here for a little over 20 days and I cannot explain to you how her entire bottom áreas are covered with fungus and sores. She had not been bathed for two weeks and so I complained. Her meds that were to be given at 8 am no later than 9 were sometimes given after 11. That I'm aware of they missed a breakfast and they missed a meal (that I'm aware of). At night she would ring bell for nurse because she was soiled and they would tell her she wasn't so she'd go for hours with poop on her pamper. This happened alot . We'd complain and they would tell us they were investigating. NOTHING ever got better or done. We would hear about other patients complain about not being bathed. Other patients complaining about being kept on wheelchair for long periods of time and their bodies aching. DO NOT TAKE YOUR LOVED ONES HERE.
---
Mark3987
June 06, 2015
I am a friend or relative of resident
We witnessed first hand a resident yelling that he had to go to the bathroom for 20 minutes without anyone helping him. Then after he wet himself and the bed, the nurses were arguing over who would clean him up. The facility also failed to submit orders to a nearby hospital for a medical procedure and then recommended we take our relative to the ER for the procedure ourselves. From our relatives brief stay we witnessed total incompetence. Please do not put your loved ones in this facility.
---
Ron26
May 30, 2014
I visited this facility
Manorcare Health Services wasn't as clean. There was a lot of commotion and activity going on. There were people running everywhere, patients winding about in the hall in wheelchairs. I just didn't get a good impression of it. The staff was good. I suppose the rooms were adequate. They weren't anything special.
---
Lala1
June 29, 2013
I am a friend or relative of a resident
My mom has been with Manor Care for about two months now. The facility is nice and clean. The staff is very open to work with me for my mother's care. I am very pleased with them. They have some difficulties dealing with the diet initially because she is vegetarian, but eventually they were able to work it out. They also have a full dietary staff.
---
virtual reader
November 21, 2011
I visited this facility
When visiting Manor Care Health Services I noticed that the parking was good and landscaping was nice. When I walked into the facility I noticed that the residents were very busy either doing arts and crafts, watching television on the big screen tv and some were even on computers. There is adequate space to visit with the residents either in their spacious rooms or in the many sitting areas. There is also an outside area in which to visit. The lunch when served looked very colorful and I noticed that the residents did seem to enjoy their meal. As I toured the facility I noticed they had an on staff Nurse Practitioner and ample friendly staff. When the residents were finished with their lunch I noticed that pet's were brought into the facility to visit with the residents and many of the residents were ecstatic to visit with the pets. After touring the entire facility I also noticed they have a beauty shop and barber shop for the residents, therapeutic room, large activities department and the inside of the facility has ample pictures on the walls and the walls were very colorful and pleasing to look at.
---
About Manorcare Health Services Carrollwood
---
Manorcare Health Services Carrollwood is a nursing home in Tampa, FL that provides patients with skilled nursing care as well as private or shared accommodations. Contact Manorcare Health Services Carrollwood for more details on housing, services, and rates.
Features of Manorcare Health Services Carrollwood
---
Medicare (ratings last updated: 06/16/17)
Health:
Overall:
Quality:
Staff:
Medicare Provider Number: 105700
Ownership Type:

For Profit Corporation

Date Certified:

05/01/2017
Location of Manorcare Health Services Carrollwood
---
Top Cities for Assisted Living
---
Request Info
Get full access to reviews, cost information, and amenities