Regency Jewish Heritage Post-Acute Rehabilitation and Nursing Center
380 Demott Lane, Somerset, NJ, 08873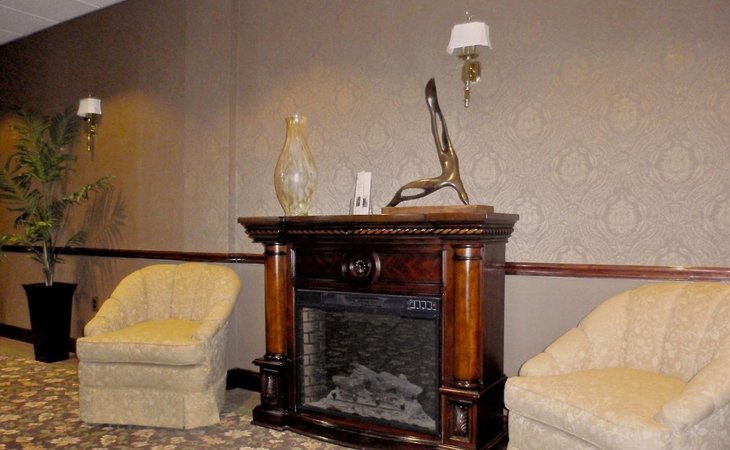 Reviews
of Regency Jewish Heritage Post-Acute Rehabilitation and Nursing Center
---
---
October 27, 2017
I am/was a resident of this facility
everything here was fine except my room which was cold.
October 25, 2017
I am a friend or relative of a current/past resident
While my Mom was in rehab we were very impressed with the atmosphere they provided to their patients and families. We especially enjoyed the being able to have sumptuous weekend meals with Mom in their lovely dining room. It meant so much to all of us. The Chef's brisket was my favorite!
October 16, 2017
I am/was a resident of this facility
The rehab at the Regency Heritage was great. When I first arrived, I was in bad shape and now, thanks to the efforts of their physical therapists, I'm back to doing things for myself! I recently suffered personal setbacks and Regency opened my eyes to the fact that I'm not alone and that their are truly good people who wish to help. I'll always be thankful.
September 29, 2017
I am/was a resident of this facility
There are so many people I'd like to thank for my getting healthier and stronger after having bilateral knee replacement. I admit I was nervous going anywhere after leaving the hospital and going to place for rehabilitation. Regency Jewish Heritage gave me the personal touch I needed, while giving me my own room to relax. I was welcomed by EVERYONE in Administration, physical therapy, nurses, assistants, housekeepers, social workers, etc. Everyone made it a priority to listen to my needs while getting stronger.
September 26, 2017
I am a friend or relative of a current/past resident
this place has changed since the last time my mother was here. my mother was first sent here early last year in 2016 after suffering a fall at home. she received great care and all teh staff members made her feel at home while she recovered. it was an easy choice to go here again after she was hospitalized again this year for her rehab. but this time around the care she received was awful. most of the staff that took care of her last time were no longer there. instead there were alot of staff agency nurses and aids who did not take care of my mother well. they were rude and rough with my mother and paid her no attention at all. the difference is night and day and we were shocked. i asked one of the aids who i recognized and she told me there was a management change last year and anew nurse director pushed alot of the old staff out and replaced them with new ones and agency staffers. my mother suffers from dementia and needs special care. i can see that the new management here is heading towards a new direction and i am not going to bring my mother back here. there are alot of new rehab centers in the area that would be better.
September 19, 2017
I am a friend or relative of a current/past resident
everyone has been very nice and very efficient. They cannot help you enough. Connie 7-3 nurses aide has been so good to our loved one. She told me that she should be nominated for employee of the month because she goes above and beyond the call of duty
September 11, 2017
I am/was a resident of this facility
Everyone at the Regency Heritage was very good to us. If and when we will need assistance with rehab again, we will definitely return to Regency Jewish Heritage in Somerset, NJ
August 08, 2017
I am a friend or relative of a current/past resident
Regency heritage nursing and rehab in somerset, nj, cared for my Mom recently for 4 weeks after she was transferred there from the hospital. Their staff made an effort to get to know her so that they could ease her transition to rehab. They provided the care she needed and encouraged her to work hard each day so she could get better. They are truly a dedicated staff of nurses, aides, physical and speech therapists, social workers, food service workers and maintenance. Their kindness, competence and concern during this difficult time will always be appreciated. Sheryl.
July 23, 2017
I am/was a resident of this facility
I had intense pain from 4 fractured ribs and 2 CNA's and a man from housekeeping figured out which mattress to get me! THAT is how my experience at Regency Jewish Heritage in Somerset began - and it only got better from there. In every department, my experiences have been much more than I ever hoped they would be. The people who helped me, the skills, warmth and commitment to me - all the patient interactions I saw - where what helped me learn more, feel better faster, and feel empowered. I can't imagine care more individualized, programs being more appropriate - I can take this home with me! The food I had here was delicious as well. I have nothing but thanks for the people at Regency Heritage
June 26, 2017
I visited this facility
I enjoyed the friendliness of the Regency Heritage. They have been very caring and considerate and therapy is wonderful. I wasn't thrilled to find ants in the bathroom (which is why I'm giving 4 - 1/2 stars) but they did rectify it.
May 30, 2017
I am/was a resident of this facility
Took a bit long for staff to come. Didn't care much for the breakfast and eggs. I was very happy with the rehab and with the nurses and aides.
February 11, 2017
I am a friend or relative of a current/past resident
My mom was at Regency for six weeks after she broke her leg. The staff was so kind and very helpful. The food was good and always served warm. I would take my mom back to Regency again if she needs it.
Provider Response
Thanks so much for your kind words! God bless you and your family!
February 03, 2017
I am/was a resident of this facility
I have been in rehabs as a visitor and thought the residents were treated as low class individuals. However, as a resident at Regency, I felt I was treated as FAMILY. The staff - and I mean ALL the staff, were friendly, caring and helpful. I would recommend Regency to family and friends.,
December 16, 2016
I am a friend or relative of a current/past resident
Regency is welcoming, had beautiful paintings on the hallway, and felt like a family atmosphere. The owners would talk to you and ask what we like. The food was not great because my mother complained about it. Their therapy was nice, and my mother had fun doing it. They would do her hair and nails, and had arts and crafts.
September 26, 2016
I am/was a resident of this facility
Very happy with the services at Regency Heritage. The nursing care and rehab was very good, they are all Caring and compassionate people. Liza the Nurse Practitioner was exceptional. I was very happy to meet the owner, Mr. Gross and Administrator, Mr. Bengio. I own several hotel businesses and I can see this facility is well run. Overall, I have no complaints, it was a positive experience to be at Regency.
September 17, 2016
I visited this facility
My mom is a resident and the Regency is a huge Blessing. She had a stroke June of 2015 and came out of a different facility. She was unable to care for herself and needed 24/7 care. We have been so impressed with everyone at the Regency. My mom has made so much progress it is amazing. She has had all kinds of rehab/therapy and has made incredible progress. The medical staff is very caring and my mom likes all of them. The Regency has beautiful grounds with places to sit and the interior is very tastefully decorated. The dining room is white tablecloth and served. My mom mostly chooses her meals in her room she is very private but has been a little more adventurous lately. My husband and I have dined with her in the lovely dining room and we were very pleased with our dinner. It was delicious. There are many activities to participate in and concerts/shows to watch. My mom likes to watch sports on her large flat screen tv ( she gets more channels than we do!). The business/clerical employees are very friendly and helpful. We couldn't have made it through the mountain of confusing paperwork without them. The Regency is clean beautiful and staffed with wonderful people. They gave the mom that we thought was lost back to us. We love it and more importantly she loves the Regency. Diane and Joe
August 29, 2016
I am/was a resident of this facility
it was wonderful and everyone was nice, caring and respectful to me.
August 01, 2016
I am/was a resident of this facility
There are so many people to thank for my recent wonderful stay at the Regency Heritage Nursing and Rehabilitation Center in Somerset, NJ. All of these people and many more contributed and did everything possible to make my stay as comfortable as possible and get me back on my feet healthy and strong: Nora and Blanca in Housekeeping Phylicia in Social Services Zema and Yvette - CNA's Lauren - a RN Russell - Director of Housekeeping. God bless them all.
May 18, 2016
I am a friend or relative of resident
My father was here twice for rehab. Everything was fine with one exception. It was easily remedied. The food is terrible. But I guess it is somewhat healthy.
Provider Response
On behalf of Regency Heritage, we always respect and appreciate the consumers ability and choice to post their online review regarding their personal experiences at our facility. In this instance, we appreciate the kind comments from Michael Jr. regarding the excellent nursing care we are continuing to provide his Dad, who is currently a resident at Regency Heritage. We equally appreciate the critique regarding the missing articles of clothing. We have a well deserved and stellar reputation of excellence in all areas of customer care, but we are human and will confirm that several articles of clothing were inadvertently misplaced. We immediately worked with the family to locate the missing articles of clothing and were successful in retrieving all but a few small items. We offered to reimburse the family in full for the remaining few items and/or to pay for suitable clothing replacements of the same value. This is a standing offer to Michael JR. which he is aware of and we appreciate his expressed willingness to accept our offer and look forward to fulfilling our commitment as soon as he is ready.
May 12, 2016
I am a friend or relative of resident
I would like to Thank Regencey for everything that they had done for my love ones. They care and the rehab that was giving to them. Even though I use to work here I greatly and greatful for the staff and the people who works in the Rehab Department this is from my mother Pattie and James. James's is favorite Rehab staff is Tiffany and all the NURSES on G1.
April 21, 2016
I am a friend or relative of resident
Very attentive and friendly staff, I feel very confident my friend will receive excellent care. Would not hesitate to recommend.
Provider Response
Diana, Thank you so much for your confidence in us at Regency Heritage, where we offer the very best rehabilitation in Somerset woods! Somerset woods has several rehabilitation centers, but none have the stellar and well earned and deserved reputation we enjoy at Regency Heritage. We deeply appreciate your kind words and we wish you much continued health and happiness!
April 19, 2016
I am/was a resident of this facility
My Dad was here and we were satisfied with therapy and some of the nurses. A few could have had a better bedside manner, but by and large, the majority were excellent. The main thing is, they got me strong and healthy and back home in time for our daughter's baby shower!
April 09, 2016
I am a friend or relative of resident
With our elderly loved one who has been in and out of rehab centers over the last 4 years, our experience has been somewhat of a mixed bag, until we found Juda and the staff at the regency post acute care center in somerset. We were originally introduced to regency park care center in hazlet, because our loved one was at Bayshore community hospital in holmdel, which is only minutes away from the regency park location. There we were introduced to Juda who took over and calmed our fears and even helped us with referring us to medicaid consultants. His demeanor and professionalism were unerrring . We wound up working with Juda on an admission to this sister facility in somerset and also on a medicaid application with application pros in Jackson nj. Juda and the regency exceeded all of our expectations in terms of quality care and a beautiful location to help us sleep better at night. No place is a substitute for home, or homecooking, but regency comes closest. Ty very much
March 21, 2016
I am/was a resident of this facility
My Dad was a resident here back in February 2016 and we were pleased with the level of care and the therapy. The food could have been a little better. This is a good place and worthy of consideration.
February 22, 2016
I am/was a resident of this facility
My social worker was cooperative, gave me great recommendations and made me feel like I had a say in my care. Physical therapy was very good, cooperative and I felt as if I had a good rapport with them. This is my third time here.
December 22, 2015
I am/was a resident of this facility
I was a patient at the Regency Heritage in Somerset, NJ back in October 2015. I was very pleased with care and attention I received from all the nurses and therapists.
December 17, 2015
I am a friend or relative of resident
Excellent. Refreshing. Very straight forward discussion about all issues. No hidden agenda. Owner has an open door policy for any questions. Great nursing and rehab staff!
October 07, 2015
I am/was a resident of this facility
We were very happy with the therapy program at Regency Heritage. The staff were cooperative and caring.
September 18, 2015
I am a friend or relative of resident
It is probably rare that a business receives compliments instead of complaints. But I feel compelled to comments regarding the excellent care provided to my Sister Phoebe, during her 12 week stay at Regency Heritage in Somerset, for rehabilitation. My Sister suffered a stroke and was discharged from JFK Rehabilitation Center to Regency. Prior to her care at Regency, we were concerned about her recovery prospects as a result of her high acuity (she was entirely paralyzed on her left side). We visited 9 local rehab facilities before choosing Regency Heritage in Somerset, mainly because of what appeared to be an excellent program and staff providing physical therapy. In addition, the place just felt right compared to the others. When she was admitted, we were concerned she would be confined to a wheelchair for the rest of her life. However, Regency's physical therapist, Wayne Johnson, never gave up hope on her and worked day after day to help her and motivate her in her recovery. My sister can be very stubborn and wasn't the easiest patient and was somewhat resistant in the beginning to participate in her therapy. But Wayne turned her into a believer with his endless patience and dedication. In the end, my sister was able to walk out of Regency (without a walker)!! We are forever grateful to Regency Heritage and their staff for their miracle!!
August 30, 2015
I am a friend or relative of resident
We chose Regency Heritage on Demott Lane, in Somerset NJ, because of proximity and because we had heard wonderful things about their facility. It was one of the best decisions we ever made. Our Mother, who is 86 years young, was there to recover and rehab from a hip fracture. She has plenty life left to live and it was important to us all that she regain her prior level of functioning and continue to live as independently as possible. She was at the Regency for about 6.5 weeks under her Medicare benefits. The rehab team was fantastic and the care was very compassionate. She was recently discharged to home with a walker and is slowly getting back to herself. Thanks to Regency!
August 07, 2015
I am a friend or relative of resident
Our Mother was recently a sub-acute patient at Regency Heritage in Somerset NJ. We couldn't have been more pleased with the exceptional care she was provided by the entire staff of dedicated nurses and therapists. Mom was treated with expert care and compassion. She has now regained vital strength in her arms and legs and is on the road to recovery thanks to this 5 star facility!
July 31, 2015
I am a current client of this provider
Regency Heritage has a caring, helpful and responsive staff. Kimberly, Jane, and Ashley are just outstanding!
July 23, 2015
I am/was a resident of this facility
I was recently a patient at Regency Heritage for short term rehab and my experience was stellar. I'd like to specifically thank my nurse, Lisa, and their social worker Phylicia. This outfit is a class act!
July 22, 2015
I am/was a resident of this facility
I was recently a patient at Regency Heritage for short term rehab, and my experience was stellar. I'd like to specifically thank my Nurse, Lisa, and their Social Worker, Phylicia. This outfit is a class act!
July 21, 2015
I am a friend or relative of resident
My Dad was recently at Regency Heritage. The care he received from the aides was tremendous! Sometimes two aides were required to assist, yet they never uttered a complaint. My communication with the head nurse, Gabrielle, was excellent as well. I highly recommend Regency Heritage.
June 30, 2015
I am/was a resident of this facility
Everyone was very nice. If I ever need rehab, I would like to come back here again.
June 27, 2015
I am/was a resident of this facility
Everyone was very nice and cooperative. I found the rooms to be clean and well taken care of. Rehab was great; I had a wonderful experience!
June 23, 2015
I am/was a resident of this facility
My experience here was awesome! I don't know where I would be physically without the care that I received here. Rodjena and the PT staff were very inspirational on my road to recovery. The nursing staff was on point; I never had to wait long for anything.
May 11, 2015
I am a friend or relative of resident
My sister Judy and I wish to thank the staff at Regency Heritage for the service they provided to our Mother, Edith, during her 15 year residency there. So many years, so many shifts, so many departments make it difficult to mention all of the individuals who were especially sensitive and helpful during this time and I don't want to leave anyone out who should be mentioned. Days, evenings, nighttime, weekends, holidays, I have been to the home and found caring people there to help with that moment's problem. Directors, assistant directors, supervisors, nurses, therapists, dietitians, aides; even doctors and rabbis, all know my name and who my Mother was and what her special issues were. I didn't always think so in the heat of the moment, but now as I reflect back, it really has been a "home" for our Mother.
May 08, 2015
I am/was a resident of this facility
I would personally like to thank the staff and therapy for all the help they gave me during my stay at the Regency facility. I am very grateful for their caring and devotion to me.
May 07, 2015
I am/was a resident of this facility
I just want to thank you for all the help you gave to me during my stay at Regency. I also want to tell you that your rehab staff was extremely competent and caring when I came in. I was close to a vegetative state and it took 3 people just to get me to stand, but with their help and professionalism, I was able to pick myself up and walk the halls with a walker. I have had rehab before, but never like what they gave me. On a scale of 1-10, I rate them a 10. I would also thank the nursing staff, especially Latisa and Edward. Also, the aides were very helpful. You can be assured that I will recommend Regency to anyone that needs a great facility!
April 28, 2015
I am a friend or relative of a resident
My mother, Shirley, spent three months in your care. There were several people on your staff who embraced her and i felt that they deserved acknowledgement. Our initial contact person, Marlene, became our "go to person throughout my mother's stay. Her warmth, thoroughness and ability to listen, gave us great comfort. She sat with me during some difficult moments and gave me support, when i needed it. Michael, in the Physical Therapy Center, truly cares about his patients. He went the extra mile with my mother, when others had given up on her. The nursing staff knew her and looked out for her well being. There were so many people that i truly cannot name them all. They cared for my mother, as well as me: Lisa (Nurse Practitioner), Cathy (Head Nurse), Susan, Alema, Sonal, Thelma, Stella, Olivia, Edward, and Edith. I credit Edith with giving me spirit and courage. Your patients are fortunate to have such caring individuals. There were two aides that my mother has a special relationship with: Candy and Salanta. They treated her with love and respect. When my mother had difficulty eating, they would never give up. Their hearts were unwavering. Salanta's resolute commitment to my mother was as if she were a member of our family. We Knew that when Salanta was working, my mother would always have the love and personal care that she needed. I believe that she was touched by knowing my mother as much as my mother was touched by her. I hope that all your staff receives the recognition they deserve.
October 10, 2014
I visited this facility
I was not really overwhelmed by Regency. I didn't find them as pleasant. I just found it dark, and it didn't have that real nice feeling when you walked in. I didn't believe I was able to talk to someone there that was manageable, and they didn't call me back in a timely manner.
August 26, 2013
I am a friend or relative of a resident
My mom was in temporary rehab at Regency Nursing and Rehab. She was there for physical therapy and the physical therapists were terrific. They actually had her out of the facility a week earlier than they anticipated due to the progress they made. The management was well orchestrated. There was a presence of the management everyday checking in and making sure that my mother was happy. If we had any concerns, it was dealt with immediately. I would recommend them to others.
August 01, 2011
I visited this facility
The Central New Jersey Jewish Home for the aged was one of several assisted living and live-in facilities that we considered for a family member. It was definitely one of the nicest. My husband and I got a very good feeling from the staff and from the other residents. There are about 250 rooms/beds for long term care, which is what we were considering for an aged family member with Alzheimer's. The facility is located on a very nice property, surrounded by a well-maintained natural landscape that the residents can enjoy. The interior was bright, airy, and cheerful. We were impressed with the range of services they have on-site. It's like a little city unto itself, with a dentist, podiatrist, nutritionist, pharmacy, and even an X-Ray and radiology center if needed. There are many nurses per resident and also non-registered nurses who coordinate activites for the seniors. We found the atmosphere very friendly and more consistent with a residence-home than with a hospital facility, which was comforting. In the end we did not use this facility, however the choice was due to other geographic considerations. In all this was probably the best facility we toured and I have since recommended it to friends whose parents are in need of assisted living or long-term care.
See all reviews (45)
See fewer reviews
Features of Regency Jewish Heritage Post-Acute Rehabilitation and Nursing Center
---
Costs
All Inclusive Rent
Rent Plus Care Fees
Room and housing options
Companion Suites:

We Offer Companion Suites
Dining options
Dining Room Shared Meals
Room Service For Meals
Features
Beauty Barber Shop
Computer Room
Resident Transportation
Party Space
Tv Room
Garden And Patio
Security Gate
Features Extra:

Free Coffeee And Nourishment Stations
Cleaning services
Laundry For Linens
Housekeeping
Laundry For Clothing
Technology and entertainment
Cable In Rooms
Internet Enabled Rooms
Wifi
Health services
Skilled Nursing
Hospice Care
Medication Management
Physical Therapy
Psychiatric Care
Nurse On Staff:

We Have 24 Hour Nurses.
Activities
Offsite Activities
Music
Games
Stories
Religious Services
Lectures Discussions
Book Clubs
Wii Sports
Tai Chi
Fitness Room
Yoga
Gardening
Cooking
Arts And Crafts
Financial guidance
Va Benefits Consultation
Financing Advice
Financial Guidance Extra:

We Help Families With The Medicaid Application Process.
Guest services
Guest Parking
Guests At Mealtime
Overnight Guests
Medicare (ratings last updated: 03/01/18)
Health:
Overall:
Quality:
Staff:
Medicare Provider Number: 315367
Ownership Type:

For Profit Partnership

Date Certified:

02/01/2018
General
Resident Capacity:

265

Staff Patient Ratio:

6:1

Minimum Age:

35

Pets:

Small Pets Allowed
About Regency Jewish Heritage Post-Acute Rehabilitation and Nursing Center
---
The most recent addition to the Regency family, Regency Heritage is centrally located in Somerset, New Jersey, on the beautiful 59-acre Oscar and Ella Wilf Campus for Senior Living. Regency Heritage is committed to bringing advanced levels of skilled nursing care, rehabilitation and quality of life to all those we serve, in an environment that embraces Jewish values and traditions.

A recent multi-million dollar renovation project has transformed Regency Heritage into one of the area's most elegant and luxurious senior residences. A generous 265-bed capacity addresses both the community's long- and short-term care needs. Spacious, elegantly appointed rooms, cheery public areas and gracious dining facilities help create an atmosphere of comfort, companionship and community.

Long-term residents benefit from the highest quality, round-the-clock nursing care as well as comprehensive clinical support and personal care services. They also enjoy sumptuous dining, with Glatt kosher menu choices prepared under the supervision of a certified nutritionist. There is also a robust program of recreational and social activities designed to complement a wide range of lifestyles, interests and preferences.

For patients and residents in need of rehabilitation and specialized services, our award-winning Regency Rehab ™ staff utilizes the latest therapies and treatment modalities. Together with our dedicated, state-of-the-art equipped facilities, they work to ensure optimum recovery and the return to the highest degree of independence and quality of life possible.

Regency Heritage is convenient to major highways and easily accessible by both private and public transportation. Five of New Jersey's finest hospitals are also located right in our area: St. Peter's Medical Center, Robert Wood Johnson University Medical Center, Princeton Medical Center, Somerset Medical Center and JFK Hospital.
What Makes Us Special
---
Regency Heritage is nestled on a sprawling campus of beautiful manicured lawns and gardens! The care is 5 Star Rated and the envy of the Healthcare Industry! "We Are The Place Where The Caring Comes To Life!"
Map
of Regency Jewish Heritage Post-Acute Rehabilitation and Nursing Center
---
Get Costs