Talk to a Family Advisor: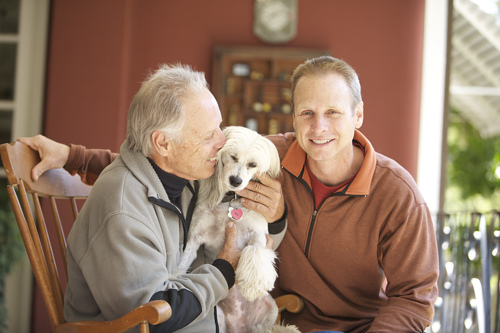 Reviews of San Remo
---
Dee746621
November 02, 2016
I am a friend or relative of a current/past resident
My mom is in rehab at San Remo. It's fine, but we can't afford it for full time care. We love the location. She was here a year ago for her broken hip, and she's here again a year later; they really did a good job rehabbing her. I think their rehab staff is awesome, and that's why I picked it. They are doing a wonderful job, it's very nice, and I don't have bad things to say. The doctors are good, and they take good care of my mom.
---
CPE
October 17, 2016
I am a friend or relative of a current/past resident
My husband was in San Remo for physical rehab last month. He was released after one week. His care was questionable at best. The food was deplorable. Complaints only resulted in worse food being served. Disposal regulations for biohazard material were violated. The medications sent home with him contained a other patient's medication. The facility is beautiful but don't be deceived by the surroundings.
---
cyclenat
August 16, 2016
I am a friend or relative of resident
My mother in law was in so much pain she was crying. She is 94 and had fallen earlier in the week, but the only pain medication the would give is Tylenol. We asked on numerous times and the nursing staff reported the physician refused to order anything stronger. It is heartbreaking to see your loved one in pain. Terrible place.
---
emextx
February 29, 2016
I am a friend or relative of resident
Do not go to this place! Don't let the good reviews fool you! This place is horrible. If this place is on a list of places to send your loved one to, cross it out. Don't allow anyone to pressure you to go there. Refuse to go to this place. They do not care about anything except getting paid to do absolutely nothing. Unless you plan on being with your loved one 24 hours a day do not go here especially if they are incontinent and unable to move. They will do nothing unless they are told to do it and even then they will take their time and not care about the comfort of the patient. They did not have medications available until almost 24 hours after arriving there. We ended up taking my father's vitals ourselves because they never did. They argued with me about his breathing treatments. Thankfully we had a copy of his medication list so we knew exactly what he needed to be given. Even a doctor from a nearby hospital could not believe that this place is still open. After 5 days, they finally drew blood and realized that my dad needed to go back to the hospital. Once we got him out we refused to have him sent back.
---
LucyC - Happy Grandaughter
February 24, 2016
I am a friend or relative of resident
My grandmother was at San Remo for two weeks after hip replacement surgery. She received excellent care. My grandmother is not an active woman, but she looked forward to her daily therapy sessions. She enjoyed the food and participated in various activities they had to offer. I work in healthcare and know this is a difficult level of care. My grandmother received nothing but five star care at San Remo. We would highly recommend it to anyone that needs a transitional care facility for their loved one or themselves for excellent therapy and nursing care.
---
Mrs.Hearne
February 23, 2016
I am/was a resident of this facility
I was a patient at San Remo after 4 consecutive surgeries on an 18 month period. I can't really understand some of the reviews I have read on this website. Before I discuss my personal experience, I have to say that San Remo came highly recommended by friends who had prior experience there. My co-workers admitted his 90 year-olds mother to San Remo. She was an Alzheimer's patient who spent several years there. He said his mother was comfortable and well cared for. A 60 year-old friend of mine had broken both ankles. When we get together, we sing the praises of San Remo. Each of my four 6-week stays at San Remo were successful. The cleanliness and appearance of the facility goes without saying. The food was nutritional, good tasting, balanced and varied. My physical therapy was top knotch. After multiple extensive surgeries on the same leg, I can walk without trouble. The nursing staff is professional and dedicated. I can't say enough about them. They administered my IV medication and tended to my surgical wound like clockwork. I am hard to please and I can be a difficult patient. San Remo kept me at ease, and successfully treated me after 4 surgeries.
---
Kathryn18
January 28, 2016
I visited this facility
San Remo was closer to home. It was up to date, clean, and they had a good therapy department. The staff seemed to be fairly good.
---
JanuaryJ
January 26, 2016
I am a friend or relative of resident
Had a friend call me to ask if I could please get her checked out of this place. She said she never saw a physician in her three day stay, only a nurse practitioner who had to wait on orders from a doctor who was out of state. The staff is loud at all times of the night and the call button is rarely answered when pushed. What in the world is going on in this place? Why is it legal for them to continue this type of behavior? It saddens me to know the staff gets paid to do absolutely nothing.
---
protective son
January 24, 2016
I am a friend or relative of resident
My mother is currently at San Remo. When she arrived in December of 2015 we were impressed and it seemed that the five star rating at Medicare.gov was correct. However as time went by I quickly learned they are disorganized and have trouble getting orders from my mother's doctors and wasted over a week of rehabilitation before they would do what my mothers doctor ordered. When they made mistakes the culture there seemed to be oriented around finding a scapegoat rather than to correct the problem and see that it did not happen again. This culture runs from management down to the aides and other staff. If they spent as much time caring for patients as they spend pointing fingers at each other I would not have a complaint. As it stands now I will be moving my mother to a facility that has its goals firmly set on patient care. If I could rate 0 stars I would have.
---
Supersad
January 23, 2016
I am a friend or relative of resident
This facility says they are committed to excelence, what a joke. My mom has not received good care since she moved in.. The staff is unorganized, and just dont care. They leave her for hours in dirty dopers, dont clean her or even brush her hair.. She parilized on her right side and continue to put her call button on her right side. The director of nusing has had many calls... says they will correct, but never does.. Whatever you do, dont entrust your loved one to this horrible facility.... they are pretty empty..and for a good reason
---
Worst care yet!
January 23, 2016
I am a friend or relative of resident
Warning! This place is poorly run. The nursing care and Rehab care is terrible. We have voiced our concerns over and over and nothing improves. There for 3 weeks and our family member is leaving in worse shape than when they arrived. Call lights go unanswered, bed sores developed while there, spoiled milk, and on and on....If you want good care for your loved one, pass on this place!
---
haveaheart
January 13, 2016
I am/was a resident of this facility
My experience at San Remo was a mix of the good, the average and the ugly. I went to San Remo after being hospitalized for 12 days for pulmonary problems. I had no strength, was dependent on oxygen, having difficulty swallowing after intubation, and was very shaky on my feet. Goals were to become stronger, wean off of oxygen, learn to swallow properly so that I could return to a normal diet, and to have confidence with balance, stride, etc. First, the good: The therapists (speech, OT, PT) were all very good. Took their time to answer my questions and asked appropriate questions of me. They explained how to do each exercise properly, explained why we were doing what we were doing, how it would help in recovery, and were always encouraging. I found the Speech Therapist to be particularly helpful. they did what they did cheerfully and were very professional. I was on a restricted diet and had just returned to eating at all a few days before going to San Remo. The food at the hospital was really awful and I was hungry! The food at San Remo was surprisingly good, well seasoned, tasty and there were a wide variety of options from which to choose - even with some restrictions on preparation of foods for me! Hooray for their chefs! The average: sfaff had just undergone a reorganization. New people in new roles always requires new learning, extra efforts toward clear communication, and it takes a little time to work out the kinks. I get this. However...it was clear that there were problems in place well before the reorganization became a factor. Nurses seem kind and want to help but are clearly overworked and dealing with inefficient communications within and between departments. Most of them seemed sufficiently skilled but, as others have written, language barriers were a problem. Now, I understand that they speak at least two languages while I only speak one and that these are smart people. I am not denigrating their intelligence at all. If anything, I'm wishing I was bilingual but I'm not and the fact is that if all three members of my family can't understand the nurses, and their english vocabulary is not sufficient enough to explain how to use equipment, then there's a real problem. San Remo would be well-served to send these folks to school to become more proficient in English. I really think all of the nurses wanted to please, to be helpful, and to work with my family as a team but coupled with the systemic communication problems mentioned above, the language barrier became an even larger problem.The bad - when we checked in we provided San Remo with instructions from the pulmonologist regarding meds, diet restrictions, etc. None of this info was distributed to staff. If it wasn't for the fact that my husband and daughter were up there with me a minimum of 8 hours a day, I would not have received the meds I needed. Telling them once was not enough. EVERY TIME there was a shift change, we had to start over with the list of meds, dosage, times to be taken. Had to call the pulmonologist to ask them if we were right in our understanding because San Remo wasn't giving me what we thought they were supposed to. They said yes, were were right and to contact San Remo's Director of Nursing to report problems. As far as I can tell there is/was no one in that position at all. Meds were delivered in pill form with water repeatedly even though all instructions said "patient cannot swallow pills - chop and give with pudding". It was annoying and scary. Sometimes meds not delivered at all but most often they came sooner or later and were eventually straightened out but it took a lot of time and effort on our part to see that it happened. The UGLY: this place is in SERIOUS need of competent, well-trained, administrators with excellent communication skills. I was not officially admitted until 72 hours AFTER I had been in the care of San Remo. The poor little girl doing the admission seemed surprised that we were surprised to be initialling forms stating that we'd received documentation that should have been provided to us within the first 12 business hours (directives to physicians, etc). By the time she started admitting us, we were so frustrated with internal communications problems (see more examples below), we had already told them we wanted me to be released asap and to receive outpatient, rather than in-patient services. She spent a good five minutes telling us how overworked she is. I'm sorry she's overworked but she is forgetting that she's dealing with people who are scared to death, don't understand what's being done to them, and who have received no clear concise plan of care. Plan of care: there is none as far as we can tell. While the staff get together for daily meetings to discuss patients, the patients are never informed of their schedules for the next day. Woken before 7:00 a.m. most days, for blood pressure checks, etc. I would hurry to get dressed hoping that by being ready for the day, I would be take to therapy early and be able to get it over with. No such luck. Get dressed, eat breakfast, sit around and wait and wait and wait, most often until after lunch before someone just shows up unannounced to take you to therapy. Can't nap, can't shower, can't do anything except wait. I did get help from an aide one day to take a shower. Two showers since 12/25. Sure felt good but too little too late, right? Aide stayed with me the entire time, watched me bathe to see what I could do for myself but there to help if help was needed. She shampooed my hair but they have no hair dryer so they said I could just put a towel around my wet hair. Hubby brought hair dryer from home. Not neglect by any means but also not well planned or thought through. It is VERY difficult to get information. It seems that whoever you ask, you should be asking someone else and finding that someone and getting to talk to them takes hours if not a day or two. Like others, we were asked to attend a meeting called the circle of excellence or something. It's supposed to be a meeting between nursing, therapists, family, other staff to set goals and objectives and come up with a plan. Family had to take off from work in order to attend. Showed up at appointed time only to wait and wait and wait. When everyone was finally in the room, no one was in charge. They asked us why we were there!!! We were there looking for help from them, the "experts" to tell us how we could work together to get me well. It was a joke and we left frustrated and they couldn't seem to see why. Only one there with a plan and who was articulate was Speech Therapist. I tried to lift up the good things we'd encountered at the beginning of meeting so that when we brought up concerns we weren't seen as whiners but as soon as we mentioned trouble communicating with nursing staff due to language barriers, we were basically accused of being intolerent. they went right to being defensive, not acknowledging that there might be room for improvement on their end. I've tired myself out just typing all this up. Short story is that they need more staffing all around, especially in administrative/leadership roles. this lack of leadership wears not only on the patients and their families but on staff as well, as evidenced by the truly unhelpful and bad attitude of one person in particular who makes everything far more difficult than need be. in short, be prepared to be your own advocate!
---
Mrs. Chandler
January 05, 2016
I am/was a resident of this facility
This is my 3rd stay at San Remo. I have had recurring surgical problems with a knee replacement. The room is comfortable, the food is good, the physical therapy is top notch. I have found the nurses to be very attentive and professional. I have been recommending San Remo to anyone who asks.
---
Douglas Brewer
November 20, 2015
I am a friend or relative of resident
San Remo is beautiful BUT LOOKS ARE DECEIVING .... we admitted my husband on Saturday (11/14/2015) and took him out on Tuesday (11/17/15). They messed up his medication so bad I had to take him to the doctor on Thursday..... He is type 2 diabetic. He was not given the correct medication and was overdosed on others. He was there for physical therapy due to major back surgery. He is 6ft 3in tall and was shoved back in a recliner where his head rested on the wall and his feet were put in another chair. I had to get his own linens. I was given scotch tape from the desk and a trash can liner to cover his wound when I bathed him. On one of his meds the nurse was going to change the doctors notes because they messed up on giving what he had ordered for the day before... This is a VERY small list of the problems at San Remo. BEWARE OF THIS PLACE....
---
Poorly
November 16, 2015
I am a friend or relative of resident
Mom has been here19 days and have seen too many incidents to recommend this home: each evening found her soaked, meals often late, as much as 50min, sometimes found food still on her mouth & clothes, etc. Yesterday, a nurse came in room, mumbled something & proceeded to prick mom's finger. I asked nurse what's she trying to do & she said checking mom's sugar level! I asked why since mom is not diabetic! Nurse then checked charted & apologized she got the wrong room! Should strike fear in everyone's heart and raised a valid concern what else goes on. What they do/not do vs what they should/should not? All should check their bill of charges!
---
Unsatisfied Daughter 71
November 04, 2015
Other
The facility looks nice when you are touring but unless your self sustainable for the most part don't expect to get help anytime soon. We took our mom there yesterday and the door to her room didn't close. The staff have no idea what's going on. We got in about 4pm and even by 9:05pm we didn't see the nurse and pushed the call button. 25 mins later after my sister talked to the clueless nurse, he came in with one pill when my mom takes about 6. No meds had been ordered. we talked to the liaison who said there is only 1 nurse per hall... There are approximately 20 rooms in half of one hall. They are severely understaffed & I would suggest taking your loved one somewhere else.
---
pass on this place
October 21, 2015
I am a friend or relative of resident
I would not recommend this place to anyone. After a few day there I had to take my loved one to the emergency room due to the lack of care. No one could give me an answer about what was going on. the communication is bad in this facility. Please conceder other facilities for your loved one.
---
Jjbear7
May 02, 2015
I am a friend or relative of resident
This place is not a good location to place your loved one. My father was neglected during his stay here and he was here less than a week before we had to put him back in the hospital because of their neglectful care. There were many times we would arrive and he would not have changed him all day long. I know this was both a source of physical discomfort and emotional pain when this would not get taken care of properly. He would wait for hours for someone to respond to him even when we were there and his needs would not get attended to promptly. They also did not have a good level of understanding of when he needed to go back into the hospital. It wasn't until I noticed a physical issue and insisted that he go back that we finally returned to the hospital. This is something they should have picked up on earlier and did not do it and I believe the only reason they did not is because they wanted more money. Please do not put your love ones here. I know the facility looks nice and it appears to be clean and I have no doubt they do well in these areas. However, the nursing staff does not take care of these patients as they should.
---
MrsJones1977
April 10, 2015
I am a friend or relative of resident
I have a loved one that is currently at San Remo. The staff are very nice and professional. There will never be a facility that is A 1 perfect, if there are issues they are quick to resolve them. We have had some concerns but they fixed them to our satisfaction. The facility is very nice and the food there seems to be great. I would send my family member back again.
---
penmel
March 17, 2015
I am a friend or relative of resident
My mother has spent time in San Remo and I would not let her go back. 1. there were no towels or wsh rags in her room we did let them know but not after we brought towles from home to help her bathe. We did tell them and yes they brought towels however why should we have to request something like that. She had surgery and had to have equipment after, no one at the facility knew how to put it on she would sit for hours waiting. We had to tell them to google the instructions. She had an accident in her room I arrived the next morning to find out she had let them know 4 to 5 hours prior she needed new bed linen no one came. My mother has called me several times begging for us to just take her home she might as well the service is not good there. When she had her check in with the Dr he said they should have been putting ice packs on the surgery site they have not been. This is a rehab and health care facility these are things they should know, Ice how to put one a sling, splint etc but no one seems to know. Our purpose for putting my mother there was to make sure she did not go home by her self and get into a situation she could not get out of, and for care do to she would be limited and rehab. My own mothers words are I would do better at home by my self. I did visit this last monday for a scheduled meeting which I left my job for and when IU arrived not only did I gag at oder down the hall. We had to go search for people that seemed to not mind they had a scheduled appt to meet with a resident and a family member to discuss a plan of action we had to remind them and search them out. I would not recommend this facility
---
Trevor2015
February 27, 2015
I am a friend or relative of resident
Horrible administration that does not help you but put the blame on you for their mishandling of documents. Mediocre care staff. They put one LVN and one aide for 16+ patients. If you need immediate assistance you will wait for a long time if it's an emergency. Do not bring your loved ones here if you need frequent medical attention. They are inattentive to your needs.
---
Mom75
January 08, 2015
I am a friend or relative of resident
Despite more negative reviews vs positive, my family decided to give them a try in hopes of the possibility that they have taken feedback and changed....WRONG! Families BEWARE! Absolutely no true and genuine care for patient..nurse and aids are not friendly or warm at all. We did not have our family member there long and got out of there as quickly as we could. Definitely proves that they are definitely For Profit facility and only cares to make money vs true patient care and customer service...
---
Vicki31
January 04, 2015
I am a friend or relative of a resident
My mother is in San Remo -- which is quite a new facility -- and it is very clean. It is very well-maintained, and their staff is extremely friendly. I met the head of maintenance, and they make sure the place is pristine-looking. A dear friend of mom lives there, and they have been a great deal of comfort and companionship for each other playing bingo and listening to Christmas songs. The facility has a chapel, a gift shop, a beauty shop, a grand piano, a huge fireplace, lounges, physical therapy as well as an occupational therapy room, and a calendar of events. They also have activities like poker and residential meetings. They are doing a good job with my mom, and I appreciate that.
---
hhl
December 30, 2014
I am a friend or relative of resident
I would not recommend San Remo. From my perspective the quality of care at the facility is lacking. Their only redeeming factor is their Physical Therapy staff. My mother was a resident of San Remo for six weeks after hip replacement surgery. Because of the surgery, she had limited mobility and needed assistance to go to the bathroom, get out of bed, bathing, etc. We had numerous issues with the nursing aides that were assigned to her care. The impression that I got was that they didn't care about the treatment of their patients. There are two incidents that stands out. The first incident occurred three days after she was admitted. My mom needed assistance to go to the bathroom and she called a NA to help her. The aide put her into a wheelchair and helped her get on the toilet. Afterwards, the aide pushed her to the bed and left the room. She left my mother sitting in the wheelchair for almost two hours. The aide did not come back until my mom called for help. And then the aide acted like it was an inconvenience for her to help my mom back into bed. I guess the aide expected an elderly woman that had hip replacement surgery four days prior to be able to get in and out of bed on her own. The second incident occurred about two weeks before my mother was released and I did not know about it until my mother was released. My mother wanted to bathe and again she called a NA for assistance. The aide helped her onto the shower bench, turned on the water and left. The water was on the cold setting and my mother could not reach the handle. My mother had to take a cold shower. The aide never came back to check on my mom, she only returned when my mother pulled the emergency call cord. And again the aide acted as if it was an inconvenience to help my mother out of the shower. I called the "Nursing Supervisor" after the first incident with the Nursing Aide. It took me three days and four messages before she returned my call. A previous review stated that the management has no clue what was going on in the facility. I agree 100% with this assessment.
---
stillgrieving
December 23, 2014
I am a friend or relative of resident
My mother was a patient here, and quite frankly, I believe the actions of the staff at San Remo hastened her death. On more than one occasion we showed up unannounced and observed them ignoring her completely. One time I as I walked up the hallway I could hear my mom yelling and begging for water, and the nurse's aide was right outside her door and didn't move. Instead, she just kept messing with stuff on her cart. The aide was shocked to see me there and quickly made excuses as to why she was not attending to my mother. I went into the room and took care of her myself. Then they fed her incorrectly and caused my mother to aspirate food into her lungs. She was transferred to the ER and then to ICU, where she died. The facility itself is lovely, but the staff is complacent and lazy, and the administrators only care about money.
---
mutual caring
December 03, 2014
I am a friend or relative of resident
After hearing many positive reviews, we changed our reservations for my dad from another facility to San Remo. The hospital accidentally sent him to the wrong place, resulting in my dad arriving very late, at shift change, and tired and hungry (he's diabetic). Evening staff were friendly and cheerful, saved him a meal, but then ignored my dad for over 30 minutes on the toilet, despite repeated requests to assist him. We finally fed him dinner ourselves- on the toilet- and when 2 nurses arrived (the aide never did come), they seemed unsure of how to put on his diaper, and they did not do anything to assist him walking back to the bed safely- no belt, no arm- and he is very unstable after a stroke. When we told them this, they came a little closer, but then left him alone to walk around the bed towards us, and mostly watched as my sister and I tried to get him in the bed. He was too far down, and they told him to grab the rails and pull himself up instead of lifting him themselves- which was clearly beyond his capacity. In following days, we had to ask repeatedly before diabetic meals were consistently provided, and the plates were still quite carb heavy. A request to assist him in eating- he was a choking hazzard after a stroke- went 100% ignored. While the program administrators seemd to be caring and attentive, the hands on staff seemed in dire need of proper training, especially at night. There was also very inconsistent timing in checking his blood sugar levels. My dad is also a fall risk, but nothing was done to monitor him from getting up at night. We had to suggest leaving the bed all the way low to the ground to minimize risk. He also requires a machine every night for sleep apnea, but I would find him in bed without the machine, gasping in his sleep. The staff were extremely courteous and warm, but not on top of the care. We have yet to see how the physical therapy program turns out, but initial interactions with trainers were very encouraging. They seemed to be very attentive and professional.
---
unhappy camper 2014
October 02, 2014
I am a friend or relative of resident
The community is pretty but there is absolutely NO follow through with the staff. Management does not manage and staff does not care. Trying to get any information is near impossible.
---
DisappointedHere
April 06, 2014
I am/was a resident of this facility
Pretty facility and some good people... BUT disappointed with most of the staff. There is definite problem in taking care of patient needs... "It is some one else's job." Night and graveyard shifts were the worst, and management is oblivious. I observed first hand, sadly. I would not return or recommend this facility.
---
Caring77944850
February 27, 2014
I am a friend or relative of a resident
My friend is now in San Remo Skilled Nursing and Rehab and she's planning on being there permanently. It is a pretty new facility and they are highly rated. The people that I talk to there are very nice and helpful. They have a doctor if they need one. She seems to be in a very good care there. She likes it there and we are very pleased with them.
---
PDQ
February 14, 2014
I am a friend or relative of resident
Pretty, yes. Beyond that, NO! I would absolutely not put an elderly loved one at this place. They are not capable or willing to protect or care for those who truly need critical care nursing help. My poor mother was there for less than 30 hours when she tried to get out of bed, fell, and rebroke her leg, which is why she was there in the first place. After I was adamant that my mother was not following directions and asked that they help her, they did NOTHING to help prevent her from falling and did NOTHING to protect her if she did fall. Then after she tried to get up and fell, she re-broke her leg tearing out the plate and screws that had just been put in. They called me and when I got there she was screaming in pain, yet they would not call 911 and wanted her to wait in pain til they could get their own transportation to arrive from another location 45 minutes away. I had to call 911 myself from San Remo and get my mother taken to the ER in the middle of the night. Then their administrator would not call me back the next day. My mother did not make it through the next surgery and might be alive today if I had not selected San Remo for her. Their care was terrible for an elderly person. They should be ashamed of what they did to my mother. The ER doctor said their inability to protect and care for my mother was inexcusable. Stay away.
---
Bill35
January 31, 2014
I am a friend or relative of a resident
San Remo was a five-star rated facility but it was crap. The head staff in the front office was very good, but the floor nurses and nursing aides were very poor. They were not attentive to the personal care of the residents. The apartments were small for what they charged. The only activitiy I saw was physical therapy, I did not see the other activities. The food was good. They should improve the practices of their nurses and nursing aides. I did not like that place at all.
---
Caring58465650
October 15, 2013
I am a friend or relative of a resident
I've selected San Remo and I absolutely do like the facility. The staff is awesome. I would absolutely recommend this place.
---
John 3
November 07, 2012
I visited this facility
San Remo is a new and nice facility. The staff was nice, and the environment was fine.
---
---
San Remo is a nursing home in Richardson, TX that provides patients with skilled nursing care as well as private or shared accommodations. Contact San Remo for more details on housing, services, and rates.
Features of San Remo
---
Medicare (ratings last updated: 06/16/17)
Health:
Overall:
Quality:
Staff:
Medicare Provider Number: 676256
Ownership Type:

For Profit Corporation

Date Certified:

05/01/2017
Request Info
Get full access to reviews, cost information, and amenities