New York State Veterans' Home at Oxford
4207 220, Oxford, NY, 13830
Talk to a Family Advisor: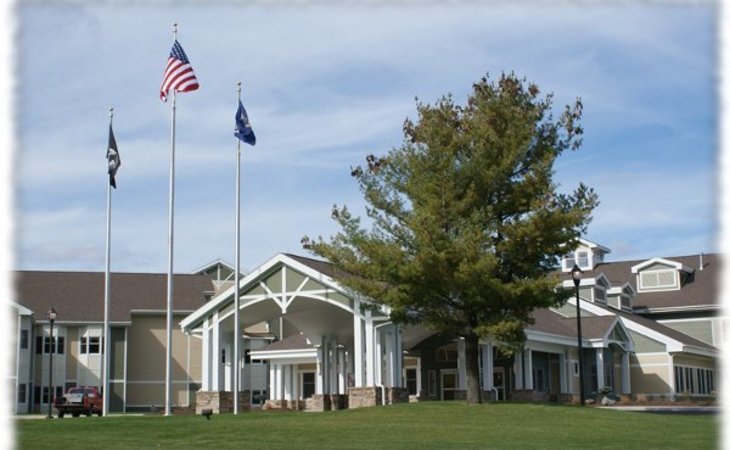 Reviews of New York State Veterans' Home at Oxford
---
Vera's son
September 07, 2016
I am a friend or relative of a resident
My mother Vera D passed away yesterday ,I just wanted to thank the NYSVH @Oxford staff for all their love and caring shown, my mother.during her stay at your facility.Bless you all.
---
Gregory4
May 07, 2015
I am a friend or relative of a resident
My father is in New York Veterans Home at Oxford. They saved my dad's life three times already, they give good care, and they always have two people to help like for him to be lifted out of bed, to go to dinner, or to change his undergarments. They have a nurse practitioner that is very good according to my mom. My mom is a retired nurse practitioner so she would know. He kept seeing the same doctors, and they provide transportation to his original doctors. Sometimes, there is a delay in the communication, so I would rate three occasions only a four out of five. For example, if they cancel an appointment and I am driving my mom to go see him, we find out when we get there that the appointment was cancelled, instead of them calling to tell us so we don't have to waste the trip. It is kind of a sad place because the only way people leave there is by dying, so the sadness is pervasive. They have a lot of activities like a band or singers or bingo, but the thing is that there is always sadness, but that is the way it is. They cannot be taking care of their home anymore, they cannot live at home, and it takes a while for the realization that they are not ever going to go home again. I don't know if you can do anything about that; it is just one of the facts of life.
---
Brenda48
September 30, 2014
I visited this facility
We sent paperwork from my father-in-law to be settled in New York State's Veteran's Home at Oxford. We chose this one because its only about 40 minutes from Portland so it is easy for the family to get to, and they were highly recommend to us. The rooms were very nice. We were very pleased with the staff that we talked to. It looked like a very welcoming environment.
---
wchamilton
August 21, 2012
I am a friend or relative of a resident
They really took care of the residents... each resident's door was decorated with items that reflected the branch of service the resident served in and you could tell from the way the staff interacted with the residents that they sincerely cared about them. As my father-in-law grew sicker the staff was very accommodating to me and to my wife... they stopped in often to see if we needed anything and they let us visit at any time, even when my wife decided one evening at around 10pm that she wanted to see him. When he passed away the staff was very sympathetic and understanding. Various employees told us how sorry they were and shared stories about their time with him.I would recommend this facility to anyone with a veteran in their family that is need of long-term care. The staff truly does care about the residents and their families.
---
Michelle3
January 21, 2012
I am a friend or relative of a resident
The New York State Veterans Home located in Oxford, New York is the Best facility for veterans in the entire New York State. I had recently heard from others the facility was more like a hotel with wonderful service than a nursing home. I had found out for myself when my Grandfather a Veteran himself decided to move into the facility after the death of my Grandmother. We had reviewed much information and taken a tour of the facility and many others before we decided that this would be the best facility by far for his permanent residency. My Grandfather Robert has been in the New York State Veterans home for the last 6 years and has enjoyed every minute of his stay there. The staff and administration are overly polite and are quick to meet any of his wants or needs. My grandfather was particularly excited because the facility allows cats!! There is a room within the facility that holds residents cats! How about that! Every other facility we had toured did not have this as an option and where my grandfather was staying is where he wanted his cat too. So besides the cat room they have recreation room where the residents get together and play games, do crafts, play Bingo, and listen to music or can just sit and visit with their family in a great looking comfortable environment. The nurses and aides at this facility are very sweet and my grandfather has come to know them like they are family and they treat him as good as family. The facility is luxurious compared to any facility in the New York area and is very well kept by housekeeping. The dining is well thought out and adjusted to the needs of the residents and their cafe is wonderful to eat from as a visitor. I can sleep well knowing my grandfather is in a safe, loving, warm, caring, clean, fun environment.I have recommended this facility to many people and have come to know many of the residents at the facility. Thanks to the New York Veterans Home in Oxford, New York. They deserve a five star review by far!!!
---
Jackie B
November 21, 2011
I visited this facility
The New York State Veteran's Home is 242 bed facility in Oxford Ny about 30 miles from Binghamton Ny.The staff is spectacular treating all residents with respect and care.The Nursing Department at the New York State Veterans' Home provides skilled nursing care on six neighborhoods ranging in size from 32 beds to 42 beds per unit, including the Rehabilitation and Memory Care neighborhoods. The Department consists of over 200 employees including Registered Nurses, Licensed Practical Nurses, Certified Nursing Assistants, Secretaries, Ward Clerks, a Per Diem pool and Unit Assistants.The facility has a "pet project" in place which integrates animals and plants into the living environment. They currently have cats, birds, and fish living within the facility. They also let you bring your loved ones own pet for visits.I bring my sister 's cat spot to see her when I visit all these small things make her feel at home.The home also has lovely scenic views.
---
From New York State Veterans' Home at Oxford
---
The New York State Veterans' Home at Oxford is a 242 bed facility located in Chenango County about thirty miles north of Binghamton NY. Situated on a sixty acre site, the Home has spectacular scenic views of rural country land. We provide state of the art medical, nursing, psychosocial, and rehabilitative services to our residents. We also have several academic affiliations including the Upstate Medical Center College of Medicine/Clinical Campus at Binghamton.
Location of New York State Veterans' Home at Oxford
---
Request Info
Get full access to reviews, cost information, and amenities