Palm Garden of Ocala
2700 S.W. 34th Street, Ocala, FL, 34474
Talk to a Family Advisor: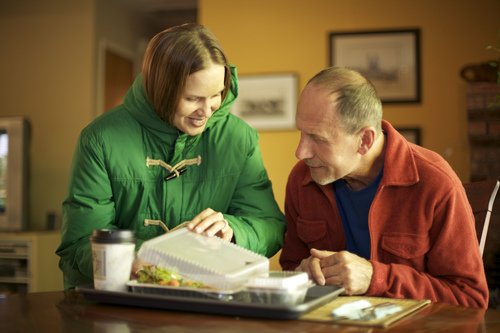 Reviews of Palm Garden of Ocala
---
Dean33
June 16, 2017
I am a friend or relative of a current/past resident
My mother has stayed at Palm Garden of Ocala on two separate occasions. I am so thankful to the nurses and the CNA's that helped my mom. They were very kind and attentive to her. My brother and I were trained to assist her with her wound care, physical therapy, and we learned how to transfer her. We were also taught how to properly bathe her and how to give her medicine. Thankfully, we are now able to have her at home. We know how to care for her because of the training we received at Palm Garden and I am forever grateful to them.
---
ldm2873
May 20, 2017
I am/was a resident of this facility
Nice, newly remodeled rehabilitation place. Nurses and aides are very nice although night shift seems under staffed because it takes forever for bells to be answered. Therapy was great. The only problem was getting my pain medication and once that was straightened out it was a very good visit.
---
Emily Watters
May 05, 2017
I am/was a resident of this facility
Have been a resident for a year. My care has been very good. The office employees Valerie and Jackie have been excellent with helping me get placed in . Special Thanks to my nurse Jillian and Rick they are Pros in the nursing care but the special care that they have given me. All the staff have been good to me in my daily care. My family have remarked about how nice the staff has been to them from the front to the back, nurses and CNA's everyday staff. A BIG thenks to ALL! Thank you!
---
Paul233212
May 03, 2017
I am a friend or relative of a current/past resident
Palm Garden of Ocala is more like a nursing home and has a nursing part in the facility for long-term care and rehab. It's not nearly as nice as the other two places I have visited, but they serve a different purpose. They try to get the patient rehabbed to the point where they can go back to assisted living. The care that my friend gets there is, at times, not as good as you would want it to be. Sometimes, the patient has to wait a good amount of time before somebody ever comes to give him whatever assistance he needs. They should increase their staff or have better procedures on handling the calls. If you have to have assistance, I saw that you don't get it right away most times. Other than needing better assistance, they do an OK job. We had an OK lunch there once.
---
Scott Kiefer
April 25, 2017
I visited this facility
Palm Garden has a very knowledgeable staff. A family friend needed rehab and Jan M took a lot of time reviewing her situation and explaining her options. Kudos to Jan for her sincerity and honesty.
---
Marianne Howanitz
April 20, 2017
Other
Palm Garden is excellent for short term rehab with a very knowledgeable staff that works very hard.
---
MTyson
April 18, 2017
I am a friend or relative of a current/past resident
My mom has been in this facility for the past year. To her this is home now. She has such a great group of caring nurses and c.n.a.'s. I was shown this when my mother was recently hospitalized and they called and checked on her daily. Always offering support and prayers for her. Are they perfect? No, but then again no one is. I do know if you have any type of issue if you go to a supervisor it will be handled. I would recommend this facility to anyone looking for rehab or permanent home for their loved one.
---
rubyloves
March 06, 2017
I am a friend or relative of a current/past resident
My mother was at this facility for a little over 90 days. I had other relatives go through rehabilitation so I know how challenged the staff is not by facility staffing policies but by our great state of Florida staffing ratios. I also know it's not easy to deal with dementia patients or those in pain. Or elders who are set in their ways. With that being said, I loved the care mom received! They always had a smile! Lots of activities, the food is amazing with always an alternative, great salads and fresh fruit as choices to appeal to everyone. When moms pain escaped with therapy, it was addressed with a higher pain med, then tapered when she was stronger. Some outstanding nurses were Jillian, Trina, Danielle, Stephanie, Teresa, Rick, Jessica, and Melody. Great wound care by Melody, communications with moms surgeon, Stephanie on the weekends when Mel was off. Mike the weekend supervisor helped with some minor hiccups in an effective manner. The building is clean with obvious recent remodels. Laundry service was prompt, spa service with whirlpool. Restaurant style dining for those who are social. Mom never slept in a bed so they provided an amazing, comforting recliner that helped her get that needed rest for therapy. Which also was good. Therapy by the way is dictated by your insurance for how much time a day you get but what sets Palm Garden apart is the amazing equipment with Jera heading the department so smoothly. All in all I can't say enough great things. When I read a negative review I can't help but think there was a misunderstanding because this facility sets the bar so high and goes above and beyond. When I couldn't make it the 1st day and mom wanted Publix fried chicken mentioning it out loud, a nurse went on her lunch and got it for her! That's the little things that comfort our scared loved ones to know they're in a safe place that cares!
---
L.P.566751
October 20, 2016
I am a friend or relative of a current/past resident
I was not impressed at all with Palm Garden because of the staff. It was like nobody read charts, and nobody followed up with what they were supposed to do. I was just disappointed with them. My dad was just in the rehab for 30 days. They did not follow through with things that needed to be done. We needed to remind them with things to be done for my dad. We shouldn't have to tell them he needed a shower. We should not have to tell them he needed to be shaved. We shouldn't have to tell them to make sure that he was walking and things like that. It was not our responsibility. That was their responsibility, but the facility was OK.
---
Michelle K
August 21, 2016
I am a friend or relative of resident
This is my mom's third short term visit to Palm Garden Ocala after stroke related hospitalizations. I cannot say enough good things about the staff and care she receives at PG. First and foremost, they treat and protect her dignity whether it's making sure her hair looks nice, painting her nails or just talking to her in the hall as the staff passes by to ask her how she's doing. This is huge as I had her at another facilty in past and they didn't bother speaking to dementia patients because they said it doesn't matter since the patients are clueless anyway. Not a Palm Garden, the patience and respect shown by the staff to these sweet souls who can be sad, scared or feel forotten by others is bar none top notch. PG has lots of activities to keep the days from being so long for its patients and the halls are always buzzing with friendly staff members. The Rehab gym is near the front entrance and filled during the week with patients of all levels and attentive rehab specialists. If you have questions about care or medical questions, the nursing staff is always ready to answer or find the answer from the facility's medical doctors. The CNA's are fabulous. My mom arrived with swallowing and walking difficultis and has always left walking, eating again and happy. If your live out of town and have questions about your loved one, just call. They are happy to speak to you. Just keep in mind change of shift at 7am, 3 pm and 11pm is a hectic time and also meal times, since they are reporting your loved ones day and insuring timely meals for all. The following staff are truly outstanding: Rick, RN; Gina, CNA; Angela, CNA; JR, RN; Jerry CNA; Trina, RN; Christine, CNA; Teresa, RN, Carol, RN, Melody, Case Manager, Linda, Guest Services; Joyce, Speech Therapy, the staff of PT. know I'm forgetting to mention other superb staff. Caring for elders is a tough job and these guys do it with smiles on their faces. A man stopped me in parking lot yesterday and asked me what I thought of PG because he only read negative things. It dawned on me that people are often quick to give negative reviews, but positive reviews often don't get posted bc of busy lives, etc. So I hope this review will help other families select Pam Garden Ocala.
---
sgreynolds
June 16, 2016
I am a friend or relative of resident
My father who has always been very positive, never complained about anything physical until he had a knee replacement at 91 (the dr. should be investigated but that's another story), bathes and shaves every day, brushes his teeth after ever meal and snack. is 93 and legally blind. He still goes dancing, still empties the dishwasher and still goes out, is recovering in Palm Garden with a broken leg. He is bed bound. And it is heartbreaking for his children to hear him so hopeless. He doesn't believe he will get out of there and from the care he is receiving I don't believe he will. They believe he is being picky and difficult because he doesn't eat. He doesn't have much of an appetite from all the anesthesia and pain meds he was on but that really isn't the problem. The problem is that they bring his food and he can't see well enough to tell what it is, and he can't cut it up. He can't even see well enough or have the strength to open the milk carton. They do not ask if you need help, they just believe you are being picky about what they serve. My father who is fastidious with his hygiene is cleaned up once a day. At home on a daily basis he would shower, shave and brush his teeth after ever meal and every snack. He is bed bound here, yet he has no access to even hand wipes, which means when he uses the hand urinal he is left with no means to wash his hands. Or clean up before meals. While the therapy appears to be adequate they believe he is being overall difficult. Did they check to determine why? NO. The problem is he has always had a back problem which he never complained about even when he was walking stooped over. After falling and breaking his leg and after being in the hospital in bed for 2 weeks and this place for 2 weeks his back hurts so badly. They just believe he is being difficult. Thank God my sister was a able to fly down there and was able to take him food and was able to talk to the therapist and hopefully someone will look at his back and maybe he can get some help. If you value your loved one plan to spend every day all day with them ensuring that they are taken care of, they are fed, and clean. Please have their best interest at heart. It is difficult when you live 1200 miles away and you cannot be there with them. I don't know if it is the fact that they are understaffed, under paid, never learned compassion or are out of compassion. I do know if I had a choice my father would not be in this place unfortunately there is a wife that is in charge and this isn't what she signed up for....
---
JJULIEZ
April 25, 2016
I am a friend or relative of resident
Terrible, terrible!! Worst place to take your loved one. The Wound Nurse is not a certified WOCN and has no idea what she is doing. She makes wounds worse with her haphazard practice and incompetence. Her insecurity shows even more aggressively if you question her. My father got two additional bed sores while at this facility. If the dressing comes off in the middle of the night they will NOT put it back on and the wound will be left open to infection until day shift arrives. This was stated and confirmed by the "Wound Nurse" and happened just as she predicted. Dressings were left on with stool on them. When my father was transferred to the hospital, Palm Garden called to inform the family he was being transferred out to MRMC via direct admit but didn't know what bed he was going to and in fact he actually went to West Marion Hospital instead!! Awful, lazy care.
---
Lisha
March 11, 2016
I am a friend or relative of resident
I have an in-law in this facility. She has been treated well by the CNAs, and most of the nurses. However, she is being given laxatives in a severely dehydrated state in spite of the fact that she eats very little and produces little to no bowel because she eats so little. I am very concerned for her health and well being there. One of the nurses coerced her into signing a DNR by telling her false horror stories of how her chest bones would be broken open and crushed if they tried to resuscitate her.(They would use a crash cart and paddles). I am her surrogate and her daughter is POA. When we objected to the DNR, and provided a notarized POA for them on her daughter, they claimed that she was incapacitated and couldn't have understood signing the POA. However, two days prior, she was deemed competent enough to sign a DNR. So you can go from Competent to incompetent in 48 hours? Furthermore, Florida Statute 765 allows for appointment of surrogate and POA without having it in writing. She has been shipped around like merchandise for four months to three other nursing homes, and three hospitals and none of them required anything in writing from anyone and treated her and cooperated with us because she orally stated to them that we were in the positions we are in on her behalf. This greatly concerns me, because it looks like a blatant attempt to isolate the patient from family and institute unnecessary end of life protocols.The continued unnecessary laxative use, dehydration, and the isolation greatly concerns me. They have all but starved and dehydrated her to death. She has lost 40 plus pounds and looks like a skeleton. She was in fairly good shape when all of this started in December and it is frightening to see what has happened to her. You cannot imagine what it is like to feel like you have to protect your loved one form the very ones who are trusted and highly paid to allegedly help them.
---
Caring107138150
October 28, 2015
I am a friend or relative of a resident
My brother is at Palm Garden of Ocala. They're doing well. I have no problem with the staff. The staff is very friendly and very nice. They take care of him pretty good. The facility is OK. It is clean. I haven't seen anything that would upset me, so it seems alright. My brother has been there for three to four months now. His room could use a little bit of updating, but it is clean and it is nice. It could use a little freshening up, but it is not bad or anything. It is an older building, so it is pretty much what you'd expect.
---
M. Short
November 28, 2013
I am a friend or relative of resident
Palm Garden of Ocala took care of my father after a traumatic injury. His room was very large and clean. He had the most compassionate nurses imaginable. We were very pleased with his progress and the great rehab staff. Jara his physical therapist was wonderful! We can't say enough about Palm Garden of Ocala. We would recommend this rehab facility to anyone that wants their loved one treated with compassion and care that is top notch!
---
JackieFL
November 14, 2013
I am a friend or relative of resident
Our family had a wonderful experience at Palm Garden. My mom received wound care pain management, and rehabilitation. The nurses were knowledgeable, thoughtful, caring, and kind. They were very patient in explaining everything to my mother and all of us who would be included in her care upon release. The staff went above and beyond to make sure my mom was comfortable. The nurses treated her like she was their own mother. That was very comforting since some of our siblings live in other states. The wound care nurses were able to assess and treat her open wound in the most effective way to facilitate healing in the shortest amount of time. Although rehabilitation from an injury is harder as you age, our nurses and therapists made sure my mom was as comfortable as she could be. They made sure her pain was controlled and they were understanding when she was having a rough day. Never once did they demean her or talk down to her. If she had accidents they never made her feel bad. They would make her laugh if her mood was down. The care in this facility is over flowing. I wish all nurses and healthcare workers had the work ethic that the staff at Palm Garden in Ocala does.
---
Tina Blair
April 27, 2013
I am a friend or relative of resident
Worst facility imaginable. They are uncaring and lack compassion on any level. They are mean to their patients, yell at them and family members when questioned. Patients are left unattended for hours and treated poorly when they nurse/CNA feels the person has been rude to them. They are rough with them. The over medicate and medicate against families wishes. My grandmother was to be in that facility for 4-6 weeks to rehab from a broken hip and return home, she died in their facility 3 weeks later from lack of care and concern. Please do not leave your loved one in this facility.
---
persia352
July 31, 2012
I visited this facility
I was impressed by the overall cleanliness of the facility. The dining room andActivity rooms were very clean and very spacious. The rooms were a bit smalland plain though for my taste. I wanted Mom to have a fairly large room and one that was a cheerful. These were just plain rooms no bright paint or wallpaperto liven it up with. My main dislike was the hospital beds were the old crankmodels! I really could not believe those would be in use in the year 2012.i think that was my biggest turn off of the whole facility. I wanted Mom tobe able to adjust her own bed and not have to have a nurse or CNA do thatfor her! I also overheard someone complaining about not enough help at nightto meet their needs. Staff overall was friendly and polite. However i just wasnot happy with the plain rooms the space and the beds. So no to that facilityand on to the next one!
---
Ocala review
July 21, 2012
I am a friend or relative of resident
The food is terrible! My mother wouldn't eat it and lost 3 pounds. Most food is overcooked.
---
From Palm Garden of Ocala
---
Palm Garden of Ocala is Marion County's most awarded rehabilitation center, having received national recognition for our Culture Change Programs. The Florida Health Care Association also has awarded Palm Garden of Ocala with six state-wide awards, including Administrator of the Year and Nurse Administrator of the Year.
Palm Garden of Ocala is a 180 bed skilled living center offering short-term and extended care. The 200+ hardworking and caring employees of the center deliver compassionate care to friends, neighbors and family. Palm Garden is conveniently located in the heart of Marion County with easy access to all 3 major hospitals.
Features of Palm Garden of Ocala
---
Technology and entertainment
Medicare (ratings last updated: 06/16/17)
Health:
Overall:
Quality:
Staff:
Medicare Provider Number: 105562
Ownership Type:

For Profit Corporation

Date Certified:

05/01/2017
Location of Palm Garden of Ocala
---
Request Info
Get full access to reviews, cost information, and amenities