Falcon Ridge Rehabilitation
Talk to a Family Advisor: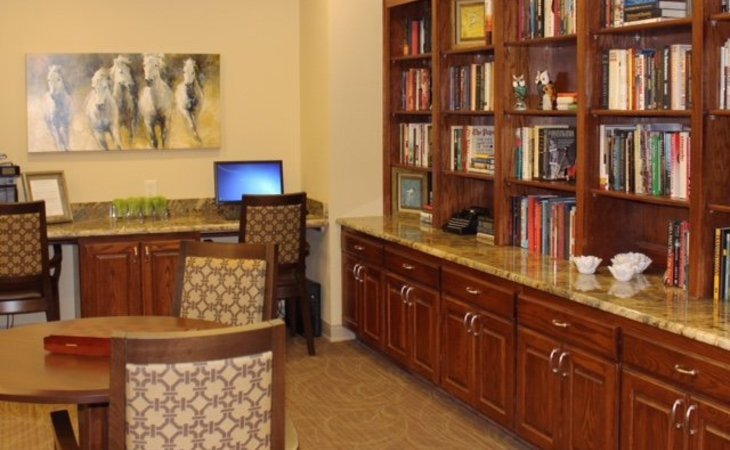 Reviews of Falcon Ridge Rehabilitation
---
T. Jefferson
January 08, 2017
I am a friend or relative of a current/past resident
My grandmother was placed in this facility for approx. 5 months until she passed away. I have not experienced a facility that was clean, attentive, and courteous as Falcon Ridge Rehabilitation. The staff answered all questions the family developed and they put her health first. Thank You for your service and I will not hesitate on recommending this facility to others.
---
Unhappy with Management
August 23, 2016
I am a friend or relative of resident
I have a loved one who is a resident at Falcon Ridge. My loved one has been there for over a year. The original management and staff displayed a level of care and concern that would make any family satisfied and happy.. I knew I had found the right place for long term care. However, since most of the original management staff has departed, the level of care has been greatly diminished.. CNA's show disrespect and a lack of care for the residents and at times my loved one's needs are not being taken care of. There has been a constant turnover of care staff and their morale is low. There are some management who talk down to the care staff in front of the residents and family members, and there always seems to not be enough care staff to take care of the residents' needs. In my opinion, management seems to have the attitude of trying to be more in compliance with State Regulation than meeting the needs of the residents. I understand compliance, but caring for their residents is why they are there. There is staff that are genuinely doing a good job and try to smile through being short-staffed and a lack of support from management. Something has to change or I will be looking to find better living and care arrangements for my loved one.
---
halibut
February 18, 2016
I am/was a resident of this facility
I was a recnt patient inyour facility. I cannot express how outstanding your complete staff is, I want to especially recommend the physical therapy staff I have had treatments in other facilities and none can compare with the group you have in your facility. Thank you fo the great service' Harry Butterworth
---
Happyfamily03
January 16, 2016
I am a friend or relative of resident
What an impressive facility. Most nursing facilities my mother has been to over the years have been sub par with care, and even worse with customer service. Falcon Ridge is a diamond in the rough. The nursing team is extremely intelligent, effective, and friendly. The food is excellent. I found myself purchasing a tray daily instead of bringing in food. The therapy department was awesome. Wow.... Just wow. If you are looking for a facility for your loved one, or they are in a current facility, move them to Flcon Ridge NOW!
---
NormBaker
September 26, 2015
I am a friend or relative of resident
I have been a Family Care Provider for my parents since 2006 when my father was diagnosed with pancreatic cancer, shortly after, he passed away. I continued caring for my mother that had many health issues that had left her paralyzed on her left side. Being mother's care provider it's been my goal to provide the best care for her physical and mental health from taking care of her within the home to assisted living and now skilled nursing. Throughout my journey with Mother, we have experienced many different living arrangements, some were ok and some not. I feel that all Senior Facilities should be at the supreme level of loving quality and caring environment. Throughout my search within the Central Texas area, mother and I felt that Falcon Ridge was the best by far. Mother have lived in skilled nursing only for short term after hospital stays, but lived in assisted living for seven years until her health declined that required her to need more assistance with transferring. The directors at Falcon Ridge have an open mind and ear to all the family members and they strive to build a supreme core team. The staff is the key part of my support team for mother, without their loving and caring nature I would not be able to feel comfortable with her being there. Before I was blessed to find Falcon Ridge, I was trying to find a way to balance my financial responsibility and support my whole family by taking care of mother myself; My plans were to stop working for my employer and become a full-time family care provider because I felt that no facility would be good enough for mother, but Falcon Ridge have proven me wrong. Falcon Ridge is building an awesome team of care providers that truly care about family. If you have a love one and you don't feel comfortable about skilled nursing facilities, please come and check out FALCON RIDGE REHAB, you will feel comfortable with your family member living her.
---
rwilkins
September 21, 2015
I am a friend or relative of resident
From the moment I walked in the door at Falcon Ridge, I knew this was where Mom belonged. When you are looking for a long-term care facility for a loved one, your first priority is that they will be safe and well-cared for. The care staff and administrative staff at Falcon Ridge provide the most professional care and attention I have ever witnessed. They not only treat the residents like family, but they also treat each other like family. The administrative staff works hard to foster an atmosphere of trust and respect among the staff, and it shows.They care for my mom with dignity and respect. They genuinely care about their residents and provide an atmosphere that is as much like "home" as possible. Kim, the Admissions Director, set me at ease from the very beginning, answering all my questions and assuring me that the same things that are important to our family are important to them as well. The Administrator, Chris, is professional, approachable, funny and sets a standard of excellence for his entire team that far exceeds most other facilities. The Nursing Director, Charles, carries this same standard through with the nursing and care staff and takes very seriously the care of the residents and the performance and attitudes of his team. The Activities Director, Shawn is, well, he is one of a kind. He has such a love for the elderly that is evident in his activities planning but even more so in his hands-on interaction with them. The facility speaks for itself, so drop by and see for yourself. The meals are the best anywhere, and the residents really love living there. My mom is safe, well-cared for, treated with dignity and respect and she is happy. I could ask for nothing more.
---
Cindy Jones
September 15, 2015
I am a friend or relative of resident
Our Uncle Bill was transferred from Lubbock to here so he would be closer to us. The transfer went extremely well. Chris at Falcon ridge coordinated the move. Uncle Bill is bed-ridden and requires special attention. The staff at Falcon ridge is top notch! They dress in casual clothes and really give an "at home " vibe to guests and family members. Falon ridge is a beautiful facility. Upon entering one thinks they must be at a fancy hotel or a vacation lodge. No Funny smells or upset patrons! Seeing is believing. Take a tour and have lunch. The meals are good. We know Uncle Bill is getting the best of care. Visit Falcon Ridge in Hutto and leave with peace of mind.
---
Sherry Chambers
August 29, 2015
I am/was a resident of this facility
A few days before I turned 67, I fell at home and broke 4 ribs. After 6 days in the ICC at the hospital, they sent me home. I could not use anything on my right side, I could not get myself up and down, in and out of bed, in and out of a chair. and I could not let anything thouch the right side of my back. Prior to this I was an active retired person. Now I was helpless. Because I was on SS it took a while for my family to find someone who would take me at their location and help me do the daily things to get back on my feet. Fortunately Falcon Ridge said yes. It was a brand new facility, my room had never been used. The staff was friendly and very caring. The Therapy area worked with me several times each day and I quickly became able to use my right arm. They even had a beauty shop in house to help with my wild hair. They also have a great meal selection. I am a very finicky eater, but did not go hungry and could always find food options. The only problem I had while there was a glitch with my medication being ready when I arrived. Fortunately my family had all the numbers they needed to alert those in charge to the problem and for my family to get my medicines where they could be administered. After a weekend of confusion regarding my meds, thing got regulated and much better by the time the weekday shift arrived. I have recommended this location to several friends if they need rehab on body parts and I would go back there if needed .
---
MCharlton
July 11, 2015
I am a friend or relative of resident
OUTSTANDING!!! My mother has lived at Falcon Ridge since it opened several months ago, after living in another facility for 2 and a half years. Let me tell you, the quality of care is unsurpassed!! From the minute you step in the door, you realize you have entered a special place. The cornerstone of this facility is the high expectations and leadership of it's administrator, Chris. He is completely committed to running the best nursing facility I have yet to come across. He is motivated, professional, compassionate and goes "above and beyond"! Also, Charles, the Director of Nursing is amazing! He leads by example, requiring the best from his nurses and CNA's. Charles is the perfect blend of professional and fun! Together, they are an unbeatable team. The therapy and rehab departments are incredible and the activities director is young and energetic. I cannot say enough wonderful things about the entire staff at Falcon Ridge. They enhance the beautiful physical environment with their work ethic and compassion and help make Falcon Ridge a safe and HAPPY place for loved ones. I cannot imagine my mother living anywhere else. I would HIGHLY recommend Falcon Ridge to any and everyone who is looking for rehabilitation care or a long term home for a loved one.
---
Bboop39
July 04, 2015
Other
My husband was in Falcon Ridge a little over 3 weeks for rehab and all the people there were so nice to him and to me. The food was very good, I bought a meal ticket everyday so I could eat lunch with him and it was always good.... I miss seeing all of them..... I would recommend it to anyone. And it is very beautiful!!! Thank everyone there for taking care of him and being so nice to us both!!
---
chuckp87
May 19, 2015
I am a friend or relative of resident
My mother has been a resident at Falcon Ridge since mid-April 2015 and she absolutely LOVES it. Because of issues encountered at previous places, this is the third facility in two years for her, but I think the "Third time's the charm" saying definitely applies here. I've worked with the facility staff to get all of the paperwork completed and they have always been very helpful and prompt. My mother loves the staff because they are very respectful and patient with her and the other residents. The facility uses hospital-style intercoms, so if my mother needs something she can just push a button and talk directly with a staff member without the staff having to come to her room to inquire about her need. My mother is also quite happy with the food! While setting up my mother's room on the day we moved her in, she received a covered dish for lunch. She removed the cover and, upon taking her first bite of food exclaimed, "Oh my Gosh! They actually season the food!!". If my mother doesn't really care for what is being served at a meal, she can SPECIAL ORDER from the kitchen!! One day she asked if she could just get a chicken tender and some fries for lunch, and minutes later they brought here just that! Falcon Ridge is about to get an outstanding activities director who I have known for two years. At a previous facility, he was able to get a lot of the residents to be involved in different activities. He is very educated and passionate about the work he does with the residents, and I feel VERY fortunate that he will again be at a facility where my mother is. If you're like me, all you want is for your loved one to be properly cared for. I talk to or visit my mother often, and she is so very happy to be at Falcon Ridge. If you're searching for a place, you REALLY owe it to yourself to give Falcon Ridge a look.
---
Yolanda Reid
May 08, 2015
I am a friend or relative of resident
My mother has been at this facility for about a month now and we just cannot believe what a difference this has made to her quality of life!! She is surrounded by loving staff that genually care for the elderly and their needs!! Needless to say the nursing home she was at before does not compare to the care she is getting now!! The doctors evaluated her medications and it turns out that with just a few adjustments she is coming back to her old self! She is no longer in a "zombie" state, which I believe was easier for the staff at the other facility to handle multiple patients!!! In any case, my family and I are feeling so blessed, with so much sense of relief that my mother is safe and in caring hands!! Now I must also mention how beautiful Falcon ridge is!!! Wow!! It's more like stepping into a resort!!! Beautifully decorated, large semi private rooms and the meals are also beautifully presented!! I love this place!! A big thank you to Chris the head of administration, Charles, head of nursing and all of the other staff that helped my mom adjust to her new surroundings!!! I highly recommend this beautiful facility to anyone who is looking to place a loved one who is planning a short stay or an ever lasting home!
---
cat.rom55
April 22, 2015
I visited this facility
I first saw, Falcon Ridge during their open house on April 9th and I was blown away by the services they provide. The facility is beautiful and sits in a quite area. Their physical and occupational therapist and office staff were just wonderful, very inviting and knowledgeable. Offering residents the ability to maintain their home environment during their stay at Falcon Ridge. Having an onsite beauty salon, spa, and therapy gym was something I have not yet seen in a nursing facility before. I would highly recommend this facility for families who need to place a loved one in skilled nursing care.
---
J Stemen
March 20, 2015
I am a friend or relative of resident
My Aunt is a resident at Falcon Ridge. The staff is awesome. They have moved mountains to assure my aunt gets everything she needs to increase her quality of life and assure a higher standard of care. The management are easy to talk to and respond immediately to any concern. Falcon Ridge provides a homelike environment. While the staff do not wear the tradional "uniforms" their name tags and introductions provide comfort in knowing who is providing the care. The Administrator and director of nursing work very hard to make sure each resident receives the best care.
---
sherallb
March 20, 2015
I am a friend or relative of resident
We were so glad to find out about Falcon Ridge, a beautiful new facility in Hutto that opened this year. We recently moved our aunt there and are very impressed with the attentiveness and accessibility of all the staff--from the administrator to the care givers. The atmosphere is more resort-like with many comfortable sitting areas with large flat-screen TV's, multiple dining rooms and beautiful grounds. Each room is spacious with adequate storage for personal belongings and a large bath area. The food is chef-prepared and delicious with many options available. I cannot say enough about the staff. They respectfully go above and beyond ensuring my aunt's comfort and and satisfaction in addition to her medical needs. They are all very personable and accommodating and it continues to be a joy getting to know them.
---
About Falcon Ridge Rehabilitation
---
Falcon Ridge Rehabilitation is a nursing home in Hutto, TX that provides patients with skilled nursing care as well as private or shared accommodations. Contact Falcon Ridge Rehabilitation for more details on housing, services, and rates.
Features of Falcon Ridge Rehabilitation
---
Room and housing options
Companion Suites:

We Offer Companion Suites
Dining options
Dining Room Shared Meals
Room Service For Meals
Features
Beauty Barber Shop
Computer Room
Resident Transportation
Party Space
Tv Room
Garden And Patio
Security Gate
Cleaning services
Laundry For Linens
Housekeeping
Laundry For Clothing
Technology and entertainment
Cable In Rooms
Internet Enabled Rooms
Wifi
Health services
Skilled Nursing
Hospice Care
Medication Management
Physical Therapy
Psychiatric Care
Nurse On Staff:

We Have 24 Hour Nurses.
Activities
Offsite Activities
Music
Games
Stories
Religious Services
Book Clubs
Wii Sports
Fitness Room
Gardening
Cooking
Arts And Crafts
Financial guidance
Va Benefits Consultation
Financing Advice
Financial Guidance Extra:

We Provide Assistance And Guideance In Completing Medicaid Applications.
Guest services
Guest Parking
Guests At Mealtime
Overnight Guests
Medicare (ratings last updated: 06/16/17)
Health:
Overall:
Quality:
Staff:
Medicare Provider Number: 676382
Ownership Type:

For Profit Corporation

Date Certified:

05/01/2017
General
Resident Capacity:

140

Staff Patient Ratio:

Staffing Depends On The Needs Of Our Resident Population

Respite Care
Minimum Age:

26

Pets:

Small Pets Allowed
Location of Falcon Ridge Rehabilitation
---
Request Info
Get full access to reviews, cost information, and amenities