Bridgewater Healthcare Center
14751 Carey Road Carmel, Carmel, IN, 46033
Talk to a Family Advisor: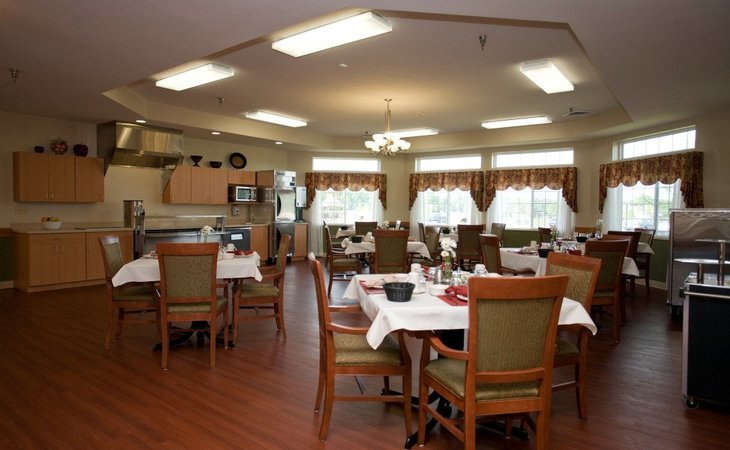 Reviews of Bridgewater Healthcare Center
---
lonelydaughter
May 09, 2017
I am a friend or relative of a current/past resident
Understaffed and inattentive are the two words that come to mind. I do think the PT and OT programs seem to be good. However, if there are any major health concerns this is not the place to send a loved one. I spend every day and every night mourning the loss of my mom which sums up Bridgewater.
---
Katz13423
March 02, 2016
I visited this facility
The building as a whole from what I've seen has great communication. They get things addressed right away. Any concerns they get them fixed. I recommend rehabing at this building great place to have as a "home away from home".
---
Laar12345
January 25, 2016
I am a friend or relative of resident
Bridgewater is a very beautiful building. Each staff member always has a smile on their face. My grandmother was here and I knew she was going to be in good hands. I definitely recommend you bringing your loved ones here, if you want a smoothie, speedy recovery.
---
Nancy_2345
January 19, 2016
I am/was a resident of this facility
Facility is clean. Staff is friendly and very helpful. A doctor is in all weekdays. Qualified therapists. Always a nurse on duty. Case management was very helpful.
---
Barbj10
September 05, 2015
I am a friend or relative of resident
If you are planning to take a loved one who has had recent surgery....."Don't do it!" They don't come when needed and then they say they have to get someone else to do whatever it is you need. They are noisy at night and are not considerate of the patients. The therapists are good,but the nursing staff leaves much to be desired. My recommendation is to find another facility.
---
Nator
September 03, 2015
I am a friend or relative of resident
My mother was admitted to Kindred - Bridgewater after recent spinal fusion surgery for aftercare as well as physical and occupational therapy. We were very pleased with the physical and occupational therapists, but not the hands-on care by the majority of the nursing staff. It seems that no one understood that mom had major surgery, was in great pain and needed assistance, however most times, she had to wait extended periods for anyone to acknowledge she called. Many times, she assisted herself to the restroom, although she wasn't supposed to do so unattended. Other times, thankfully, a family member was in the room to help her. There's also an attitude of "it's not my job" -- whoever came into the room for one thing had to contact someone else to do something else and in most cases, that never got communicated to "someone else." The food was not edible most times, even when you could determine what it was supposed to be! The night staff was very noisy, laughing and talking loudly -- standing outside patient rooms and yelling up to the nurses station. Trash cans were overflowing in the room and restroom until we asked for them to be changed, and there was a lack of general cleaning of the room as well. For whatever reason, there was not a phone in mom's room for several days, even though we mentioned it a few times. One evening, mom was left to sit in a chair unattended for THREE HOURS waiting on her bedding to be changed, and we later determined she was sitting there two hours before a shift change and the new nurse on duty wasn't informed of it. It wasn't until mom called me at home from her cell phone to call the facility to get someone in there to help her that a nurse did go in. This is inexcusable, especially considering the type of surgery mom was attempting to recuperate from. This set her recovery back, her pain level increased, and she was unable to continue her therapy. We had a couple of meetings with management over her lack of care, and even though they seemed caring, nothing was ever done to address the situations with those who provided the direct care. Mom was only there a week, and as her family, we couldn't rest comfortably leaving her there. We really wanted this to work, however we had no choice but to move her to another facility. Thankfully, she's now at a place that is head and shoulders above what she/we experienced at Kindred-Bridgewater. Perhaps this facility is okay if you don't require much assistance, but not if you need to recovery from major surgery. Patients deserve respect and dignity, and that's something healthcare workers need to learn -- if their hearts aren't in it, they need to find a new career!
---
lizmoney
August 05, 2015
I am a friend or relative of resident
Please search for other alternatives for your loved ones. While this facility used to be amazing and truly care about their patients...I have seen nothing close to that during my mother's 3rd stay. They put the patients lives in danger because the workers just don't care. This is by far some of the worst care I have seen and have to agree with my mother that she can take better care of herself at home even in her current condition.
---
Lauren19
August 08, 2014
I am a friend or relative of resident
When my mom stayed in this facility for rehab, it was my worst nightmare. They snowed her with pain medications to the point that she was hallucinating, barely conscious, and not eating (prior to coming to the facility, she had absolutely normal mental status). Yet, they saw no problem with giving her more pain medications around-the-clock. As a pharmacist, I asked to see her medication list only to find five medications that had significant interactions. I asked to speak to the medical director, only to be told that I was not allowed to call her. I voiced my concerns to several employees in management to no avail. My only option was to tell the nurse which medications not to give my mom and hope that this information was relayed to the nurse on the next shift. My mom was in no state to remember which medications to refuse. I was appalled that the nurse practitioner was assessing my mom's condition without any concern for these drug interactions and the terrible state she was in. It got so bad that she was readmitted to the hospital with altered mental status, hallucinations, and chest pain. They noticed the drug interactions and altered her medications at the hospital, and within a day, she was back to normal. I would not recommend this facility. It scares me to know that they manage medications so poorly. For patients without health care professionals in the family advocating for them, this is a real danger.
---
nanuette
February 24, 2014
I am/was a resident of this facility
I just arrived home from a legnthy stay at Kindred Bridgewater and I am sad to say that I miss being there. Always having a friendly face to talk to, being taken care of, having my room cleaned daily, the beautiful movie theater, the free snacks and soda from the club room, and my motivational therapists were all more than I ever could have hoped for. They even let my daughter bring in her dog to visit me which meant the world to me.There was always someone around to talk to or visit with and I will miss that now that I am back home by myself. If I ever have any other surgeries I will certainly stay at Kindred Bridgewater, as I now feel like it is a second home to me.
---
deedee74
February 21, 2014
I visited this facility
I live here at kindred bridgewater, and I am very happy. The food here is good, and I like to visit the club room and get coffee and cookies. They have food avaliable around the clock in the club room. I enjoy the entertainment that they have here and attend all the events. I also like to play bingo, and the prizes that they have for us are so nice. They allow my very own hair stylist come in and use the beauty shop to fix my hair.
---
Alla0
February 21, 2014
I am/was a resident of this facility
People are very nice here, and I am very happy here. The food is good, the service is good, and the care is best! I keep busy with therapy and all the events that go on here. The cleaning crew here is great, I like that they come everyday to clean my room. I will proudly recommend kindred bridgewater to anyone.
---
Mike0999
February 21, 2014
I am/was a resident of this facility
I love this place, if I have to be away from home this is the best place to be. The food here is great, and there is a healthy variety of foods to choose from. Overall the staff here is great, and they are constantly training them to provide the best care. I enjoy happy hour and bingo and I even help out during these events. The staff is very polite to my family and friends when they visit. I would recommend this facility to anyone!
---
Jill98
February 21, 2014
I am/was a resident of this facility
I have lived at this facility for over a year now and have enjoyed every minute of it. I am active in all the activities and look foward to the activities calender each month. The food here is very good and I like that we are able to put in our order and have the dietary staff cook it right in front of us. The nurses, aides, and staff are all very pleasant and take very good care of me. I know I made the right choice when I chose kindred bridgewater,
---
Ann Christian
February 21, 2014
I am/was a resident of this facility
Kindred is a very clean, and beautiful building. It's one of a kind. Everyone is so friendly here. I love playing bingo, and the events that they have there are so much fun. Our activities director always takes our suggestions on groups. I love the diversity of groups that they have here. I never get bored. I love the way they let us decorate our own rooms here and give us the freedom to live as we want. I have a collection of willow angles and I love that I have display them in my room.
---
Mr. Stevens
February 21, 2014
I am/was a resident of this facility
Overall, compared to other facilities that I have visited are friendly, knowledgeable, helpful, everyone pitches in and helps out all over the building. My family and visitors were treated with respect and staff was very polite to them. The staff works well as a team. Even the nurse helps out with any needed tasks. The only negative I can share about this facility is I feel that they need more choices at meal times.
---
jlewis
February 07, 2014
I am a friend or relative of resident
The staff provided the utmost care in treatment for our loved one. They were patient and thoughtful with her. They saw to her needs with professionalism and kindness. We found the personnel of the facility to be professional, helpful, informative, kind, and caring. Our family gives many thanks to the staff at Bridgewater.
---
6365jimmy
December 21, 2013
I am/was a resident of this facility
Don't let the upscale location, modern design and single rooms fool you, Kindred Bridgewater is not all that it appears to be. The facility and management is all for show; Admission staff will go out of their way to get you admitted and even send a concierge out to greet you as you arrive, but come the next day you are on your own. Management is lacking; no one person is in charge, instead, "everyone is the boss". Weekends, forget it, a handful of aides who have worked a couple of 16 hour shifts are in charge of the entire facility, be prepared to wait at least a half hour for them to answer your call button. The therapy is good, which in reality is the whole point of coming to Kindred-Bridgewater; unfortunately the poor nursing staff lessens the impact of the stay. I will say that if the "patient" is self-sufficient, meaning able to take care of their own personal hygiene, toileting and can be somewhat of a go-getter/ bossy they will probably fair just fine, but if you are a bed bound individual and need lots of attention and assistance, I would strongly advise a different rehab facility. My family member was at Bridgewater for six weeks and everyday it was a constant battle with the nursing staff. We were discharged and soon after we were back in the hospital, when it came time to choose another rehab center we decided to try Summer Trace at Manor Care and it was a breath of fresh air while it is an older facility the care and atmosphere is excellent. Do not make the same mistake we did.
---
rje43210
May 08, 2013
I am a friend or relative of resident
I would like to commend the entire staff at Kindred Bridgewater for your exemplary care of my husband while he was living there. Everyone was so friendly, smiling and cheerful from the receptionists to all the staff members I passed in the hall. This and the outstanding level of care are part of what makes Bridgewater really stand out in my mind as an exceptional facility.
---
butterfly1343
May 06, 2013
I am/was a resident of this facility
My mother was recently a patient at Kindred-Bridgewater and I am writing to thank every employee at Bridgewater for the care and attention given to my mother. Everyday, we were pleasently surprised by staff who was not responsible directly for her care, but went out of their way to help anyway. The room housekeeper always had a smile and kind words from Mom. The meal staff in the dining room encouraged her to eat when she did not want to and added sauces or whatever they could think of to help. I will add there was never, absolutely never, anyone employed at Bridgewater, whether it was on Mom's unit or just in the building, who ever showed anything but a pleasant, professional, and caring attitude.
---
matter of fact granny
February 22, 2013
I am/was a resident of this facility
The facility is nice. The nurses & 99% of the staff are great. Upper management is more interested in extending your stay for revenue . They don't care for short term stays. The food is worse than any hosipal food I've ever gotten. I chose to stay in my room for meals. They were served last, cold & inedible. The "chef" couldn't have credentials. He is a jack of all trades and the same person who shows up to escort you to the bathroom. My meds were not ready upon my discharge despite atleast 18 hours notice to upper management. I waited atleast 40 minutes after my daughter had loaded the car with my belongings. I left without the meds. Kindred called another daughter later that day & we told them my kids would pick them up as soon as time permitted. My daughter stopped by after a phone call about 5 days after my check out & was rudely told meds had to be picked up within 3 days or they are destroyed. Never mind I was charged for them. NOBODY told us we had 3 days to get the meds. I asked upper mgmt. for a form to fill out to rate my stay. I asked for it 1 day prior to check out. I never got it. Kindred made sure my signature was on HIPA forms etc. so they would get paid BUT I was never given my copy as promised. I would not recomend this place in the future mostly due to the horrible food. A surgery patient certainly needs food to regain strength to go home. My kids had to bring peanut butter, jelly and bread so I would have back up food. I told atleast 3 upper mgmt. & 3 nurses about the food. I sent back several trays. Nothing was done about the quality or the fact that it came to me uncovered 50% of the time. I am a 70 year old female living on a very small social security check. I'm not able to buy expensive food but what I prepare can be eaten.
---
From Bridgewater Healthcare Center
---
We provide specialized short-term rehabilitation, bridging the gap between hospital and home, as well as long-term care in a safe, compassionate environment that fosters independence and dignity.
Features of Bridgewater Healthcare Center
---
Medicare (ratings last updated: 06/16/17)
Health:
Overall:
Quality:
Staff:
Medicare Provider Number: 155790
Ownership Type:

Non Profit Corporation

Date Certified:

05/01/2017
Location of Bridgewater Healthcare Center
---
Request Info
Get full access to reviews, cost information, and amenities