Libraries Offer Alzheimer's Activities for Senior Living
A "Novel" Idea Sweeping Memory Care Across the Nation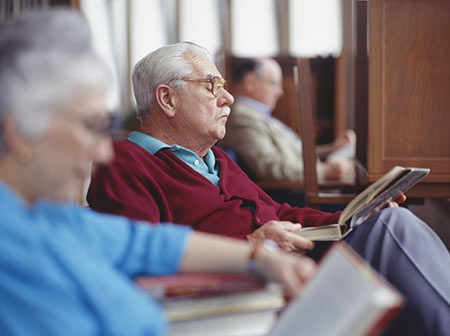 Librarian Tysha Shay used to bring home books and other materials to share with her grandmother, who had dementia and lived next door. Poetry was a favorite. "A poem might trigger memories," Shay says, "or she'd get moments of clarity from things I showed her that I knew she was remembering from her past."
Shay felt sure other people with Alzheimer's might benefit, too. "There was nothing the library was doing for people like her," says the reference manager at the Library Station in Springfield, Missouri. "I liked the idea of going out to folks who couldn't come to us." So in 2012, she started a nursing home outreach program.
Library-connected enrichment programs for people with dementia are a small but growing trend. They join other innovative, arts-based efforts to bring stimulation and enjoyment to people with Alzheimer's and other forms of dementia. These include museums hosting special art-appreciation programs, music therapists using instruments and song, storytelling programs, and creative movement and dance, among others.
So why not libraries?
Some ways libraries are helping people with Alzheimer's:
Tales and Travel. Developed by Mary Beth Riedner and the Gail Borden Public Library in Elgin, Illinois, this a pioneering program won a 2014 Rosalinde Gilbert Innovations in Alzheimer's Disease Caregiving Legacy Award from the Family Caregiver Alliance. Tales and Travel takes participants with early- and mid-stage dementia on an "excursion" to a U.S. or international destination, using readings, folk tales, pictures, and music resources to immerse them in the place.
Riedner had been working as an academic librarian in Chicago when her husband Steve was diagnosed with a form of early-onset dementia in his late 50s. Surprised not to find any library programs for people with such illnesses (though she found them in Denmark and the U.K.), she began developing one, first for a local memory-care facility, then with the library.
Through grants and a partnership with Dominican University, Tales and Travel has expanded into more than 30 different "trip" programs that any library or memory care center can implement. Now it's being adapted for family caregivers, too. Portable programs -- bags of books and objects, dubbed "carry-on bags" -- can be checked out for use at home. They're also a great icebreaker for people who feel unsure what to say or do when they visit friends or relatives with Alzheimer's, Riedner says.
Stories for Life. Shay's brainchild is based at the Springfield Greene County Library District in Missouri. Several branches bring library services to local long-term care communities. Shay, through her Library Station branch, visits Springfield's Maranatha Village Retirement Community and Elfindale Retirement Community, for example. She explores a different theme, such as plants or history, with residents each month.
Like Tales and Travel, the Stories for Life facilitators use a wide range of resources, from books and historical documents to music and objects. "We work out the themes in advance so the activities directors know and can put them on their calendars," she says. Once a new activities director told her, "I can't get people to come to any of my events, but when they knew you were coming, they all wanted to be there!"
Informal efforts. In some places, library staff and volunteers bring books and materials out to local long-term care communities. Ann Moore spent six years making monthly visits to the Niskayuna Memory Care Facilities' Brookdale Clare Bridge facility on behalf of the Schenectady County Public Library in New York. "I wasn't sure what to expect at first and neither was the activities director," she says. "But it went really well and we tweaked it over time." (Due to budget cuts, this program ended in 2012.) Activity directors also check out materials residents are especially interested in.
What works
Libraries house rich troves of books, recordings, and other materials from which programs can be built. Popular topics for people with Alzheimer's have included travel, plants, weddings, Jackie Kennedy, cars and motorcycles, cake decorating, babies, and animals. "We regularly joked about the merits of cats versus dogs," Moore says.
Local history is popular with Stories for Life attendees, many of whom grew up in the area. Shay has run programs on rural medicine and country doctors, Missouri outlaws, and Rose O'Neill, a famous area illustrator who invented the iconic Kewpie drawings and dolls. For a session on old-time childhood games, she brought marbles to shoot. "People who never spoke and were pushed there in wheelchairs were scooting themselves up to the table and saying, 'Watch me!'" she says.
Big coffee-table books have beautiful photos but are often too heavy and unwieldy for the frail residents, Moore notes. Many librarians choose children's books for the large colorful pictures and simple type, which can be an engaging and respectful choice that works well as long as they're not too juvenile.
Moore came up with her own guidelines for how to present materials through trial and error: "1) Be flexible; 2) Be patient and prepared to repeat yourself; 3) Speak simply and clearly, and look directly at the individual; 4) Keep a sense of humor and don't take things too personally; and 5) Remember, they're people, too, and not all the same."
What's ahead
In the latter part of 2015, a new special-interest group at the American Library Association will present proposed library standards for starting and running such programs. They're based on similar guidelines that International Federation of Library Associations and Institutions has had since 2007.
Currently in the U.S., libraries more often support caregivers (rather than directly helping people with Alzheimer's), such as by purchasing materials on caregiving, offering programs about dementia and brain health through organizations such as the Alzheimer's Association, and providing meeting space for support groups, Riedner says. Although outreach programs can use existing library materials, they require manpower to bring these resources to communities. This can require budgeting or grants, or training for volunteers.
"There's also a stigma about Alzheimer's -- people feel like they have to be a social worker to interact with those who have it," Riedner says. "But libraries offer story time for children and we don't feel like we have to be child psychologists to do that. You just have to be a caring, open person who has something to share. It's so rewarding -- once you do it, you're kind of hooked."
What families and dementia caregivers can do
Convincing numbers-driven library boards of the importance of these programs can be a challenge. Those who benefit, on the other hand, tend to get on board quickly. Caregivers, activity directors and their employers, and the people with dementia who get to know a beloved "library lady" all appreciate the need, librarians say.
"Individual caregivers need to go to their libraries and say, 'I heard about this great program. Do you offer anything like it?'" Riedner urges. She also suggests bringing the idea of a library partnership to the attention of the activities director at a community where a loved one lives. Shay notes that her program has brought residents closer. By talking about their childhoods or interests through the books, she says, "They find out they have more in common than they thought. The things we explore together foster their friendships more naturally than just sitting at the same dinner table every day."
"There is obviously much work to do yet, but it's the right time, as there's been more attention to Alzheimer's and more baby boomers are touched by it," Riedner says. "Libraries are giant treasure chests with so much in them."
Find Memory Care
Comments
---
about 2 years,
I have a book coming out in the spring 2017. Story poetry for seniors. It is a masterpiece to behold. Who do I contact at the library central to purchase a book for each of the library's nationally? ONE ROOM SCHOOL First day of school I remember walking there With two sisters and a brother Across the meadow ripe for harvest Turning and waving at my mother We reached the gravel road Now a mile left to go What an exciting time for me I checked my hair for the little blue bow There it is, not so small In the eyes of a five-year old A couple of steps, I enter in Behaving like I've been told Twelve coat pegs on a wall With benches down below Holding lunches, bowl and pitcher An array of cups with pail and dipper I remember the playground swing Marlene soaring in the air Further out and to the right Toilets, two, we're not to share Another small building stood Holding all the coal and wood Throwing a ball "anti-i-over" Then catching the ball as best we could Cinderella, dressed in yella Went upstairs to kiss a fella By mistake she kissed a snake How many doctors did it take? One, Two, Three, Four Skipping, skipping very fast Then I hear the school bell ring Now it's time, time for class That one room building still exists Sitting on a neighbors farm Holding a bounty of memories Hosted now by a ghostly 'marm' Thank you, Joanne Kenzy December 31, 2016
---
Stay Connected With Caring.com
Get news & tips via e-mail
---