Affording Care for Alzheimer's Disease
Real People, Real Stories, Real Costs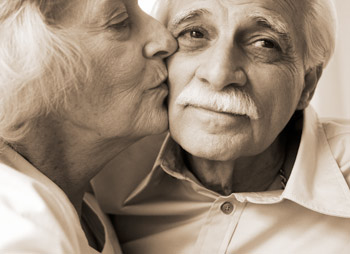 Business Week called Alzheimer's disease the "costliest killer" for good reason. This disease, which affects 5.4 million people in the U.S. and 44 million worldwide and is the sixth leading cause ofdeath in the United States, has an impact on caregivers that is huge. In 2013, 15.5 million family and friends provided 17.7 billion hours of unpaid care to those with Alzheimer's and other dementias -- care valued at $220.2 billion, which is nearly eight times the total 2012 revenue of McDonald's.
Next: Alzheimer's Care Costs Index 2014
That doesn't even take into account what families are spending to place loved ones in assisted living and other facilities where they can get the care they need. How are families affording it?
Meet a few of those who are managing both the emotional -- and financial -- costs of this epidemic.
Lisa Getze: "I'm surprised at how expensive it all is."
"I feel like I have a third child who's 81," says Lisa Getze, 54, from Lakewood, California. Her father, octogenarian Stanley Van Amburgh, was officially diagnosed with Alzheimer's disease in September 2012, but he showed signs earlier. She and her family have been caring for him ever since those early-warning indicators.
"I started noticing his memory getting worse," Lisa says. "He drove through a red light and didn't notice that he barely missed getting hit by a truck. He'd spent money like it was water and lost a lot during the recession, so he wasn't in the best financial shape."
Initially, Lisa's brother lived with their dad for two years, and that helped save money they would have spent on full-time help or assisted living. But then his needs increased and they couldn't care for him at home.
Assisted living cost Lisa $5,500 a month, with Level 1 care. "Dad doesn't need incontinence assistance or help getting dressed, so that saves us some money," she says. "But there are other costs, such as groceries and the cost of an occasional companion to accompany him to the doctor when I can't make it."
Lisa is looking into veterans assistance programs, which will supplement her dad's costs by about $1,700 a month if they get that benefit, but applying for it requires a ton of paperwork.
"Meanwhile, we had to sell off his house to pay for his care," Lisa says. "Fortunately, we were able to pay off his reverse mortgage and use the funds to finance assisted living. If we hadn't been able to do that, my siblings and I would have had to dig into our own pockets to find the funds, and that would have been extremely tough. Affording care becomes a class divide between haves and have-nots."
Cindy Hawkins: "Hidden costs are not always what they seem. But they are there all the same -- substantial and ever present!"
"Mother has been so fearful and anxious about strangers in the house, I've been her Meals on Wheels and grocery bills have ramped up," says New Yorker Cindy Hawkins, 66, who manages care for her mother, 92. Cindy also pays travel costs to see her mom four or five times a week, and "my cell phone bills are through the roof, since Mom forgets how often she calls me," she says. "I consider those Alzheimer's expenses."
Her mom is in the last days of living in her own home after a recent evaluation that showed that her cognitive skills continue to decline. She has waking dreams, which are somewhat similar to hallucinations; she is suspicious and anxious; she has lost language and words; and she has very little short-term memory.
"These issues all combined are strongly suggestive of Alzheimer's disease," says Cindy, who married for the first time in 2008 -- at what she calls "the tender age of 60." She and her husband Ric are now preparing for the next costly phase of her mother's care: moving her in with Cindy's sister.
"After years of being on her own, this will be a tough adjustment," says Cindy. It also will require the family paying for costly support services at her sister's, including a home health aide worker, since both Cindy and her sister work and cannot be with their mother during the day.
Travel, food, home health care, and medical tests and evaluations -- such costs add up.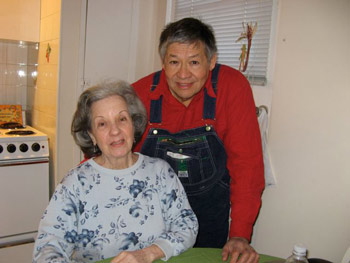 Cindy's mom with Cindy's husband, Ric
Brenda Smelser: "When we realized how financially bad off my parents were, my whole family broke down in tears."
She works to help victims of domestic violence. But her training didn't prepare Missourian Brenda Smelser, 63, for the kind of care her parents, Fred and Darlene Nation, would need once they both got Alzheimer's disease.
"Based on what we know now, Mom and Dad had Alzheimer's for years, but they were officially diagnosed with it in January 2011," says Brenda. "My sister and I would notice falls, illnesses, and erratic phone calls. At a restaurant, I'd ask them what they wanted and they'd look at the menu, then at each other, and then at me. 'Baby, I'll have what you get,' Mom would say. I know now they couldn't remember what they liked to eat and were covering up."
That wasn't all they were covering up.
"The worst part was how much they had hidden about their financial situation," says Brenda. "My parents ran their own business. They'd been so good with money. We took for granted that they were continuing to manage it well. But they got themselves into serious financial debt and none of my siblings knew. They made outlandish purchases. They signed up for a number of credit cards and incurred credit card debt. They were also swindled by telemarketers, who prey on the elderly."
"When we realized how financially bad off my parents were, we all broke down in tears. Mom, Dad, my family -- we were all crying," says Brenda. "We had to auction off their home and possessions."
Her father passed away on March 21, 2014, before his disease progressed too far and cost the family too much. Later that year, however, her mom had a stroke. That illness took everything her mother had left financially.
"Initially she lived with us, and we had a helper who worked four hours a day at $20 per hour," says Brenda. "But when Mom started to hallucinate, she had to move to an assisted living home that cost over $5,000 a month. The $2,000 we spent per month for the home health aide was more manageable than the $5,000, but we had no choice. We paid for it through the sale of my parents' home and her social security monthly payment.
"My mom passed away March 12, 2012," says Brenda. "She was a lovely lady and I was so worried she'd be hurt or would forget to eat. We picked her assisted living home based on proximity to her doctor, the location, and reputation. The costs of her care were worth it even though they were high."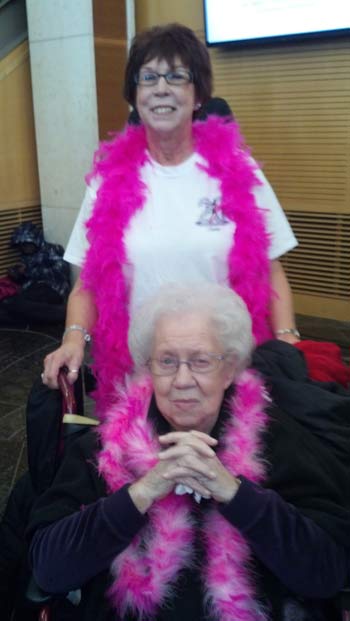 Brenda Smelser with her mother Darlene, who was diagnosed with Alzheimer's in 2011, along with her husband, Fred
Bill Maguire: "Why is this disease so underfunded?"
Bill Maguire's distinguished Navy career may have prepared him better than most for the Alzheimer's disease battle he'd end fighting once he retired from the military.
Bill, 62, from Sumter, Florida, put his wife, Katia, 68, into a memory-care assisted living home in early 2014. "It's a horrific disease, and when you get it early, it's worse," he says. "She's had every symptom."
After years of explaining Katia's illness to friends and doctors, Bill is so familiar with the timeline of her illness that it rolls right off his tongue. Katia started showing signs of early-onset Alzheimer's in her 50s. In the 2000s, her short-term memory started to go and she'd regularly misplace small items, like sunglasses. Starting in 2002, she began asking the same questions over and over. By 2007, she'd lost her long-term memory. By 2010, she was hoarding and experiencing hallucinations, and she lost her ability to recognize Bill. Then from 2010 to 2012, she had extremely serious hallucinations and delusions, her hygiene went completely downhill, and she started wandering.
Bill retired a few years ago and was able to devote himself to her care.
"But when the techniques you have used that worked don't work anymore, then you have to consider long-term care," he says. "In terms of costs, I'm spending $4,000 a month on the assisted living facility, and it is all private pay. The flat fee is $4,000 a month, which is relatively inexpensive compared to other places I looked at, which had flat monthly fees between $5,500 and $6,000. I spend an additional $50 a month on pharmacy co-pays, $50 a month on bundling the meds my wife takes in packages, and $40 a month on hairdressing services."
Bill feels fortunate that at least he can afford her care.
"I can't imagine handling this financially if the primary breadwinner is the one with early-onset Alzheimer's," he says. "At least I was in a great job with great benefits. If you're the caregiver and you have to still work? No way. There are so many costs and conditions that can be horrific."
Bill gets angry when he thinks of the tidal wave of costs that Alzheimer's and dementia caregivers face.
"This is the most underfunded disease, and it's going to explode to millions of people in the next 30 years," he says. "We should start calling it an epidemic. It's one of the only diseases with no cure or remission. The last significant drugs came out in 2004, they don't even work in all cases, and, if they do, they just postpone symptoms."
After exploring so many assisted living options for Katia, he's also a big believer in being careful about not overspending. Bill advises focusing on not falling for showy marketing ploys and instead zeroing in on the quality and level of care a facility will provide.
"You have to be aware of chandeliers -- meaning, the lobby looks like a five-star hotel and the prices reflect that," he says. "But that doesn't mean the care is five-star."
Comments
---
about 2 years,
Your statement that Alzheimer's is the sixth leading cause of death in the U.S. understates the true extent of Alzheimer's-related deaths. Generally, death certificates list only the immediate causes of death and do not recognize the underlying causes. As a result, many Alzheimer's-related deaths are attributed to other conditions such as pneumonia but which were precipitated by Alzheimer's. If death certificates recognized the underlying causes of death, deaths attributable to Alzheimer's would be far greater than statistics show.. I point this out to emphasize the urgent need to find effective treatments for Alzheimer's Disease.
---
about 2 years,
Has anyone applied and used Medicaid to offset the cost of care for advanced Alzheimers?
---
Stay Connected With Caring.com
Get news & tips via e-mail
---