Caregiver: Maria S.
A Caring Champion 2013 Nominee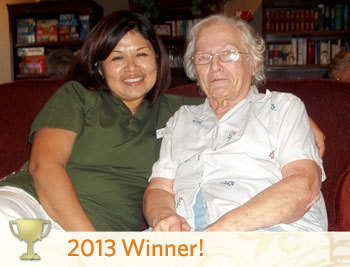 Employer: Aspen House
Location: Loveland, Colorado
Inspiration for this Nomination:
Maria is an exceptional care partner. She is quiet and unassuming. She is technically skilled at a level that is higher than most but more importantly, she is caring and compassionate and kind and gentle and all words that describe the perfect care partner. She loves what she does and takes absolute pleasure in offering moments of joy to the residents for whom she provides care services. She "hovers" over the care of the women she provides care to and makes sure her co-workers on other shifts are aware of anything and everything with respect to that resident. Maria does not think of herself as being exceptional and would most likely be embarrassed by the attention that this award would bring, but that's exactly why she deserves it. She does what she does because she loves it--not for any special award or extra recognition.
Caregiver's Best Skills and Attributes:
Maria is the best. She provides care services to up to 10 women who are all diagnosed with dementia. We sometimes (lovingly) refer to her as the "dementia whisperer"--every morning she greets the residents with a hug and kind words. Her approach is so calm and positive that she often can encourage residents to eat, shower, dress, etc when all others cannot. When her co-workers in other areas are having a difficult time figuring out how to approach a situation, they often call on Maria for guidance and suggestions.
Feedback About This Caregiver:
Maria has received feedback from every family member of the person for whom she provides or has provided care. The families have spoken to me and written notes to me about how caring, patient, and competent she is. She has such a nice, gentle way about her that stands out above all others. Some quotes from families: "You have been a blessing in our lives", "She treats every resident with respect, consideration, and love" "She is very attuned to her residents" "she demonstrates thoughtfulness and compassion to both the residents and their families" "Maria is exceptional"
More About This Caregiver:
Maria willingly shares ideas about care with others. She has a very high standard for physical care (which she shares in training others) but she also has a high standard with emotional care. She has clever ideas that she uses to make care pleasant. For example, one woman was reluctant to shower and would often use her teeth as her way of communicating. Maria rolled up a washcloth for the woman to bite--providing a safe outlet for the woman's frustration! She plays music during shower times or getting-dressed times. She holds a weekly tea party for the ladies in her care where she serves pastries, tea, and music.
Maria is so incredibly dedicated to the ladies in her care. She is attentive and is acutely aware of each woman's physical and spiritual needs and expectations. She recognizes when something is different and takes appropriate action whether that means she contacts the physician or nurse or alerts her co-workers. Every single family member knows Maria and comments on how incredibly wonderful she is.
Read More Stories
|
Find Memory Care
| Hire This Company:
Aspen House
---
Stay Connected With Caring.com
Get news & tips via e-mail
---