Arbors Memory Care Community
2121 E Prater Way, Sparks, NV, 89434
Talk to a Family Advisor: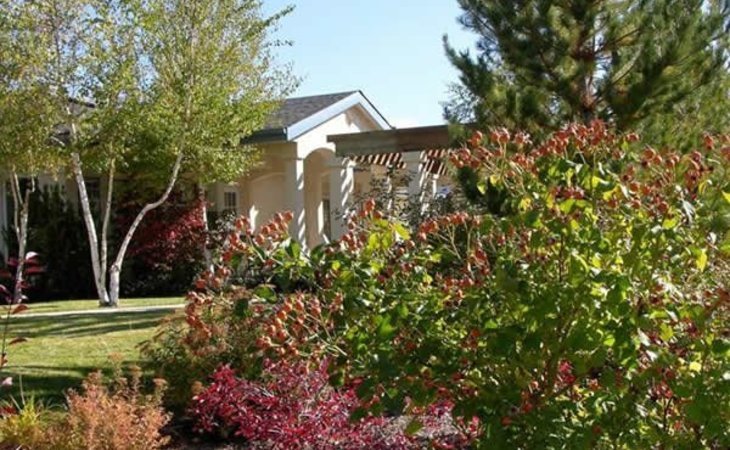 Top nearby Memory Care Facilities
Reviews of Arbors Memory Care Community
---
randy134417
June 06, 2017
I visited this facility
Arbors Memory Care was beautiful. It was very well-appointed, they had 6 caregivers to every 1 resident, and the grounds were beautiful. They were gated, but you don't feel as though you were locked in. It was more very open space, but very safe, so that the residents can wander around. The level of care was exceptional.
---
Karen117878950
December 16, 2015
I visited this facility
We took a brief tour through the Arbors. It's more memory care and seemed very nice. If we were going to proceed, I certainly would go in to see more. When you're interested, they have the family come in and have lunch with them, then give a tour and everything, so that they can really see what's going on. The room that we saw was a one-bedroom, and it was set up very nicely and very clean, wheelchair accessible, and accessible to the elevator, so it was very nice. They certainly keep the seniors active and have certain planned activities. I didn't see things going on at the moment we were there; it was relatively quiet, so they may have had some outside activities going on. The staff was very good. There was a normal dining room where you can choose your own eating hour. I believe they had an open dining area where you can go and get snacks throughout the day, and then they have their regular meal times as well. The staff certainly was very helpful, so all of those things certainly did impress me.
---
Mary Lou5
September 30, 2015
I am a friend or relative of a resident
My husband is in Arbors Memory Care. The room is very nice and very clean. Everybody knows what they are doing. Everybody is very caring, and they take care of their people very well. They have bingo, exercises, music, and they have somebody come in to play the organ or whatever. They serve very good food. They have tables all over the community entrance way. Once you get into the lock door, you will see the sitting area, and they have an area where they can watch TV, which is like a theater setting, then they have tables on both sides. It is a huge room. Right down in the middle are offices spaces. There are tables and they can eat wherever they want to. Each table seats probably 10 people. I have been there about 6 months ago for a tour, so when I know my husband has to go to a home, I know that is the one that he needs to go to. I like everything I see.
---
Caring43552
June 26, 2014
I visited this facility
My husband has not yet moved in, but we have chosen Arbors Memory Care Community. The facility itself is beautiful. It is a local company, and I like that idea. The people working there are very nice and very knowledgeable. That's why I picked it. The rooms are larger. They have single and double rooms. Each room has its own bathroom. The food is very nice. The dining area is a big room. They have activities. Every day they have crafty kinds of things, they have exercise, they bring in local groups, and they have piano. It is a very nicely run place. It wasn't the first place I looked at, but it is the place I like the best.
---
Jeff9
August 01, 2013
I am a friend or relative of a resident
My mom is well taken care of and watched over 24/7 at the Arbors Memory Care Community. It is very modern and very clean. It is only a block away from my house so I get to see her every day. They have wonderful and very caring people there. They are very receptive to everyone's needs and they remember your name every time you come back which is very nice. They treat their patients with the utmost respect. They are doing a good job. We are very happy with what is going on right now and my mother seems to be very happy there.
---
Jennyoro
July 25, 2013
I am a friend or relative of resident
My grandfather is a resident of the arbors. They have been very great with us. My grandmother passed away a year ago and shortly after that I became my grandfathers guardian. The people at the arbors have been understanding of my circumstances and were willing to help my grandfather transition into there community. He began living there in a respite position and slowly transitioned into a regular room. He is very happy there and so are we as his family. I recommend the arbors to anyone looking for memory care. I like how the arbors are owned by a local family. If I have any concerns they are addressed immediately. I think it's a great community for people with memory issues.
---
SC in Reno
July 25, 2013
I am a friend or relative of resident
My grandmother has been a resident of the Arbors for several years. I have been extremely pleased by her care. Many of the caregivers have been there as long as she has and we feel like they've become part of our family. Their concern for her well being is evidenced daily. I almost feel like they treat her like their own grandmother. The Stutchman family who owns the Arbors has been so incredible to work with. They know my name, my mother's name and they always greet us with a smile and oftentimes a hug when they can tell we're feeling down after a visit. We checked out a number of facilities before we moved my grandmother and we felt that the Arbors by far showed the most care and concern for their residents. I know my grandmother loves it there too because she is always smiling whenever we visit. She introduces us to her friends and always has lots of stories about the fun things she's been up to. I would definitely recommend the Arbors to anyone who needed to find a home for someone with Alzheimer's.
---
Jumpin
June 18, 2013
I visited this facility
Terrible place... they suck you in with all the promises and don't deliver at all. The price you pay is ridiculous and they don't do what they say they will do for the clients. It is all about money....... so sorry my friend didn't know any better......
---
Carolyn3
October 26, 2012
I am a friend or relative of a resident
My brother looked up Arbors Memory care on the internet. I was trying to figure out what to do for my mom. I went and looked at the place and I talked to them. After talking to them I found them very helpful. They were so caring and sweet. When I looked up the reviews on the internet, they have quality people there. When I viewed it was like being in a hotel and when my mom went inside she thought she's in a hotel. She loved it. She thought it was beautiful. I like the freedom there. They were able to go and do what they would like to do. They had freedom and I like that. It didn't feel like a confinement and there was no smell. My mom has a single room by herself and it's a large room. She's happier that way. She's always taken care of. I don't walk in there where I feel like they are not doing their job. I have eaten there and the food is great. I've never had problem with food. Sometimes I eat with her. Sometimes I'm there for a family night and the again the food is great and I can't complain with any of it. I love the staff in Arbors Memory Care. They're so caring and so sweet. I never walked one time where I heard an angry word come out of them. They treat their residents so much like family. They treat them so good and they're so sweet to them. They would stop anything they're doing to take care of a situation. They're wonderful!
---
Donna10
October 26, 2012
I am a friend or relative of a resident
Arbors Memory Care was highly recommended to us and also when we went to visit, it just had a homey feeling. My mom has been there for 4 years. Through that period of time, the one thing that is always constant is that she is busy. They have many activities which many of the other facilities do not offer and makes such a difference in the quality of life. She's had exemplary care. It seems that people who worked there actually have feelings for the residents rather than just doing things as a job. My mom was in a room by herself for more than 3 years. Recently we just moved her in with a roommate and it works just fine. It's a large bedroom with a bathroom. The food is wonderful. They have a family night once a month and we eat there at least once a month. The food they serve is nicely prepared. It's tasty and well presented.
---
KellAlpha
February 10, 2012
I am a friend or relative of resident
My girlfriend's grandmother is currently a residence at The Arbors. I first visited the place when I was going to drive my girlfriend's mother and grandmother around for a bit so she could have a change of scenery. When I first entered The Arbors, every attendant was very cheerful and welcoming. I also noticed the place was very clean, welcoming, and simple. When we went to get the grandmother from the room, she wasn't being very cooperative and putting up a fit. This is where I was disappointed in The Arbors. The attendants were very rude to us and to her, acting as if our presence there was to blame for the grandmother acting out and causing a scene. The attendant acted as if she just wanted us gone. After we calmed the grandmother down and buckled her in the car, the attendants were calm and nice again. The facility is beautiful and well kept, but this experience has left me thinking that some of the attendants need an attitude adjustment. Also, a few days later, we received a call from The Arbors at home about the grandmother falling and hitting her head. When my girlfriend's mother kept asking the attendant how serious it was, they kept repeating the same thing over and over and finally admitted that they didn't personally know the grandmother and what her condition was (dementia and Alzheimer's). This caused a lot of frustration. I had hoped that The Arbors would have had one of their attendant's speak to us that actually knew the grandmother. Overall, I would say some of the attendants are not the best around, but acceptable.
---
From Arbors Memory Care Community
---
Arbors Memory Care Community is devoted entirely to memory care. Your loved one living with Alzheimer's or other types of dementia will not only receive basic physical care, but will thrive in an environment creatively designed for their psychological well being, social needs, and entertainment.
Located in Sparks, Nevada just a mile from Interstate 80, Arbors Memory Care Community is family run, allowing owners and staff the flexibility to easily make beneficial changes.
The Stutchman family has 38 years' experience running and developing senior communities. Their longtime involvement in the industry contributes to the quality of programming, design and layout of the building, and management of their well-trained team.
The Nevada Bureau of Health Care Quality and Compliance conducts annual unannounced inspections of senior care facilities. Arbors has received an "A" grade every year since 2004 while many competitors get Cs and Ds on their initial inspections. Arbors Memory Care remains committed to maintaining an outstanding environment, staff, and structure to enhance the lives of its happy residents.
Staff competence, proficiency, and compassion are priority one at Arbors Memory Care Community. Caregivers receive three times the training required by the state of Nevada. Ensuring they hire top-notch professionals at the onset, management then accelerates knowledge and expertise with 16 hours of instruction. Next, leaders create paired teams with one experienced caregiver to work with residents for the new hire's first several shifts. Education is continued on a monthly basis.
Safety is another priority at Arbors Memory Care. Surrounded by a wrought iron fence woven with roses, the community is secure, but lovely with no feeling of confinement. Extensive research was conducted to plan the community's layout, so that residents can follow visual cues or "way-finding" prompts to easily reach their destinations. Memory boxes stationed at individuals' apartment entries signal residents that they have arrived home. Memory boxes contain personal photos of residents, loved ones, and even framed bios highlighting their own life achievements, experiences, and peak moments.
An abundant activity program is so important to Arbors management that they have hired two activities directors for seven day a week coverage. Through arts and crafts, brain-training games, and physical exercise, staff motivates residents to connect with their creativity and mental functioning, while engaging in rewarding social interaction. Golden oldies and lively music play in the background as seniors participate in these enjoyable activities. The morning "Keep Fit Wellness Program" is a great start for each resident's day.
Live entertainment and events hosted by Arbors Memory Care Community add to each individual's fun. Musical performances inspire seniors to dance, and the monthly Family Nights keep residents connected to loved ones. Trips are taken offsite to attend community events.
Community Relations Director, Stephanie Hanna, had a grandmother who passed away from Alzheimer's, but she regrets she didn't have the time to spend with her in her final months. "Now I take time to visit the residents -- one of my favorite parts of the job." Ms. Hanna notes that in a way, she is completing a karmic requirement.
Facility Features
Three-acre site
Neighborhood environment
Outdoor areas for gardening, barbeques, exercise, and other activities
Wrought iron fence with roses and vines for security with beauty
Visual cues and walking paths for easy navigation by residents
Two spacious atriums with plants and birds
Numerous areas for socializing
Quiet spaces for sitting/relaxing
Activities kitchen
Library/den
Arts/craft room
Beauty salon
Private and companion suites
Basic cable
Events
Monthly Family Nights with dinner and live entertainment
Monthly support group
Hot August Days, Cool Classic Cars Show -- hosted by Arbors
Concerts performed by 30-piece band two times per year "" hosted by Arbors
Educations seminars by industry experts
Activities
Daily exercise available -- Keep Fit Wellness Program
Live entertainment three-to-four times per week
You and Me time
Dancing
Moments of Memory Art Classes
Games
Weekly bingo socials
Pet therapy
Sensory word challenges
Religious Services
Services
Three daily meals guided by a dietician
Snacks/beverages available all day
Personal care needs assistance -- 24-hour care
Medication management
Pharmacy services
Doctor appointment scheduling
Incontinence management
Housekeeping
Laundry service -- personal and linens
Transportation to outside events and general outings
Benefits
Family-owned community affords flexibility to create customized programs for seniors
Staff experience with memory care for consistent, positive results
Staff training exceeds any other Nevada memory care facility -- over three times the level required by the state for the absolute highest quality in care
Specific staff training to compassionately manage challenging behaviors typically presented by dementia/Alzheimer's patients
Community structured to help residents get around and remain independent
Visits from volunteers keep seniors involved with community
Two activity directors on staff means dedication to excellence for physical/mental well being of residents
State Certification:

Residential Facility for Groups

Resident-to-Care-Staff Ratio:
Housing Categories:
Cleaning Services:

Laundry services: Clothing (staff washes residents' clothes)
Laundry services: Linens (staff washes residents sheets/linens)
Housekeeping (staff provides housekeeping services to residents)

Activities:

Organized offsite activities (outings, etc.)
Fitness
Music
Arts
Woodworking
Crafts
Games (bingo, bridge, etc.)
Stories
Religious services
Lectures and discussions

24-Hour Nurse:
Pets Allowed:
On-Site Health Services:

Hospice care
Medication management
Respite care

Community Features:

Beauty/barber shop
Library
TV Room
Gardens/outside patio
24-hour security gate

Guest Services:

Guests can attend meals
Ample parking for guests

Pets Allowed:
Dining Options:

Meals in a shared dining room
Meals delivered to residents' rooms

In-Room Technology/Entertainment:
Types of Residence:
Privacy Options:
Langauges Spoken :
Transportation Options :

Transportation for residents (shuttle bus or similar)
Features of Arbors Memory Care Community
---
Features
Beauty Barber Shop
Computer Room
Resident Transportation
Garden And Patio
Security Gate
Technology and entertainment
Guest services
Guests At Mealtime
Overnight Guests
Location of Arbors Memory Care Community
---
Request Info
Get full access to reviews, cost information, and amenities