Arden Courts of North Hills
1125 Perry Highway, Pittsburgh, PA, 15237
Talk to a Family Advisor: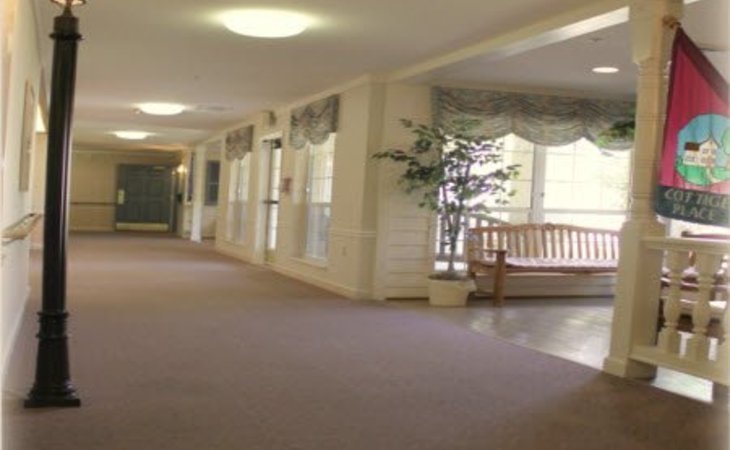 Top nearby Memory Care Facilities
Reviews of Arden Courts of North Hills
---
Eileen Spencer
February 23, 2017
I am a friend or relative of a current/past resident
My mother was here, for a few weeks, prior to her recent death. The facility is lovely and the staff was very supportive and caring to both her and our family
Provider Response
Thank you for sharing Eileen
---
Mom's voice
October 14, 2015
I am a friend or relative of resident
We chose Arden Court North Hills for mom because of the room and resident cleanliness, and well kept court yards. Also the loving caring staff, and low turnover of staff. Sadly, the last 9 months the above statements can NOT be said. The smell is not that pleasant when you first walk in, and floors are stained. The community room smells like mold, the bushes and trees need a good trimming and the little gardens between the houses were pathetic. The care of the residents is just as bad, filthy hands, hair that needs washed or combed, and strong urine smell. And the recent case of scabies took way to long to correct. This past summer I knew something was going on as the caregivers looked worn out and I could see they were short staffed. The loving caregivers mom had for years are a thing of the past, the great ones have left as they say, " better pay and just tired." The most recent loss was an R.N. Liz, thanks for being a voice for the residents, caregivers and families. All the best to you! The lack of employees is very evident and is VERY unsettling! Today there was a fire drill, the person that was working in moms house had no clue as the procedure of the drill, and no one was there to explain. I filled out their family questioner and nothing has changed. Arden now has a questionnaire out for where they should advertise for new residents. I suggest they use their money on hiring pleasant, loving and caring help, after all, this is the residents home, and not just a place to work.
---
Caring88899850
July 31, 2014
I am a friend or relative of a resident
My uncle moved to Arden Courts last February. I choose it because it is clean, I like the people that run it and it is close to my place so I don't have to travel far to see him. The people that run the place seem to be competent and they take good care of him. They have an RN on duty and she is excellent. He has a private room that is kept fairly neat. They have activities there, but he doesn't participate. They seem to have a nice community there for people. They let me see their menu and it seems to be a nutritional menu. They try to make it as homey as possible.
---
Miriam4
October 22, 2013
I visited this facility
Arden Courts of North Hills is a secure facility for residents who wander around. They are not allowed to get out of their door because it has an alarm. But they have four different areas, so the residents can walk around and choose what to do. The environment was very welcoming. My mother-in-law was supposed to get a single room there and it looked really nice. We are actually thinking about moving my mother-in-law there because it's more towards making the people with mental problems more comfortable, so all their activities are adapted to those who have Alzheimer's or dementia.
---
Hayley 1
December 12, 2012
I am a friend or relative of a resident
No family ever wants to be forced to have to choose a dementia facility for a loved one"¦and certainly my family was no different. However, reality was staring us in the face during the Spring of 2011. My father, currently 71 years old, had been diagnosed with Frontotemporal Dementia (FTD) in 2008. My mother lovingly and courageously cared for him at home for as long as she could. However, both my father's declining mental and physical health had become more than she could handle. So my whole family embarked on the long, laborious, time-consuming, and often painful process of visiting and, subsequently, selecting a care home for my father. Always having been "Daddy's little girl", I personally could not envision him not living at home with my mother. In fact, the more care homes I visited, the more I was convinced of this. That was until we came across Arden Courts"¦.don't get me wrong, I was still heartbroken with the idea of moving my Dad into a care home "" any care home "" and still am today. But, it had unfortunately become a "must do". So the time had come to make a decision and while Arden Courts was certainly not ideal for us geographically, there was virtually no decision to make. Arden Courts just felt right"¦..it felt like home. We moved my Dad into Arden Courts in August of 2011"¦a day I will never forget. But that day and every day since has been made easier by the "angels on earth" "" my pet name for all of the care givers at Arden Courts! I cannot begin to express just how truly caring, kind and compassionate each and every one of the workers are on a regular basis "" month after month - day after day "" minute after minute. They are truly one of a kind for as you can imagine, their jobs are not easy and are quite repetitive. However, you would never know it by watching them for they all go above and beyond "the call of duty". From the administrative staff to the nurses and care givers, from the activity directors to the food service employees "" they are exceptional people who give an endless amount of care and equally important "" love - to all of their residents. Again, I truly believe they are angels on earth!! If you find your yourself in need of a dementia home for a loved one "" count your blessings that Arden Courts is here for you as you simply could not do better!
---
Lacey Mae
October 28, 2012
I am a friend or relative of resident
My dad's caregivers have been there for a couple years at least. Unfortunately they have been transferred to other adjoining areas, but the low turnover speaks well of the home. Because of the nature of Alzheimer's I would rather see them leave all staff in their original areas. This is a wonderful home.
---
lena2
July 06, 2012
I am a friend or relative of a resident
My dad just passed away yesterday. He had been a resident at Arden Court for over 4yrs, and this place is amazing for care of loved one with Alzheimer's. The whole staff....aides, nurses activity director, receptionists and even the volunteers.....show so much loveing care and concern. Our family has become friends with alot of the staff and other resident's family. I would highly recommend this facility....we always had peace of mind that my dad was being well taken care of.
---
Dsedd87
July 06, 2012
I am a friend or relative of a resident
The staff seems to genuinely care for the patients and have a good rapport with both patients and relatives. The living quarters are a bit too small, being about 3/4ths the size of an average college dorm. My grandmother always receives her various medications from the staff when she needs to take them.
---
From Arden Courts of North Hills
---
Memory care is all we do.
Arden Courts offers dedicated Alzheimer's and dementia care in a safe and secure environment. We take time to learn about each resident's life story and preferences so that we can focus on providing the personalized memory care your loved one deserves.
Our staff is specially trained in the latest Alzheimer's and dementia caregiving techniques for many types of dementia including:
Alzheimer's disease
Frontotemporal dementia
Lewy Body dementia
Combination of dementia diagnoses
Parkinson's disease dementia
Pick's disease
Vascular dementia
We also care for residents who wander and who display sundowning behaviors.
Our structured programs and personalized assistance help each Arden Courts resident maintain their highest level of independence and promotes their sense of well being.
Arden Courts is an intimate and comfortable community with delightful home-like settings, socializing areas, dining and entertainment, and easy access for residents with limited mobility. Our enclosed landscaped courtyard areas and 1/4 mile of walking paths are perfect for residents to socialize, exercise and garden while being safe and secure.
Our all-inclusive monthly fee simplifies budgeting throughout the disease process.
Call to arrange for your personalized tour of Arden Courts and see for yourself the difference experience makes at Arden Courts.
We know. We understand. We can help.
Location of Arden Courts of North Hills
---
Request Info
Get full access to reviews, cost information, and amenities