Sunshine Village Assisted Living
2606 E. Greenway Pkwy, Phoenix, AZ, 85032
Talk to a Family Advisor: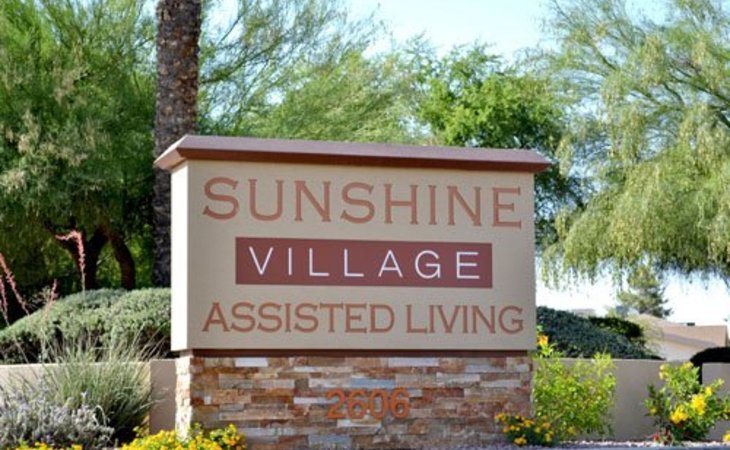 Reviews of Sunshine Village Assisted Living
---
pattywr
July 13, 2017
I am a friend or relative of a current/past resident
I recently moved my husband to Sunshine Village, which was extremely difficult for both him and me. The folks at Sunshine Village have been so wonderful, and the level of care is amazing. I feel blessed that we have landed here!
---
CathyMac64
January 09, 2017
I am a friend or relative of a current/past resident
Alzheimer's is a scary disease for everyone impacted by it - the person with the disease as well as their family. Although we did the best we could to take care of my mom at home, it got to the point where her doctors felt it best for her to be in a facility that could provide a higher level of care. Most places we toured felt like sterile, isolated, hospital wings. Then we found Sunshine Village. WOW! Truly a gift from God. They specialize in memory care with an emphasis on "care" - the staff is amazingly loving and dedicated to each and every resident - and to their family! I hope you and your family never need memory care, but if you do, I hope you are lucky enough to come to Sunshine Village.
---
JanMusic426
December 01, 2016
I am a friend or relative of a current/past resident
I moved my mother who has Alzheimer's Disease to Sunshine Village about 3 years ago, and it's been the best decision I've made for her! All of the staff are - simply put - AMAZING! They deeply care for the residents and treat them all like they were family. They notify me of any and all changes that occur with my Mom's health and surroundings, and I cannot imagine her anywhere else. If you're thinking of moving a loved one to Sunshine Village, I would definitely recommend doing so. You'll not regret it.
---
Boring
November 25, 2015
I am a friend or relative of resident
My Father has been a resident at Sunshine Village for 6 months now. I feel so thankful and blessed that he is there with such wonderful and caring people! All the staff are more like caring family members than staff. I cared for Dad for 4 years in his own home until his dementia progressed too much, so I know what that was like. I thank God every day being recommended there by our case manager! The cottages and grounds are great also! I just can't say enough about this wonderful facility and the people that work there, I would give them 10 stars if possible!
---
Walter R
November 19, 2015
I am a friend or relative of resident
Sunshine Village is AWESOME! The level of compassion of their administration is top notch. Ms. Brown is the most caring individual that truly cares for her residences and her colleagues, and the rest of the staff is just as wonderful. I know my mother is safe at Sunshine Village! Thank you for all that you do!
---
MarilynGrace
October 26, 2015
I am a friend or relative of resident
My husband was a resident at Sunshine Village for two years. He was diagnosed with Lewy Body Dementia in 2013 & required 24/7 care. All of the staff was very familiar with LBD unlike other memory care communities that we encountered. They understood that LBD people needed extra attention & care that other people with traditional Alzheimer's did not require. From the initial meeting with the Director (Sean), we were impressed by the friendly atmosphere that he presented & his greeting of resident's by their first name. We were first greeted by Cherise, the receptionist, who made us feel welcome as we approached her desk. When the Community Resource Director (Judy) evaluated my husband & met with our family, it was obvious that Sunshine Village was a family oriented community. We were so fortunate to have been referred to Sunshine by Geri Hall at Banner. The overall appearance at Sunshine Village is flawless. The grounds are kept beautiful & the interior of each cottage is immaculate thanks to Mark, the Maintenance Director. The caregivers were amazing, loving people. They all took special care of each resident as though that person was a parent of their own. When my husband was critical his last night, our family was by his side for long hours. Obviously at a time like that, one's own nutritional needs sometimes are not taken care of. Again, to the rescue came the Activities Director (Jack) who ordered food for my daughter & me. Veronica, the Dietary Manager, prepared the best grilled cheese sandwiches we had ever tasted. In summary, the kindness & compassion we experienced from the entire Sunshine Village will never be forgotten. They were & always will be part of our family.
---
KDHamiltonRN
October 22, 2015
I am a friend or relative of resident
My father lived at Sunshine Village for 2 years until losing his battle with Lewy Body Dementia in July 2015. Being in the healthcare field myself, I am super critical of any nursing home or memory care center. This community by far exceeded my expectations. Sunshine Village was the answer to our prayers. Dad received wonderful care during his final years. Sunshine Village not only took dad in as part of their family, but also made my mother, myself, and my children feel as if we were family as well....not just "visitors". It's been several months since we lost dad, yet we still drop by from time to time for a visit with the staff. The facility is clean, well maintained, and everyone treats the residents as if they were part of their own family. The residents always look presentable and happy. Their activities program is amazing, and there was always something in progress to keep the residents busy. The food was delicious as well...lots of homemade stuff...it wasn't hard to tell that even the dietary staff cared about these people and their nutrition. Sean, the director, was absolutely incredible. He even knew each and every resident and staff member by name. In my work experience, it's quite rare that the director is so involved like this! He's also not afraid to get his hands dirty...as evidenced by his amazing work ethic and great attitude towards his employees. You can tell they are genuinely happy, and it's obvious that his positive attitude stems down to his staff. My family and I overwhelmingly recommend Sunshine Village to anyone looking for a memory care community for their loved one.
---
Honorary Sister
October 21, 2015
I am a friend or relative of resident
I am a friend of a resident who had Parkinsons Disease. Sunshine Village was absolutely wonderful in every way. The staff was so caring and friendly as well as helpful. Everyone was important to them and they always had time to assist if there was ever a question. The facility was always spotless and the meals looked wonderful - very healthy. My friend was very ill and on Hospice. Sunshine always kept the family abreast of what was going on at all times. I cannot express what a wonderful facility Sunshine Village is and would not hesitate a bit to recommend them. I personally thank everyone for all their caring. Judy Barnes
---
Junebug54
October 03, 2015
I am a friend or relative of resident
Both my parents recently moved into Sunshine Village. They both have Alzheimer's and we are very happy that they did not have to be separated. My sister and I are ecstatic that we found a place with such a wonderful facility, with such amazingly caring people, and to top it off, so close to us! Sean, the Director, and Judy, the "sales person", know every resident and their families very well. The head nurse Patty is on top of the residents' health care. All the staff is incredibly attentive and friendly. We knew immediately that SV is the place for my parents, and so far we are not disappointed. They have several cottages that house up to 7 residents each. They are all identical, very nicely renovated, and CLEAN. Even my dad commented on how clean his cottage is. The grounds are lovely, with green grass and trees in the middle. Happily, my parents are participating in some of the activities offered in the club house. They really need that. They just left a very small assisted living home that is very nice, run by a wonderful lady, but they don't have much in the way of activities and no expertise in memory care. My mom's care needs have outgrown what they are able to give. My sister and I thought our parents would be on Sunshine Village's waiting list for a long, long time, especially since they are on ALTCS, not private pay. But things worked out so that they were accepted pretty quickly. The management at Sunshine Village care more about the residents and their families than about how much they can pay. They are a very professional group, thorough in their record-keeping, and always making sure the family is kept up to date and consulted when any changes are in order. Needless to say, we are delighted. Yes, I am gushing, but after seeing and hearing about some other prison-like memory care units, we were very reluctant to move my parents. We are grateful to have found Sunshine Village with its wonderful people. I can't tell you how good it feels to know they are in good hands.
---
Ray W
September 04, 2015
I am a friend or relative of resident
My wife moved into Sunshine Village one year ago... I had struggled to care for her at home for more than a year and finally came to the sad realization that I was unable to continue. SV has been a true blessing!! The staff have taken such wonderful care of my wife. It took her several weeks to adjust- that was terribly hard for me. I continually doubted my decision to move her, but having seen how well she is cared for is proof that she is in the best facility! The caregivers are so gentle and caring. Yes, sometimes the caregivers change. But, the administrative staff have done a wonderful job finding caregivers who love what they do and demonstrate that love in the care they provide. This may sound like an add for SV, but my sentiments are heartfelt. I truly believe I would not have maintained my sanity if not for all of the staff at SV!!! Thanks to Sean and all of his staff!
---
curbz1017
November 03, 2014
I am a friend or relative of resident
My mother is a resident, and it was the best decision I could have made for her. Prior to choosing SV, I toured quite a few memory care centers and I couldn't find what I wanted. I did NOT want a hospital type setting, or long hallways, I wanted my mom to be at home or as close to it as possible. And for me she had to be close. Then I found Sunshine Village, the location is just minutes from my home, and I can visit anytime I want. The cottages are perfect kitchen, dining, and large family rooms. The residents are always busy and HAPPY! My mom has been living there for 3 years and it is great! Ahlzheimers is a very sad scary disease. My emotions would always get the best of me, I look at it so differently now. I pop in to see my mom all the time and she is happy and funny, and I am happy, I visit when I just need a smile...the residents can be so funny. The caretakers are MARVELOUS! Loving, very loving, caring, kind. Hugs are always available! Sean the director is awesome. He knows all the residents by name, and is available to answer any questions I may have. I need to throw out a shout out to Angie, Magda and Novia too....love them!
---
Disappointment
February 26, 2014
I am a friend or relative of a resident
My father is at Sunshine Village and he's been there a month. . It was best suited for his needs and the care he was receiving is excellent. He has very consistent caregivers and they have cottages for the residents. The facility is very clean. He shares a room with another resident and the layout is kind of a hybrid of a group home and an assisted living. The food can't be too bad because my dad did not lose weight.
---
SRRA
December 22, 2011
I visited this facility
Sunshine Village is a great facility for Dementia and Alzheimer's residents. I wouldn't recommend Sunshine Village to everyone do to they only specialize in memory care.  When I was there in 2011 I noticed that Sunshine Village had done some renovations to their casitas. Out of five stars, I would rank the grounds a four because it's open but with the same look all around in their corridor. There is nothing really to brag about. This facility is set up in five houses on a property that are supposed to have a homelike feel to them, the residents' rooms are descent sized so, I give them a three out of five stars, the staff a two out of five stars because the caregivers never last and each time I have visited over the last seven years the staff has always changed and they all had the same complaints. Quality of care depends because if you have memory loss but can still function to take care of your own personal needs then the resident seems to be well taken care of staff and now if the resident needs more assistance I noticed it takes a little longer to be cared for. Overall, I'd give Sunshine Village a rating of three stars because I feel they have a great package to offer and sale to any client needing memory care in the area but feel like their staff don't stand up to their product when it comes to care.
---
debbiewstins
December 09, 2011
I am a friend or relative of resident
WOw. My mother has been living at Sunshine Village in Phoenix, Arizona for about 8 months. I wish I would have found this place two years ago! THey are incrdible. Yes, there was an adjustment period, but once mom settled in she was great. They treat her like their own family. The plavce is clean and I love the Pod format. Its like living ina house. My mom can go outside whenever she wants! Its not closed ou
---
JGirl81
October 14, 2011
I am a friend or relative of a resident
My grandmother has lived at this home for many years and loves this home! The workers are polite and sweet and always have big bright smiles on their faces! They actually remember your name and always give my children juice boxes when we arrive in the door. They care about the people and really do a lot to help out my grandmother and make sure she is comfortable but still feels independent. It is very clean also. The food is very yummy and not what I was expecting at all! Way to go!. My children and I love to spend hours there visiting my grandmother!I can only hope she enjoys many more years relaxing in the beauty of the home! Thank you for making her comfortable and happy!
---
Patfar1
July 12, 2011
I am a friend or relative of resident
I have a friend and neighbor that was recently moved into Sunshine Village because her Alzhiemers had gotten too bad for her to stay alone. I went into visit her expecting the same old nursing home look. Boy was I wrong! What a BEAUTIFUL place! Its clean and homelike. And the staff treats everyone like family. My friend (I don't want to use her name) is very happy there. I would recommend Sunshine Village to anyone!
---
From Sunshine Village Assisted Living
---
Welcome to Sunshine Village Memory Care Community
At Sunshine Village, we bring families peace of mind to know that care and means do exist that serve to diminish the effects of memory disease and empower the individual to maintain a dignified quality of life. Sunshine Village is solely committed to that task. As the progression of Alzheimer's becomes more and more difficult to maintain at home, there comes a time when a dedicated, knowledgeable, caring staff can give round the clock care to your loved one that you as a family member deserve. The compassionate and experienced caregiving team at Sunshine Village are knowledgeable in providing this care in a unique, home–style setting.
Continued research shows that the environment is of the utmost importance when attending to individuals with memory care challenges. Environments that supply continued cognitive stimulation and challenges – as well as regular, comfortable daily routines – go a lot further when individuals are in a small group situation, in which their peers are of the same cognitive abilities. Each individual's quality of life is the defining goal of any memory care community or program. Sunshine Village is no exception.
Sunshine Village Features:
The living environment at Sunshine Village fosters the feeling of being safe at home. This environment significantly enhances the quality of life of the individual in need of memory care. Each of our seven ranch style homes is connected with a winding, circular walking path landscaped with lush green grass, shaded areas, and accented with desert plants and raised gardening beds planted with the season's best annuals and perennials. Residents are encouraged to stroll the environment for the benefits of fresh air and exercise without the worry of wandering outside of the safety and security of the premises.
Daily life includes activities that engage fine motor skills and high cognitive stimulation through social interaction, games, exercise, relaxation and leisure. Each residential cottage is clustered according to similar abilities. Sunshine Village plans the activities of each group geared towards their particular needs, interests, and abilities. Residents are provided with respect, dignity, and grace as their lives and self-esteem are enhanced. Our philosophy is that each and every interaction is an important connection.
In addition, Sunshine Village also features the following:
Seven distinct households serving approximately 12 individuals in each home, with all levels of directed care
Caregivers – on site and available to offer assistance 24 hours a day
Memory Care programming encourages engagement and purposeful activity
Dementia and difficult behavior specific activity programs
Assistance with personal hygiene and daily routines
Frequent wellness assessments and diet monitoring
High ratio of caregivers to residents to provide personalized care and to build connections with each individual
Continued focus on each individual's strengths, accomplishments, and preferences
Family interaction and participation supported through programs, technology, and social media
Secured garden and courtyard with walking path and raised garden beds
Housekeeping & linen service, including towels
Amenities:
Clubhouse – the scene to many of our community events and activities, it also serves the perfect place to host visits from family and friends, enjoy chess or a lively game of cards, or simply enjoy some quiet time reading.
Terraces & Courtyards – Our beautifully landscaped and maintained outdoor spaces serve as inviting settings for entertaining, relaxation, casual strolls, and catching a few rays. All with ample shade.
Hospitality:
There is always something happening at Sunshine Village. From live entertainment to yoga, art classes, to religious services and more, there is never a dull moment!
Dining Experience:
The experience of dining in our intimate dining areas in each cottage provide opportunities for social interaction, while nourishing the body and replenishing energy. Sunshine Village believes in and provides each resident with:
Mealtimes that provide dementia-friendly foods, along with familiar foods to enhance the mealtime experience.
Snacks in-between meals are provided to insure diets and intakes are maintained.
The dining areas in each cottage are set up for a pleasing experience that maintains dignity and involves familiarity and socialization through the use of conversation, pleasing table settings and soft background music.
Thank you for your interest at Sunshine Village Memory Care Community. Please give us a call to schedule a free tour.
What Makes Us Special
---
The environment at Sunshine Village is a safe haven for those individuals anguishing with the symptoms of memory loss, whichever stage is currently manifested. We focus on each individual's strengths and abilities and serve to further empower and enhance their sense of self, personal worth, pride, and independence. Sunshine Village is compassionately committed to provide each individual with dignity, respect, and respite from the challenges this disease imposes.
Features of Sunshine Village Assisted Living
---
Costs
Minimum Rate:

$4100/month

Minimum Memory Cost:

$4100/month
Features
Resident Transportation
Party Space
Tv Room
Garden And Patio
Resident Parking
Security Gate
Cleaning services
Laundry For Linens
Housekeeping
Laundry For Clothing
Technology and entertainment
Activities
Offsite Activities
Music
Games
Stories
Religious Services
Lectures Discussions
Book Clubs
Fitness Room
Yoga
Gardening
Cooking
Arts And Crafts
Financial guidance
Va Benefits Consultation
Financing Advice
Guest services
Guest Parking
Guests At Mealtime
Location of Sunshine Village Assisted Living
---
Get Cost Information
Get full access to reviews, cost information, and amenities