The Haven in the Village at Chanticleer
355 Berkmans Lane, Greenville, SC, 29605
Talk to a Family Advisor: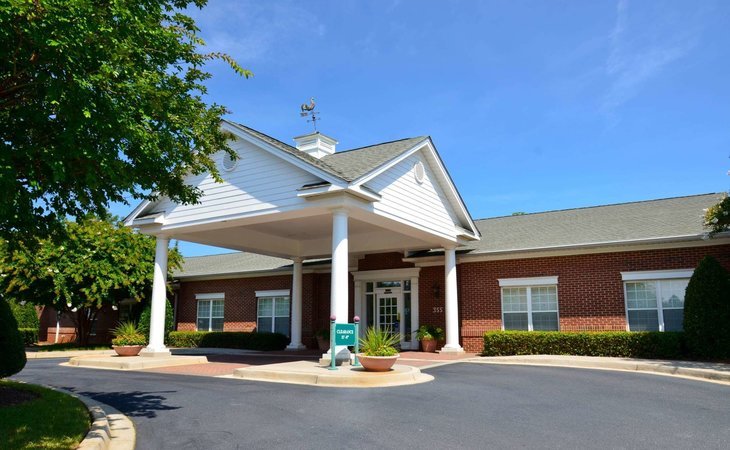 Top nearby Memory Care Facilities
Reviews of The Haven in the Village at Chanticleer
---
Carol771444
May 11, 2017
I visited this facility
The Haven in the Village at Chanticleer was nice. I don't know if it would be the right fit for my husband, but it was a very nice community. They have different pods surrounding the courtyard and semi-private rooms, but the bathrooms were not in the rooms. It seemed more appropriate for much older residents. There were a few residents doing small exercises in the open areas, but otherwise, I didn't observe any other activities going on. This community was nice for elderly people, but there probably was not much going on there. It was too quiet.
---
Tracy650324
September 30, 2016
I visited this facility
The Haven in the Village at Chanticleer was more clinical, but it still had a nice layout. The people there didn't seem as warm, and their cost was way more than what we can afford. The place was nice, clean, and modern.
---
Deb337772
June 12, 2016
I visited this facility
I liked The Haven a lot. It was very nice and very spacious with lots of spaces to walk around. There were lots of things for the clients to participate in. However, they did not have showers in the room. They had a lot of walking area and places to sit. There were magazines in little corners and things like that. That was nice. The staff was very informative. They had special programs going on for the clients.
---
LD123
March 07, 2016
I am a friend or relative of resident
I toured the facility for my father a little of a year and half ago. I choose another facility for financial reasons and ended up regretting it within a couple of months. I ended up moving my dad to The Haven and have had no regrets. The other facility kept him sedated to manage his behaviors. He had no quality of life, could not walk, sat in a chair all day. He has been a completely different since moving to the Haven. Different medications, he walks again, attends therapy and is loved. My only regret is that I did not choose the Haven first. L.D.
---
Pecan01
February 18, 2016
I visited this facility
Be sure to carefully ask questions and second guess if needed. This place requires hands on family involvement to better understand how your family member is really doing.
Provider Response
Thank you so much for sharing your experience with us from when you visited our community. The team at The Haven in the Village at Chanticleer takes great pride in the care we provide to our residents on a daily basis. We welcome the opportunity to hear directly from our residents and families for their invaluable input as part of our efforts to achieve the high standards and personal touch that we expect.
---
A. B. Coloma, CA
May 27, 2015
I am a friend or relative of resident
I am the POA for my brother who has been a resident at The Haven for the past year and a half. I mange this remotely and with a visit every couple of months and have found the staff helpful, encouraging, honest and demonstrate genuine caring for him. He is well taken care of with compassion and understanding of the residents needs. They are worth a visit when you need a place for a loved one.
---
Caring106500150
May 17, 2015
I visited this facility
The Haven appeared to be clean and well-maintained. The staff seemed to be attentive to the residents, and the rooms were appropriate.
---
Joan52
May 11, 2015
I am a friend or relative of resident
My mother has been at the Haven for almost 7 months now. I was hesitant to place my mother anywhere but I was at the place where I could just not take care of her at home anymore. She wanders and had walked away from home during the night. The staff have been wonderful and helped me to calm my fears overtime. I can relax knowing she is cared for and someone is looking out for her. Although no one can ever care for mom like I do, I can honestly say they try. The building is clean, the food is good, the laundry is done and there is always something going on. I would recommend the Haven to anyone who finds themselves needing a place for their love one. Blessings.
---
Sharon94581750
October 17, 2014
I visited this facility
The Haven in the Village at Chanticleer was very nice. I was impressed. I would jump at this one too except that it is 25 miles from my house. Nevertheless, it is like a little town. They have different sections for different levels of care. They have a common dining area. They have a little hairdresser shop, laundry, a soda shop, and an ice cream shop. I thought that was really neat. I like it. The staff seemed very nice and very open. They were willing to answer any questions you might have.
---
New Englander
July 19, 2014
I am a friend or relative of resident
I investigated 7 memory care facilities in Greenville before selecting The Haven for my stepmom, and I have not regretted my choice. The staff is wonderful, the residents well cared for, and the facility spotlessly and lovely. My stepmom always looks lovely when I visit, which is daily. She likes her room, the staff, the food and the attention she gets. The staff knows precisely how to deal kindly with dementia patients. The Haven has been a godsend for our family.
---
phbucky
September 26, 2013
I am a friend or relative of resident
My grandmother was at the Haven for the past two years. Our family would visit her atleast every day. She was not wanting to go into her room at night, so we place a hidden camera in her room to see what was going on. We saw where she had fallen going to the bathroom but the staff that found her, because of her bed alarm, did not check her out before putting her to bed. We have on video the nurse coming in when she got up to go in the bathroom detaching the alarm and leaving the room. She did not turn the light on for her and let her go back to a soaked wet bed with no clothes on. After letting the "Director" know of the videos and what when on, two of the night staff would turn the video around so we could not see what they did to my grandmother. I only told the "Director", and she had to tell them about the recorder. They never have enough staff. The roof has leaked in the area where they eat since she came in there. The food is just plain nasty. The place is not clean. We took my grandmother out of there to a much better place. I would not let them take care of my animals.
---
Loren2
September 25, 2013
I am a friend or relative of a resident
Mom was at The Haven and it has been great at the beginning and they changed ownership probably two or three times in a year and a half. I found out that she was not getting the attention she needed. I decided to bring her home because I wasn't so happy in the end. They were not able to offer many activities as they said they would. They said that they would take her out on a weekly basis but she never ever went out in a year and a half. They do have some people come in to sing, but basically they just sit on their own and sleep. The only way they could go outside is when someone would take them out, but nobody would hardly took her out. My mom was stuck inside her room for six days until I came to take her outside. And they told me that she had access to go outside which she doesn't as she needs to know the pass code. Everything is locked and gated so they can't leave the premises. They were dependent totally on somebody taking them out which rarely happen and I was very disappointed.
---
Nancy3006
July 30, 2013
I visited this facility
The Haven in the Village is an all-inclusive Alzheimer's unit. I went back with my husband and they gave us a tour. All employees would say "Welcome to the Haven" whenever they saw someone walking in the hallway that they didn't recognize. I'm in healthcare myself and I know how important to make people feel like they're welcome when they come into a facility. And they did that very well. I saw people exercising, and there are also activity rooms where people could go in to have different things that they can tinker with. They have three different sections of the facility depending on which level of the disease you're in. They're not locked down. They have 2 different menus for each meal and the residents are shown the meal before they order it so they can see what they're getting. It was just really nice. They have walking trails and even an ice cream shop. They have snacks set up all the time for the residents; a full coffee pot and a juice dispenser. Each apartment is good-sized with its own bath. You can bring your own furniture or they will provide it for you. Hopefully I would never ever have Alzheimer's, but should I develop it or dementia that's where I'm going to tell my children to send me. It seems very nice.
---
Ryan2
October 14, 2011
I am a friend or relative of a resident
I visited this assisted living home several times to see my grandmother, and I must say, I was very impressed with how nice the facilities were. I have been to several other places similar to this but none were as nicely furnished or as clean as The Haven. I would be happy to have any of my other family members, or myself stay here. I spoke with my grandmother about here experiences while staying there and she couldn't have been more complementary. She told me how The Haven was much more social than the other places we visited and that she got to play games and mingle. She also said the food was actually great, which was a big surprise to me. I would recommend this facility to anyone wishing to give their friend or family member a good, clean, fun place to stay when they can no longer stay by themselves.
---
From The Haven in the Village at Chanticleer
---
It is an overriding concern of any family that the dignity of their loved one with Alzheimer's disease or dementia be respected; that he or she be treated as an individual whose character has been forged over a lifetime; that no one ever forgets his or her distinctive qualities.
At The Haven, it is our privilege to extend such special care to those with Alzheimer's or dementia. We are pleased to provide a highly-progressive approach, which can help each resident enjoy life and remain better connected with the world around him or her.
In recent years, great strides have been made in the care of Alzheimer's and other dementia. In response to the latest research, our professionals not only offer sophisticated, personalized techniques to help our residents, our entire residence has actually been designed and constructed in accordance with the latest clinical findings. You can be certain that anyone you love who suffers from Alzheimer's or dementia will receive the finest possible care at The Haven.
Features of The Haven in the Village at Chanticleer
---
Diet
Diabetic
Low Fat
Low Salt
Location of The Haven in the Village at Chanticleer
---
Request Info
Get full access to reviews, cost information, and amenities