The Haven in the Summit
3 Summit Terrace, Columbia, SC, 29229
Talk to a Family Advisor: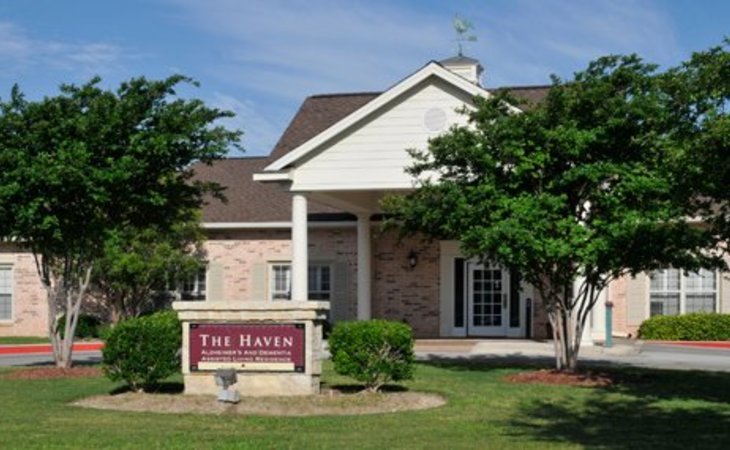 Reviews of The Haven in the Summit
---
hl
May 22, 2017
I visited this facility
The Haven in the Summit was probably the nicest memory care community, but it was a little bit too far away for us. It was totally memory care, so their security system was well established. They had different, well-designed communities within the building and murals painted on the walls in the hallways. It was very nostalgic, and we were impressed with it. Their alarm system was a little loud, which I thought wasn't necessary. If someone hit the alarm system to leave the facility, the staff was spotted immediately, so the security was the best I've seen. The lady who gave us the tour was very professional and knew the industry. We ran into an elderly lady who we knew from years ago, and she was doing really well there. All of the patients seemed to be very happy and well taken care of.
---
Pat233280
April 19, 2017
I visited this facility
The Haven in the Summit was clean and open. The staff seemed good and on top of things. The dining area was good and clean.
---
jwcnashville
March 19, 2017
I am a friend or relative of a current/past resident
The staff and facility are excellent. I am very happy I found The Haven for my mother.
---
Purdy061187
February 12, 2017
I am a friend or relative of a current/past resident
My wife was in The Haven for 3 weeks, and it was terrible. She fell twice, dislocated her left shoulder, and hit her head. She was in level 3. I would never advise anybody to go there.
Provider Response
I am the Executive Director and would very much like to speak with you regarding your concerns about your wife's care. We carefully assess each resident's needs prior to move-in. On occasion, an individual's condition will decline and they will require a higher level of care than we can provide. In that event, we will work with the family to find the best placement for their loved one. I would be pleased to review the specifics of your wife's care in detail and the policies involving care and treatment. Please contact us to arrange a meeting with the appropriate staff.
---
DCaine
February 05, 2017
I am a friend or relative of a current/past resident
I have been primarily responsible for my Mom's care for the past nine years, moving her first from a home to Independent Living when my stepdad died and her behaviour living alone in Florida became concerning. 2 yrs in Independent living soon demanded a more controlled environment to protect her remaining assets. Over time, two more moves from larger apt and then smaller to continue to protect remaining assets, and then Decline in Behavior demanded yet another move, Divine intervention connected me to The Haven in the Summit. Gary Tyson has been wonderful, helping me manage yet another move, but amazingly even more than that has been Mom's almost seamless transition to this facility. The staff is wonderful, the facility amazing, and for the first time in 9 yrs I am able to see light at the end of this very depressing tunnel.
---
Millie's niece
January 17, 2017
I am a friend or relative of a current/past resident
They take very good care of my Aunt. She had been in another care facility and had UTI all the time and had lots of hospital bills. Here at the Haven she has not had one in the seven months she has been here. They have a nice atmosphere and the management is wonderful.
---
Grateful2016
January 05, 2017
I am a friend or relative of a current/past resident
My mother was a resident at The Haven for several years before she passed away recently. We found the staff to be so very patient, kind, and compassionate. The biggest challenge for them was keeping track of Mother's belongings, which is typical of any facility of this type. My mother never complained about her care, the living conditions, the meals, or the staff. Early on she enjoyed interacting with the staff, making funny faces back at them, etc. The facility itself is very lovely, clean, well maintained, warm and welcoming. There are numerous places on the grounds where family and visitors alike can spend time with the residents. My family and I have always been very happy that we chose The Haven for Mother.
---
Susan025550
October 13, 2016
I visited this facility
The staff at The Haven in the Summit was very good and friendly. It was a lot quieter than the other community. It was clean though. It was outstanding for cleanliness.
---
Caring74609250
August 23, 2016
I visited this facility
I was very impressed with The Haven at Summit Place. It was very attractive and nice for folks to live there. They had activities that were available for memory care. The lady who gave me the tour did an excellent job. They had activities like singing, bingo, and crafts, but my husband is not into crafts. He has memory problem and probably would not be active in some of these activities. However, it is nice to know that it was there. I thought they were nice, and I liked what I saw.
---
Rachel29
April 14, 2016
I visited this facility
The Haven in the Summit is a wonderful place. The staff was so nice to me, gave me a lot of material, and were very helpful. I liked the arrangement of the rooms surrounding a central area where there's a lot of activity, so you don't go down a dark hall to your room like in a hotel. You come out of your room into a large open area, which is very nice. It's a very pleasant and beautiful place. There were some people watching TV and some that look as if they were playing cards and reading. I liked them very much.
---
Anonymous113816750
November 22, 2015
I visited this facility
The Haven in the Summit was a very picturesque community. It's colorful, which was unusual, and they had various rooms designed for residents with different kinds of behaviors and needs. Some people with Alzheimer's like to be completely as quiet and silent as possible, so they had rooms for those people. They also had another room for residents that the degree of Alzheimer's is not as severe as the others, and so they have more interaction and activity. They have a shared room, but I was not as pleased with having to share, and the price was really high.
---
Caring 2
June 26, 2015
I visited this facility
I was not as impressed with the Haven in the Summit. They were efficient, but not quite as warm and welcoming. The place itself was fine. They took us into the memory care unit, and that was when it became obvious to me that we were talking two different languages because their memory care people -- and I am not being unkind -- were more like zombies. My mother-in-law can't walk, and in a population like that, she would be very vulnerable. It was a stage that was friendlier than institutional, but you still got that feeling that it was a little more regimented. What made me feel a little uncomfortable was their sales pitch that if I would go ahead and move her over there, they could discount this and discount that, and I thought, "You know what? This is not a used car lot." So that particular part may have been the person's personality showing through or whatever, but it wasn't the lady that I spoke to at first. It was some gentleman that was taking her place while she was out for surgery.
Provider Response
Thank you for your feedback. We value your input and share your concern. To better serve you, we would appreciate the opportunity to discuss your experience. Our dedicated staff is committed to providing the utmost care and services to all residents. Your feedback helps us identify areas of opportunity for us to focus on as we strive to uphold and improve the quality of standards that each resident deserves. We thank you for allowing us the opportunity to continue to serve you and your loved one.
---
Caring86884150
July 30, 2014
I visited this facility
The Haven in the Summit seemed nice enough. At that time, they were doing some renovations. My mom is German, and they had a German lady who actually came out to talk to my mother. I have been meaning to go back there once the renovations are done. They kept telling me that they would have an open house, but I haven't been able to get confirmation on when it is going to be. They cancelled the first one because their renovations were not done yet. The rooms were the typical nursing care facility kind. You can bring in a TV or whatever. When we went there it was a while back, it was not even quite springtime, and they had a garden area, but it wasn't even blooming yet. They said that it gets nicer when everything bloomed. It was all right. They were friendly, of course.
---
Caring87131250
July 23, 2014
I am a friend or relative of a resident
My dad has been at The Haven in Summit for a month or so. We chose that place because he specifically needed a place for dementia care, and it looked nice. It was as if they have done a very good job taking care of the place. They do various activities with them every day, and they have a larger staff for residents there than most places. It is also a secure facility where they could keep tabs on their residents better. They are doing a great job, and I am really pleased with them. They have some choices, so you can have an individual room, which is a little larger, and then they have rooms that they share with a roommate, but they are both fairly nice-sized rooms. They are specifically tailored for dementia cases, and they have a large-type, more open atmosphere. They don't have small, narrow halls, and so it gives the residents a more open air, more of a free feeling. They also have large outdoor areas, which are larger than most of the places we went to. They had nice outdoor courtyards; we were impressed with that.
---
Karen74710950
December 01, 2013
I visited this facility
The Haven was recommended to us. Their rooms were small but adequate. The dining facility looked nice but I did not try their food. Their staff was very helpful and accommodating during my visit. The highlight for me with this place was that they specialized in Alzheimer's patients.
---
Sunny 2
August 22, 2013
I am a friend or relative of resident
I have a friend at the Haven who is thriving. She was in another assisted living facility but they were not able to properly care for her due to her dementia. At the Haven, she has the freedom of mobility and is regularly engaged in an activity. The building is very unique in design and looks as if it were built for this specific type of care. Great care, great people, great place.
---
kaitlynj
April 19, 2012
I am a friend or relative of a resident
I really love this place. My grandmother is very happy, I dont have any worries or concerns when i leave her. The staff is like family,grandma stays nice and clean there!They help her keep her own independence there. Grandma loves when we come to see her but you can tell when she is ready to just go in her room and relax in her space. The food is really good she loves to eat. Grandma has alot of friends there, they like to play cards and other fun games! Grandma enjoys music and crafts,they make it really fun and comfortable there. I would not choose any other place for grandma to be.She is very safe and loved there.She seems not to be stressed anymore,she couldnt get around good by herself at her home and she did not wanna come live with me. I guess it scared her to be around all the kids living here. Where she is now she has her space and piece and quite when she goes in her room,but she is safe bc she is being watched!They are really a 5 star place to live and i would recommend it to anyone trying to find a safe place for there loved ones to live. She is happy and thats what counts! We love the staff at The Haven in the Summit!!!!!!
---
From The Haven in the Summit
---
The Haven in the Summit, an Alzheimer's and dementia care residence is located in Columbia, South Carolina. The Haven is an assisted living residence designed and staffed specifically for individuals with early, middle and late stages of Alzheimer's and other forms of dementia. Tailored to enhance dignity and foster independence, The Haven has licensed, on-site nurses and offers a progressive approach that encourages family participation through care planning, special events, and education and support groups.
The Haven is situated in the Summit master-planned senior community among beautifully-landscaped grounds, which are designed specifically for resident safety and security. The architecturally stimulating building houses 48 senior apartments divided into 3 distinct assisted living neighborhoods.
The unique building design allows each neighborhood access to secure gardens and courtyards through screened patios complete with rocking chairs and delightful outdoor furniture. Raised planting beds allow those residents with a green thumb to continue to produce wondrous plants and vegetables throughout the year.
Features of The Haven in the Summit
---
Costs
Minimum Rate:

$3308/month
Diet
Diabetic
Low Fat
Low Salt
Location of The Haven in the Summit
---
Get Cost Information
Get full access to reviews, cost information, and amenities