Arden Courts of Cherry Hill
2700 Chapel Ave, Cherry Hill, NJ, 08002
Talk to a Family Advisor: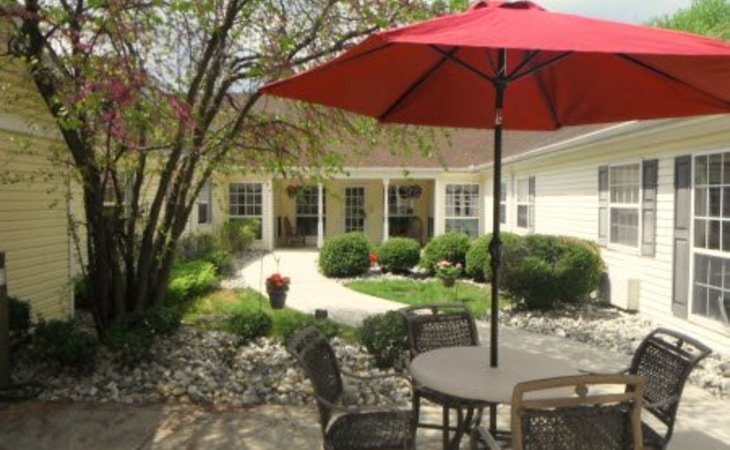 Top nearby Memory Care Facilities
Reviews of Arden Courts of Cherry Hill
---
bsmok1e
October 18, 2015
I am a friend or relative of resident
In our search for an Alzheimer Assisted Living Facility we were referred to Arden Courts. We were very concerned about a facility that we felt would provide the type of care that we would provide at home. Mr. Washington Bailey Sr., is a much loved husband, father, grandfather, great grandfather, brother, uncle, and friend. He is a retired U.S Army veteran who served his country faithfully and with unconditional pride for over twenty years. At Arden Courts he is affectionately called 'papa' by the caregivers and you will often times hear him referring to them as his granddaughters. During our initial meeting with the Marketing Director we were provided with the necessary information about the facility, had our questions and concerns answered to the point that we were confident making the right placement decision that met our needs, but more importantly the needs of our loved one. Mr. Bailey has been a resident of Arden Courts for two years and three months. During this time, the areas where we feel confident and encouraging are 1) our involvement, 2) open communication and dialogue, and 3) active participation. Because we are a 'hands-on' family, we are very happy because Arden Courts allows us the opportunity to be a part of all areas of his care. Whether it's input in his medical care to the type of clothes we feel are best suited for him. At all times, we want to be able to sit down with his team to discuss any concerns we have about his care. At Arden Courts, there has never been a time when this opportunity was denied us. During these meetings, we are provided with updated reports on his progress as well as on areas where there is a need for changes to his care. Open communication and two-way dialogue is on-going. Since there are no restrictions for visiting him, we appreciate and enjoy the flexibility we have to visit at any time. Lastly, we are encouraged to participate in the residents programs and any special events being held. We appreciate that we are notified of these events well in advance so that we can plan to attend. Kudos to the Program Services Coordinator and staff for the wonderful program they organized last year for Mr. Bailey as he was presented with a Korean War Medal. The family appreciate each and every member of his team and feel confident that he is getting the best of care at Arden Courts.
---
Sheila D.
September 28, 2015
I am a friend or relative of resident
My mother was admitted to Arden Court in April of 2014. The care she received was exceptional. This facility not only cared for my mother, but went out of their way to make my family feel welcome! Involved, and comfortable. We were alway.s kept up to date on her care plans and the aides treated my father, who visited my mom every day, with the utmost respect. He grew to love this second family of ours ! For anyone with a family member affected by this terrible disease, please do not hesitate to consider Arden Courts for their care.
---
DonnaHealey
August 05, 2015
I am a friend or relative of resident
Things were bad when our family was approached by Arden Courts. My mother had a quick decline. I was confused and afraid and lost in the system. Arden courts met with me, invited me to tour the facility and in a few days Mom was moved in. This staff and facility are a perfect match for us. And I mean us. Our whole family has been affected by this dementia. Joe and his staff have taken care of all of us, sat with us, dried our tears and reassured us. The care my mom is getting has been excellent and I'd go as far to say, she's thriving. There is security, consistency and nurturing. I get an education every time I visit. After years of trying to do it on my own, I'm blessed to say I glad to see my mom happy at Arden Courts of Cherry Hill. Thank you to all who work there. You are clearly a dedicated group. You're the best!
---
Lorene1
October 16, 2013
I visited this facility
I toured this community and was "blown away" by what I experienced. The staff is genuinely dedicated to their residents and the leadership is truly outstanding. I was also very impressed with the building layout that allows the residents such incredible freedom. Thnis is truly an awesome place. I have made to decision to place my Mom at Arden Courts.
---
Philip5
October 15, 2013
I visited this facility
Arden Courts was a little bit dreary. It surely needed some sprucing up. The people there were way further gone than what my mother was and I don't think she belonged in a situation like that. It was depressing to be there.
---
Abhi1
September 13, 2012
I am a friend or relative of a resident
My uncle was admitted in this facility after he was diagnosed with Alzheimer's disease. Initially we were too scared to send him here. But when we visisted this facility we were really impressed with all the amenities and kind of care they give to the patients. They treat them with respect , love and affection. All their apartments have private baths and huge closets. They even provide emergency call system and house keeping services and linen services. The food is also awesome. They have skilled medical experts to take care of your loved ones. We were really impressed with this facility.
---
George5
August 21, 2012
I am a friend or relative of a resident
This is a excellent facility providing homely care to all patients with memory loss.They have professional care twenty four hours a day and the center is designed with a simple layout and visual cues that help residents stay oriented and as independent as possible.They offer activities such as wellness programs, community outings, socialization and personal care for one life.They provide a beautiful apartment and private bath and closet space.Common areas, lounges, courtyards and patios along with planned activities allow many choices in how you want to spend your day. This place really feels like home where your ones can feel at home.
---
Vishwa
July 31, 2012
I am a friend or relative of a resident
I think they are doing an excellent job in helping patients with Alzheimer's disease and other memory related diseases. They have 24 hours professional care. All the patients are treated by well experienced doctors .They even have licenses therapists for pateinets recovering form strokes , attacks. Ther have beautiful apartments with meal service , house keeping and laundry. Its like a stay in a five star hotel. They have assisted living services such as personal care, activities and medication management, all tailored to accommodate the unique needs of Alzheimer's residents.So ithink my uncle will be more comfortable staying here rather than staying at home.
---
From Arden Courts of Cherry Hill
---
Memory care is all we do.
Arden Courts offers dedicated Alzheimer's and dementia care in a safe and secure environment. We take time to learn about each resident's life story and preferences so that we can focus on providing the personalized memory care your loved one deserves.
Our staff is specially trained in the latest Alzheimer's and dementia caregiving techniques for many types of dementia including:
Alzheimer's disease
Frontotemporal dementia
Lewy Body dementia
Combination of dementia diagnoses
Parkinson's disease dementia
Pick's disease
Vascular dementia
We also care for residents who wander and who display sundowning behaviors.
Our structured programs and personalized assistance help each Arden Courts resident maintain their highest level of independence and promotes their sense of well being.
Arden Courts is an intimate and comfortable community with delightful home-like settings, socializing areas, dining and entertainment, and easy access for residents with limited mobility. Our enclosed landscaped courtyard areas and 1/4 mile of walking paths are perfect for residents to socialize, exercise and garden while being safe and secure.
Our all-inclusive monthly fee simplifies budgeting throughout the disease process.
Call to arrange for your personalized tour of Arden Courts and see for yourself the difference experience makes at Arden Courts.
We know. We understand. We can help.
Location of Arden Courts of Cherry Hill
---
Request Info
Get full access to reviews, cost information, and amenities