Ashe Gardens Memory Care
300 West Ashe Street, Burgaw, NC, 28425
Talk to a Family Advisor: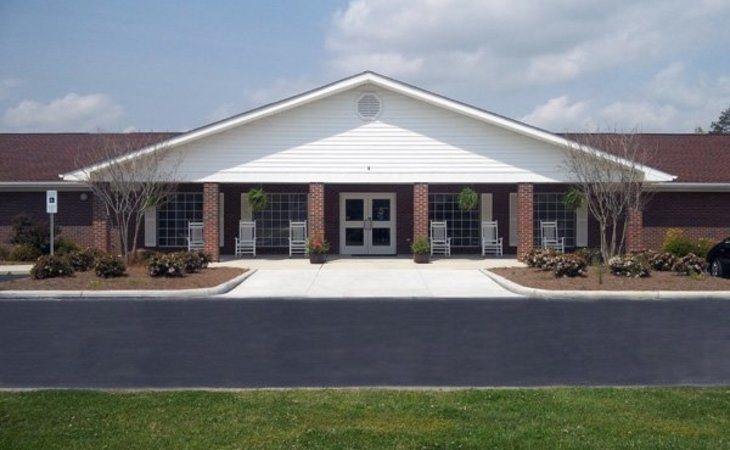 Top nearby Memory Care Facilities
Reviews of Ashe Gardens Memory Care
---
ASHAMED
August 16, 2014
I am a friend or relative of resident
When first entering this facility, you think wow this place is nice,WRONG, just an old moldy building with just a few cosmetic procedures. Mold and mildew in closets, soiled clothes in closets. When ask why the soiled smelly clothes are in the closets on the floor, I was told "the residents clothes gets washed on there shower days and that's every other day." This is not true, laundry doesn't get done for days and if it gets done it doesn't get returned back to the room, and I always have to ask for the clothing and undergarments. As far as the staff, there are just a few that really seem to care. I have watched them stand at the nursing station laughing, eating, burping aloud, talking about things they shouldn't be, cursing, call bells going off and they just sit there. Administration acts like they have no clue about what they are doing with no communication what so ever. Activities what a joke, there are no activities, they had one great Activities Director, she left cant say that I blame her, and the two after her have done nothing. I by hygiene supplies for my family member, and every time I go out there, what I bought they don't have and my relative smells, hair is a mess and always has on two or more pull ups. This is uncalled for and pure laziness. Most of the time they run out of pull ups and when I ask the employees about the pull ups because they shouldn't be out and I was told sometimes if other residents don't have any they take from residents that do have them, this is crazy. Some of the residents out there look and smell terrible a majority of the time, men never shaven. If you are thinking of putting your family member in this facility think twice, we are in the process of relocating. This place only want's your money! THIS PLACE DESERVES A ZERO RATING, but it will not let me submit my review without at least 1 star rating,,,what a joke!!!!
---
Happy mother
August 03, 2014
I am a friend or relative of resident
My mother lives at Ashe Gardens, and I'm very pleased with the care she receives there. The administration is strong, and the staff as a whole is caring and makes sure that my mother is clean and well taken care of. I know there have been problems in the past with staff and leadership, but right now, it's a great place for my mother and as far as I can tell, for all of the residents there.
---
Theskyisblue14
June 25, 2014
I am a friend or relative of resident
My grandma was out here and they treated her so wrong. They didn't take care of her, the staff is horrible, they don't take care of the residents, they don't get changed right, nor do they shower residents like they are suppose to. I wouldn't recommend my family member nor my love one to stay out here. A facility should be nice to the resodents...not yell and curse out them.
---
Residents
April 30, 2014
Other
This place is awful the reviews you have read are very true and worse I know from first hand I was there and seen some of the things that happen and some nights there would only be two aids for third shift and had 41 resident so just think about it
---
phanniemae
March 10, 2014
I visited this facility
My mother was at Ashe Gardens for about 6 months, during that time she has had at least 8-12 falls, including one at the nursing desk. All falls require an emergency room trip, I get that. What I don't get is after fall number 2,3 or 4 don't you do something about it, like strap her down. They lost her dentures, they lost personal property and they outright lied to me on two occasions when asked direct questions. When I arrived from out of state unexpected, my mother was a mess, no dentures were in place although she was in the dinning hall and she smelled horrible. After complaining to an out-of-state administrator (was there about my mother) they cleaned and dressed her right away. I feel the sheer number of falls my mother took to the head speeded up the dementia process. By the way, my stepfather is there, sleeping what's left of his life away in bed, hardly up, hardly shaven. They do not care (management mostly). The techs will not speak up for fear of losing their jobs. My mother has been moved, no longer with her husband, no longer located so friends can visit. This place promises the best but only delivers minimal to those who sit quietly and do not need anything other than Kleenex.
---
Sharon38
January 06, 2014
I am a friend or relative of a resident
We chose Ashe Garden for dad because of its location, cost, and the staff. They were one of the best places that we looked at. They were just very caring, helpful, open, and very understanding. They just have a very good staff there. Their rooms are nice and very spacious. Each room has its own private bath and for me that was nice. We are very happy with it. We haven't eaten there, but we were there during meal times and the food looks very good. My father loves it. Their dining room is clean and neat. They do trips weekly and I know that he has been on several trips with them. They also do a lot of music. One of the things that we liked best about this place is that they did not have any type of deposit and it did not have any type of a fee associated with it. The facility itself is a little dated and that is the only thing that I would say, other than that we have been very, very happy with them.
---
S H O C K E D
December 11, 2013
I visited this facility
My Father stayed fourteen days and nights. He arrived there on Tuesday about 4;00 PM. Four days later on Saturday night we found out he had been in a room with no heat in it and it was in the mid 20s at night every night. When I saw him Saturday night it shocked me to see he had not been shaved since he got there. I am sure he had not had a bath either. Every time I went for a visit I was very disappointed with what I found like , 2:00 PM walking around with PJs on, lunch time when everyone was eating he was in his room with door closed with no pants or under wear on just shirt and shoes. I am very concerned about any one staying there. They really are on their on especially at night when they have little to no help there . All they are interested in is your money at this place. Some of the helped there even admitted this to us. If you love your family do not admit any of them to Ash Gardens!
---
kaysh
December 09, 2012
I am a friend or relative of resident
my husband there but do not have a suppot person there and they dont care like they say im looking for another placement for him
---
From Ashe Gardens Memory Care
---
Our community serves those with Alzheimer's disease and other forms of dementia, and offers the comforts of home, a commitment to enhancing quality of life, and personal care services in a supportive environment that promotes independence. We add a personal touch to all that we do. Our staff work closely with residents and family members to appropriately meet their needs.
Location of Ashe Gardens Memory Care
---
Request Info
Get full access to reviews, cost information, and amenities