Ruth Schmidt Climer, 103: Don't Dwell on the Tough Times
Secrets of a Long (and Happy) Life From People Over 100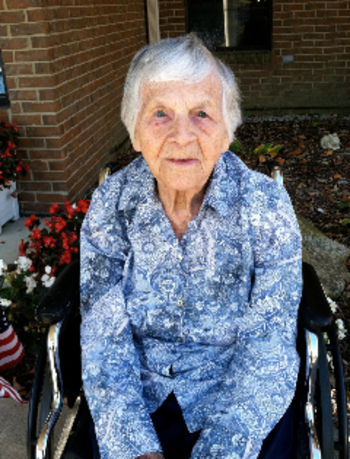 All Rights Reserved
Ruth is a doer.
After graduating from the University of Cincinnati during the Depression years, Ruth enjoyed a career as a physical education teacher. She and her husband competed in the Senior Olympics, and she has recently been honored for starting a scholarship in memory of her husband, whom everyone knew as "Sonny" and who was a beloved and respected P.E. teacher as well.
"I like to get out in the fresh air every day."
Ruth's days at Sutton Grove Retirement Community are packed. "I always look forward to getting the mail. I do a lot of correspondence to stay in touch with family and friends. I also love playing bingo and casino. I don't want to stay cooped up in my apartment all day long -- I like to get out and see folks."
"Don't dwell on the tough times."
Ruth chooses to focus on "what's good right now." She refuses to give in to negative thoughts. Her advice is to "think about when things were normal." She has decided that the best thing she can do is to stay busy. "You just have to keep moving forward."
Advice for those who hope to make their 100th birthday: "Try not to think about it! Just let life come."
"I like people and outdoors, corresponding, and my home. I have to remember that those who have gone on are in peace. They're released and in better hands, and that brings me comfort."
Bacon or no bacon? Hershey's Kisses and peanut butter top her list.
Ruth says she no longer has a big appetite, so she eats whatever she wants. "Oh, I have a little wine once in a while . . . and I do like Hershey's Kisses. Wendy's Frosties are a real treat -- and I love peanut butter!"
On turning 100
Ruth enjoyed a big celebration, but she found it a little overwhelming -- something many of our centenarians shared. "I received cards from all over the country. It was really wonderful connecting with so many folks I've known over the years." Ruth lives in her own one-bedroom apartment at Sutton Grove. The community offers assisted living services, but she only needs help showering.
Anything She'd Change?
"I'd have children. I couldn't, but I wish I could have."
Centenarians' Secrets | Find Independent Living Near You | Meet Françoise Desneige Marquis, 101
Comments
---
over 5 years,
I am amazed at the spirit of Ruth. What an inspiration. Each day is such a gift and I hope she is able to enjoy each one. God bless you Ruth.
---
over 5 years,
this is awesome I have many of her beliefs hope I can live INDEPENDENTLY until I am 100!!!
---
over 5 years,
What a nice lady, we can learn a lot from older folks. They have been through so much in life and have survived. Some times we lose sight of what is important in life, like respect and being kind to one another. I wish Ruth all the best!
---
Stay Connected With Caring.com
Get news & tips via e-mail
---