Louise Seely, 102: Learn From Your Challenges
Secrets of a Long (and Happy) Life From People Over 100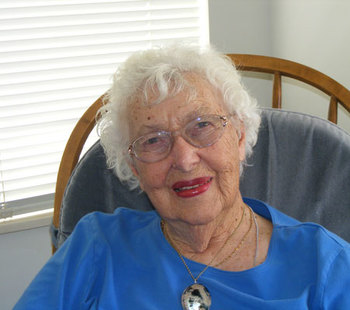 All Rights Reserved
"Somewhere along the way I just decided to be content."
When it comes to facing life's hardships, Louise has always tried to focus on prayer and meditation. "Positive thinking really helps."
"I don't have a clue how I made it to 100, except to be positive."
Louise has one aunt who lived to 100, so she doesn't know if good genes factor into her longevity. "I just get up every day and expect to keep going."
"I admit, I have a bit of a sweet tooth."
Louise gave up smoking in her late 80s and says it really wasn't that hard to break such a bad habit. "I now love desserts. Cakes and pies and cookies. Living at Fleet Landing Retirement Community in Atlantic Beach means there are always good treats on hand. I have my own apartment and I love to cook! It's fun."
Birthdays are spent with family.
Birthdays are for families, whatever family you have, by birth or friends or your community. Louise enjoys her special days with her sons. "There's nothing like looking forward to seeing their faces."
"One always has challenges."
When asked about regrets, Louise takes her time. "Not really. Some challenges I had were difficult, but they were character-building. I may not choose to go through them again, but I learned something. Learn from your challenges; it builds character."
Centenarians' Secrets | Find Independent Living Near You | Meet Bill Frank, 103
Comments
---
over 5 years,
Quite encouraging. I pray to live long
---
over 5 years,
You are such a lovely lady, Louise...you really do exude life and living it positively. ...and being a snappy dresser has always been a go-getter for anyone !! ;>>)) All the of the very Best to you, Louise :>) from Marion in Johannesburg, South Africa (Please pass this message to Louise, Thank You)
---
over 5 years,
Congrats! I hope to make it too. I am 95 now and take no prescription or over the counter medications. I still have my original knees, hips and head (though that could use transplant.) I do have one thing I recommend: exercise, exercise, exercise!
---
over 5 years,
I love this series of interviews. This advice from centenarians is a great gift to us "young-uns." Thanks for sharing it with us all.
---
over 5 years,
Battling many things right now. Overcoming the worry about them is my apparent challenge. Strong faith and belief in GOD is what gets me through it....good advice though.
---
over 5 years,
I have just come through one of the worst periods of my mid life. I mean, one dreadful thing after another. But once I felt well enough, and started to get some balance and perspective, I realized that what I DID about what happened, would, in the end be more important, and color the rest of my life, than the actual events themselves. So it has worked out. My faith in Him has been renewed, and His plan for me, not MY plans for me! My husband and I clarified some personal goals that until the bad time had only been vague in our minds. While several friendships were broken, and are not likely to be mended - I also discovered some devoted, stalwart buddies I had not paid much mind to - until the tragedies smacked me sideways. So, when life hands you lemons (I share centenarian Louise's sweet tooth)...pray for guidance. And then - bake a lemon cake!"
---
Stay Connected With Caring.com
Get news & tips via e-mail
---