Dorris T. O'Dell, 102: Try Not to Worry About Regrets
Secrets of a Long (and Happy) Life From People Over 100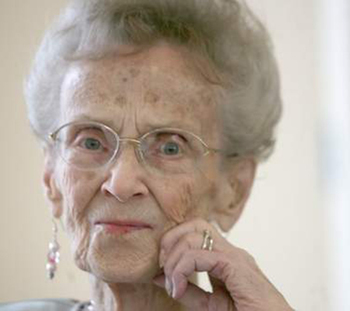 All Rights Reserved
"I never deprived myself of anything."
Dorris enjoys a close relationship with her caregiver, Judy, at Marion Woods in Ocala, Florida. "I look forward to seeing her smile coming through that door in the morning, and what I enjoy most are my meals."
The toughest times are when you lose someone you love.
"Losing my father was one of the hardest blows in all my life. He took such good care of us kids. We always had plenty to eat and clothes to wear. He died too young. I took care of my in-laws for 28 years and that was tough. Does that count?" Dorris gives a wink.
Bacon? You bet!
"I used to drink Scotch, and we went to a lot of dances and parties. Man, was that fun! I ate bacon, drank and swore, and ate all the chocolate I wanted."
"I still have my memories."
Dorris is happy that she can still remember all the way back to her childhood. Even at 102, she has her eyesight and hearing (with the help of a hearing aid), and a great appetite. "I've lived a good long life. I was married to Dewitt H. O'Dell for 66 years. That's almost a record these days."
Wouldn't change a thing.
Dorris says it's best not to worry about regrets. "I try to live each moment. I've been so blessed. I had good parents and a long marriage, and I still have my health. I have a good place to stay and good food. Life couldn't be better."
Centenarians' Secrets | Find Assisted Living Near You | More Inspiring Senior Stories | Meet Simo Radulovich, 102
Comments
---
over 4 years,
Way to go Dorris!! What a lovely story. I also think POINT OF VIEW about life really says much about the way we age. Glass half empty or half full? Every morning I think how lucky I am to have what I have. To laugh, enjoy my husband's affection, a full pantry, keep my perspective, stay busy with activities I like, strong in the faith that tough days will pass.
---
over 4 years,
God bless you Mrs. O'Dell! You're an inspiration!
---
over 4 years,
Congratulations, Dorris! My friend Dorris from Illinois is 95! God protect and lead. In the Name of our Lord Jesus, we pray. Amen.
---
almost 5 years,
What a sweet looking "young" lady. Who would have guessed that she drank Scotch and swore! HA! HA!
---
Stay Connected With Caring.com
Get news & tips via e-mail
---