The Fountains at La Cholla
| Independent Living
2001 West Rudasill Road, Tucson, AZ, 85741
Talk to a Family Advisor: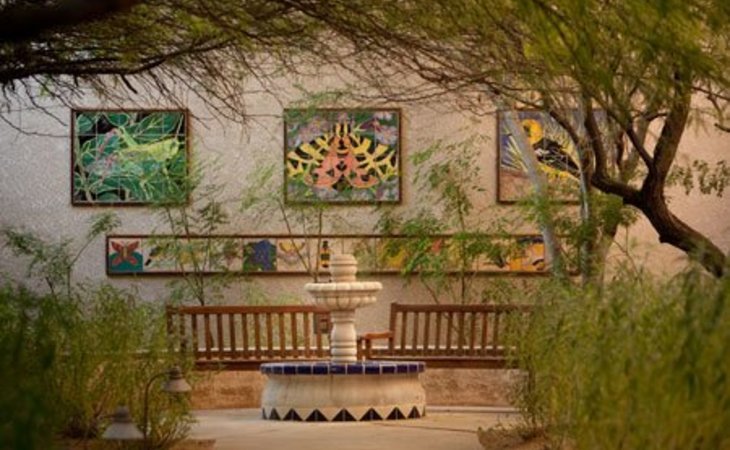 Top nearby Independent Living Communities
Reviews of The Fountains at La Cholla | Independent Living
---
Charles364737
December 05, 2016
I visited this facility
The Fountains at La Cholla was a multi-building structure and pretty sizeable facility. They also had assisted living across the street. It had a very nice lobby, dining room, library, and computers. The main floor of the main building was more like how a hotel or condominium feels. The units were upstairs, so you had to go quite a ways from your room to the common facilities. The rooms were still relatively small. The facility was well maintained. The staff seemed very knowledgeable and friendly. I talked to some of the residents there who seemed to like it, but there were a lot of people using walkers there. They provided a monthly schedule of activities and seemed to be pretty organized.
---
Betty856086
September 19, 2016
I visited this facility
I was really drawn towards the casetas at The Fountains, and I enjoy the feel of the casetas. The apartments tend to be very small and the ceilings are very low. The facility is 26 years old I believe, and I don't think they've done an awful lot to upgrade and modernize -- particularly the apartments. We were with friends on the tour, and they also were making comments along the same way. The casetas seemed to be more open and sunnier with a taller ceiling. If we go to that particular facility -- which would be convenient for the rest of our family -- this is close to them. We would go into a caseta because I still think my husband and I wouldn't be happy with an apartment there at all. They seemed to have plenty of activities, and we ate at the facility but not in the main dining room. The luncheon was held in another area of the property, and the food was absolutely delicious and actually more than any of us should have been eating. I had no problems with the food at all. But it's a little difficult to go from a home where you have eight, 10 and 13 feet ceilings, I stand 5'9 and wearing flat shoes, I could reach up and touch the ceiling of the apartment.
---
Rita830641
July 01, 2016
I visited this facility
My friends went to The Fountains because it's near their son. It is very beautiful and it's pricey. The apartments were very neat, very small, and compact. However, the parking spot is quite a ways from their apartment. They go to the restaurant for the main meal and have a nice little kitchen and bathroom. Fortunately, they are on the first floor, so they do not have stairs to climb. They seem quite content.
Provider Response
Thank you for taking the time to share your impressions of our community. We are committed to ensuring our residents are thriving, and I hope your friends let us know anything they need or want to stay happy and content. Rest assured, we have elevators so no one has to climb stairs unless they choose to for a little indoor exercise. Also, we offer a wide range of financial options and varied meal plans to accommodate most budgets. Thank you again for your review. Sincerely, Fran Donnellan, Executive Director.
---
Carole270383
June 28, 2016
I visited this facility
The Fountains at La Cholla was a beautiful community. The help was wonderful and delightful with smiles on their faces. The apartments were beautiful.
---
LouiseZMIIE
May 11, 2016
I am a friend or relative of a resident
My father has been in The Fountains at La Cholla before and moved out. Now, he's moving back in. It basically has all levels of care, and he's going to move back into an assisted living level. He was in the independent apartment before. It's a very nice community, and he knows some people who are already living there. He had a one-bedroom apartment that was very nice. He also took advantage of food service. The staff were very caring, very thorough, did a good job of taking care of the facility, and did a nice job assisting him. There were a lot of activities he could've done, but he chose not to participate. The food was very good, like in a restaurant.
---
anonymous visitor20
March 27, 2016
I visited this facility
I am very, very pleased with our visit to The Fountains at La Cholla. I felt very comfortable and would like to be there.
---
ravenna
August 12, 2015
I am a friend or relative of resident
My parents live here now in independent living. It is quite reasonably priced. The food is above average and there are usually 5 new main courses at each day. Breakfast is continental. Sunday brunch is too much of a hassle for my parents who use walkers so we usually go out to eat. The are quirks but overall the staff have been wonderful to my parents. They have a nice apartment overlooking the pool. It is too bad assisted living is not an option to be added at the Fountains as is becoming the norm with newer facilities. The Fountains' assisted living is next door and is quite expensive so it is not a consideration for my parents. This is a wonderful place for independent living.
---
Ray24
May 15, 2015
I am/was a resident of this facility
The food is very good at The Fountains at La Cholla. They have good staff there. Everybody is friendly. The residents are friendly too. We stayed there for two years. Another good thing I have to say about The Fountains is that they are in a location where there are plenty of medical facilities around it. There is a hospital within a quarter of a mile.
---
Caring75259350
November 24, 2014
I am a friend or relative of a resident
Mom is at The Fountains at Cholla. The price was cheaper than the other facility that we looked at. She has a beautiful apartment with all the amenities. It's reasonably priced for what she is getting. The setup was very nice with the dining room and covered tables with a waitress. There is a fairly decent selection in their menu, and they do get to choose what they want from the menu. They have a wonderful brunch on Sundays. The only problem I have is transportation. It's in their selected days and their selected hours. Mom does enjoy the paint classes. They have different activities scheduled. It all depends on what people like. I feel good withfor my mother being there.
---
Connie31
January 24, 2014
I visited this facility
I found the staff of The Fountains at La Chola to be very knowledgeable and they were extremely hospitable and friendly. They invited us for dinner and the food was excellent. It was nothing like what you would expect in a nursing home. It didn't have that nursing home feel, which my mother would like. They showed me three different sizes of apartments and they were all lovely. The size is ample for what somebody who would need a little bit of help would need. They were up-to-date. They had security and the electronic monitors. They showed me the laundry room and the grounds, and they gave me a brochure with all types of information and even the pricing of the various sizes of units. I thought it was beautiful. It had a great, big chandelier and I think they had just remodeled the lobby and it was very vibrant because they were having like a happy hour, they had somebody playing music, and people were dancing and playing. They even served drinks. That was my favorite and probably the closest thing I've seen to a home setting or some place that didn't make you feel like you were going to jail. They've got three or four things going on practically every day. Just watching the people, they seemed very content.
---
Bernice3
November 27, 2013
I visited this facility
The Fountains at La Cholla was homey. The staff was friendly and knowledgeable. However, coming into their lobby, it was not impressive because it was smaller than the other places and there were residents sitting around there. They were doing their music singing to the TV. To me, that was more like a skilled nursing facility. This place wasn't my favorite.
---
Maria19
September 14, 2013
I visited this facility
I've been at The Fountains and the place was very nice. The food is good and I am just very pleased. The people are lovely. Everything about it is very nice and I would not hesitate to recommend it. The staff are very nice and very informative.
---
Enforma
November 07, 2011
I am a friend or relative of a resident
If you can find The Fountains at Tucson amid the maze of other facilities there, you are doing quite good as a navigator. Because it is so hard to find, I would imagine the place is fairly secure, and they do have a good security force, as I recall. The anteroom is amazingly huge, with ceilings so high, I wonder how they are able to heat and cool the place. The hallways were a bit of a maze as well, but strategically placed maps helped me out immensely when visiting there. I noticed that there were activities going on there even at night, and the place was cheerfully decorated. I could tell that a lot of work went into maintaining this place, and I was impressed with the sheer size of it all. My friend who lived there told me that help was never more than a phone call away, and she felt safe living there. I would recommend this facility for people able to get around by themselves. You may also need a GPS to find it, like I had to resort to, but it is worth the effort.
---
cccullins89
September 16, 2011
I visited this facility
the facility was very nice, from the minute my dad walked in the door he felt at home everyone was very kind and helpful would have to say that they need more caregivers on staff because they seemed overwelmed.
---
From The Fountains at La Cholla
---
Located in the foothill of Tucson, The Fountains at La Cholla is a rental retirement community providing Independent Living, Assisted Living, Memory Care on a beautiful campus with sweeping views of the Santa Catalina Mountains. With eleven floor plans from which to choose, from cozy studio apartments to deluxe 2 bedroom Casitas, you are sure to find a new home that just fits your tastes and lifestyle. Meals are enjoyed restaurant style, with optional wine service. Near Northwest Medical Center, Foothills Mall and great dining, as well as such natural wonders as Saguaro National Park, The Fountains' location offers convenience and natural beauty. Casitas are available for the on-the-go lifestyle. The Fountains offers an ongoing course schedule of mind-expanding and body-toning classes through Watermark University. A Watermark retirement community.
Location of The Fountains at La Cholla
---
Request Info
Get full access to reviews, cost information, and amenities