Atria Bell Court Gardens
6653 East Carondelet Drive, Tucson, AZ, 85710
Talk to a Family Advisor: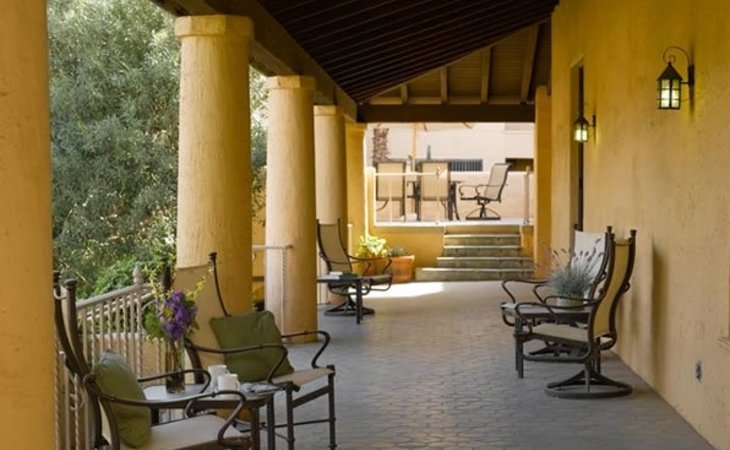 Promotion ends in 44 days!
The best time to choose Atria is right NOW! For a limited time*, you can lock in our current rental rate with no increases until at least January 1, 2019. Don't miss this opportunity! - *Offer valid on certain apartments for move-in by September 30, 2017.
Reviews of Atria Bell Court Gardens
---
phyllis086402
May 22, 2017
I visited this facility
I liked Atria Bell Court Garden and thought it was very nice. The only thing that was wrong with it was they did not have many levels of care. The apartments were very nice. The food was delicious. They had all kinds of things to offer, plus we had wine with our lunch, which was very pleasant.
---
Madeline015050
March 23, 2017
I visited this facility
Atria was fabulous, it was amazing, and that's where I want to go. It's a beautiful place with a beautiful setting. It's an old hacienda, an old ranch, and they have taken great pains to make it very successful. We had the opportunity to eat lunch in the dining area, and it was just phenomenal. Everything was impeccable, and they allow pets.
---
Anonymous164074
November 21, 2016
I visited this facility
I liked Atria Bell Court Gardens a lot. It was like there was a little extra sincerity. I also liked the old mansion that was kind of the main portion of it. I was vegan, and it sounded like they would be willing to work with my diet. I did not see a whole bunch of people out and doing things at that time I was there, but the things that they showed me, they had an assortment of exercise and other activities which I thought I would be happy with. They made me a little stir fry special, and that was very nice. They didn't have vegan items on the menu, but they sounded like they would be willing to try to make sure there would be something that I could eat.
---
Norine374222
October 05, 2016
I visited this facility
Everything was nice and new at Atria. There were so many people and so many nice things going on. You could just do anything you wanted to. There were so much going on and much to do for people of my age. The girls who talked to us knew what was going on to show us. We weren't left alone at all. I really enjoyed it. The food was so pleasant, and everything was pleasantly presented to us. There's so much going on. The rooms that I saw were so nice I could live in one, and I love their bathrooms. Everything was clean and looked practically brand new. The kitchen was great. I was very pleased.
---
Betty856086
September 19, 2016
I visited this facility
We were most impressed with Bell Court Gardens. They do not have casetas; they only have apartments, but the apartments are very generous in size, sunny, and airy. The whole facility was extremely well-maintained. We were very impressed with the grounds and the facility overall. The people that are currently living there generally looked, behaved, and felt they are happy there. They are very social and outgoing. In the dining room, the food was spectacular; there was a lot of talk and a bunch of people. There was no indication of unhappiness or sadness there at all. I was very impressed with Bell Court Gardens.
---
Richard086128
August 16, 2016
I visited this facility
Everything about Atria Bell was very nice during our visit. The rooms could be updated with paint, quality, and design. The rest of the building was lovely. Everything in the dining room was pleasant. The food, people, and amenities were lovely.
---
speedway
June 07, 2016
I am a friend or relative of resident
My family member has been there for 9+ years. Was once a wonderful location with many caring staff. Since the parent company has gone public, there has been a marked reduction in services and the once standard amenities. Cuts in activities budget/staff, dining staff cuts, restrictive local travel, etc. Local staff can not make decisions without home office approval. All for profit and decisions are based on dividends to share holders. And rest assured, an annual rate increase well above inflation. Security has been a concern. Master keys handed out, etc. My family member had a medical emergency that required an ambulance. While at the hospital for tests, the apartment was entered and all jewelry was taken. Atria did not want to file a police report as the items were likely 'misplaced'. Police report was filed but the jewelry was long gone. I have on numerous occasions, seen the doors propped open with a rock or other item with no staff or resident to be found. Once it was a member of the cleaning staff's pen to hold the door open. Access is quite easy on most days to doors that are not monitored. All in all, I believe it is still one of the better facilities in Tucson if they would turn back the clock and provide value for those on a fixed income and not totally consider how it appears on a profit statement.
Provider Response
Thanks for being a part of the Atria family, and for sharing your frustrations with me. Please know that I've shared your concerns with our leadership teams. If you would like to discuss these matters further, let's connect directly at customerservice@atriaseniorliving.com.
---
Lee28
December 17, 2015
I visited this facility
I went to Atria Bell Court Gardens, and what I didn?t like about this place is that it's kind of in the middle of an enormous medical complex, and it felt like a part of the medical complex, so that bothered me a little bit. Overall, it?s a beautiful place. I like their apartments, and they are wonderful. They have a beautiful pool, but I just didn?t like the location.
---
Holly23
November 30, 2015
I visited this facility
I loved Atria Bell Court Gardens; it was very nice. I think each of them there went out of their way; they were more than excellent. They all went out of their way and went more than the extra mile. I've worked in several care homes, and Atria Bell rocks; they're the best. They were like regular little apartments, they weren't like a room, and if they called for help, they got the caregivers there. It was beautiful and very well structured. I was just so impressed with the way they did things there. They had a calendar of activities, and they had it posted where everybody could see it. They gave me some complimentary cookies when I first came in, and those cookies tasted so good.
---
Joan105415950
June 26, 2015
I am a friend or relative of a resident
Atria Bell Court Gardens was very nice. My mom chose it because it was quite a bit smaller than the other facilities. The food was excellent. I would recommend this facility to others. It is just amazing. They had so many different physical and cultural activities. I was amazed and so was my mom. The grounds were very well maintained and beautiful.
---
William102629950
May 06, 2015
I visited this facility
I live in Atria Bell Court, and it's a lovely place. It's what was available, and it's been very satisfactory. I would certainly recommend it to others if they have enough money.
---
Claude2
April 07, 2015
I visited this facility
Atria Bell Court Gardens was very pleasant. I had a very nice experience. The person who gave us a tour of the place pretty much explained all the facilities, the requirements that they had and a lot of the services that they offered. She gave us an overall view of the place and some financial information. Overall, it was a pretty nice place. What impressed me the most was the overall ambience of the place. The views were excellent. It was very well kept.
---
Lund
February 17, 2015
I am a friend or relative of resident
My mother was here a little over one year. I think it was the best option for her in Tucson but she needed to move to memory care. The grounds are beautiful, green with mature trees. It is great for people and dogs. It is very dog friendly and many residents have dogs. It is an older building, but it has class. Apartments aren't fancy, no granite countertops or stainless appliances, but the rooms are plenty big and they have beautiful old wood doors everywhere. I never smelled a musty or urine smell in the hallways, like some other places. They have a very nice and comfortable dining room. The dining room staff was mixed. Some experienced staff are wonderful but others, especially new staff, can be pretty bad about getting orders right and being friendly. The food is mixed. They have excellent soups and desserts but vegetables are just edible and entrees can be good or bad. They do have some turnover in the staff, including the dining room, but almost all the staff are very friendly and many are older, too. Most of the residents are friendly and happy, too.
---
Crystal67
December 18, 2014
I am a friend or relative of resident
Atria has the potential to be a great retirement community. However they fail to maintain adequate or competent management. Consistency in service and the quality of service seems to be an ongoing issue. For the money, I would send my parents elsewhere.
Provider Response
While there has been some transition in our community, please know that we make these decisions with the best interests of our residents in mind. I'm sorry if you do not feel the care has been consistent and encourage you to reach out so that we may connect with you on how you feel it could be improved. We take feedback from our residents and families very seriously as they can provide valuable insight as to how we can constantly improve the services and care we provide. Please feel free to reach out via customerservice@atriaseniorliving.com including "Atria Bell Court Gardens" in your subject line so we may quickly include the appropriate directors in the correspondence. We are here to help.
---
Caring95353050
October 06, 2014
I visited this facility
Atria is an independent living facility and more expensive. They have beautiful gardens. They allow pets, and you smell urine in the carpeting from the pets when you walk around. The rooms have one bedroom, a living room, a teeny alcove kitchen, and a bathroom. They told me they have activities.
Provider Response
Thank you for coming in for a tour of our community. I apologize for the unpleasant odor you mentioned and will make sure to pass your comments on to the appropriate directors to ensure it will not be an ongoing issue. We pride ourselves on meeting the high standards Atria sets for all communities and feedback from our visitors plays a vital role in that effort. If you would like to discuss your visit in further detail or we can provide information on our other great communities in the area, please contact us at customerservice@atriaseniorliving.com and be sure to include "Atria Bell Court Gardens" in your subject line.
---
knockash
August 07, 2014
I am a friend or relative of resident
My parents apartment smelled like cigarette smoke, although the complex is supposed to be non-smoking. We complained and nothing was done. The housekeeping was supposed to be done every other week, but only happened occasionally when I called to check. They lost and messed up my parent's sheets and towles with those of other residents and I have had to buy new sets of sheets. Allow a lot of time if you want to ask a question or for any assistance at the fron desk. No one is very responsive or helpful. There are no ramps where there are stairs. One pays a lot just for a mediocre apartment and meals, and one can get very tired of eating in that same place every day. No way was there anything--food, ambiance, assistance--that made this place worth the cost--or the cost of replacing the linens. As soon as you need to hire in-home help, the costs sky rocket.
Provider Response
I am sorry to hear about your parents' housekeeping difficulties and apologize for the inconvenience it has caused you. Your comments will be shared with the appropriate directors to ensure we are looking into the areas you mentioned for ways to improve. If you would like to share any suggestions on how you think our dining experience can be enhanced or feel we can be of further service to your family, please feel free to reach out via customerservice@atriaseniorliving.com; including "Atria Bell Court Gardens" in your subject line so we can quickly include the right people in the correspondence. We are here to help.
---
Caring82791450
April 29, 2014
I visited this facility
The Atria was excellent, very well-run, good food. It just didn't have assisted living. The staff is excellent. Beautiful apartments. The food was wonderful, it was like a 5-star restaurant. They have walking, bending, stretching. I really like the place, but I couldn't stay.
Provider Response
Thank you for your lovely review of our community, we are certainly sad to see you go! I wanted to make sure you know about another one of our communities just 10 miles away called Atria Campana Del Rio, which offers Assisted Living, as well as Memory Care. If you would like more information or we can be of further service to you, please reach out via customerservice@atriaseniorliving.com. If you include "Atria Bell Court Gardens" in your subject line, we can quickly include the appropriate people on the correspondence. We love to help!
---
Evelyn8
April 26, 2014
I am/was a resident of this facility
Atria Bell Court Gardens looks like my home. It is like a home and not institutional. I'm not too happy with the food, but everything else is 100%. All of the staff are very nice, very helpful, and friendly. I have a 600-plus-square feet apartment, and it is very nice. They have all kinds of exercises, classes, games, arts and crafts, making beads, same old things. You name it, they got it. If you are lonesome or bored here, it is your fault, not theirs.
---
Diane81694450
March 27, 2014
I visited this facility
Atria Bell Court Gardens is like a resort. The surroundings and the landscaping is very beautiful. It would be something like a place for someone with little to go and spend some time on a vacation. It's really a very beautiful place. They're also very nice there. The population there participates in the activities, and they feel that they're very active. It's a very stimulating place to be. I thought that was very nice. The rooms were very comfortable, and they have nice accommodation.
---
Caring74323750
January 31, 2014
I visited this facility
Atria Bell Court Gardens was very nice. It's in a very nice location. I was picked up and brought there and the staff who picked me up was a wonderful person. She showed me the accommodations. They also showed me their activity room, exercise room and their library. They're all nice. However, the facility itself didn't seem to be decorated as fancy as other places. They had very plain decorations. I think they should consider purchasing better paintings to hang on the wall. Everything was beautiful, but it looked like they didn't spend any money on artwork. What they had were very cheap and out of proportion decorations. Also this facility would be too expensive for me. However, if anyone asks, I would recommend it. I did have a wonderful lunch at Atria. Their food was very good. They had an excellent chef.
---
Daniel7
December 30, 2013
I am/was a resident of this facility
I have been living in Atria Bell Court Gardens for two years now. It is in a nice location, which is just a block from Saint Joseph's Hospital and there are lots of doctors in the area. It is an old building with modern Tucson touch in it and it's beautiful. There are studios, one-bedroom and two-bedroom apartments. We have games and outings. The operating staff was wonderful. The dining room personnel were great. However, there's no one on call twenty-four hours.
---
Emmyrose
September 15, 2011
Other
This facility has 141 apartments. It is 2 story and used to be an old mansion built in 1800s. It is very nice looking and well maintained inside and out.The decor is beautiful. One bedroom apartments.They have emergency lights, They include all utilities and cable. Currently they are offering discounts through September. The grounds are nice and have two courtyard with greenery, flowers, and patio. There are sitting areas, walking paths, and a fountain.There is a bbq area. They have a heated pool and a spa with a bathhouse. They have a large veranda which overlooks the pool and spa and offers great views of the mountains and landscape. There is an off leash dog run. They do only assisted living and respite.However, if residents do need extra assistance or require help with meds etc., they do have an agency for in house home care. They have doctors close for appointments and currently arranging for a house doctor. They have a nurse practitioner which comes in a few times a week and for bp checks and shots.All care givers are certified. They offer three meals and snacks daily in their dining room with a good variety. The food is great.They have a beauty shop. They have a very active activities department. They do about 290 activities on calender including in house games, entertainment, wine and cheese hour,birthday parties and bbqs. They have neumerous outings to events and shopping. Their van runs 7 days a week. They have an exercise program as well. This is a beautiful facility with a great, caring staff.
---
From Atria Bell Court Gardens
---
At Atria Bell Court Gardens, you'll enjoy resort-style living surrounded by three glorious mountain ranges. Located in the magnificently restored historic Belin Mansion in Tucson, Atria Bell Court Gardens offers the convenience of senior living services provided by a professional and caring staff and indulgences such as a heated pool, spa and sunroom. Atria Bell Court Gardens is also conveniently located near shopping, entertainment and health care providers.
Atria Bell Court Gardens offers the following services:
Staff available 24 hours a day
Choice of apartments with 12 different floor plans from which to choose
Anytime Café
Full-time director of events and activities
Emergency call system in every apartment
Daily restaurant-style meals
Housekeeping services
Maintenance of apartment, community and grounds
Scheduled local transportation seven days a week
On-site home health care agency and physical therapy
Atria Senior Living is a leading operator of independent living, assisted living, supportive living and memory care communities in more than 180 locations in 28 states and seven Canadian provinces. We are the residence of choice for more than 21,000 seniors, and the workplace of choice for more than 13,500 employees. We create vibrant communities where older adults can thrive and participate, know that their contributions are valued, and enjoy access to opportunities and support that help them keep making a positive difference in our world.
What Makes Us Special
---
We are located in the shadow of a historic mansion, with views of the Santa Catalina, Tucson and Rincon Mountains. All of our two bedroom apartments have two baths.
Features of Atria Bell Court Gardens
---
Costs
All Inclusive Rent
Entry Fee
Fee Structure Extra:

We Offer A Month To Month Rental
Room and housing options
1-bedroom apartments
2-bedroom apartments
Companion Suites:

We Do Not Offer Companion Suites
Dining options
In Room Kitchens
Dining Room Shared Meals
Room Service For Meals
Features
Beauty Barber Shop
Computer Room
Resident Transportation
Coffee Shop
Party Space
General Store
Tv Room
Garden And Patio
Resident Parking
Security Gate
Pool
Spa
Features Extra:

Library, Fitness Room/Gym
Cleaning services
Laundry For Linens
Private Cleaning Services
Housekeeping
Laundry For Clothing
Technology and entertainment
Cable In Rooms
Technology Extra:

Emergency Call System
Activities
Offsite Activities
Music
Games
Religious Services
Lectures Discussions
Book Clubs
Tai Chi
Fitness Room
Yoga
Arts And Crafts
Activities Extra:

Computer Class
Guest services
Guest Parking
Guests At Mealtime
Overnight Guests
General
Respite Care
Minimum Age:

55

Pets:

All Pets Allowed
Location of Atria Bell Court Gardens
---
Get Cost Information
Get full access to reviews, cost information, and amenities