8551 Huebner, San Antonio, TX, 78240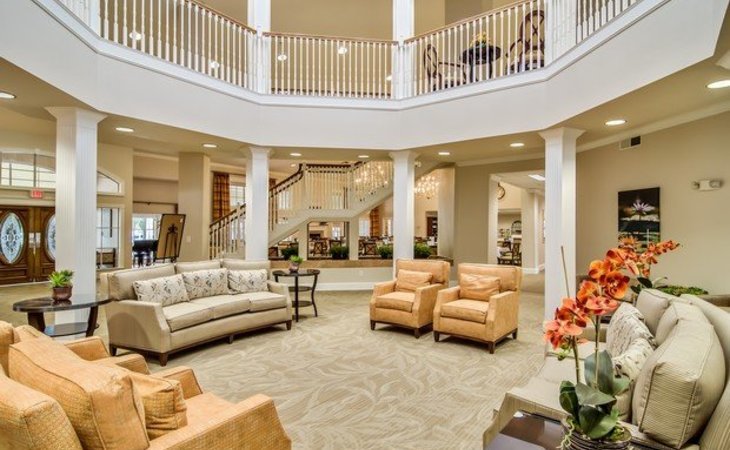 Reviews
of The Waterford on Huebner
---
Write a Review
May 31, 2017
I visited this facility
The Waterford on Huebner was very nice. It had a lovely dining room.
March 29, 2017
I visited this facility
My visit at The Waterford on Huebner was good. The room they showed me was kind of small. The staff was good, and they were very friendly.
November 29, 2016
I visited this facility
I saw The Waterford on Huebner. It was a nice place with nice food. The management and the people were all very nice. The apartment itself was too small. They had everthing, including transportation.
October 14, 2016
I visited this facility
I visited The Waterford on Huebner. It was a little bit more elite than the other community, but they were both very nice and very well kept. I was very satisfied with both facilities. At The Waterford on Huebner, I was impressed with the fact that on each one of the rooms, there was always a view to the outside, and they had balconies. I was also impressed with the fact that they had a theater where they had movie nights. Even though they had movie nights at the other community, at Huebner, it was larger with seating areas. The staff said they both offer the same things, but I got kind of a different feel from the Huebner than I did from the other community, but they were both very nice. The grounds were well kept. It was daytime when I was to Waterford on Huebner, and based on what I could see from the outside, there is plenty of lighting, which is always good. The staff members were all very nice and informative with lots of information with the facility and the residents, so I thought that was good. You're not just a number. Also they have lots of curriculum and outings that they provide transportation for, so is the other one, but they listed more things that they present they had for the tenants to do other than shopping and doctor's visits. I was impressed with that. And if it was something that some of the tenants were interested in that was not on their list, they took it under consideration, went back to the staff that make the decision, and figured out a way to work it in, so I thought that was excellent.
August 22, 2016
I visited this facility
The Waterford on Huebner was quite nice. People there seemed very active. I saw games and people in groups. I thought it was a little higher on price than the space we got. The Waterford focused only on independent living with no options to move past that if that was needed. It was a nice place.
May 29, 2016
I visited this facility
We visited The Waterford on Huebner. The food was OK, and they seemed to be better because it was a newer facility. It had more amenities. However, my wife wasn't impressed by it. The rooms had a refrigerator, and a microwave. They had a van that goes to a grocery store once a week, Costco, and for medical purposes.
May 11, 2016
I am a friend or relative of a resident
Everything has gone smoothly and the lady that helped us out, Jennifer was very helpful. The food staff was very accommodating. My father-in-law is pretty happy with most of the food; two choices on an entrée. He is able to participate in the activities. It's like a studio apartment and he like it, it has enough room, with large bathroom.
January 24, 2016
I visited this facility
The Waterford is very nice, very easy going, and they had a lot of things that a person should do. They have daily activities. They have a bus that goes to different places. They have a restaurant, and a library.
January 18, 2016
I visited this facility
The Waterford on Huebner was a very nice place. The staff was very nice, and the rooms all looked nice and comfortable. I liked the way their dining room looked, but I was not able to try their food. When I went there, I saw people playing cards and seemed to be enjoying themselves.
January 15, 2016
I visited this facility
My mom decided she needed to move closer to me so after 67 years in the same house we were looking for an assisted living community. I used Caring.com and Christina E. took what I was looking for in the location I wanted and gave me 5 to visit. I visited them all. I ate at them and met with the patrons. I found the Waterford on Huebner and it had all the things I thought my mom would like. I put her on the list without her even seeing it. She has now moved in and is very happy. This was a big transition but it was seamless with Christina's help. Thank you caring.com for the great help in directing me to all the right communities.
December 30, 2015
I visited this facility
I had a very brief experience at The Waterford on Huebner. During my visit there, I saw that it was a nice community. It had a 10-foot-high ceilings, which made the rooms appear spacious. Each room had a large walk-in closet. I did not eat there, but I saw that they had a wonderful dining room. I noticed that they also had two-hour door checks. Obviously, they checked on the residents very regularly, which impressed me.
November 30, 2015
I visited this facility
The Waterford was too much like an assisted living place. It reminded me of a nursing home, but we're looking for independent living. The staff was friendly but did not let us talk to the residents. The rooms were very small.
September 07, 2015
I am a friend or relative of a resident
The Waterford on Huebner is a great place. My mom has just been complaining about the food. Evidently, they have some kitchen problems, but other than that, it's OK. We moved her in on July 1st, and they all seem to be very helpful and caring. I have eaten there one time, and I thought it was fine, but my mom and several of her friends complain about it there. They recently had some changes with who's in charge with the cooking. She's participated in a few things, and she got the large one-bedroom unit, which is very nice with a nice large bathroom. I would recommend them, but they should improve on the food. They use all frozen products, and there isn't much variety, and sometimes it's even hard to tell what you're getting. They don't use very many spices -- everything is just really bland.
June 06, 2015
I visited this facility
My second choice would have been The Waterford. It feels like a large apartment complex. The apartments are smaller; their food is not quite as good. It's newer, it's nice, and I like the amenities.
October 16, 2014
I am/was a resident of this facility
We have been living at The Waterford on Huebner for about five months now, and we're pretty satisfied in this facility. The staff were a little above average. They have a one and a two-bedroom apartment. We are in a two bedroom, and it's very nice. We have a lady that comes in and cleans once a week. The food is also a little above average. We have different things to do like bingo, checkers, and scrabble.
July 19, 2014
I am/was a resident of this facility
We are in an independent living community called The Waterford. We get three meals a day. There are activities that we like. They have an exercise room, and there is bingo. There are other activities, but we haven't been here long enough. The food is excellent. It is very good. We can order anything. The staff is very good. They are very polite. We are in a two-bedroom. It is fairly large. It is two bedrooms and one bathroom. We have a balcony completely around our apartment. We have windows in every room, including the bedrooms. Once a week, a woman comes in and sweeps, changes the sheets, takes the laundry, etc. We have very good service here. Everything is very good. This place is more homey because it is not quite as congested.
April 25, 2014
I visited this facility
I visited Waterford briefly. We went into a room that was vacant. It was about the same square footage as some of the other places, but it was adequate in terms of square feet and closet space. The staff is very friendly. The place is very clean and it smelled good, so obviously it was not a Medicaid nursing home. The dining area was adequate and well presented, but it didn't really stand out. I think, comparing prices, Waterford was on the lower end of several I visited. It's not really upscale.
October 15, 2013
I visited this facility
I had a very good experience at The Waterford on Huebner. It is a very nice place, more joyful and more charming, and I got a good impression of the people, they are very kind. I like the buildings and the view.
June 12, 2013
I am/was a resident of this facility
I was a resident at The Waterford on Huebner. The lobby was very nice. It had pretty decors and you can sit there and talk with the other residents. The dining hall had chandeliers. However, it didn't have grounds where you can take walks. You can just walk around the building. I also stayed in an efficiency apartment. It was nice but not spacious. It didn't have a kitchen. They have meals supplied to you and you just have a little microwave in your room. The reason I left this facility was because I didn't get to go out as much. I'm in a wheelchair most of the time but their shuttle bus doesn't have a lift for wheelchairs, so I'm usually stuck in the place. I can only go out when my daughter visits me.
March 21, 2013
I am a friend or relative of a resident
The reasons I chose Waterford is because of the social activities and location. The staff is attentive and friendly. My mother is in the smallest studio, it is very clean. They have games, movies and musical presentations. They also provide transportation for off site activities like the theaters, symphony and restaurants. I have also tried the food, it is very good and my mother likes it.
September 27, 2012
Other
The exterior of the facility is very welcoming. It's set up to look like an upscale/southern style apartment complex. The landscaping is well kept and colorful. Upon entering this facility you will walk into a large dining/living common area. The dining room is very large with a tall ceiling and seemed spotless. It was a cheery yellow/beige color. The residents all seemed very happy and were all being seating in the dining area. It's a restaurant style atmosphere as there is a wait staff to take order from the daily options available. There is a fitness area, a reading room with newspapers/magazines available. There are various seating areas as you walk thru the facility. The rooms are about the size of a hotel room and there is a sink/fridge/microwaive. Each room is temperature controlled by each resident. There is a monthly calender posted in several locations listing the activities that are available for the residents to participate in, (ie bingo, crafting, sing alongs, etc)
September 27, 2012
I visited this facility
The facility was excellent. Everything was clean and the residents had everything they needed. The residents were happy and as healthy as could be expected. My only complaint was that the staff was a bit difficult to communicate with. Most of the nurses and aids seemed tired and frustrated.
See all reviews (22)
See fewer reviews
Features of The Waterford on Huebner
---
Costs
Minimum Rate:

$1970/month
Room and housing options
1-bedroom apartments
2-bedroom apartments
Studio Apartments
About The Waterford on Huebner
---
Let our desired amenities and convenient services spur you into experiencing an exciting life at The Waterford on Huebner. Our Independent Living community in San Antonio, Texas, features thoughtfully designed studio, one- and two-bedroom floor plans and a full calendar of activities and social programs such as regular bingo, Bunco and happy hours to offer residents a rewarding, enriching lifestyle. Our apartments boast walk-in closets and full-sized kitchenettes so residents feel right at home the second they step foot in our community. The Waterford also offers the privacy and freedom our residents expect and deserve with 2-inch mini-blinds on all windows and the ability to enjoy community amenities ranging from a well-stocked library to our grand piano. At the same time, we offer companionship. Professional and courteous staff members are available 24 hours a day and can provide support services including additional housekeeping and laundry help. Our community's location on the north side of San Antonio provides a plethora of shopping, dining, entertainment and medical choices all within reach of our residents.
Map
of The Waterford on Huebner
---
Get Costs