The Waterford at Thousand Oaks
4243 Thousand Oaks, San Antonio, TX, 78217
Talk to a Family Advisor: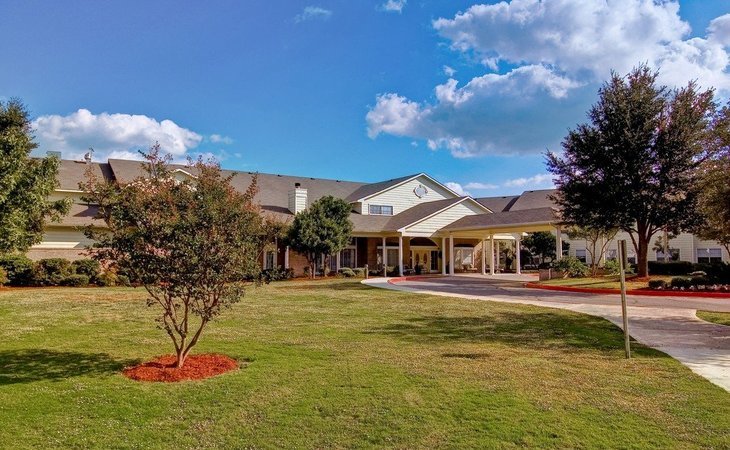 Reviews of The Waterford at Thousand Oaks
---
dennis338677
May 22, 2017
I visited this facility
The Waterford at Thousand Oaks was clean and excellent. The apartments were adequate but too expensive. The staff was informative and did a satisfactory job. Their dining area was nice and clean, and the food was good.
---
rich357840
May 22, 2017
I am/was a resident of this facility
We moved to The Waterford, which is being remodeled. Everybody has been extremely helpful and very friendly. The dining area is nice and large, and has assigned seating with four to a table. The food is excellent; they give you good choice of meals, and if you don't like the daily special, they give you something else. They have a bus that takes us to Walmart 2x a week and to the doctors.
---
Lynn216042
May 09, 2017
I am a friend or relative of a current/past resident
The Waterford at Thousand Oaks was the first on our list because it was the closest to where we live. I took my friend to see it, and she fell in love with it. They are very attentive to her needs. Whatever she needs, they attend to it in a timely manner.
---
Marie808831
March 29, 2017
I visited this facility
The staff at the Waterford at Thousand Oaks was very helpful and very kind. Right away, they accepted me as one of them. They were very accepting -- especially the back office -- and they were ready to sign me up. The room was a very good size, and it was just beautiful. Everything was so new. The carpeting, even the laminate flooring, was beautiful. It had a kitchenette, and it was just beautiful that I think any person would have loved to live in that kind of environment. And the activities were wonderful, so I wish I could have stayed there. I fell in love with it.
---
TM620316
February 01, 2017
I visited this facility
The Waterford at Thousand Oaks had beautiful apartments, but it wasn't as homey as other ones. The residents could put a wreath on their door, but they couldn't really decorate the outside. It looked brand new and was at least 10 or 15 years old. The food was good. They were very friendly. I didn't like that their fridges were tiny. They had big rooms and big living rooms, but small kitchenettes tht were more like a bar. It would have been nicer to have a bigger refrigerator and more cabinets for the kitchen area. Their library was tiny. They also had a TV room, but it was so tiny.
---
Sandra453135
December 16, 2016
I visited this facility
We visited The Waterford at Thousand Oaks. It was very nice, but the price was out of our budget. We would have loved to pick them because they were in our neighborhood. They did not have a model apartment for us to look at. We had to look at one that somebody was living in that was OK. It was a little awkward because there were people there. The dining area was beautiful.
---
Markell
October 20, 2016
I visited this facility
The Waterford at Thousand Oaks is really nice, and it seemed like somewhere I want to live if I got pretty old. The staff is very friendly and seemed like they were eager to help me and my family out. The rooms are not very spacious, but it seemed very nice. Everything is really nice. If I were to put my grandfather in a home, that's where I'll put him. I thought the price could be a little bit less, but maybe I just didn't experience everything that they had so maybe their price is right. It wasn't too expensive, but I felt like it could be a little bit lower.
---
Ron483271
October 13, 2016
I visited this facility
I was very impressed with The Waterford at Thousand Oaks. It was very clean. It was very uplifting. Everybody seemed to be happy and in a good mood. It was a very good experience there. The rooms were very nice, very kept up, and very clean. I'm sure my mom would thoroughly enjoy it there if we pursue that. With my limited exposure to them, they get a 5, I was very impressed with it. They had lots of activities. They were going on with bingo, and they showed us several rooms where they have a pet rally for the Spurs, arts and crafts, a library, and things like that. I was very impressed with everything.
---
SG460237
September 30, 2016
I visited this facility
The Waterford was great, and the pricing was really good, but their apartments were just a little smaller. A lady was really nice there too. It is an older place and better on his budget. The dining room was really nice, well-maintained, and the residents seemed happy.
---
Cindy727732
September 15, 2016
I visited this facility
The Waterford was a really nice facility. However, they did not have anything close to the size of the room accommodation that my mother was looking for. All they had was their smallest room -- which was right around 300 sq. ft. -- and they were not able to help us in saving any money as well. We were trying to see if we can get a room that would give her a little more space and also if we can save her some money, and they weren't able to do either one. As far as everything else, the facility was very nice, everybody was very nice, and they gave me an opportunity to look at their menu and their restaurant style dining and to also talk to the other residents. The residents there were very happy, and it's a really nice place. It just did not meet our mother's criteria. This is a very good location for seniors because it's nestled right in the middle of just a lot of businesses where I can see that a bus ride or even a van ride there wouldn't be a very long ride. Across the street is a grocery store, and down the road are a dollar store and a bank. They're really in a very nice location where all the amenities that people really need at their convenience are right there.
---
Bonnie M
July 29, 2016
I visited this facility
I visited the community when a friend of mine was invited. The event was a Memorial Day cookout. I thoroughly enjoyed the food and I got to meet some friendly people. I will certainly consider this place when I decide to move to a community.
---
Caring daughter in law1
May 11, 2016
I visited this facility
The staff was excellent at the Waterford. The residents looked happy, busy and have been very engaging with each other. It seemed like there were more women than men.
---
Jan G.
January 30, 2016
I visited this facility
We visited The Waterford for my mother. The tour guide was very knowledgeable. The entrance was very open, and airy. I enjoyed the lunch. I met with some of the staff, and some of the residents. I liked the room choices. The facility was expensive, but reasonably-priced. Overall, it may be next to the top-pick for my mom. They had a recreational director, too. At that time, we walked in on a group that was learning about the iPad. Somebody would come in once a week, and give a class on that. They would take you to medical appointments, too.
---
AlliefWilliam
December 30, 2015
I am a friend or relative of a resident
My mother has lived at Waterford for eight months now. She loves the food and companionship she has found there. She is residing in a one bedroom apartment with her own furniture. They provide cleaning service weekly including washing bed and bath linens. Washing machines for everyone's use are provided. She enjoys participating in the exercise and walking classes. And she loves the Bingo games.
---
Florence16
November 25, 2015
I am/was a resident of this facility
I love The Waterford and has everything I need. Transportation is very good, and they have a lot of activities, which I like. The staff is very helpful and has always been very considerate. Sometimes I don't like the food because it's something I don't like orI don't like the way it's made, but for the most part, it's OK. Living in a community where there are many people, you can't satisfy everybody all the time. I like the different choices offered; they do an ala-carte menu in addition to their daily menu. I've been in three different apartments in this place. One was the smallest size they offer and was very comfortable when I first moved in, but I started needing more medical supplies and found it got cramped. The medium-sized one didn't have enough closet space, which was the only problem I had in that room. In the room I'm have now, the closet is very large, and there's also a coat closet, so there is plenty of space to store stuff. We play bingo twice a week and Pokeno once a week. They have a happy hour plus some other activity every Friday, transportation to church if you want to go, and transportation to Walmart and HEB once a week. They also have what they call quick errands twice a week, and you can go to the bank, the post office, to get your watch repaired, to one of those places to get your hemlines fixed, or other places like that. You can go almost anywhere. We have a walking group who walk inside the building because we have a lot of handicapped seniors and it is better for them to walk on a smooth surface. They walk the building and every hall three times a week. I would like a pool, but I don't think that's going to happen. We do use the community pool; we have access to it, I believe, three times a week. They'll transport us to the pool Tuesdays, Thursdays, and Saturdays, or about three times a week when it's open during the season because it's an outside pool. They also have an exercise room available whenever you want to use it and exercise classes five days a week. You use it at your own risk, but we do have it. We have weights, bikes, and one of those walking machines.
---
Caring Daughter28
October 19, 2015
I visited this facility
I like the layout of the room at the Waterford. It was smaller. The grounds was way down on the northeast side of town. It's pretty well established, old and kind of rundown too.
---
Michael110956550
August 12, 2015
I am a friend or relative of a resident
The Waterford is a good community. It has excellent amenities and services. My mother's room is good, the staff is good, everybody is really good. It's just that she doesn't like it. We put her there because there's a life there. They have events, games, exercise, libraries, bingo, they take the elderly out, and even some residents have their own cars. Each resident has their own room, and they also have rooms for husbands and wives. They provide different rooms for different types of budgets. They have a suite that has a bedroom, a living room, and a little kitchen area. My mom is in one room that has a little refrigerator.
---
Mary110357150
July 04, 2015
I am a friend or relative of a resident
My mother-in-law moves in The Waterford at Thousand Oaks. We like it primarily because it is close to the residence of her children. It is convenient for the family. The facility is clean and bright. The services seem to be comprehensive. The price is right, and you do not make a long-term commitment. They have various activities. They make postcards. They have an exercise group, and they go out to lunch sometimes. Her room is spacious.
---
Caring106405450
June 06, 2015
I visited this facility
I visited The Waterford. It was clean. I liked it better, but it was too far away.
---
Gary35
June 11, 2014
I am a friend or relative of a resident
The Waterford looked like a nice place. I talked to some residents there, and they liked it. It's independent living, but they do have some facilities for assisted as needed. It has a nice feel. It's clean and friendly. Mom is in a smaller studio. They did have better options, but that was what she needed. That has her own room with a separate bathroom and a little kitchenette. They serve food, and it's actually very good. I've eaten there a few times myself. They have something going on every day.
---
Caring74842250
January 18, 2014
I visited this facility
I had been out to The Waterford several times. It was a very nice place. I liked it and the apartments were really nice. The staff was helpful and friendly. The food was very good. I liked the amount of activities they had because there were a lot of things to choose from. There was something to do every day out there. They had parties all the time for various occasion and I had been invited to all their events. They brought a lot of outside people for entertainment.However, the community was not familiar with me at all because I lived in the opposite direction. I would not consider living there because it was too far from where I lived. I don't know the area and I don't think I would be comfortable out there.
---
Lance3
September 26, 2013
I visited this facility
I love the place. They really have a nice set up. Everybody was really friendly there. The place is clean and everybody was organized. It also got a nice location. I might end up being at Waterford when I need a facility. I would surely recommend this facility.
---
From The Waterford at Thousand Oaks
---
Remember The Waterford at Thousand Oaks for Independent Living in San Antonio, Texas. Our blend of desired amenities and convenient services offers residents a vibrant lifestyle with the independence they expect and deserve. From thoughtfully designed studio, one- and two-bedroom floor plans to myriad recreational and social opportunities including ice cream socials, happy hours and movie nights, residents may just find that we have thought of everything. Our apartments boast vaulted ceilings and walk-in closets as special touches to make residents feel right at home. Four-legged friends will find comfort in our community, as well, with an onsite pet park where owners can share stories while dogs run and play in San Antonio's gorgeous weather. Our San Antonio ZIP code means there are plenty of entertainment and recreational opportunities outside of the fun our residents have each and every day at The Waterford. Residents who want to escape to any number of local and chain restaurants in the surrounding city can take advantage of our car and 22-passenger bus or use VIA bus, which runs right by our gated community.
Features of The Waterford at Thousand Oaks
---
Room and housing options
1-bedroom apartments
2-bedroom apartments
Studio Apartments
Location of The Waterford at Thousand Oaks
---
Get Cost Information
Get full access to reviews, cost information, and amenities