Cedar Crest
| Pompton Plains, NJ
1 Cedar Crest Village Drive, Pompton Plains, NJ, 07444
Talk to a Family Advisor: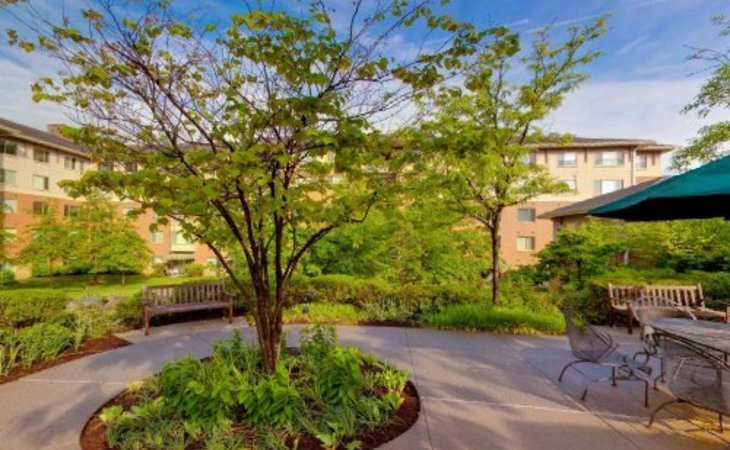 Top nearby Independent Living Communities
Reviews of Cedar Crest | Pompton Plains, NJ
---
William
August 23, 2017
I visited this facility
I have a friend who lives at Cedar Crest. They have been in business for a long time and do a great job. The food is exquisite, it's an absolutely high-end place. They have both independent and assisted living and their staff is good. The place is just too big for me personally.
---
William616206
April 11, 2017
I am a friend or relative of a current/past resident
My mother lived in Cedar Crest. It was overdone and very expensive. My mother had a one-bedroom apartment with a kitchenette, a living room, a bedroom, a walk-in closet, a bathroom, and a little laundry area. They had activities and a swimming pool. My mother was one of their first tenants when it opened up. Since then, they put up seven other buildings.
---
Chris802640
June 10, 2016
I visited this facility
Cedar Crest was very good and had an active atmosphere. There were a lot of activities going on, and there were a lot of people there. The staff was friendly, pleasant, and very informative. The dining area was very extensive and upscale. The value is a little high, and there was quite a bit of sceurity and restricted access to the property, so there was more than one level of security. I don't think they need to improve anything because they're in pretty good shape. The way people explained things to us was very good, and they gave us a lot of information.
---
RPT
January 01, 2016
I visited this facility
In general, my visit in Cedar Crest was fine. Some of the people working there were helpful. The living quarters looked fine but walking down through those long halls was not a good thing for my wife. I needed a place that was a little bit smaller. The food was good but I did not like the fact that I had to eat in their restaurant at least once a day. They seemed to have a lot of amenities and a lot of things to do as far as I could tell. Everything was good in the community. I just didn't want the hotel-like feeling from those infinitely long hall ways.
---
Burrsearcher
May 28, 2015
I visited this facility
Cedar Crest is the one that I like better than the others. I was very impressed by the friendliness of the residents. They were very outgoing. We talked to a couple of staff members who seemed to be very enthusiastic about the place. They seemed to be very happy with it and enjoying their work, which is good. However, the room that we can afford is just barely suitable.
---
caring04371
November 29, 2014
I am/was a resident of this facility
I have moved into Cedar Crest, and I am still getting used to it. There are lots of activities, and I have already been playing pool and Wii bowling. It is clean, very modern, and kept well. They've got painters all over, and the carpenter is working on everything. The food is fine, no problem.
---
Selma1
June 27, 2014
I visited this facility
Cedar Crest was a nice looking place. It was a little too large, and they have a big dining room. I saw some activity. They have apartments, and then they're attached to other facilities, independent living, and assisted living. And I know that they have a lot of places in other states.
---
worried kid
November 12, 2013
I am a friend or relative of resident
My folks moved in to the one in North Jersey, Pompton Plains. My wife and I scouted the place and were pleasantly surprised by what we encountered. Sales staff "seemed" on top of everything and I felt that my folks would do OK. What a difference a month makes. They have since moved in and man did i get that wrong. The place does seem nice and clean but the staff has no idea whats going on around them on any particular day, get to that later. I was told that there were yoga classes for my mother turned out it was a video with women sitting on chairs lifting their legs. Thats not even yoga. the costly monthly rent does however come with one meal a day in any of their "restaurants". Day after the move, my folks exhausted, we decided to venture out for lunch. The "social worker" who was there to help us get around, recommended lunch in the Oak Room. After a 10 minute walk the Oak Room was closed, turns out it is closed every Wednesday and Friday for lunch. Do you think the "Social Worker" should have known this. So off we go another 10 minutes to the next restaurant where I am greeted by a woman who looks at me and sighs and exhales with her eyes rolling back in her head. I ask if there is a problem and she responds "Do not start with me". Wow, really, does she talk like that to my 76 year old mom? What about all the other residents? The food seems OK but always cold, dessert the other night consisted of the doughnuts that were not eaten for breakfast. The solution: eat off the premises or cook your own food. I have tried on several occasions to reach the sales office, any management that I can find and no one answers the phone etc. My folks bodies are at the point of needing to be there, their minds however are still very young and they are getting depressed. Once and a while they would like to eat after 6:00 in the evening. I hope this does get better for them for they paid an awful lot of money to be there. I will update after another month. Would not recommend as of yet.
---
K&J
August 27, 2013
I visited this facility
I visited this facility at a luncheon and was impressed with how beautiful it was. Amenities were many and social clubs were for everyone. Apartments were beautiful with many different floor plans I was looking at a two bedroom two bath. A major drawback was their new 90% refund policy I herd at the luncheon. Accounting for the price of the apartment I was interested in, in essence they want 30 thousand dollars just for the privilege of living their ( 10% of the cost).This became a deal breaker.
---
Caring3237
April 24, 2013
I visited this facility
We visited Cedar Crest because we looked for a place for my mother-in-law. The place seemed lovely. The apartment we saw was beautiful and clean. Everything was new. There were a lot of activities and amenities she could enjoy. The activities included movies and trips outside the facility. There was a salon and a swimming pool as well. There was also a doctor on site. This facility will be considered if she decided to move in.
---
Caring 0424
March 20, 2013
I visited this facility
I wanted my mother to go Cedar Crest but she's not ready yet. It is a top-notch facility. It's clean and beautiful. If my mom chooses to go there, she will have her own room.
---
Caring973
August 16, 2012
I visited this facility
I'm still in the process of trying to figure out which facility I would choose. I did visit one in Cedar Crest. It's much cheaper than the other facility, yet it's quality and very nice community. I live alone and have no family. I find Cedar Crest beautiful. When I visited the place, most of the residents are having a good time swimming and doing different kinds of activities. I just felt happy knowing that the people are enjoying their stay, and if I'll decide to be in Cedar Crest I know I'll be happy, too. They have a wonderful dining area and I was able to try their food. It was great! The garden is big enough to enjoy outside fun activities. I was so glad and the staff toured me to the place. They are very welcoming and warm.
---
DesperadoGirrl
January 20, 2012
I am a friend or relative of a resident
Cedar Crest is one of the most AMAZING places I have ever seen for senior citizens. My grandparents were residents here until their passing.Cedar Crest provides ALL levels of care, including Individual Living in private apartments, nursing home care, and later on, hospice care, if and when needed.The grounds are BEAUTIFUL! I felt as though I was walking into a resort. The apartments are spacious, and my grandparents had their own private kitchen in case Grandma felt like cooking...she rarely did though, because she said the menu options in the dining room made it easy to not have to cook.Grandpa got involved in a new hobby...water color painting...and Grandma got to be her usual social butterfly self. Residents are allowed to come and go as they please, as long as their health and mental awareness allowed for it. So my Grandparents were able to maintain their circle of friends. They still attended their same church, and once Gramps couldnt drive any longer, they provided bus service to and from their home church.The staff was WONDERFUL! Very friendly and helpful, and always...ALWAYS there when you needed them. At the time of my Grandparent's deaths, the staff was so compassionate, it was if they had lost a member of their own family. As it turns out, they really had. All the residents at Cedar Crest were considered to be one big family!We were so impressed with Cedar Crest that my one cousin and her husband both got jobs there, and I'm pretty sure that some of my other family members have their sights set on Cedar Crest for when they retire...I know I DO!I have nothing but WONDERFUL things to say about Cedar Crest, and when comparing other homes and facilities, I use Cedar Crest as an example of the ultimate place, to see how others compare. You could not go wrong having your loved ones at Cedar Crest!
---
Caring390869
July 30, 2011
I am a friend or relative of a resident
This is a mutil phasic assisted living facility which although pricy you certainltly get what you pay for. This is a lovely facility which provides services to suit the needs of all the residents across the board from psycological to medical to spiritual venues. I think it is definately a 5 star facility in northern NJ
---
---
Cedar Crest is a full-service, maintenance-free community designed exclusively for retirees, age 62 or better. Located on 130 picturesque acres in Pompton Plains, New Jersey, Cedar Crest is a private campus kept secure day and night by a team of professionals trained in emergency first response. We're the ideal choice for active seniors who want to live a vibrant, engaging, and purposeful lifestyle in a setting that's both safe and beautiful.
Like a small town under one roof, Cedar Crest offers an abundance of opportunities to keep your mind, body and spirit thriving. Stroll to any of our three spectacular clubhouses through climate-controlled, glass-enclosed walkways that connect all of our community buildings. Here you'll find all the resources you need to enjoy a spectacular retirement, including a fitness center, indoor heated pool and hot tub and four restaurants serving healthy, delicious meals created fresh each day by our own personal chef. Other amenities include a computer lab with high-speed Internet, billiards and game room, creative arts studio, fully-equipped woodworking shop, classrooms and even a resident-run television studio. Not to mention a bank and 24-hour ATM, a beauty salon and barber shop, a convenience store and an on-site pharmacy that delivers to your door!
Cedar Crest also has an on-site medical center staffed by physicians who work exclusively at our community. These licensed geriatricians are experts in meeting the unique health care needs of older adults. They will work with you to design a wellness plan that will keep you strong, independent and feeling your finest for years to come.
Request Info
Get full access to reviews, cost information, and amenities