Talk to a Family Advisor: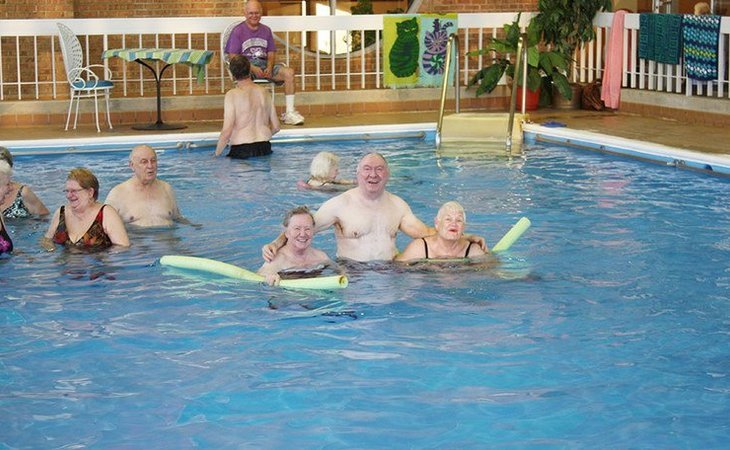 Top nearby Independent Living Communities
Reviews of Concord Place
---
Joseph
July 17, 2017
I visited this facility
I visited Concord Place, but I didn't like it -- although their dining area was pretty nice and the staff was knowledgeable. They had a small gym and a pool and the rooms were okay as well.
---
Bets
July 17, 2017
I am/was a resident of this facility
Concord Place was a large facility that they didn't staff to run as a large facility. There were 400 people there, and they just did not have enough staff to adequately serve that. The staff did their best to serve the population, but they could not keep up with all of the services that were needed. The facility had three elevators for 400 people, and the wait for the elevators was sometimes half an hour to get from your floor down to the main floor. They did pretty well with food. They had multiple computers, and I spent a lot of time in the computer room. There was nothing attractive about the place. It wasn't terrible, but it wasn't wonderful.
---
barbara511045
May 31, 2017
I am a friend or relative of a current/past resident
Concord Place helps the veterans and gives them a discount price, which is really good. They go by your income for what they charge you. They also have assisted living. The nurses check on you every morning no matter what. They provide housekeeping and 3 meals a day, and they have activities. If they need more care or help getting into bed, they provide that, too. There are 2 aides on each floor. There are like 16 floors. If anything happens or a resident fell, they just pull the string either in the living room or in the bathroom. It's really nice. You can see the downtown area from the 16th floor. They have a lot of activities, and the VA has a lot of stuff for them as well. They have a certain floor just for veterans. If that's booked, they will try to put you in a different floor until it opens, but they won't charge you more. There is a sitting area outside, but I wish they had more. It's very close to the expressway, so they don't get super good view unless they're high up and they can see the downtown view. They have a little picnic area outside, a pool, a workout room, a therapy room, a library, and a computer center. It's not too bad. My mom's there. They take the residents to the stores, to shopping, to Walmart, or the library. It used to be a hotel, so it doesn't have a whole lot of stuff outside.
---
Barbara714272
May 03, 2017
I visited this facility
Concord wasn't very well kept and had litter on the floor. It didn't have grounds, but it had a pool.
---
Joe827722
June 27, 2016
I visited this facility
Concord Place was well staffed and had a lot of amenities, but it was old. The apartments were kind of small, not set up really nice, and a lot of them were still being remodeled because of how old they are. They had a pool, but it was shut down for some reason, a fitness area which quite a few people were using, and game areas that people used often. The menu was very good, and the food was quite good. They're contained in one building. There's no place to walk around. I guess it used to be an old hotel, so you're kind of contained to that place. The best thing about Concord is the staff. They had a good staff there, and the director was very nice.
---
Jennifer122191750
May 11, 2016
I visited this facility
Concord Place is a very imposing, tall building. It had a small swimming pool in the front and some nice common areas like a craft area, a kitchen area, a library, and a big living room on one of the floors. The rooms were adequate and not huge but could be comfortable. You couldn't have too much furniture in them. The common area was lovely. It was not bright, which can be a plus or not because some people don't like bright light, so it was very subdued. The dining area was kind of ordinary. I didn't see staff, which surprised me, nor did I see anybody in the hallways or talking. It was like living in a hotel. The gentleman who took me on a tour was very helpful. I didn't think the dining room was very clean, but the other areas seemed fine. The rooms each had a bathroom just like a hotel room. They need the presence of more staff.
---
Caring son36
February 16, 2016
I visited this facility
Concord was dependable and had potential. The room was pretty decent; it could be a little bigger, but it would just be for my mother. They have a swimming pool, recreation rooms, and a family room. They have big hallways, a private party room for families, and an entertainment room, which was pretty big.
---
Peter39
February 01, 2016
I visited this facility
I did not particularly like Concord Place Retirement Community. It was for my cousin but I guess the facility and the staff were OK. It was a large hotel that they converted into an assisted living place so it's too large and I don't like the location.
---
D.B.
October 23, 2015
I visited this facility
Concord is very nice. It looks pretty good, and the people are friendly. They showed us studio, one-bedroom, and two-bedroom apartments. They have a lot of activities. They have a set menu every day, but you can order anything you want at any time you want.
---
Caring112966250
September 07, 2015
I am a friend or relative of a resident
My friend is living in Concord Place. Everybody there is friendly. The rooms are like a miniature studio. They are not very big, but they are clean and look nice. The food is good. The dining room is nice. They have a good variety of food. They have activities like bingo and movies, and they had quite a lot of stuffs going on. They have different activities every night to entertain them. I like that it is extremely clean. It is very large, and there is a lot of room to move around. The staff I met is great.
---
Caring106394550
May 08, 2015
I visited this facility
The sales person at Concord Place seemed very honest and forthright. Everything looked well. The thing I did not like was should my parents need any kind of financial assistance -- whether it be VA benefits or not -- they would have to move to a different location that was smaller. My mom is 84, and she has dementia; my stepfather is 95. If they get used to one setup and the time came that they needed financial assistance, a move to another location that is smaller would be more difficult for them to adapt. I don't want to move them more than once unless they need more attention, but the dining area seemed nice.
---
Mary104240750
April 18, 2015
I am a friend or relative of a resident
My friend ended up at Concord Senior Living, it's a big high rise building. He was able to get a very special Veterans ward, and he has a lot of perks except for where it's located. I think it's a good place, but it's very large. It's a high rise hotel that was changed into a senior place. I would recommend it as it is affordable and nice. They have three meals a day; it's very lovely and cheerful, but it's surrounded by expressway. They have lots of activities. I am very impressed with the admissions gentleman and the people I met in the hall.
---
Susan105284650
April 17, 2015
I am a friend or relative of a resident
My sister is at the Concord Place. There is a lot to do, they have a nice dining room with a menu, and they are very helpful to her. Their rooms are a nice size. I got her a studio, we put in everything, and it is perfect for her. It is all brand new carpeting and paint. All the people are helpful. They have bingo and meetings, a pool you can swim, a movie room, an exercise room, a beauty salon, and an extra room in their mezzanine with a big kitchen, and somewhere the family can go and eat if you don't want to go in your room.
---
Caring102924350
February 27, 2015
I visited this facility
We checked out Concord Place. It was an assisted living, and they said my brother was too much for them because he is blind and he has dementia. However, I thought the place was fantastic, and I thought it would work well for him, but according to the nurses and the guy that we talked to, it was just an assisted living and he would probably need more than that. I knew if I would go to some place, I would like to go there. It had pretty much everything that you would want. The room was perfect, and I thought it was beautiful. It had its own bathroom -- which was very important. It was a nice place.
---
Caring97774750
November 30, 2014
I am a friend or relative of a resident
The people at Concord Place are nice, and the food is OK. It is a medium-sized room. I think the staff has a very good attitude. They have bingo, they have a beauty shop, and I think they have church services. It is very outdated, so maybe they need to update it like the carpeting, the elevators and the interior, just making it more like contemporary.
---
Chris47
August 27, 2014
I am a friend or relative of a resident
Concord Place staff was good and helpful. They have various rooms, like studios, even up to 2 bedrooms. But my mom didn't need anything bigger than the studio. The food was surprisingly good. They have a variety of activities, like bingo, or if they're able and they're younger, they probably take them out to stores, on trips to Meyer Jewels, or to various grocery stores. I think Walgreens too, and occasional fishing trips. They have an excellent nursing agency on the premises. They're pretty good for a big place.
---
caring9634
August 24, 2014
I am a friend or relative of a resident
My mother is doing okay right now at Concord Place. They are reasonable. It is more unassisted living and they are okay, but they are not equipped to provide more care for soemone who has serious dementia because there isn't someone watching the patient or resident 24/7; they are not set up that way. It is called ALC staffing and it is actually a sub-contractor that works in the area. This means extra costs for taking care of my mother -- to make sure she takes her pills and all that stuff. The doctor is there three days a week. They don't call me every week or every month to let me know how she is doing; instead, they wait until something happens before they call me. For instance, they will call when she needs quarters for the laundryman -- which of course they don't provide as far as their service -- or when they have to send her to the hospital because of a urinary tract infection. Well, I don't find out until the next day or until the hospital calls me. They need to do a better job. When it comes to the assisted living part, they are only doing what they have to do; they just do their job and nothing more. But they do have a guy who always checks on people down the hall. They are still good. I can't expect them to much more than what they are already doing for what we are paying -- it is okay right now. They have a lot of activities. There is swimming; they have movies; they have exercises; and there is bus service to the stores -- they have a lot of stuff. They have a nice gardening area and a ballroom, as well as other activities and dances. They've got games and tables, coffee, and TVs. They are really set up well in that way. I mean, there are definitely things to do. They have a conference room and the ballroom which they also use for parties, corporate events, and other activities unrelated to the residents at Concord Place. While they have other functions at Concord Place, they still do a good job of keeping them separate. They also have a nice Mother's Day banquet and something for Christmas as well. They have a lot of different functions and they do a really good job.
---
pricey
June 22, 2014
I am a friend or relative of resident
Definitely know what you're getting into here is you are having a parent go into their supportive living program. This is a high rise and having them go down for meals can be a daunting experience. 14 floors of people in various stages of mental capacity all going for breakfast, lunch and dinner can take forever. The don't have 24 hr nursing. The CNAs are quick to call an ambulance for non life-threatening or medical emergencies. Their "weekly cleaning" leaves a lot to be desired. The parking is ridiculous if you go on most weekends due to the Midwest conference center connected to the facility. I don't think anyone whose parent is not totally with it mentally should consider this high rise as a good solution.
---
Caring79327850
February 28, 2014
I am a friend or relative of a resident
Concord Place is wonderful. It is best suited to our needs. The staff was great. My mother-in-law has only been there a week. She has a studio with three windows. The windows can open out. There's no kitchenette. We just put a microwave and a refrigerator. The dining area is great and she loves the food. I did tried the food the first day we moved. It was good. The pricing was good. They were eager to help you out in any way they could. She's getting the care for the price we can afford.
---
barbgarrigus
October 15, 2013
I visited this facility
Concord Place was very clean and very nice. My only concern was that the rooms were so small. It used to be a hotel and I didn't see any residents. It also didn't seem like they had enough help for my needs. I've known people who have lived there and moved back here for that same reason.
---
Lovely Daughter1
September 19, 2013
I visited this facility
Our visit to Concord Place was great. It is a wonderful facility. It is beautiful. It is like a little island in the middle of an industrial area; however, without a car, you are kind of stranded there. My dad said if it is in a better location, he would have picked that one. Their staff is very nice. I saw their apartments and I think they were probably a little bit bigger than the ones in the other facility we visited. It is a beautiful facility but its location is just inconvenient for us.
---
Helena Zielinski
May 30, 2013
I visited this facility
My father has been either in hospitals or in medical rehabilitation facilities for over the last 5 months. His health rapidly deteriorated and it is going to take months to get him completely better, if that is even possible. He is unable to return to living completely unassisted, and I am his only child, so it is my responsibility to find a place that will both offer aid and a good quality of life. I have toured Concord Place twice and have been VERY impressed with everything I have seen and experienced. My father and I have decided this is where he will go to stay. It is close to my home, so I can visit often with my kids, and will be only minutes away if any emergency arises. The facility he is in right now has, over the course of the last month, given me 6 different planned discharge dates for him. As of 2 days ago, his planned discharge was June 19th. I called CP and told them to plan on that day to have his apartment ready. It was getting new paint and new carpeting, and it would give me a couple of weeks to get his bed and furnishings moved in. Yesterday, the current facility said they needed to switch his discharge to the 13th due to insurance issues. An hour later, it was moved to the 8th, and then at 5pm last night, I was informed they were going to be releasing him on the 31st, which is TOMORROW. Concord Place, and specifically Kelly and Tony, have bent over backward to assist my father and I with this INCREDIBLY frustrating development, and they have told me they will make sure his room is ready tomorrow, complete with temporary furnishings until I can move his in next week. I cannot say enough good things about these people and this place, and I will be recommending it to everyone I know who has similar circumstances to my father. Concord Place is AWESOME, and I cannot thank you enough. PS. I will also come back in a few months and re-review after he has moved in and experienced some of the many activities offered.
---
Charity 1
December 27, 2012
I am a friend or relative of a resident
My mother is in Concord Place right now. Considering what she can afford, I think this facility is comparable. She's comfortable, the food is good, and they have a lot of activities. They also have doctors there, a theater, beauty shop, church, and they have bus for transportation. It's a combination of independent living, assisted living and supportive living. My mother is in the assisted living.
---
PattyS1
June 15, 2012
I visited this facility
My experience began on a good note as I toured the facility. It was clean and looked very well organized. I took the elevator up to my friend's room and then my feelings turned to sadness and gloom. The structure was perfect but the residents looked lonely and displaced.The dining room and kitchen area looked like a restaurant but the lighting was very dim and the decor was dark and dreary.The tables had tablecloths and were set up for a dinner service, as I said it was basically a very structured establishment, just not very uplifting.On on end of the room was a woman in a wheelchair that was trying to get to one of the tables and there was no one to assist her. I thought that strange since it is supposed to be "assisted living". I proceeded to help her and of course she had a sad story to tell and I listened. I feel if a family or an individual pays to have a loved one or themselves taken care of there should always be help available. I do not think I can make a lot of assumptions since I was there a short time and can only say what I saw on the few times I was there.
---
GuiCyber
June 30, 2011
I am a friend or relative of resident
When it comes to assisted living communities, I have been somewhat apprehensive. You hear about all those horror stories about the staff members and the facility, but one thing I can say for sure is that this place put all of those silly thoughts to rest. The first thing I would like to point out is that the facility as well as the grounds that the facility is on, are gorgeous. I noticed that they have a workout room, which seems to be a rare commodity in assisted living facilities. But seeing the workout room actually being used let me know that people can live a healthy life here if they want to. Worth taking a look at.
---
---
Concord Place is an independent living community in Northlake, IL designed for seniors, normally 55+, who are able to care for themselves and wish to live independently. Contact Concord Place for more details on housing, services, and rates.
Features of Concord Place
---
Activities
Activities Extra:

Movie Theatre
Location of Concord Place
---
Request Info
Get full access to reviews, cost information, and amenities