4400 West 115th St., Leawood, KS, 66211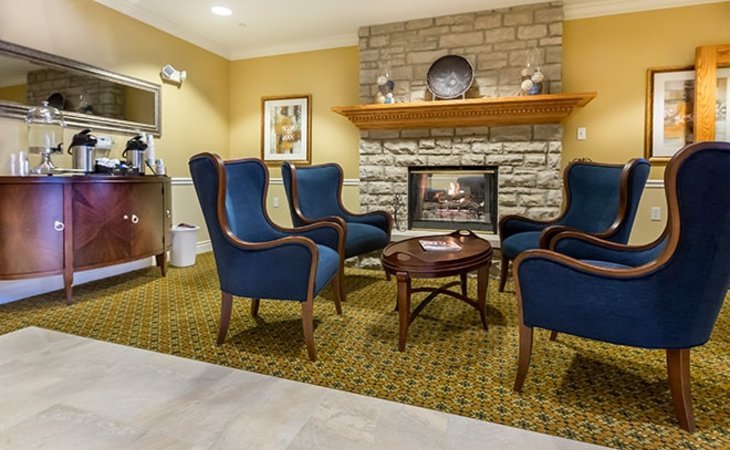 Reviews
of Brookdale Leawood
---
Overview of Ratings
---
September 07, 2017
I am/was a resident of this facility
I lived at Brookdale Leawood in a nice two-bedroom, two-bathroom apartment. They had games like mahjong. It was nice.
September 19, 2016
I am a friend or relative of a resident
Brookdale was good; everyone is nice and friendly. My friend is very happy there. The apartments have normal bedroom and bathroom. The food was good; they have wonderful restaurants. She had some issue with housekeeping.
May 12, 2016
I am a friend or relative of a resident
My mother is in Brookdale Leawood. Everything worked out fine, and she is happy with her current living place in the independent living, but we are concerned that we may have to move her to assisted living. They maintain the property well. The staff is very friendly and helpful. I feel that she is very safe there. They have senior exercise classes and outdoor activities, like shopping, but she cannot do that. My family helps her with that. Overall, everybody has been very accommodating and helpful. They serve breakfast, lunch, and dinner. She takes their van for her doctor's appointment. For one, little person, the room is adequate. It could be a little bigger, but for one person, it is fine.
December 17, 2015
I visited this facility
The one community that I really like was Brookdale Leawood. I like that it had a pool and a hot tub, and that was the main thing. The rooms were very nice. The one that I was looking at was very nice, and I could afford the price range. It was cheaper and bigger than any that I've visited. The food was OK too. At that time, I saw some residents playing gin rummy, rubix cubes, and bridge.
November 07, 2015
I visited this facility
Brookdale Leawood (formerly Town Village Leawood) had just been remodeled. They were having a Grand Opening celebration after their renovation when I was there, which had a lot of guests. One large room had a billiard table, which was all covered up with a tablecloth and pastries that were being served to the guests. As I was leaving, they gave me a bag of chocolate chip cookies. They were very cordial and welcoming. It's an impressive place, but I didn't have anything to eat out of the kitchen or anything in the way of a regular dinner.
June 08, 2015
I am a friend or relative of resident
Although my mother is relatively young (68), she recently decided to call Brookdale Leawood her new home. She moved in the beginning of May 2015 and so far it's been a very positive experience. Everyone there is exceptionally friendly and they've bent over backwards to make her feel welcome. She is just now starting to find time to enjoy some of the many activities that are offered. My family and I are excited to see her living an active lifestyle again and socializing with new people. My mom raves about the food and often makes comments on how she feels like she's living in a 5-star hotel. I can only hope that her experience living at Brookdale Leawood continues to be such a wonderful one!
May 29, 2015
I visited this facility
The residents were quite friendly, and we heard a lot of great comments about the food. Some of them had moved from other places to Brookdale Leawood (Formerly Town Village Leawood) for the food. But it didn't have any patio where my mother could let her dog out. The apartments were fine, and they would work for what we needed. They're small though. They had arts and crafts and an exercise room.
April 30, 2015
I visited this facility
We visited Brookdale Leawood. It was nicely appointed and very clean. I think what my parents liked the most -- or I liked the most -- was the indoor pool. I also think that the ice cream parlor was something that was kind of nice.
December 30, 2014
I am a friend or relative of a resident
My mom is in Brookdale. She is really impressed with the staff. The facility is very nice. They completely redid the apartment she is in. They have new carpet, appliances, and counter top. Everything is within her budget and meets her needs. For the short period that my mom was there, the staff has been very helpful, very accommodating, and pretty much goes out of their way to make sure she feels welcome and help her anyway that they can. The dining room staff makes sure that she has somebody to sit with. It seems to be very good. I are there once with her; I think the food is excellent. They have a new chef, and the food is really good. They seem to have a lot of things. They have the normal stuff like dominoes, and of course, because of the holidays they have a lot of things going on. The people can go to movies, and they have travels. I like that they seem to have a lot to offer. The staff is very friendly and nice. It is a well-put together facility, and it is very clean looking. The others that I looked at look like warehouses for older people, and this one looks like a community. It seems very nice, and all the residents there that we met seem like they are glad to be there.
December 15, 2014
I am a friend or relative of a resident
Brookdale Leawood was very nice, and the people were very nice. They were clean, good smelling, and all those nice things. They were very accommodating because I spent the night there every night with my mom before she passed away. Their dining room seemed fine. I don't know if I would have felt really comfortable leaving her alone in the room. Yes, there was a button to push, so there was a way for them to get assistance, but there was no way for them to be everywhere for you. At some point, my mom was in a delicate state actually, and she just hated to be there.
October 25, 2014
I visited this facility
Everybody at Town Village was really nice and everything was pretty good. We liked the rooms and their activities. I liked their pool. They gave us a certificate to go to their snack bar.
March 31, 2014
I am a friend or relative of a resident
Right now, Mom is in Town Village and is doing OK. She's limited in what she can do because she has macular degeneration and hearing loss, but she does do the exercise program. She also goes on local trips and plays cards. She has a companion who comes to visit her twice a week and plays cards with her. The food is very good most of the time.
September 25, 2013
I visited this facility
It was very nice and a new facility. The woman I talked to was very nice. However, the apartment that I saw seemed to be very small because the washer and dryer were taking up space. But I still liked it.
March 01, 2013
I am a friend or relative of resident
My 94-year old mom is a resident at Town Village Leawood. Below, is an email that I sent the staff to share my delight with the care she is experiencing there: I just wanted to drop you a note to tell you how happy my mom is to be living at Town Village. When I spoke to her last night, I had tears in my eyes hearing the delight in her voice as she described the live music at the Christmas tree lighting, the amazing holiday light show she attended, the awesome desserts eaten recently, and the many interesting folks she has met there. No kidding, she sounded 15 years younger"¦and at 94, that improvement pushes her back into her 70's! A widow for 36 years, Mom was always an independent lady, so our family wasn't sure how she would react to such a major life change. It's a cliché, but we all wish she had moved in sooner. In earlier years, she was quite a painter, and our family always encouraged her to keep at it, but it wasn't until she moved into Town Village that she picked up her paint brush for the Saturday class. Her current plan is to sign up for everything she can. Here were a few issues that Town Village helped our family solve: 1. In her home, Mom wasn't eating well and kept losing weight. Now, she raves about the food in every conversation. Mom looks forward to the Saturday biscuits and gravy, Tuesday and Saturday wine, Sunday brunch, and dessert every night "" a la mode, of course. 2. Before Town Village, she insisted on driving, which made us all nervous. Since moving in she hasn't driven once. No confrontation or "˜taking of keys' necessary, because she enjoys riding on the bus or getting limo-driven to her doctor's appointments. (Who wouldn't?) 3. Her leg pain forced her to quit acting in her senior acting group about 18 months ago, so at home she had little social interaction "" spending much of each day alone with Fox News. Now she talks about her many new friends and neighbors "" and the activities they are doing together. 4. Mom wasn't hearing well, but adamantly refused to consider hearing aids. When she moved into Town Village, she decided that she didn't want to miss the conversations with her new friends, so now she sports two shiny new hearing aids. 5. In her home, if she didn't answer the phone when we called, we worried that she had fallen. Now, if she doesn't answer the phone, we're pretty sure she's out doing something interesting! She saw the movie "˜Lincoln' before I did! It's evident that this type of success story doesn't happen randomly "" it takes a detailed plan and many caring, dedicated people. Town Village has all the pieces in place. Your assistance finding the right apartment for Mom, and keeping the move-in smooth, was awesome. It's clear that the staff truly enjoys the residents. You can't fake genuineness. I tell my friends that "" rather than an "˜old folks home' "" Town Village feels like an upscale hotel where the residents are appreciated guests. I tell my friends with aging parents that when it comes to creating a wonderful atmosphere for seniors, that Town Village Leawood "gets it". I don't know exactly what you're doing there, but our family hopes you all will keep doing it!
See all reviews (14)
See fewer reviews
Features of Brookdale Leawood
---
Room and housing options
1-bedroom apartments
2-bedroom apartments
Companion Suites:

We Offer Companion Suites

Studio Apartments
General
Respite Care
Minimum Age:

65

Pets:

Small Pets Allowed
About Brookdale Leawood
---
Brookdale Leawood provides a full range of choices for today's seniors. Choosing a senior living community represents a lifestyle choice and we understand that our residents are choosing much more than a comfortable living environment to call home. Our Brookdale community delivers Inspired Independent Living, with the promise of Exceptional Experiences Everyday. In choosing this community, our residents have made a conscious lifestyle decision designed to deliver enhanced opportunities for pursuing health and life fulfillment through the exceptional services, amenities and opportunities we offer.
Our Optimum Life® and Celebrations programs provide an all-encompassing way of life that touches our residents, their families and associates alike. Optimum Life® is a journey of self-discovery including services, features and benefits that allow each resident to pursue their peak level of health, wholeness and fulfillment while balancing six key dimensions of personal wellness: emotional, intellectual, physical, social, spiritual and purposeful. As part of Optimum Life® we encourage our residents to celebrate life each day. Inspired dining, with fresh meals prepared by chefs trained in our own Culinary Arts Institute, and vibrant lifestyle activities come together in our Celebrations program. These activities fill the monthly calendar with themed experiences, special events and group activities highlighting different cultures and cuisines in a common venue of camaraderie.
Get Costs