One Huntington Common Drive, Kennebunk, ME, 04043
Talk to a Family Advisor: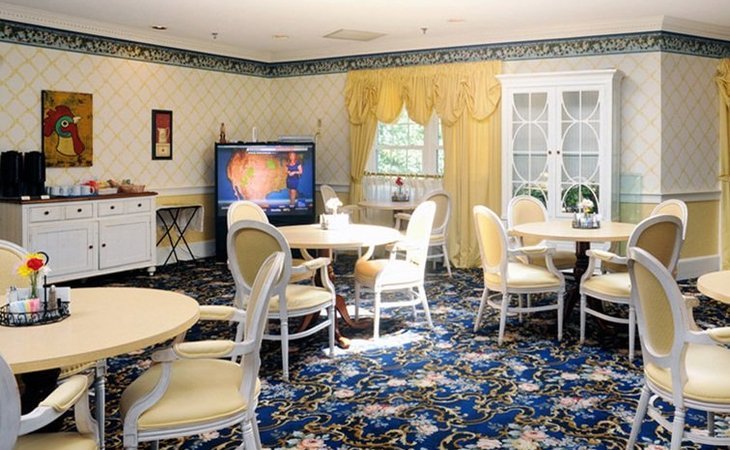 Reviews of Huntington Common
---
Michon
September 18, 2017
I visited this facility
Huntington Common was nice, clean, and attractive. The people were very nice. The dining area was very pretty. It was very quiet when I was there, but they had excursions here and there.
---
Gisele D.
January 06, 2017
I visited this facility
We didn't feel comfortable in the main apartment house of Huntington Common, but my mother felt comfortable in the assisted living section when we walked around. She didn't know anybody there. The staff was perfect, very pleasant, and very courteous. She was greeted by the staff we met in the hallway. There were a few people in independent living that were playing cards at the table, but there wasn't any structured activity.
---
Murielle801210
June 17, 2016
I am/was a resident of this facility
I was previously at Huntington Common. The place was excellent. I would highly rate it. Their customer service was great, although they cost more. They staff was very professional and didn't give me a hard time. They had a full kitchen, and you can have a meal plan of either one or two meals a day.
---
Concerned grandkid
July 01, 2015
I am a friend or relative of resident
Lovely facilities, nice care attendants but skimpy staffing. Hard to find out who's in charge of loved one. Think they need a better system to make sure someone's always watching. Lots of folks parked in front of tv or asleep in dining room. Think I will keep looking for a place for Grandpa
Provider Response
Please know that we take all concerns seriously and would like to learn more about your experience at Sunrise. Please email Information (at) SunriseSeniorLiving (dot) com with further details so we may follow up. Thank you, Sunrise Team
---
dementia in ME
May 05, 2015
I visited this facility
I recently visited my twin there at the dementia unit. it seemed quite nice, lovely facility and the staff was so pleasant. Being her twin and a nurse ,too.(She is a nurse ,too) I really would liked to have talked with someone there. Keep up the good work and hope ,always, that the girls are always sweet ,pleasant and kind. Unfortunately I am not near by.
---
Caring101067750
February 10, 2015
I visited this facility
We had friends at Huntington Common. The food was fine, and the facility was clean.
---
Linda104449050
January 15, 2015
I am a friend or relative of a resident
My father-in-law is at Huntington Common. He has dementia. With regards to the care and the staff, we are very happy. They're excellent. They're very attentive and loving. They do a lot of nice things with my father-in-law. We think they're wonderful. Like at Christmas Eve, they had a chorus they did with them. They have a beautiful girl that comes in and even dances with some of the older people, like a ballroom dancing kind of thing. They have music a lot. The facility is just very attentive, and they're always doing something. They even trucked two beautiful horses and make you all go out and pet them to make them feel better. They brought them right to the place. I can't recommend this place enough. We are very happy with this place and their care. It is always clean and immaculate.
---
Caring1964
April 22, 2014
I visited this facility
Huntington Common was a lovely facility. I think it is very secure. The staff was caring and attentive. It was very good. We were looking for a one-bedroom, and it was quite sufficient for my mother's needs. It was comfortable-looking. They would offer luncheons and outings for their residents.
---
caring6201
June 28, 2012
I am a friend or relative of a resident
They're very good down there and I have no complaints with it at all! It's a very nice place and they treat my mother wonderfully there. The staff is great. I really don't have any complaints yet. I chose it because of the price. For the price, it was one of the best places I've looked at. It was one of the top 5 best places I've seen and the money was half of what other places wanted. I was looking for the best for the least. It's a very nice place. It's very clean and modern. It's like a hotel. Mom's room is comfortable, spacious, and looked cheerful. Food is also very good there. I know they're busy like all other places but I would like them to improve on their communication. Other than that, I have no problem with them whatsoever. I would recommend the facility. Mom is okay there. Well in their unit they have dementia, so you have to take it for what it is.
---
April2
May 30, 2012
I am a friend or relative of a resident
My spouses uncle has lived at this facility since his wife suddenly passed away a few years ago. My husband and mother-in-law went with him to tour several facilities and this was the one they all agreed was the best. When we visited him last fall I could not agree more. It is located in a beautiful spot just a few miles from the beach and only blocks from downtown Kennebunk. It is on thirty-seven acres of beautiful property. They also offer fine dining, cafe, library,fitness club and more. When we visited Maine we went to see him several times. One time we ate at the fine dining option and it was really great food and service. Another time I packed a picnic lunch that we enjoyed on the grounds of the facility. The staff was always more then willing to help and he has always said that they are kind, friendly, prompt, and helpful. They also allow small pets which was one thing that he really wanted. And for those residents that are physically able they have bike and walking paths and a putting green. He is able to take advantage of all the facilities. There is also scheduled activities and transportation that he uses a lot. If I had to go to a assisted living facility and I lived in Maine I would love to go to this one.
---
elvisfan
March 25, 2012
Other
The Certified Nursing Assistants were mean to some of the residents and even yelled at them. I would not want a famiiy member there.
---
---
Huntington Common is a Sunrise Senior Living community. For over 27 years, Sunrise Senior Living has been committed to providing seniors, families, and caregivers with innovative senior living options. Because it is our mission to champion the quality of life for all seniors, we offer a variety of living amenities and service options. By providing these choices, a variety of lifestyles are offered to our residents. Huntington Common residents can access an array of additional services when the time is right.
Nestled among 37 acres of serene pleasure and alongside the Kennebunk River in Kennebunk, Maine, the River Cottages at Huntington Common IL offer country cottage living options with two bedrooms, two bathrooms, dining room, fully equipped kitchen, mudroom, screened porch, and garage. Our River cottage residents have access to all of the amenities of Huntington Common. You, too, can have all the comforts of home at the River Cottages at Huntington Common IL.
You can live your dreams at Huntington Common.
Location of Huntington Common
---
Get Cost Information
Get full access to reviews, cost information, and amenities