Brookdale West University
5151 Buffalo Speedway, Houston, TX, 77005
Talk to a Family Advisor: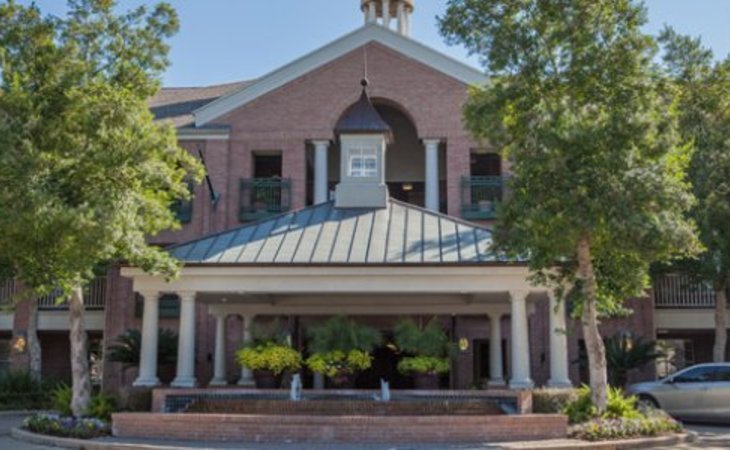 Reviews of Brookdale West University
---
lluke
May 15, 2017
I am a friend or relative of a current/past resident
This place is terrible. My grandmother moved in here, but will not be staying after seeing what it is really like. There is a major cockroach problem, the elevators are always broken which means seniors have to take the stairs or walk to the other side of the complex to find a working elevator. Staff is not helpful. You can find a lot better for your money, I would not recommend putting your loved ones here!
---
A Concerned Daughter-in-Law
December 29, 2016
I am a friend or relative of a current/past resident
Elevators that don't work, robberies, cockroaches, rotting railings, rusted staircases, unmaintained, hazardous visitor parking. These are just a few of the challenges we have faced since moving our mother into Brookdale West University. Please look past the pretty courtyards and really do your homework before moving a loved one into this facility.
Provider Response
Thank you for taking the time to share these concerns with us. The safety and well-being of our residents is our number one priority. We hope you will call our Resident and Family Connection team for us to get more details. We have also passed your comments along to the regional management team for further review.
---
Tracie768481
November 19, 2016
I visited this facility
We liked Brookdale West University. They have a la carte services where you could add on if you need someone to come in and support you in a different way, but it's all independent living. One thing that was great was they will unplug the stove in the kitchen because we don't want my grandmother to cook, and so you don't have that as a hazard. It's larger and it's all-enclosed, and I like that it's gated. The apartments that we looked at were lower level, and the elevator would take you right up to the dining room. They give you credit each month for your meals, and you could go in and eat the standard breakfast or order whatever you wanted. I liked them a lot. They were a nice place.
---
Willard118420
October 06, 2016
I visited this facility
I would choose Brookdale West. I work very close to that location. Also, I like the offer; I'm talking about the financial offer. I like the arrangements after I saw the apartment. It's about a thousand square feet. It's a bedroom about 13ft. squared. It's got a study and a full kitchen. They've got all kinds of activities that certainly were a consideration. They have activities planned everyday, and they issue a list of activities at the beginning of the month. They have all sorts of things from acting classes to exercises and various tours. They keep the residents pretty busy. They have a large outdoor pool and laundry facilities on every floor -- which are easy access actually. There are two laundry rooms on each floor; they are open 24 hrs. They have a large dining room, and then they have a little section off the dining room called the bistro; you can get a meal there when the dining room is not operational. I was invited for dinner, then I came back for the second dinner, and the food was quite good. The saleslady was there on time when we visited.
---
Nancy370675
September 19, 2016
I am a friend or relative of a resident
My brother is in Brookdale West University, and it's fantastic. When I saw that, I said I wanna go there. I am very impressed with it, and he is too. It looked like an actual apartment; it has lots of big walking closets, a nice size bathroom, and an actual kitchen. It's very clean, nice, and wonderful. They have all kinds of stuff, and they have speakers come in. They take them to different places, the library is right down the street, and they have a list of things to do almost every day.
---
mawrtx
June 28, 2016
I am a friend or relative of resident
After touring several senior living residents in our area, my mother chose Brookdale. We both have been very impressed with it. The staff is very helpful and friendly. The food is very good and there are plenty of events and outings to participate in. The people seem very happy here. The courtyard style of living is nice. It feels less like senior living and provides more opportunities to get outside. An added bonus is the HEB right next door. This is especially nice for my mother as she does not drive so it gives her a bit more independence.
---
PM3
December 31, 2015
I am a friend or relative of a resident
My father has been in Brookdale West University (Formerly The Terrace at West University) for two months now. The staff is excellent, very helpful, very caring, has attention to detail, and very friendly. The place itself is very clean. Upon moving in, they had a little welcome gift for my dad. He said almost everyday someone from the staff comes by to check and see how he is doing. He was wishing that they would have better food. It's more of pre-made or frozen food that they heat up. He was wishing he could have more of a home-cooked experience. He's not able to participate in any of the social recreations, but when I took the tour, I saw that they had a lot of social things and a lot of activities that are really excellent and I saw the other people and they seemed to really enjoy them. The food is edible and sometimes I'll re-cook the vegetables because he likes them a little bit more cooked.
---
Anonymous113426950
October 28, 2015
I visited this facility
I visited Brookdale West University. I was impressed with the facility. I thought they have a lot to offer to every person. It seemed like they have lots of activities going on. That would have been my choice. I saw some people in the pool area. They were several different places to eat, and I did see people in those places too having their meals. It was a very pleasant environment.
---
Stanley5
September 30, 2015
I visited this facility
Brookdale seemed to be a great place to be, there are a lot of people there, and they all seemed to get along pretty good. The only thing I didn't like are fees you have to pay, I can't afford it. The staff is very polite and courteous.
---
Andrea27
July 15, 2015
I am a friend or relative of a resident
We have been there at Brookdale West University once before, and they changed their name. The rooms were of good size, the people were nice as well as the residents. The food is a little bit healthier, and there were varieties of activities. My dad was there for three months, and he had an incident; he fell, so we moved him out.
---
Caring106489150
May 13, 2015
I visited this facility
Staff is excellent at Brookdale West University, and the girl that we have been working with is really good. So far it has been a really good transition. It's got a lot to offer, and I am hoping that would be a helpful thing for my mother-in-law. The room looks great, there is a good size living area, there seems to be a lot of consideration to storage space, and the bathroom is set up well. The meal plan was more flexible plan, which suited my mother-in-law well. With the amount of care that she needed, this was a good fit for her because she is not as hands on at the moment. I like the fact that it seems that you can transfer into the system; you can actually follow on and change location should you become more demanding and need more care. It is a great introductory place for her to start with. We have the chance to see the dining room, it seems really good, and I love the flexibility of it because they have like a dollar amount to be arranged, so they can basically go and have as many meals as they want when they want it. They have a fairly good range of activities. They got a lot of availability to get back and forth to the medical center or get to shopping or places right beside it so they could walk to the parking lot that's beside it with their shopping bag if they want to. It's great to motivate them to get out and get that exercise if possible. The grounds were lovely. It seems like there's lots of laundry rooms available. They have a lovely library. They have a lot of trips and get togethers. It's a great value for the price.
---
Caring106530150
May 07, 2015
I visited this facility
I liked Brookdale West University (Terrace at West University) very much. They had beautiful walking grounds and benches. It's an older residence, but it is very nice. They had one unit there that interested me a great deal. It was 2 single units, and it was broken through to make one 2-bedroom unit, and I like that very much. I like the location. I like everything about it except the coupons. They give you a coupon each month, and you give them a coupon for your dinners. That just goes against my grain, and I would not consider doing that. I thought they were deficient in their program director. Their program director was a young lady who put together parties for a 3-year-old, so I was very unimpressed. The facility was fine. The meals were adequate, not excellent. They did not have lovely dining. They built a bistro, and you could go there for dinner. They had a carving bench which was for whatever they were carving for that particular day either roast beef or maybe turkey, and then you could get side orders of pizza and salad, not the kind of dinner that I would want.
Provider Response
We are sorry to hear your tour of Brookdale West University did not meet all of your expectations. We want to thank you for taking the time to visit and for providing feedback. Please be assured it will be reviewed and used to better serve our residents and their families in the future.
---
Donna103471550
March 20, 2015
I visited this facility
Everyone seemed very friendly, very willing to help, and very approachable. Brookdale West University seemed like a very nice place. They had individual apartments. They showed me a typical one-bedroom apartment, and it was fine and nicely done. They talked about the activities offered there as well as the transportation that they offer. I thought it might work for my mother. It would be one that I would consider.
---
Caring68620650
August 30, 2014
I visited this facility
Brookdale Plaza West University is very close to the Medical Center, which is great if you have issues. It's very close to shopping, too. It's just a two story building. They've got gym facilities and swimming facilities in one section. They have a very nice dining room. One bedroom was quite small, but still manageable. I think it started around $1,800 a month. They were still working on improving the actual apartments, so I would say if they had more finished apartments available to view, that would have helped more. There are a lot of things under construction.
---
Jean74029250
July 31, 2014
I visited this facility
Brookdale Plaza West University was the best place we've seen so far. We've been very impressed with the place. The staff has been very friendly and very helpful. They were also very passionate. I visited one time and we had dinner there and we were very impressed with the dining room. I am not living there yet, but it's where I'm leaning to go. The buildings are very laid out beautifully. Each building has something more beautiful to look down on.
---
Stephen10
March 31, 2014
I visited this facility
I chose The Terrace at West University because of its location. It's near the things that I would like to do. The staff was very good. The rooms were very adequate. I ate there, and the food was good. They had activities like classes and outings to movies and places.
---
Michael44
March 29, 2014
I am/was a resident of this facility
The staff is excellent at The Terrace. The place is near downtown, and you can walk across the street, and there's a grocery store and all that. The layout is different than any other places I've seen. There's a courtyard, which each room or apartment faces. There's a common walkway, and it's like you're in a hotel. They have a wide selection of apartments. I got one of the smaller ones, which was perfect for me. I don't have any complaints with the food.
---
Caring0604
July 12, 2013
I visited this facility
I visited The Terrace at West University for myself. Their rooms were larger and I like their lay out. The staff was wonderful. The food they serve there was also fine. Their price also was excellent. I like this facility the best amongst the other facilities I visited.
---
Caring0962
June 25, 2013
I visited this facility
When I visited The Terrace at West University everybody seemed very nice. It was a pleasant experience.
---
Lisa P.
May 11, 2013
I visited this facility
I went for a visit at The Terrace and it looked lovely and welcoming on the outside. When I went inside, it was very well-furnished. The rooms looked fresh and modern. The staff were accommodating and friendly. The atmosphere in the facililty was comfortable, cozy and homey. They served meals in the dining area or you could have it brought to your room. The visit was a good experience, but the price was too expensive for me.
---
Native.Houstonian
June 23, 2012
I am a friend or relative of a resident
Almost everything I saw and heard about the Terrace was positive. The grounds and facilities were well kept, and even the gardening was always a bright spot for my grandmother. She lived on the "putting green" quad, which didn't really interest her, but which I always enjoyed. Other quads had a swimming pool, a gazebo, and a very nice garden. During all the time I spent there, I was always extremely comfortable, and the staff was always friendly to me. My grandmother liked all the staff that she regularly dealt with, and I know that some of them went above and beyond their jobs to help her out. I only ever had leftovers, but those were always good, and my grandmother seemed generally happy with the food served in their cafeteria. Finally, the actually living quarters were great. Spacious, comfortable, and well appointed. My grandmother even felt comfortable entertaining there, which was very important to her. Overall, I think the terrace did a wonderful job, and is very deserving of a five star rating.
---
Reviewer1
July 22, 2011
Other
This facility is inside the 610 loop area. There's a lot of shopping areas around there, and there are a lot of great dining opportunities nearby. It's also near the medical center, so if any residents are involved with a medical issue that the facility itself can't handle, they can go to the medical center. It's a really beautiful location for seniors. They have a pool and a hot tub. The exterior part of it is really great. They have different type of features like a private dining area and a nice courtyard. They have a library and a computer lab. There's also a fitness center inside the facility. The size of the facility is spacious, especially the apartments. They also offer a full kitchen to their residents. Each room has its own thermostat, and there's a pull card in each room so that a resident can call the CNA on duty if they need help with anything. The rooms have a built-in shower and a walk-in closet. Some of the dining areas were really nice. I didn't see any food being served, but they have nutritional charts that the residents can choose from every day. They also serve food to family members and friends who come to visit. The residents that I talked to said that it was nice that they offer breakfast and lunch on most days. They have fitness programs there for the residents where someone comes in during the afternoon and they have wellness training for some of the residents. It's really a nice area and the grounds are really well kept. The staff seem very happy and don't seem disgruntled with the company. They have poetry classes and poetry readings for the residents. They also have educational learning programs for the residents.
---
From Brookdale West University
---
Brookdale West University provides a full range of choices for today's seniors. Choosing a senior living community represents a lifestyle choice and we understand that our residents are choosing much more than a comfortable living environment to call home. Our Brookdale community delivers Inspired Independent Living, with the promise of Exceptional Experiences Everyday. In choosing this community, our residents have made a conscious lifestyle decision designed to deliver enhanced opportunities for pursuing health and life fulfillment through the exceptional services, amenities and opportunities we offer.
Our Optimum Life® and Celebrations programs provide an all-encompassing way of life that touches our residents, their families and associates alike. Optimum Life® is a journey of self-discovery including services, features and benefits that allow each resident to pursue their peak level of health, wholeness and fulfillment while balancing six key dimensions of personal wellness: emotional, intellectual, physical, social, spiritual and purposeful. As part of Optimum Life® we encourage our residents to celebrate life each day. Inspired dining, with fresh meals prepared by chefs trained in our own Culinary Arts Institute, and vibrant lifestyle activities come together in our Celebrations program. These activities fill the monthly calendar with themed experiences, special events and group activities highlighting different cultures and cuisines in a common venue of camaraderie.
Features of Brookdale West University
---
Costs
Rent Plus Care Fees
Entry Fee
Fee Structure Extra:

We Offer A Month To Month Rental
Room and housing options
1-bedroom apartments
2-bedroom apartments
Companion Suites:

We Do Not Offer Companion Suites

Housing Extra:

One Bedroom With Study
Dining options
In Room Kitchens
Dining Room Shared Meals
Room Service For Meals
Features
Beauty Barber Shop
Computer Room
Resident Transportation
Coffee Shop
Party Space
Golf
General Store
Tv Room
Garden And Patio
Resident Parking
Security Gate
Pool
Spa
Features Extra:

Fitness Room/Gym
Cleaning services
Laundry For Linens
Private Cleaning Services
Housekeeping
Laundry For Clothing
Technology and entertainment
Cable In Rooms
Internet Enabled Rooms
Wifi
Technology Extra:

Emergency Call System
Health services
Medication Management
Physical Therapy
Pharma
Activities
Offsite Activities
Games
Stories
Religious Services
Lectures Discussions
Book Clubs
Wii Sports
Tai Chi
Fitness Room
Yoga
Gardening
Arts And Crafts
Activities Extra:

Computer Class
Guest services
Guest Parking
Guests At Mealtime
Overnight Guests
Location of Brookdale West University
---
Get Cost Information
Get full access to reviews, cost information, and amenities