Calusa Harbour
| Independent Living
2525 East First Street, Fort Myers, FL, 33901
Talk to a Family Advisor: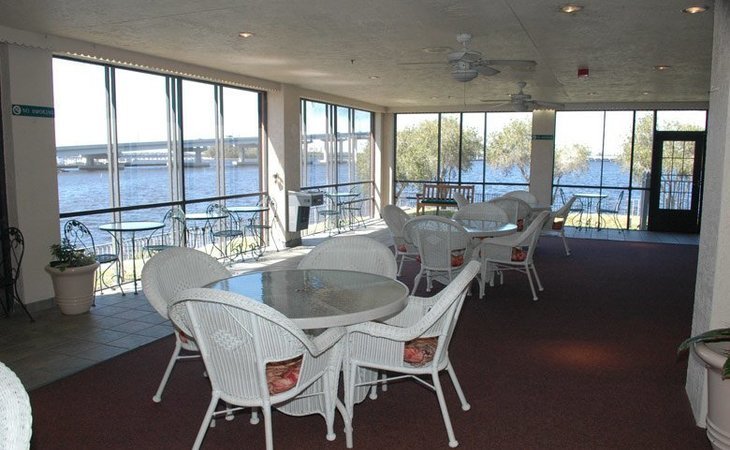 Top nearby Independent Living Communities
Reviews of Calusa Harbour | Independent Living
---
Chris
July 18, 2017
I am/was a resident of this facility
The staff at Calusa Harbour is wonderful. The food right now is average, but they're going on overhaul. They plan to open a new dining room with menus for lobster and steak. I can eat any time I want, all day long. There's a huge food selection. They have all the amenities. I have a one bedroom with a kitchen, living room, and 2 bathrooms. The community is on the water. I'm on the 15th floor and it's absolutely beautiful. It's a tower building and all the dining rooms face the water, it's a gorgeous view. They have constant bus service and they take them to the VA.
---
joyce813083
June 01, 2017
I visited this facility
Calusa Harbour offered to let me stay for a weekend at no charge to see if I would like it, which I thought was extremely unusual. I very much liked the people that I met there. I actually made a couple of friends at that time whose names I still remember. That's how much they impressed me. They had a happy hour and social for ice cream, and they had an exercise program. It was a lovely place, and it was on the water. They had a screened in pool. I found one fault, and that it had 2 elevators for 30 floors. Other than that, it would have been number 1. The food was fabulous. It was better than any place I had been. Their chef was number 1. They even had peanut butter ice cream. They would take you out for shopping. They had activities around town that they also scheduled if you wanted to go to. They had bingo and church.
---
Margaret705347
December 05, 2016
I visited this facility
Calusa Harbour is not as spacious and nice. The staff was nice, but they're not as pleasant as where I am, and the rooms are smaller. I didn't like anything about it.
---
James426112
November 25, 2016
I am/was a resident of this facility
I used to live at Calusa Harbour, which is really across the street from where I live now. I enjoyed it, but it got too expensive. I really liked living there, but the rates went up, and I?m on a fixed income, so it isn?t really what I can afford. It?s absolutely a good place to live. I was happy there, except for the expense. The staff people were very gracious. The food was great.
---
Rosalie740285
October 10, 2016
I am/was a resident of this facility
We're living in Calusa Harbour now. It is excellent. We couldn't have asked for anything better. I'm impressed with the people, how friendly they are and the service they have here. The services are outstanding. The meals are outstanding. It is a 5-rated community. They have assisted living and skilled nursing here. We have a 1-bedroom, and right outside our door is an exercise room and a laundry room. We have everything very convenient. They have something for you to do here every minute if you could do it all. The amenities are fantastic. They even have fishing once a month for anyone who likes to go out and fish, and they give you the poles and the bait.
---
Caring100719250
May 24, 2015
I am a friend or relative of a resident
A friend of my mother's went into Calusa Harbour for rehab, and they recommended it. They have independent living, assisted living, and skilled nursing care all in the same facility. My mother is currently in independent, but we have her on the assisted living list because she is right at that cusp. Their staff is very good, very responsive, and helpful. She enjoys the facility. It's excellent, large, modern, and very homey -- absolutely non-institutional.
---
Johnnie2
October 16, 2014
I visited this facility
Calusa Harbour is very clean and overlooks the harbour (or river). The apartments are more than adequate, and we will be staying in a one bedroom with a nice sized living and dining area, a small kitchen, and plenty of closets. Once a week you get maid service, all maintenance is free, all the utilities are in a fee to include electricity. They provide cable, three meals a day, and you have a choice when to eat. We tried some food and it was fabulous. The patients seem to be very happy. They have a lot of activities appropriate for someone like me. They actually have art classes taught by an artist, they have cooking classes, and quilting. They take you out several times a week to places for dinner dates, shows, or plays.
---
Johnny7
September 30, 2014
I visited this facility
Our visit at Calusa was lovely; they answered all our questions. We saw some nice rooms and they're going to care for an under aged child that I've raised all my life because she is very handicapped. we couldn't have been more pleased. The people were interacting with each other so much that we thought we were at camp. The staff is excellent and the patients were doing their activities. making jokes, and making friends with the staff, I was just really surprised. It was like a community not a home.
---
Deguise
July 25, 2014
I am a friend or relative of resident
Lovely good food . But a high rise how would get down if there was a fire. Only two elevators alway broken a nightmare. Everything else was nice but elevators unbearable
---
Caring96134250
July 19, 2014
I visited this facility
We are in the process of moving my dad to Calusa Harbour. The rooms have a brighter feeling because they have windows. They have the restaurant-style dining, and you are able to order off the menu. At this point, it looks very nice and very clean. Everybody is very friendly.
---
Caring86756550
June 30, 2014
I visited this facility
The guy gave me an excellent tour at Calusa Harbour. He was very professional and welcoming. I saw a studio and a one-bedroom apartment. I enjoyed their food, and I ate with the residents, which was a good opportunity for me. They have water aerobics, and they have a pool in the facility. However, I think the facility is a high-rise and somewhat crowded, like in the elevator.
---
Sherry29
May 20, 2014
I am a friend or relative of a resident
My brother has moved in to Calusa Harbor. Everyone is very helpful in this community. The facility is very nice and clean. Their rooms are very roomy. There is plenty of space in each room. The food is very good. They have a beauty shop and a barber shop. They have happy hour. They also have guest speakers and a lot of other activities for the residents. We picked this facility because of its location. It has a nice view and a nice setting.
---
Carol83712650
May 20, 2014
I visited this facility
I've visited Calusa Harbour a couple of times, and it's a lovely facility, but it's on the waterfront, and it's 20 stories high. They have one elevator, so that is not very conducive for walkers, canes, and wheelchairs. The staff has been very wonderful. The only problem I have is the parking area and the elevator.
---
Caring1021
May 11, 2014
I visited this facility
Calusa Harbour was a high-rise building, and it was a very nice place. It was a beautiful place because if you looked out the window, you would see a big water there, since there were rivers in the area. The rooms were not as big as the other facility I visited. It was like a regular house with everything in it like bedroom, kitchen, etc. There were rooms downstairs around the building that faced the water. You sat where you liked and enjoyed yourself. We tried the food, and it was good. Most people were glad that they were there. My only comment was they had a large group of residents in the assisted living area, and I was not sure I preferred that. Nonetheless, I would still recommend this facility to others.
---
Irene10
October 11, 2013
I visited this facility
The view was nice at Calusa Harbor. We only met one lady. She was very nice, very helpful, and she was willing to show us what they had to offer. But the apartment that they showed us was small and there was no kitchen. That was not what we were looking for, because we're still pretty active and can still move around. Also, the elevators were very, very slow for a large building. It was dinner time when we happened to be there. The elevator was very crowded and slow in getting down everybody for dinner.
---
Nancy69352750
September 30, 2013
I visited this facility
Outside, Calusa Harbour was pretty. However, the apartments were tiny. When you went down the hall, you could see the plumbing exposed on the ceiling just like in an old building. There were no balconies so people were confined inside the apartment. It was like being in an old hotel. Though the staff was nice and they had activities, we weren't impressed with them. They had to improve their building and put balconies on their rooms.
---
jazzyann
September 20, 2013
I visited this facility
The major plus is it's location on the river. It is an older facility but undergoing upgrades/renovations. We are in our early 70's and the population there seemed much older. I did not like the very limited kitchen facilites in the apartment. The staff were very informative and helpful.
---
Margaret17
June 26, 2013
I visited this facility
My sister passed away in May but we were able to visit Calusa Harbour. It was a very nice facility. The people were very friendly. The person that we talked to was very, very nice. We did get to see the rooms and the smallest one was really small. If my sister had a little more money, she would have loved living in this facility. They should work more on accommodating people who are on extremely limited income.
---
Nanci1
June 25, 2013
I visited this facility
We like Calusa Harbor. I think that is going to be our choice. It has beautiful view of the river. It's downtown and walking distance to restaurants and other places. That's a real plus for us because we enjoy walking. The one we chose is the 1-bedroom because the studio was a little small. We had lunch there, and the food was good. They seem to have a lot of things going on. They also have vans to take you to different events around town, to the grocery store, or to doctors' appointments. However, it's really expensive because of the location, and they have a waiting list.
---
---
Calusa Harbour is the perfect choice for seniors who value their independence and appreciate the good life. In addition to fine dining, stimulating activities, and peace of mind, we also offer the comfort and style that you have come to expect from a Five Star Senior Living community.
We are proud to offer independent living, assisted living, and skilled nursing and rehabilitation, all on a rental basis. Plan to visit and see why we are an excellent alternative for seniors today.
Location of Calusa Harbour
---
Request Info
Get full access to reviews, cost information, and amenities