The Fairfax
| Independent Living
9140 Belvoir Woods Parkway, Fort Belvoir, VA, 22060
Talk to a Family Advisor: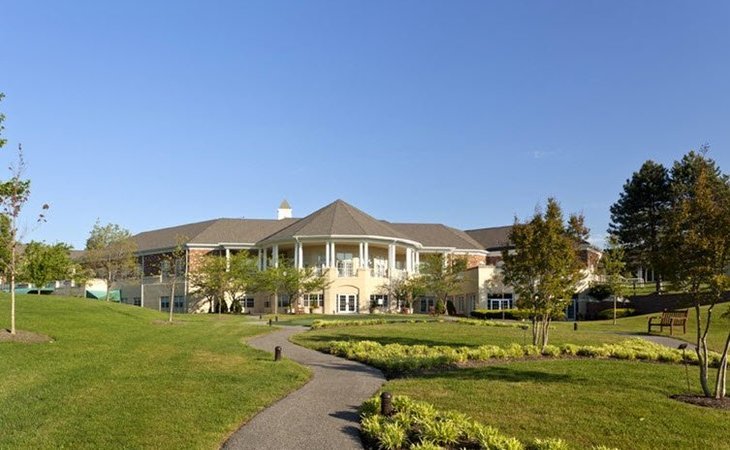 Reviews of The Fairfax | Independent Living
---
tulip3
February 02, 2017
I am a friend or relative of a current/past resident
Horrible treatment by many of the aides. There are several who care but most do not. My Mom is afraid of many of them. They are very rough and rude to her. When you talk to Management they say they are looking into it. Nothing changes. Total indifference for the residence and family. The head doctor is not to be questioned...huge ego. No partnership with the family. Very sad for my Mom. A new manager is coming to take over on Friday. I am hopeful.
Provider Response
We're sorry to hear that you did not have a positive experience. We care deeply about the safety and well-being of our residents and staff. Please contact us at information (at) sunriseseniorliving.com so that we can learn more. –The Sunrise Team
---
Pat527536
June 22, 2016
I am/was a resident of this facility
The Fairfax has beautiful grounds with a lake, a big pond, and a fountain. It's so clean, and I liked it. The staff seemed very nice. They had all kinds of activities, trips, and beautiful library. I had other residents talk to me who seemed really friendly. It's a place for retired military.
---
Ene1
March 19, 2016
I visited this facility
Touring The Fairfax was a great experience and I loved everything about it other than it was just too expensive. I was afraid my money would run out. The rooms were beautiful and the nicest I have seen. I would have loved to be able to move in there, but I just can't afford it. The food was absolutely wonderful; you can eat three times a day and pay a little extra. There was nothing there that they didn't have. I was extremely impressed. The staff was wonderful, very forthcoming, knowledgeable, and ready to help in every way. The grounds were absolutely gorgeous.
---
Juanita8
June 29, 2015
I visited this facility
My experience with The Fairfax was very good. We had a tour, and it was not just me; it was 50 of us. They had an open house, and it just so happened to coincide when I began looking. It was a lovely community. However, to be honest, it was very expensive, and if I had the finance that I needed, that would be my first choice. The rooms were beautiful and well kept. We went into 2 cottages and a couple of 3 or 4 apartments. Everything was very well kept. The grounds were very well kept. The employees were very caring. It was military affiliated. My husband was in the military, and I worked for 35 years in the military. So, it would be an atmosphere that I would be very comfortable in. They played bridge. They had a lake on the premises, which was very nice, and they had fishing tournaments. They had transportation to and from the military hospitals and the military facilities, which was also very nice. A lot of the activities were couple oriented, but I don't think that would preclude me from participating.
---
Irina1
August 13, 2014
I visited this facility
The Fairfax has every activity. They have swimming there. They have everything that you could ever think of. It's a beautiful, beautiful, beautiful facility and the people are extremely nice and very knowledgeable. They took me around. The staff was courteous, personable, and very nice.
---
Also A Senior
March 16, 2014
I am a friend or relative of resident
My father was one of the charter members of the resident's Retirement Foundation. In 2002 he and my mother became residents after it became clear that his dementia was more the my mother could deal with. Initially, as long as Marriott Corporation was operating the facility, we were extremely pleased. However, after Sunrise took over and exercised tight financial restrictions, it became clear that the residents were enjoying poorer meals and fewer amenities. Nevertheless, the facility and its services remained above average compared to many other retirements communities. Over the past couple years, unfortunately, the residents have seen significant annual increases in thier monthly payments for maintaining their living quarters and significant degradation in the quality and variety of meals. It appears that they no longer have a competent chef to head the kitchen and now rely on an assortment of semitrained cooks. Meats are often over-cooked and dry, vegetables are either poorly prepared (They don't know to trim the ends of sugar snaps and show peas, for example) or under/over-done. Menu description s of dishes being servied are frequently attractive lies. Seasoning is a mystery to the cooks; there never is much. Dining service in the fairly elegant main dining room used to provide top restaurant-quality staff. Now residents must be careful that a server doesn't run them down in their rush to get back to the kitchen for a chat or smoke break. Courtesy and attentiveness is a thing of the past; although a tiny minority of staff are charming, watchful and extremely helpful. Still the range of residential accommodations is quite wide--from small one-bedrooms, to large suites with multiple rooms, and cottages. Virtually all have full kitchens, appropriate hardware for residents who have various physical challenges, and access to cable, internet and telephone (for additional fees). When a resident becomes unable to live indepently, The Fairfax does offer assisted living quarters and nursing care facilites for those who are ill and need more attention. I cannot address their quality because my mother is still living independently despite having very poor vision. The grounds are expansive and include a small fishing lake and a formal pond with fountains, gardens, a small putting green, and garden plots for resident with green thumbs. The staff, aside from some of the dining servers, are a very pleasant group who try to offer residents the services they need. The concierge is central to steering residents and visitors in the right direction. To be fair I have to give the residential facilities and services a 4-star rating, but the dining service is a serious detractor, deserving barely 2 stars. The Fairfax (i.e., Sunrise) management has apparently not learned that having a qualified chef running the kitchen and an experienced maitre di' managing the dining room will save money and improve resident satisfaction.
Provider Response
We're sorry to hear your dining experience has been a negative one. We take your comments very seriously and would like more information if possible. Please contact information@sunriseseniorliving.com with your contact info and we'll be in touch. Thanks, The Sunrise Team
---
Housatonic
January 31, 2014
I am/was a resident of this facility
I have several issues that I need to resolve and have been unable to get any answers or call backs from any voice mails my brother resided there and has been moved to Massachusetts to be closer to family. I have questions that need to be addressed for my knowledge and the Facility he has moved to. I am frustrated and upset by the disrespect of not paying any attention to my needs. I would not at this time give a good review of this place SueBonak
Provider Response
We're sorry to hear you had this negative experience and we would like to get in touch with you immediately. Please contact information@sunriseseniorliving.com with your contact information. Thanks, The Sunrise Team
---
043
November 20, 2012
I am a friend or relative of a resident
In general, I highly rate this facility. The staff appear to be taking good care of my father and speak highly of him. He looks health and happy. My biggest problem so far is the lack of accountability for his posessions. Right now I'm dealing with his missing $2000 wheelchair and before that his hearing aids disappeared. Depending on how my inquiry into the missing wheelchair proceeds tomorrow, I may revise my opinion downward. There is also an inability of the staff to use email effectively and they can't seem to get the ocassional form to me when needed. The is the community at which he and his late wife wanted to finish their lives, so I am trying to keep an open mind with regard to their efficiency.
---
susankeel
June 30, 2012
I visited this facility
The Fairfax is a generally nice place; it's divided into assisted living apartments, which are small but allow residents to have their own furniture, and a more intensive care section, where the atmosphere is more like a hospital but patients are still allowed small pieces of furniture, like bureaus and chairs, and keepsakes. The facilities are always lavishly decorated for the holidays, and residents in both sections often decorate their doors with wreaths or mats. A large cage in the lobby held songbirds the last time I was there, and during Christmas, there's a tree, menorah, and other holiday material on every floor. There are ample parking spots in the lot, and the facility provides a bus to take residents shopping and to church. There is at least one resident cat, and a very nice restaurant on-site. The place doesn't smell like antiseptic or like being in a hospital, although when moving to the more intensive care wing, people are asked to use some hand sanitizer to prevent transmission of disease. There appear to be ample programs to engage residents; although, being that the facility is located on a busy road with bad traffic, they may be the only activities available to older people who are less confident in their driving.
---
---
The Fairfax is an independent living and assisted living community in Fort Belvoir, Virginia, offering both Alzheimer's care and skilled nursing. The Fairfax opened in 1989 for the non-profit Army Retirement Residence Foundation-Potomac (ARRF-P). It offers an ideal lifestyle to retired officers of the U.S. Uniformed Services, CIA, FBI, Foreign Service, and others with a close career relationship to the military. The most recent addition to The Fairfax is the newly renovated Health Care Center, which provides assisted living, memory care assisted living, and skilled nursing and rehabilitation services.
The beautiful 60-acre campus is located at the edge of Fort Belvoir, Virginia, offering golf courses, commissary, PXs, Officers Clubs, and more. On the Fairfax grounds, residents enjoy walking trails, a seven-acre stocked lake, tennis courts, a putting green, and driving cage. The independent living options offered include 347 apartments ranging from one to three bedrooms and thirty-five cottages.
The Fairfax offers a comprehensive life care environment, including the Pathways to Fitness and Wellness program, which offers aquatics, aerobics, weight training, and other classes designed to meet the needs of residents interested in improving and maintaining their fitness level.
Well-behaved pets are welcome, too!
Features of The Fairfax
---
Features
Beauty Barber Shop
Resident Transportation
Garden And Patio
Resident Parking
Security Gate
Pool
Technology and entertainment
Get Cost Information
Get full access to reviews, cost information, and amenities