The Breakers at Edgewater Beach
5333 North Sheridan Road, Chicago, IL, 60640
Talk to a Family Advisor: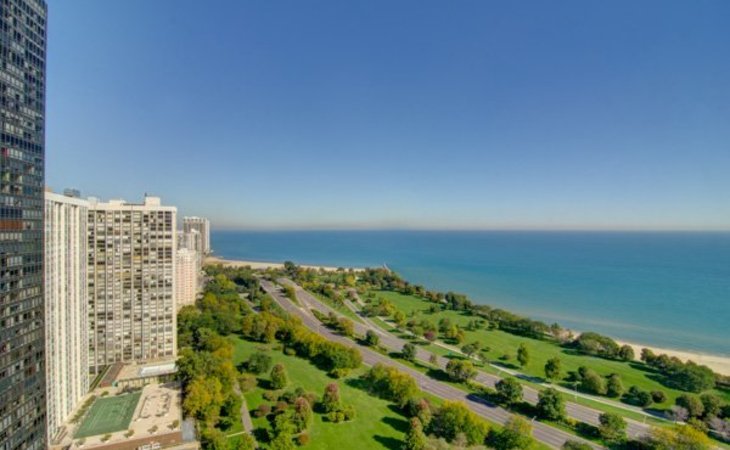 Reviews of The Breakers at Edgewater Beach
---
Sandra117654
March 27, 2017
I visited this facility
I think I am going to move into the Breakers at Edgewater Beach. It is a high rise, and the elevators seemed to be a bit of a problem. I've lived in Chicago on the lake front probably for 50 years, and I don't want to go anywhere west into the city; the Breakers seems to be the best place. I think it is affordable for me. I personally like the fact that the dining room is all glass, and you are right in the middle of the park. I have a dog and they have a dog run that is enclosed. I've lived next to the lake for 50 years, so I am not about to go 25 or 30 blocks west. I loved their apartments and everything.
Provider Response
Thank you for taking the time to write a review; we appreciate your feedback and hope that you do decide to make The Breakers your home! We will do our very best to provide the best possible experience for you.
---
Stanley878051
January 02, 2017
I visited this facility
Overall, both my brother and I were very impressed with the Breakers. He would have selected it, but he had an issue with the location; my wife and I are moving permanently, and from Breakers, where my other brother lives, to our mom is a two-hour drive. The distance involved was too great. They did a great job on the tour. We thought the people were great, and the follow up after the tour was good. We didn't have any issues with the facility. They had activities. Their dining room facilities were really beautiful, and the views were exceptional.
---
Leslie233505
December 02, 2016
I visited this facility
The Breakers was very clean. There were a lot of activities and doctors on staff. The dining area looked beautiful.
---
Minnie Mouse 1991
November 14, 2016
I visited this facility
Met with Dave, because my husband and I were looking for a place for my brother to live. Dave was very hospitable and showed us various rooms they had available. We loved The Breakers. It had everything that my brother would need and want, especially being close to the lake. However, after talking to my brother, he realized that he was not ready to leave Wisconsin. Dave went above and beyond in explaining everything we needed to know and we are still hoping that my brother will reconsider.
---
Colleen356731
October 13, 2016
I visited this facility
I loved The Breakers at Edgewater, and it's one of my favorites. They're across the street from the lake, they have a pool, and there's an underground thing to go so I won't get hit by a car because I move slowly. The staff was very nice and very personable; we connected right away.
---
Visitor Daughter
September 01, 2016
I visited this facility
We went to The Breakers at Edgewater Beach. It was wonderful, clean, and well managed. There were a lot of activities for the residents. I wasn't too fond of the kitchen set-up in the rooms, but the rooms were otherwise very nice. The community seemed very nice. I rated it as one of the top.
---
KenXKODR
May 11, 2016
I visited this facility
Both places we visited were close to the lake, but The Breakers was actually closer in a nice location that happens to be a few blocks from where my in-laws live currently, so they're familiar with that neighborhood. They fix the food for the seniors and don't have an option where you can fix food yourself; you have to choose a plan with two meals prepared by the place with one meal optional. The meal plan is part of the price and not an option to cut out, so that adds a considerable of amount of expense to the overall monthly rent. The Breakers were very nice. The rooms were in slightly poor condition, but there was a huge dining room that looked like a restaurant. Their rooms were smaller, so you have to go with at least a one-bedroom, and the cost is very high.
---
Florence M.LBJHQ
May 11, 2016
I am/was a resident of this facility
I have lived here for six years. As the new resident committee chairperson, I feel like it is my mission to help keep people's attitude positive in making The Breakers their new home. This is a beautiful place to call home. Love to come down to dinner with my new friends. We have such a mix of people, junior-seniors and senior-seniors.
---
Kathleen120403750
March 05, 2016
I visited this facility
I went to visit The Breakers at Edgewater Beach, and it's a very impressive place. They have an atrium, and a dining room. Lunch and dinner are served with tablecloths. I was also able to eat there, and the food was good. They also have a lot of activities for the residents. If I would choose to be in Chicago, I would choose this place.
---
Anonymous Cousin 101
February 16, 2016
I visited this facility
The Breakers at Edgewater Beach is wonderful. Lots of activities with very good city view. It's very clean. The rooms are very nice. Everything about it is very nice.
---
Mary120006750
February 11, 2016
I visited this facility
We went to The Breakers. It was right on the lakeshore. That's what we liked most about it. The staff was wonderful. They were very friendly, and very eager to show us around. They invited us to lunch which was a nice perk. The apartment that we liked the most looked right out over Lake Michigan. So, it had a wonderful view. None of the senior apartments that we saw were considered spacious, but adequate. We loved the lake view. They had a lot of in-house lectures from experts of various fields. They had a nice library, and exercise facilities. I believed they had a beauty parlor on the premises for women. They had very nice lounge-areas, and the dining room was absolutely beautiful.
---
Kathleen115829050
November 16, 2015
I visited this facility
The Breakers was excellent, and I want to move there myself. The staff was great. The rooms were small but very nice with a nice view. The amenities were excellent and had everything you could ever want without leaving the building. The residents were friendly.
---
Caring114994650
October 28, 2015
I visited this facility
I'm real familiar with The Breakers at Edgewater Beach because it was part of the dormitory system at Loyola University, which is where I attended school. The facility has the benefit of its independent-living pricing, as it is well within my range. I like the fact that they have food available and utilities, and that's all the person needs. Basically, it is dormitory living. It is in a nice area, and it is a really convenient walking distance to the bus lines or to the Chicago Transit Authority buses, so you can get to just about any place you want from there. It is not as isolated as the other facility. For me, mainly because of the price, it is a 5, it is very attractive.
---
Barbara103283750
September 26, 2015
I visited this facility
I liked The Breakers at Edgewater Beach very much. It had a lot of rooms, big layout, large dining rooms, large exercise room, and it had a lot to offer. It gave me an impression of being more in a luxury hotel than in a facility. The staff I dealt with was the admissions guy and he was very good, nice and informative, and very good at follow-up. He has called me a couple of times. I really like it there. The apartments were fine, but they're small. The amenities were standard, nothing fancy. I like the dining area very much; it was large, airy, lot of glass, glass ceiling, glass walls, a lot of light, and seemed to hold quite a few tables. They do have activities there. I like the view of the Lake Michigan and the beaches and the overall feeling of being in a large area rather than in cramped hallways, which was another thing I liked. It doesn't have long hallways that you have to walk down from the elevator.
---
Anonymous111931750
August 21, 2015
I visited this facility
The Breakers at Edgewater Beach was very pleasant. The staff showed us two units, and we discussed the amenities. The rooms were fine. We were not really interested about the menus, but they were fine.
---
Kay42
July 29, 2015
I visited this facility
Breakers at Edgewater was perfect. The people from my church were impressed. They do have some activities. The have a Maître D in the dining area in the evening. They have very good security.
---
Tom106501550
June 08, 2015
I am a friend or relative of a resident
We move our parents into The Breakers at Edgewater. It is a perfect fit because of the location and the amenities. The place is very clean and very well put together. It has a great dining room and a great outdoor space for everybody. The indoor activities includes the movie, the learning center to keep them alert, and to keep them involved with the community. They have a mentor program, and they are able show my parents around the facility. They customize the building, and if they have any questions, they can actually go to someone who actually live there. There is actually a resident that is helping them in the building. They have the transportation to the local department store, grocery store, and various places. They also have doctors inside the facility which is very convenient. The place is very comfortable. It is like an apartment community.
---
Caring102915550
February 27, 2015
I visited this facility
The Breakers at Edgewater Beach had a swimming pool, and that's what I've been looking for. It's a place I would like to live. It's very clean. They had the views of the lake, which I have wanted. The rooms were regular sized. The dining room was beautiful and bright. The staff were very nice, open, and transparent; they're not trying to hide anything. They have people who give lectures for their residents, and they play games. They have a security person.
---
Caring99209650
December 28, 2014
I am/was a resident of this facility
I chose The Breakers because it has a pool, and I need the exercise for my one working foot but the pool broke, and they're not fixing it. It's been a year and a half now. It's top of the line but without the pool, it doesn't have the same kind of feel to it. The pool is inside the building. You just have to go up the elevator in your bathing suit and a towel to change. They've been busing people to different pools, and I found that none of them is helpful to me since I'm in a wheelchair. They have a good community, and people like each other. Some staff is good with very nice maintenance people, while some are rude or slow. The dining room is beautiful and very nice with upgraded furnishing. They have a chef too. The soups are great, they have salads, and wonderful entrées. But it's usually cold or lukewarm. I like hot food. I was excited about the meals when I first came here. There are only four elevators, and it gets really busy around dinner time. You have to wait from 10 to 15 minutes. But I guess there's nothing they can do about it even if they have the maintenance. There's also no place to take the dog in the winter. I can't go out in the snow in a wheelchair. There's a park behind us that's fine in the summer, but it's not fine in the winter. I just stay in my apartment now. I don't go into functions anymore like I used to. They have a lot of functions that people still do. They also have 24 concierge service, security, and transportation to different places. It is a beautiful and well run property. There were a lot of good things, but I don't use them anymore. Everybody is 86 and 68. I need to be some place younger. Everybody is so slow, and a lot of people can't take care of themselves so they have caregivers. They have Alzheimer's, and they have to be pushed all the time in wheelchair. I operate on my own. It's depressing.
Provider Response
I am so very sorry there have been things that have been frustrating for you. Our goal is to create an environment and experiences that engage our residents to live their lives to the fullest. Our Chef strives to provide quality hot meals along with a dining experience that allows for lively social conversations. As you know we are pet friendly and offer a variety of areas in which to walk dogs. As you mentioned we have many good things. I am sorry to hear you have not found programs that are exciting to you. I am positive none of us want you to be disappointed. I believe I can help with some of the challenges. Please feel free to contact me as soon as possible. I want to help make your experience the best it can be. I can be reached at 773.878.5333 or leldridge@seniorlifestyle.com. Leslie Eldridge, Executive Director
---
Caring100991750
October 29, 2014
I visited this facility
I loved the Breakers. It's in the city and I thought they had all the amenities. It was reasonable and just lively. I thought the facility was beautiful and updated. The staff was very accommodating. They worked hard to please you and gave you lots of good information. The people were nice. I liked it, but my mother just didn't care for it. She prefers suburban living as opposed to city living. They have all kinds of activities. I think for some younger seniors it's a great location. It's close to the beach; the views are great. You're close to downtown. I didn't see anything wrong with them myself.
---
Caring8000
October 19, 2014
I visited this facility
The Breakers was nice, large but I was looking for assisted living and it was an independent living. But then, they have like a-la-carte where you add on and I just don't think that's going to be a help for my dad. The staff was fine and the room was nice, but it wasn't really appropriate fit for my dad.
---
Marilyn27
January 31, 2014
I visited this facility
At The Breakers at Edgewater Beach, the rooms and the surroundings are fine; however, this facility has inadequate elevators. You have to wait a long time to get down to dinner. Their staff basically has good work attitude. The food is fine. For activities, they have both indoor and outdoor activities. What I like best about this facility is the fact that it's close to our son and grandson.
Provider Response
Thank you for taking the time to recognize The Breakers for our convenient location and commitment to offer a broad range of programming options. Our priority is to offer a comfortable, safe and engaging community for our residents.
---
Donna82128250
December 31, 2013
I visited this facility
I have a lot of chronic pain and medical conditions that require that I have a heated exercise pool. That was the reason I chose The Breakers. The other places did not have that at the temperatures that I needed. I had corresponded by email with them for several weeks actually and they practically met me at the front door. It has everything that I could hope for in a facility.
Provider Response
Thank you for taking the time to recognize The Breakers for our commitment to offer best-in-class amenities and services such as our heated indoor swimming pool and personal attention to our resident's needs.
---
Gerry5
September 27, 2013
I visited this facility
I like the location and the friendly atmosphere of The Breakers of Edgewater Beach. The place is very clean and very well kept. The staff talked to me about their swimming, exercise, and Yoga classes. I think they have everything pretty well covered. There wasn't anything that would need to be cleaned up or upgraded. The apartments were very good as well as the staff. I also like that it's close to the lake.
---
Lovely Daughter1
September 19, 2013
I am a friend or relative of a resident
My dad moved in last week at The Breakers at Edgewater Beach. We chose this facility because it is in a good location. It has easy access to public transportation and there is a grocery store right down the street. Aside from the location, I also like the fact that the residents there are always busy. There's a lot of activities going on in this place. The staff members have all been very helpful and everybody is just friendly. My father is very happy and excited to be there. He also loves the food. He said it is like eating in a fine dining restaurant. I think the only thing my father has complained about is that the elevator is so slow. Other than that, it seems like a great facility and it is affordable too!
Provider Response
Thank you for taking time out of your busy day to recognize The Breakers for our wonderful location; our residents love having Lincoln Park outside the door as well as being a short walk from the Lake, and having many transportation options. Our Chef, Paul Gill, brings his vast experience to The Breakers to serve the residents creative and delectable cuisine every day. We are so happy that your father is one of our honored residents and enjoying his new home!
---
Charles14
June 29, 2013
I am a friend or relative of a resident
My mom is at The Breakers at Edgewater Beach and she likes it there. I think the place is fine. The dining room is very good as far as meals. They get breakfast and dinner. They put white table cloth on the tables for dinner. They got a nice selection of fish, meat, and fish entre at dinner time. All the apartments have a small kitchen range and refrigerator, so mom can fix her own meal there. They have nice outings and shopping trips for all the people there. This is a very, very good place.
---
Caring357
June 12, 2013
I visited this facility
The Breakers at Edgewater Beach was a wonderful place except that they're too expensive for me. They had very good food in their restaurant. They provided a lot of things. Their staff were all wonderful and nice.
---
Caring88121
June 07, 2013
I am/was a resident of this facility
I chose the Breakers at Edgewater Beach because it's a fairly large community and it is in the city of Chicago, which was important to me. It's a high rise and I wanted to live in that kind of setting. The people I spoke to were very nice and, of course, it was just within my price range. My apartment is fairly small and simple. It's got one very small, but adequate bedroom, and a very tiny, but usable enough kitchen. I could go in there and cook a meal if I chose to. The bathroom is quite nice, large, and it's going to have a walk-in shower, which is important to me because I can't use a bathtub. The living room is long, a little narrow, but again it's got huge windows with a view of the lake and downtown. The food is excellent. I haven't moved in yet, but I think it will be terrific and I am going to like it there.
---
Mank19
September 17, 2012
I visited this facility
I thought this facility was better than most that I have visited. Although it was quite large, it was not impersonal. The staff took the time to get to know my grandmother, and she got along well with the other residents. The building itself was quite beautiful, and there were rooms for classes that volunteers taught to the residents. My grandmother recovered from a car accident while she was there, and they really made it a lot easier on her. Even though the facility is not in down-town Chicago, it is fairly accessible, and there are coffee shops and grocery stores nearby. It is also close to public transportation and the lake. The building itself has a lot of useful amenities such as dining areas and places to meet with family members. All in all, I think that my grandmother had a very good recovery experience (considering the circumstances), and I think she would definitely go back to the Breakers if she ever had to recover again or if she had to pick a retirement home.
---
commercesd
May 19, 2012
I visited this facility
We visited the The Breakers at Edgewater Beach assisted living facility while searching for a place for our aunt to live in the area. The outside area was very nicely maintained. The foyer was fresh and bright with a very nice decor and furniture. The grounds outside offered easy access for residents, where they can enjoy walking around freely safely each day. We could see that there was also plenty of space to have cookouts, parties and picnics. Communal activity rooms were spacious, with comfortable furniture. The seniors can easily socialize, make crafts, play games, watch TV and films and participate in many other stimulating activities. All of the indoor rooms had plenty of fresh air and light. Each room was beautifully decorated and furnished. The colors throughout the building were soothing and comfortable. The private rooms featured plenty of space in nicely decorated surroundings in a variety of floor plans. All had a great deal of natural light and fresh air with very comfortable furniture. They also offer guest suites for visitors. Seniors can use the exercise room at any time and also go on daily walks. Aerobics and yoga classes are offered, and they also have DVDs available. They also have a convenient salon. The facility can accommodate all levels of ambulation. The residents go on trips to visit the many Chicago museums and art galleries, eat at casual and fine restaurants and enjoy the many other cultural events offered, such as festivals, fairs and music venues. The dining room was quite nice, with plenty of space. The food we saw looked and smelled delicious. The menus all had healthy food options for all kinds of diets. Healthy snacks are offered all day and into the evening, as well as whenever residents request them. The residents here looked very content in their living environment and were well cared for by kind, considerate and attentive staff.
---
From The Breakers at Edgewater Beach
---
The Breakers at Edgewater Beach offers independent living in Chicago for seniors who are able and inclined to live independently, but crave the comfort, security and social opportunity a retirement community offers.
On-call assistance and maintenance-free living means you never need worry about anything but living life to the fullest! Just steps from your front door, you'll find easy access to a fitness center, media room and a wide assortment of activities, as well as special events and regularly scheduled outings into the community.
If you are looking for a vibrant, active place to call home during your retirement years, The Breakers at Edgewater Beach will fulfill your desires. Come visit us and see how great senior independent living can be.
Independent Living Amenities
All utilities included except telephone and cable
Housekeeping and maintenance service
Guest Suites
Individually controlled heat and central air
Scheduled transportation to local shopping and medical appointments
Safety features including smoke detectors and sprinklers
Award winning Wellness Everyday™ programs, provided 7 days a week
Beauty and Barber Shop
Fresh, seasonal cuisine prepared by the dining service team
Dining for Wellness™ - educational and wellness program
Brain Health University™
What Makes Us Special
---
Location: Minutes from Lincoln Park and Downtown Chicago and within a few steps from Lake Michigan beaches___ Views:  Both Chicago Skyline and Lake Michigan views from our apartments___ Value: The monthly service fee and initial community fee rates offer a much lower monthly financial commitment and monthly rent in comparison to nearby "Buy In" communities and Lincoln Park, Lake View, and Evanston Competitors.____ Independence and breadth of choice: The community environment conveys a non - restrictive atmosphere and diverse culture
Features of The Breakers at Edgewater Beach
---
Costs
Minimum Rate:

$1719/month

Fee Structure Extra:

Small Community Fee
Room and housing options
1-bedroom apartments
2-bedroom apartments
Studio Apartments
Features
Beauty Barber Shop
Computer Room
Resident Transportation
Party Space
Garden And Patio
Resident Parking
Features Extra:

Movie Theater
Cleaning services
Private Cleaning Services
Housekeeping
Technology and entertainment
Activities
Offsite Activities
Music
Religious Services
Lectures Discussions
Book Clubs
Wii Sports
Tai Chi
Fitness Room
Yoga
Gardening
Arts And Crafts
Guest services
Guest Parking
Guests At Mealtime
Overnight Guests
Location of The Breakers at Edgewater Beach
---
Get Cost Information
Get full access to reviews, cost information, and amenities