The Clairmont
| Austin, TX
12463 Los Indios Trail, Austin, TX, 78729
Talk to a Family Advisor: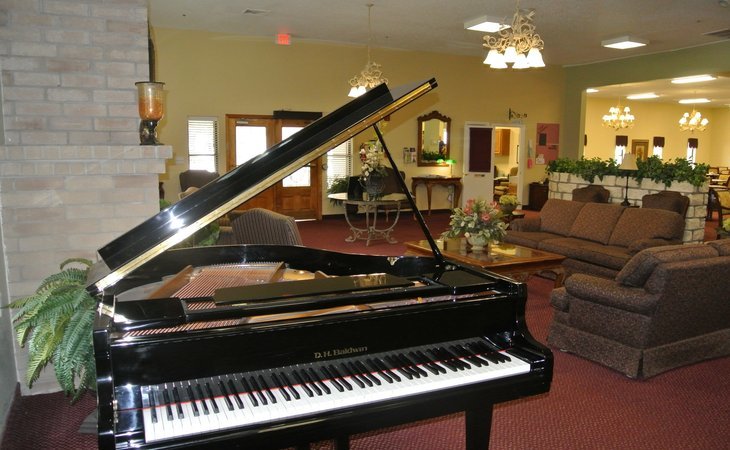 Reviews of The Clairmont | Austin, TX
---
kay-j
May 31, 2017
I am a friend or relative of a current/past resident
My parents lived at the Clairmont for over 5 years. We were very pleased with the attention they received. They enjoyed participating in many activities and made many friends. We appreciate Joanne, the director and all of the staff for making them feel at home.
---
Charles025044
November 23, 2016
I visited this facility
The Clairmont was essentially located in Austin. It had easy access to the freeway and all the facilities. It was right down the street from a hospital, so it was very close by if anything happened. They were doing some remodeling, and the rooms were fantastic. I loved how the rooms were laid out. It was probably the one that cost the least from the ones I visited. The staff seemed great. The one that showed me around was wonderful. She answered all my questions. She gave me full information. She showed me both the one-bedroom and studio apartments. The dining area was also well laid out.
---
PHM001
August 24, 2016
I am a friend or relative of resident
Love the Clairmont in Austin Texas ! My father moved to the Clairmont six months ago after living in the same house in Florida for over 50 years. I visit the Clairmont 4-5 times a week to see my father and to visit the wonderful residents and staff. The onsite health services are a blessing, the food is perfect, and the staff is always available and pleasant to work with. The facility is a bit older but don't be scared off ! The staff quickly fixes anything that is broken, and in the six months we have been there, they have redone the A/Cs, the kitchen, and they are working on the roof. It is a well maintained property. I love visiting the property, and it feels like the day is not complete when I am unable to stop in for a visit.
---
Satisfied Visitor9
March 18, 2016
I visited this facility
We visited The Clairmont. Our visit with them was very pleasant, very helpful, and very useful. Susan, the manager, was very accommodating in showing us around and everything. The facility was very nice. The atmosphere was very pleasant. The staff seemed to be very upbeat and very nice. The entire experience was quite good. If the opportunity came up, I would recommend it to other people.
---
RID
January 11, 2016
I am a friend or relative of resident
My mother has lived at the Clairmont for a year and a half. I cannot say enough good things about the management and the facility over all. My mom's health is failing and the management team at the Clairmont went above and beyond their call of duty to help her and prolong her independence for as long as humanly possible. The current management has made a lot of improvements and renovations over the last 6 months and they continue to improve this facility. Their tireless work and positive attitude has been a blessing. I highly recommend the Clairmont.
---
Carolyn114736450
December 17, 2015
I am a friend or relative of a resident
The Clairmont was lovely. My father-in-law's only complaint is they fed him with a lot of ham and a lot of sandwiches for dinner. They did some tours outside the facility. He occupied an apartment, which is about 350 square feet, with a handicap bathroom and pull strings in case he gets into trouble and can't get out. His door was locked, so people wouldn't go in and out, but they have a pass key in case he has a problem. It had a microwave, a full-size refrigerator, kitchen cabinets, and a sink. Most of the staff were wonderful; they were efficient, polite, hardworking, and they understand their residents' moods.
---
Chief1
December 11, 2015
I am/was a resident of this facility
I have lived at the Clairmont for ten (10) years now. I have seen many Managers come and go and for the most part they have all been good in their own way. The food has been up and down. Overall it has been edible and healthy. Our present Managers are well disciplined and have the philosophy that is needed for this place plus being friendly. They have made quite a few changes that some people have grumbled about. The changes have been for the better of all,in my opinion. Bob USN(ret)
---
Diana48
October 30, 2015
I am a friend or relative of a resident
I had my dad at The Clairmont, and so far, everything is good, except for the quality of the food. They are very accommodating, and I hope they will be improving the food quality.
---
Linda114994850
October 28, 2015
I am a friend or relative of a resident
We picked The Clairmont mainly because it was the least expensive of every other place we looked at. It was nice, and it got the best deal. It's not all that new. It's pretty cheaply made and things break and tend to go wrong a lot, but they eventually seem to get most things fixed. It's not a totally thrilling, luxurious place, but it's alright, and it suits her needs. I really like the marketing woman. They have a lot of activities and my mother is starting to get into them. The food is not that great, though.
---
Caring114040650
October 28, 2015
I visited this facility
I visited The Clairmont. It is all in one level. It was very nice. I did have lunch there, and the food was good. Most of the rooms had a storage area on the patio, which something that I didn't find in any other places, so that was a nice thing. The rooms were nice. Some of them were a little bit small though. Because it is in all one level, you would do a lot of walking there if you're any distance at all from where the dining area is. I didn't see much in activities, but I was there at lunchtime, so maybe there's more going on at other times than when I was there. The person who originally contacted me was not there that day; however, this gentleman was very congenial and very nice, showed us around, and told us about things.
---
Kat8
September 30, 2015
I visited this facility
I liked Clairmont. I thought everything was fine. It was just not affordable for my sister. The staff gave me a tour. They were very helpful. They were absolutely friendly and attentive. Everything was really nice. The rooms were not spacious, but they were not small. I would say they were in a good size. The dining area was clean, bright and well appointed. What stood out to me was the location. It was close to me.
---
bighead
May 14, 2015
I am a friend or relative of resident
My mother-in -law recently moved to the Clairmont. She lived in the same home in San Antonio for over 50 years and we were concerned about the transition. She has told my wife and I she loves it there. For her to make that statement is huge as she is very conservative.The staff there is very friendly and caring. The management makes everyone fell welcome and at home. This means a lot to our family. We find the community to be very clean and well keep. We have had breakfast and lunch with her and find the food to be very good. The nice thing is that each meal you have several choices so your are not force to have something you may not want. I told my wife the other day that I could live at he Clairmont and for eto say that is huge!!!
---
Bacadaughter2
May 08, 2015
I am a friend or relative of resident
We moved my parents to the Clairmont Retirement Community 8 months ago after looking at numerous other facilities and have known from the beginning was HOME! The warm and welcoming feeling from the Management, residents and staff was such a blessing. As with any "home" there is need for update which this facility is currently undergoing to assure the residents continue to have a nice place to call home. As with any facility there have been Management changes but we love the new Managers JoAnn and Carson! Since they have arrived they have had the residents best interest at heart. You can tell when Managers love their residents as these two do! There are no words to express my appreciation to them both as well as to the entire staff for running such a clean, safe and organized facility. The residents feel safe, loved and have lots of choices to fill their days with fun, friendship and fellowships. Thank you JoAnn and Carson for taking such great care of my parents. I highly recommend this facility if you are looking for a place to call HOME!!
---
Truest
May 08, 2015
I am/was a resident of this facility
5/8/2015 i would like to let you know some good quality's about the manager Joanne at The Clairmont in Austin, TX. Joanne keeps calm with the residents meetings. Although, she does enforce the rules of the Handbook. So that we can all respect each other as neighbors. On a more positive note by adding a new fish tank, redecorating by arranging furniture, and pictures. To adding puzzle tables on each residence hallway's. And moving the computer to the Library. Joanne has a positive attitude and her attitudes is contagious. Her happiness is an attitude. Happy or strong. The amount of work is the same. Most of all I have noticed her kindness to all the residence's at The Clairmont. And her attention to detail. We are lucky to have her here at the Clairmont. Thank, you D. Carson
---
CarolDB
May 08, 2015
I am a friend or relative of resident
My parents have lived at the Clairmont for over three years. They love it there! They have always been treated with respect and have made many friends. The past and present management has been wonderful to them! They have a lovely apartment and any maintenance has been addressed quickly. The staff has been wonderful!
Provider Response
It's always great to hear when our residents or family members share their experiences and we are thrilled your parents are still so happy with their decision to reside at The Clairmont. Our caring staff and friendly residents are just a few of the many perks of our all-inclusive community, and it sounds like your parents agree. Please let us know if there is anything we can do to make their experience even better here!
---
AllenG
May 08, 2015
I am a friend or relative of resident
The grounds are well cared for, the accommodations are comfortable and appropriate, but it's the staff that makes Clairmont stand out among the competition; particularly Joanne and her husband Carson. Joanne makes each resident feel special and a part of a supportive community. She's the best. And the food is exceptionally good. You owe it to your loved one to check this facility out.
---
anrod
May 06, 2015
I am a friend or relative of resident
My mother and father moved to the Clairmont when their house burned down. My father recently passed and the management was helpful in respecting her privacy as well as making the move to a smaller apartment painless. As to the long term manager being laid off, I believe she was fired for reasons. I found her uncooperative and the new management seems to be more in tune with the needs of it's residents. I was informed the problem with the feeders related to varmint control and was recommended by the pest inspector. As far as I can tell, the puzzle tables are still at the hall intersections and other upgrades are in progress.
---
Austingirly
May 05, 2015
I am a friend or relative of resident
My mother recently moved into the Clairmont after living in an independent retirement community for 6 years. I cannot say enough good things about the new management and their willingness to "bend over backwards" to help all residents. When we moved in, it was as if my mother's apartment was brand new (really). They replaced the carpet, paint, sinks, shower, all floors, oven, ceiling fan -- the only thing that was not replaced was the kitchette cabinets -- and they were thoughly clean and like brand new. The entire staff is friendly, kind, caring, very hard working, and compassionate -- and they have all gone out of their way to make my mother feel welcome and at home. From the managers, to the wait staff in the dining hall to the personal care givers - to housekeeping -- they all really work very, very hard to provide a clean, caring home for all residents. I highly recommend The Clairemont I could not be happier. My mom
Provider Response
We can not thank you enough for your kind words. Here at The Claimont, we treat each resident as family, and we are happy you were able to experience this firsthand. You can be assured you made the right decision moving your mother here, and if ever you need anything, please let us know.
---
Bisonmom
May 02, 2015
I am a friend or relative of resident
The Clairmont has gone thru some major changes in management. In the past couple of years they have had over 5 or 6 managers. The long term office manager has been laid off. Corporate has a placed a office manager that is making things very hard on residents. She has removed the puzzle tables in the hallways, the benches have been removed and she is removing all the bird feeders. Residents who have their personal feeders on their patios have been told to remove them. We will be moving my love one from this facility soon, He has been mistreated and disrespected by the manager, Since he pays his rent on time, she has no reason to treat him this way. I would not place a loved one here at this time.
---
Mary2855
August 28, 2014
I am a friend or relative of a resident
My mom is at The Clairmont. We chose this community because of the price, it was probably the best we found. Plus the facility is very clean, the people are friendly and the little apartments are adorable. In terms of activities, my mother hasn't really participated in anything yet, but she did just sign up for scrabble and she is going to see a movie. They do have some cooking facilities for them too. Also, the doctors are able to come and make house calls, which is great.
---
Hal3
June 26, 2014
I am a friend or relative of a resident
We have my dad in The Clairmont. My wife's grandmother was there. They take care of them. They offer food there, and the price is nice. The rooms are nice. They come and clean them once a week. The staff has been great. They're very helpful. My dad attends poker, cards, and dominoes and watches the movies they play there.
---
hcbush
November 15, 2013
I am a friend or relative of resident
Mom has lived at The Clairmont for 2 years now. She has all she needs for a wonderful life here and since I am close by I can keep up with the quality of care and the facility. The staff are wonderful and the facility is an older, very well maintained treasure - and the pricing is exceptional. We have no complaints and highly recommend this community to you for your loved ones!
---
Beyda
September 23, 2013
I visited this facility
It was nice but too worn out, dark and very gloomy. It wasn't taken care of. It was an old facility. However, the staff was very friendly. It wasn't something that my mom and dad would appreciate.
---
Former Nurse
August 13, 2013
I visited this facility
I visited The Clairmont and I would stay there if everything went well. I chose it because the marketing director and live-in managers worked there for a long time, unlike in other places where there was a tremendous turn-over. The marketing lady had been there for 17 years and the live-in manager I met lived for 20 years, and that was remarkable. I also talked to some of the residents. Everybody seemed quite content and happy with what was provided like the housing, food and approach of the people. They had exercise everyday, provided a variety of church services, transportation to medical appointments, grocery and banks; there were also outings if you cared to go. They also had wi-fi, wii exercises, veterans club, cooking and a computer room. It was a very nice facility and I was very content with that place.
---
ferngully
June 30, 2012
I am a friend or relative of a resident
I thought the place seemed nice enough. Living space was ample. My grandmother seemed to have everything that was important to her and didn't need to give up much. The staff seemed to be competent and available. Common facilities were clean and engaging. Food service was enjoyable for the most part, on par with a Luby's, which she really enjoys. There were plenty of opportunities for socializing and ways to avoid others if need be. My grandmother seemed to enjoy her stay much more than I expected. She likely would have stayed longer if it weren't so expensive. She was able to leave for day trips whenever necessary. Their facilities provided ample assurance to my family that she would be cared for and attended to no matter the situation. We felt safe with her there. Seemed to be the sort of place I wouldn't be too fearful of entering myself one day.
---
emrfd
November 05, 2011
I am a friend or relative of a resident
My client's mother lived at the Clairmont, and I worked with her for a few months after her accident (physical therapy). The Clairmont is a smaller assisted living community that has friendly staff and decent amenities. Housing units are cozy (though somewhat on the smaller side) and nicely laid out. They have an emergency call system, which is very handy so that you're notified about falls. The community offers studio units and one bedroom apartments. The Clairmont has a large number of exercise and wellness classes which are great for client rehab. My client's mother enjoyed the group outings to gardens, libraries and other community events. One of the best aspects of the Clairmont is its affordability. Residents are not required to "buy-in" to the community, which saves money in upfront fees. Food seems to be decent - I've had better, but my client's mother never complained. If you're looking for a smaller retirement community with genuinely caring staff, then the Clairmont would be a solid choice.
---
---
We have studio, one and two bedroom units available. No long term buy-in is required, and all amenities and utilities are included in the month-to-month rent. Our retirement community amenities include three delicious chef-prepared meals each day served in our gracious dining room, bus service, and housekeeping service, guest rooms, a library, and on-site postal service. These are just some of the features offered at The Clairmont.
What Makes Us Special
---
Ask about our Sunshine Travel Program - Our unique travel program gives you the chance to explore 16 cities in 7 states. Have a Question, Concern or Comment? Welcome to your Sunshine Community, Meet Mr. Sunshine. Ask about our unique Sunshine Wellness Program
Features of The Clairmont
---
Costs
Minimum Rate:

$1695/month

All Inclusive Rent
Fee Structure Extra:

We Offer A Month To Month Rental
Room and housing options
1-bedroom apartments
2-bedroom apartments
Studio Apartments
Dining options
In Room Kitchens
Dining Room Shared Meals
Features
Beauty Barber Shop
Computer Room
Resident Transportation
Party Space
General Store
Tv Room
Garden And Patio
Resident Parking
Features Extra:

Library, Fitness Room/Gym
Cleaning services
Private Cleaning Services
Housekeeping
Technology and entertainment
General
Minimum Age:

55+

Pets:

Small Pets Allowed
Location of The Clairmont
---
Get Cost Information
Get full access to reviews, cost information, and amenities