Manchester Lakes Senior Apartments
Talk to a Family Advisor: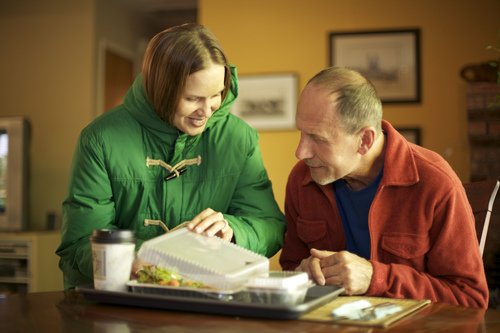 Top nearby Independent Living Communities
Reviews of Manchester Lakes Senior Apartments
---
Lilian4
December 26, 2015
I am a friend or relative of a resident
My mother is already in Manchester Lakes. She has been there since November. The environment is just great. They have pretty much everything that a senior citizen needs right on the premises. They also provide transportation outside of the facility, so it is working so far. She is living in an apartment. It is big, and it has two bedrooms.
---
Caitlyn
July 17, 2015
I am a friend or relative of resident
WOW! My parents can't stop talking about this place. They moved in a little over a year ago and it was time to renew the lease last month. So we sat down and talked about if they wanted to stay here or not and the answer was a definite yes. The other complex they lived at before was cranking the rent up on them and the conditions were not the best. They moved into Manchester last year and couldn't be happier. We're so happy with Manchester and recommend it to all of our friends with aging parents.
---
Cody42
July 16, 2015
I visited this facility
My family and I began looking for a senior home for my mother-in-law. Yesterday, we came to Manchester and were very pleased. I'm happy to announce that we'll be moving my mother in early August. The atmosphere was great, the apartment large and clean and the staff extremely friendly. They gave us a guided tour and took time to answer all of our questions. Very pleased with the experience!
---
denisehastings
July 06, 2015
I am a friend or relative of resident
Wow, where to start...we found Manchester about 5 years ago when looking for an apartment for my mom. She's lived here ever since then and I have been relieved to know she's at a great community. I feel good knowing she's somewhere safe, clean and responsive. Her apartment truthfully, is nicer than mine! The staff is kind and one time I couldn't get ahold of my mom. I rang the staff and they went to her room to check on her for me. Turns out her phone was just off the hook, but it was so nice knowing that the staff there is so helpful. What a relief! Definitely recommend this complex.
---
georgetank
July 02, 2015
I am/was a resident of this facility
I had an issue when I first moved in where my sink was leaking. The maintenance man was at my apartment within a half hour and working away. They had to replace a pipe or something kind of intensive. The worker was so nice and worked so hard solving the problem. He worked for a few hours and made sure everything was perfect before leaving. A day later he called me and made sure everything was still working perfectly -- which it was. I've never lived anywhere that took such care of their tenants. It really impressed me and it's a major reason why I really like living here.
---
bryceboy77
July 02, 2015
I am a friend or relative of resident
We moved my aunt and uncle into this apartment about 2 years ago. The complex is very nice and they seem to really enjoy it. They are always raving about all the different things they're doing with all of the friends they've made. It's nice to know that my aunt and uncle are enjoying themselves and like where they live -- takes a load off our mind!
---
AlMars
June 30, 2015
I am/was a resident of this facility
What a change over the last place I lived at! I was living at a different complex about 6 months ago. The other complex was dirty, no activities and maintenance took forever. Since moving into Manchester, life has been so much better. I know I annoyed my family with all the hassle of moving, but I am so much happier here. Even though it's only been a few months, I've been able to already meet friends and the staff is so warm and welcoming. The cost is also cheaper than the other place, even though facilities are so much better!
---
JenHolder
June 27, 2015
I am a friend or relative of resident
I have my uncle here at Manchester Lakes for almost a year now. They have been a dream come true for me and my family. From the friendly owners to the caring staff that assist with everything needed, my heart goes out to this facility with tons of praise.The exercise programs is probably the best part of the community, ensuring that my uncle and all the other residents get basic exercise and calisthenics to support their muscle memory. Thank you from the bottom of my heart.
---
FrankDub
June 26, 2015
I am/was a resident of this facility
I moved in here at the later half of 2013 after a long search for a quality senior living apartment complex with my family. So far, I have no complaints and it's been a very nice place to live. The rooms are very well done and the staff extremely helpful. Living here has been so much easier and enjoyable than maintaining a house, like I did before.
---
GeorgeLucero
June 25, 2015
I am/was a resident of this facility
I've been living at Manchester now for almost 3 years and I have zero complaints. The facilities are clean and well maintained. My apartment is very luxurious and I'm really lucky to have found this place. There is a lot of activities that I can get involved in and I've made a ton of friends over the years. We all do stuff together and have become a very tight group of friends. I would definitely recumbent Manchester to other people.
---
michaelf53
June 24, 2015
I am a friend or relative of resident
I'm so glad we found this complex for my aunt. She was in a place where she totally had her wits about her but the house she was living in was way too large for her to handle by herself. So we searched for senior living facilities that allowed her to maintain her independence while still having some care. Manchester has been a blessing and she's so happy here. There's plenty of activities to participate in and she has made a bunch of friends. They all look after each other, which is exactly what I wanted for her. The apartments are clean, spacious and luxurious. This has been a great complex for our family and we suggest it to anybody else.
---
marcyb
June 23, 2015
I am/was a resident of this facility
I have lived here now for a year and it has been great. After my husband passed away about three years ago, I knew it was time to leave my large home and move in somewhere that was more manageable. I looked at a variety of places with my son and daughter and we decided on Manchester. My apartment is really nice and there is a ton of actives for me to participate in. It's also really nice being able to hang out with others...makes it all less lonely.
---
JasonDaniels
June 19, 2015
I am a friend or relative of resident
My parents have lived here for a little over three years now and they couldn't be much happier than a clam! There's a ton of actives here for them to do and they've made a ton of friends that they can do those actives with. The apartments are spacious and clean -- which is much different than some of the complexes we visited a few years ago! Also, there's a theater room (so awesome) and washer/dryers on site for $1.00. The rent is much cheaper than other places in the area, which is a great plus.
---
SaraThompson
June 01, 2015
I am a friend or relative of resident
The moment my father and I first stepped foot on the Manchester Lake Townhouse Apartments, we both knew that this would be his "Home". With the billiard room, a theater, and two state of the art fitness centers, he was instantly hooked! With a couple different floor plans, they all had a private patio/balcony, electric gourmet kitchen, plush wall to wall carpeting and some paid utilities. Couldn't be happier especially with a staff that is so loving and treats you like family. Each week he challenges me to a game of billiards, which I always let him win. :) Thank you.
---
megank
June 01, 2015
I am a friend or relative of resident
I volunteer to visit seniors after school and help them out, read their mail, just talk, etc. I get to see a bunch of different senior living places because of my volunteer work. Manchester is by far my favorite place because it doesn't feel like a senior place. It smells good and it has a luxury feel to it. The apartments are clean and well kept and the staff is always very friendly to me when I'm visiting. I haven't heard any of the seniors I volunteer for say anything really negative about Manchester. I'd feel comfortable sending my loved one here.
---
Porks
May 28, 2015
I visited this facility
After the recent advertising we saw, we decided to visit Manchester with my mother and it looked nice. Staff greeted us right away, tour was nice and there is lots for seniors to do it looks like. Place was clean, rooms were big, amenities nice. The gym was great!
---
Williamboy
May 26, 2015
I am a friend or relative of resident
We came here yesterday to spend Memorial Day with my grandfather and really enjoyed our time here. This was my first time visiting the apartments and I was glad that my grandpa was enjoying it. My parents had told me that he liked it here, but it was nice actually seeing it in person. The rooms are spacious and luxurious -- better than my own apartment! Everything seemed really clean and the staff was pleasant and friendly.
---
Mants
May 24, 2015
I am/was a resident of this facility
I was a resident of this facility about 6 months ago and liked it here. Unfortunately, I needed more care than assisted living now and so my daughter and son-in-law moved me in with them. The staff was very nice and helpful to me and my room was always clean. I made a lot of good friends here during my 3 years at Manchester and I was sad to to leave it. I would suggest this place to other seniors in a heartbeat.
---
MichaelC
May 23, 2015
I visited this facility
We toured this place recently for my step-mother who will be released from the hospital shortly. She is unable to live by herself once released and so we had to find a good senior living community for her. Manchester seems to be one of the best places around, the staff was friendly to us and ultimately we will be choosing this facility once mom is released. We're so happy that we finally found somewhere that we can trust!
---
Mandybear
May 22, 2015
I am a friend or relative of resident
My father lives here and after almost a year, he has a lot of positive things to say about this place. Whenever we come and visit him, the staff is nice and everything smells good. As bad as that sounds, senior places can have a hospital smell to them, but not here. There's plenty of people for him to hang out with and we're happy knowing that dad is happy.
---
Ryan42
May 21, 2015
I visited this facility
I toured the facility about a week ago with my mother and we were very impressed. The staff was very nice to us and took their time showing us around, explaining the activities offered and the costs involved. It was great having them spend a few hours breaking everything down and at no time did we ever feel rushed. We have one more tour of another facility but at this time, Manchester is our top pick.
---
MaxwellWarner
May 20, 2015
I am a friend or relative of resident
We moved my aunt into here a few months ago and so far everything has been great. There is an abundance of activities for her to participate in and I just got a good vibe from this place. The staff is friendly and whatever issues may have existed previously must have been resolved because we've yet to encounter anything negative.
---
JasonAntum
May 19, 2015
I am a friend or relative of resident
We found this place for my grandmother after an EXHAUSTIVE search. It's so sad that there's such a lack of quality homes for seniors in the area. After the tour, we felt really good about this apartment and after some decision making, moved her in. She's been happy here ever since and it's been a little over a year now. Really great staff and a pleasant experience all around.
---
Herc
December 08, 2014
I am a friend or relative of resident
My mother has lived here for 7+ years and since getting sold the property management has gone totally down the tubes. I was over there yesterday to look after some things at my 92-year old mother's apartment - they now have RATS and some residents have been bitten. The roaches are running amok. no matter who I call or how often, calls are not returned and nothing is done to correct things like this or simple maintenance issues. Yet the rent goes up year after year after year. This is a crime and needs the attention of the authorities.
---
DLT8
September 30, 2014
I am a friend or relative of resident
My mother has been living at Manchester Lakes Senior Apartments for almost 3 years. Since the fall of 2013, when T. the manager left, the facility declined sharply in its cleanliness, safety, security, overall management, etc. There are mice in the apartments Manchester Lakes Senior Apartments, and though at first, last year, one was surprised to see an occasional mouse, now, the residents are known to have mouse droppings in their microwaves and on their counters. The situation has progressed now to rats, and last week, one of the elderly residents was bitten on her chest by a rat. The rodent situation is likely due to the trash compactor system which is more often not working and so trash builds up so high in the garbage rooms that residents are unable to deposit their trash without adding to the piles which have been known to raise up to five feet or more. Often, the trash overflows from the garbage rooms sometimes into the hallways. Security is weak at best. There are no working lights outside at night. Passers-by get into the building via side doors which, back in 2011, only allowed entry via code. There have been several break-ins and residents are having intruders knocking on their doors after mignight. One resident recently awoke at 2 in the morning to have an intruder standing over her bed. When she screamed, the intruder ran away down the hall and out of the building. Residents can be without heat in the winter, and without air conditioning in the summer because the sole maintainence man couldn't keep up. Now there is a second maintenance persona, however, they remain completely overwhelmed between the repairs and calls from the two buildings. The facility has been unable to keep a manager longer than a couple of weeks, and, when you call the management company, JRK Property Management Services by JRK Residential, if you are fortunate to actually speak to someone, they put you off as if it weren't their concern. All this as the rent has been raised to the point where a one bedroom studio in now $1162.00, and rising. Clearly, this is not a facility anyone should recommend. Action needs to be taken...however, who is listening to these elderly citizens. All too often, it is someone else's job or someone else should be called...only to have the resident stay on hold for a concern that will never be answered.
---
jscichil
January 28, 2014
I am a friend or relative of resident
I would not recommend Manchester Lakes to anyone. My m other has lived there for 7 years now; ever since ownership changed, their attention to fixing things has dropped significantly. For the second winter in a row, my mother is constantly losing her heat. They do not clean the sidewalks anymore after bad weather; many residents have dogs, like my mother, and she cannot walk her dog (I have to take the dog to my house until the sidewalks melt). Nor is the parking lot clears. Her garage door has been broken for over a year and we've reported it twice to no avail. No one ever answers the phone in the office when you call during the day, and when you can finally talk to them in person, they do not have answers and truly act like they do not care. We are so disappointed because the apartments are nice and large compared to others and in a good location. I did not want to give them any star rating at all.
---
kga
January 27, 2014
I am a friend or relative of resident
Do NOT move in here. My parents moved in approximately 7 years ago. Due to their age we cannot move them out at this point, but wish we could. The management does not care at all about the residents. The heat goes out regularly, and the water goes out at times as well. In inclement weather, they do not have the parking lot plowed, nor the walks shovelled. They do not have ramps at all exterior doors, and most residents use walkers. There often is no one in the office to take your concerns to. They cannot keep maintenance men employed; my guess would be due to low pay. Hence problems in the apartments go without resolution for too long. The weekly grocery shopping trips have gone from weekly, to twice per month. Due to the calendar, this sometimes means the residents have to go THREE weeks without a visit to the grocery store. And don't even THINK of parking in the parking lot if you go to visit your relative; you WILL BE TOWED.
---
Joseph19
September 28, 2013
I visited this facility
Manchester Lake has been referred to me and I like the facility very much. The people are extremely nice and I would really love to be in there. They have many activities like they go to shopping. The people who lives there looks quite happy.
---
About Manchester Lakes Senior Apartments
---
Manchester Lakes Senior Apartments is an independent living community in Alexandria, VA designed for seniors, normally 55+, who are able to care for themselves and wish to live independently. Contact Manchester Lakes Senior Apartments for more details on housing, services, and rates.
Location of Manchester Lakes Senior Apartments
---
Request Info
Get full access to reviews, cost information, and amenities