Francoise (Frances) Desneige Marquis, 101: There's Just So Much to Do!
Secrets of a Long (and Happy) Life From People Over 100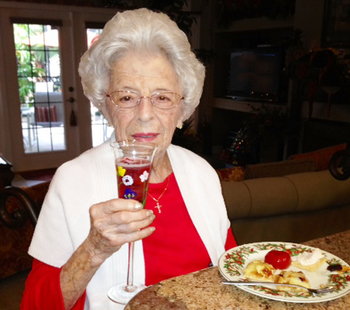 All Rights Reserved
"I have my personal time to reflect and pray each day."
Francoise -- who normally goes by Frances -- says her key to getting through life's tough times is to trust that what will be, will be. "I try to hold on to the good times," she says. "I have my rosary I keep next to my bed, and I sit in the same rocking chair I've had since my first child [which she lost]. When I rock and reflect, I get a sense of peace. . . . You just have to move forward. That's all any of us can do."
"Be with good company -- and eat well!"
Frances makes it a point to exercise every day. She does lots of housework and she loves to dance. What's her secret for making it to 101? "You just have to stay busy." She also enjoys an afternoon treat: "My coffee-syrup and milk [a Rhode Island tradition]. It's like a coffee-shake."
"I wake up each day and just get busy."
Frances still enjoys the occasional sweet, but one of her secrets to staying so healthy is that she eats her heavier protein-based meal for lunch and enjoys a light chicken soup and fresh bread in the evening. Her daughter, Michelle, makes the soup ahead of time and freezes dinner-size portions. "My mom is one of the healthiest eaters I know," Michelle says. Michelle also makes sure to pamper her mom. "I do her hair twice a week, and I apply a little make up before we go out. She gets all the latest face products. It makes her feel pretty, and I'm glad I can do that for her."
The best thing about turning 100?
"That I can still walk around and do whatever I want. I even danced at my birthday party!"
"I don't have any regrets!"
"I grew up in Canada, just outside Montreal. I had 10 brothers and sisters. My sister is 102. We moved to the U.S. when I was 12. I married at 29 but didn't have children for 10 years. We lived in Rhode Island, and now I'm with my daughter in St. Augustine, Florida. It's beautiful here. I played tennis for years, and we used to all jump into the back of a pickup truck and go dancing every Saturday night. I've had a good life."
Centenarians' Secrets | Find In-Home Care Near You | Meet Dona Rosa, 103
Comments
---
over 5 years,
keep it up !! may GOD bless you with many many years of joy and happiness !!!
---
over 5 years,
god bless its such a proud living u have and a great inspiration
---
over 5 years,
Taking time to dance - how could anyone go wrong living like that? Love this.
---
Stay Connected With Caring.com
Get news & tips via e-mail
---