Caregiver: Selena B.
A Caring Champion 2013 Nominee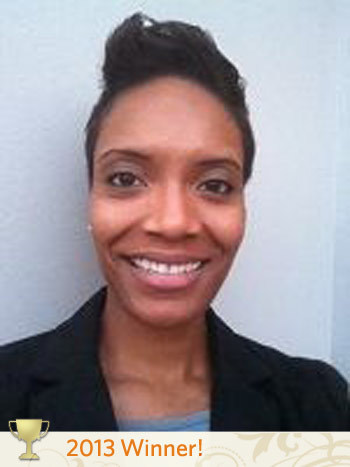 Employer: Rest Assured Nursing, Inc.
Location: Marina Del Rey, California
Inspiration for this Nomination:
At Rest Assured Nursing Inc., we were inspired to nominate Selena as a Caring Champion because of her truly dedicated, warm-hearted and compassionate care she has provided throughout the years to our senior community. Selena started as a caregiver at a young age, when she cared for her grandmother. Which is very commendable because it really takes a true, genuine, selfless, kind and generous person to realize that our seniors need our help during their aging process. Being able to realize that and to give up her time to do so at such a young age is very inspiring. Sometime after caregiving for her Grandmother she decided to serve our country in the United States Army from 1998 to 2002. Being a caregiver is truly in her blood and is what she was meant to do in life because after the Army, she came back to servicing our senior community. Selena is the definition a true Veteran and Humanitarian for our country as a whole but most importantly for our senior community.
Caregiver's Best Skills and Attributes:
What makes Selena a Caring Champion? What are her key strengths? Well let me you"¦
Selena is able to quickly bond with her clients on a personal level. She becomes their friend very easily, which is an extremely rare, important and valuable personal trait to have. She not only cares for her clients when it comes to assisting them and their health but she supports and encourages them by always having a smile on her face no matter what may be going on in the client's life or her own. Her willingness to always be a team player and adjust her schedule always amazes us at Rest Assured Nursing Inc. She is truly dedicated in her job and believes that whatever the client needs she will give 100% to make it happen.
Feedback About This Caregiver:
From every senior and family she assisted and co-worker she has worked with, we have received the same outstanding, positive praises in regards to the quality of care she provided. Rest Assured Nursing Inc. is owned, operated and provides Care Management Services to each client by a Registered Nurse. Each Registered Nurse is always confident with Selena's abilities and judgment when it comes to providing quality, personalized, one-on-one care that our clients need and deserve.
More About This Caregiver:
All of us are reminded every day of how special of a person she is because of what she does for our senior community. We have learned from Selena what the definition of a veteran and true humanitarian really is.
Selena truly deserves this award because after the military she realized that there was a tremendous need in our nation to help our senior community. Just like she noticed our nation's need for people to stand up for our freedom and decided to join the United States Army. She learned loyalty, commitment and dedication while in the Army. When she realized this need, she made that same commitment to provide the most compassionate and genuine care to our seniors and she has always upheld that commitment. Serving our nation has been just as meaningful and fulfilling to her as servicing our seniors. She serviced our country in the US Army and she continues to do so in a more one-on-one intimate setting, one senior at a time. She couldn't be happier servicing our senior community. Some people were born to really have the love and drive to succeed as a caregiver and help our senior community by providing nothing more than the best care possible"¦Selena is one of those people.
Read More Stories
|
Find In-Home Care
| Hire This Company:
Rest Assured Nursing, Inc.
---
Stay Connected With Caring.com
Get news & tips via e-mail
---