Caregiver: Joseph O.
A Caring Champion 2013 Nominee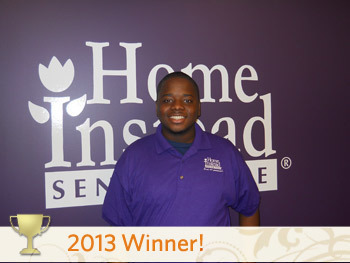 Employer: Home Instead Senior Care
Location: Huntsville, AL
Inspiration for this Nomination:
Joseph is an encourager. He is well-educated, professional, and a born leader. He accepts all assignments with enthusiasm because he knows every senior he meets is going to teach him something. He is a NEW GENERATION of Caregiver.
Caregiver's Best Skills and Attributes:
Joseph said the biggest key to his success is patience. " You can hurt people's feelings when you come in with a sense of urgency. People don't like you to rush in. They want to see that you are taking your time, and you're happy to be there. I WANT to be able to go in there and light up the room. I can say that I have done my best work when I have been patient. When you start with patience, everything else falls into place.
Feedback About This Caregiver:
The wife of a client with ALS (Lou Gehrig's disease) calls Joseph her lifesaver. " We really look forward to seeing Joseph each week. He is a bright light in our lives. Joseph never complains about any of the tasks he is asked to do for us. I have serveral joint injuries that make it impossible to take care of my husband myself, and having a caregiver like Joesph makes all the difference."
Another client's family member stated that the first time Joseph came to her home he asked, "do y'all hug". She responded, of course we do now get over here and give us a hug. Since that day, he has never left their home without giving each of them a hug at the end of his shift.
Clients say, "He's not my Caregiver, he's my friend." Joseph tells all his clients, when you need to call someone, I WANT you to call.
More About This Caregiver:
Home Instead Senior Care franchise owners describes Joseph 22, as the ' New Generation of caregiver". He is driven to work with seniors. Joseph is responsible, committed, and devoted to every client he meets. In approx. two years with Home Instead, he has logged over 2800 service hours.
Joseph O., fresh out of high school, knew he wanted to serve seniors. He became a certified nursing assistant, only to discover the facility that offered the CNA classes and guaranteed employment for graduates had entered a hiring freeze. He would not allow that to derail his dream.
Joseph enrolled in a college program in Huntsville, Alabama and saw a recruiting fair flyer posted by Home Instead Senior Care. This, he thought was his opportunity to serve seniors. He arrived at the office the next day, with his unfaltering energy, determination, and smile. Two days later he began orientation to start his career as a caregiver.
Read More Stories
|
Find In-Home Care
| Hire This Company:
Home Instead Senior Care
---
Stay Connected With Caring.com
Get news & tips via e-mail
---