Caregiver: Eve B.
A Caring Champion 2013 Nominee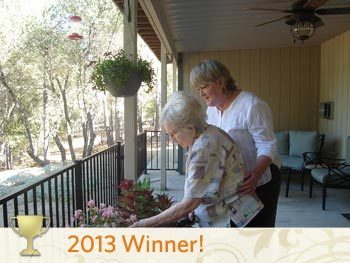 Employer: Seniority Lifecare at Home
Location: Sonora, CA
Inspiration for this Nomination:
In an organization where all the caregivers strive for excellence, Eve just naturally stands out as the role model for what this profession is all about. Eve is awesome. She is caring, compassionate, has a huge heart and makes all of her clients feel special and like they are the only person in her world during the time she is with them. She goes above and beyond for her clients, staying after hours to help with something, paying attention to the things they like and bringing movies, etc. with their favorite actors in them or that may have a sentimental meaning to them. She takes extra special care in her clients when cooking for them.
Another example of her going above and beyond is when she walked through feet of snow to get to a client's home in the huge snow storm and staying 3 days in a row with him, when she normally does not do 24's, to make sure he was not alone. She had to melt snow in order to have any water and she had to cut and bring in load after load of wood for heat.
In every home she has been placed, she has won our clients heart. Sometimes via their stomachs because her cooking is superb, preparing meals for each client like they were a close family member. We have heard so many compliments from clients about the amazing foods she serves, her attentiveness to personal care needs, and her overall ability to make you feel at ease when she's around. She is always going above standards as her heart drives her. Eve always speaks highly of our clients, even when we know of the difficulties she has faced with some of them. She has a naturally caring and compassionate spirit and remains so humble of her efforts, so many times putting her own life aside to help another.
Caregiver's Best Skills and Attributes:
Eve's biggest strengths are her caring and compassionate ways with her clients, the heart that she has for care giving and also being an amazing employee of the agency. Often stepping up to cover any shift regardless of if it is within her availability or not. Mainly she does this because she cares for the clients and wants to be there for them, but also to be an outstanding employee.
Clients rave about Eve's cooking, saying that she can whip up anything that their hearts desire and then some. They say that she provides the utmost care for themselves or their family members, often treating the clients as if they are her own family member. She does special little things for the clients, making sure to cook their favorite meal or bringing them a birthday card or just a thinking of you card to make them feel special.
Feedback About This Caregiver:
We have so many communications from clients regarding Eve that they would fill a book but this is one of my favorites and just says it all.
"If even half your staff was as competent and excellent a caregiver as Eve, you wouldn't have a care in the world. She treated our home with as much TLC as her own and cared for my wife as good as she would her own mother. She would go all out in so many ways and her cooking was the best! I can't say enough about her that describes my gratitude." -Leonard R.
More About This Caregiver:
Eve is always willing to share her experiences, knowledge and expertise and we regularly use her as a mentor for new caregivers. She is always interested in learning from others and participates in our training programs with enthusiasm that is contagious.
But probably the most important thing that we have learned from Eve is that there are still people out there who extend themselves further beyond their own personal being to be there for someone else. There are still those out there that have the heart to take the time with our elderly and make their quality of life just a bit better.
We could go on and on but we have said what most exemplifies Eve and the positive influence she has had on everyone fortunate enough to cross her path. One of the most endearing things about her is that she really doesn't see herself as being anything special. She just is what she is!
Read More Stories
|
Find In-Home Care
| Hire This Company:
Seniority Lifecare at Home
---
Stay Connected With Caring.com
Get news & tips via e-mail
---