Caregiver: Charity N.
A Caring Champion 2013 Nominee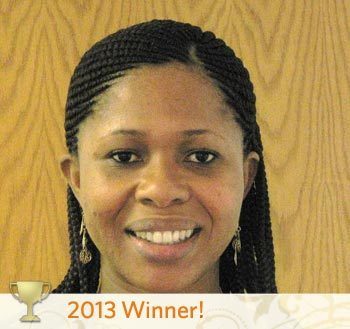 Employer: Homewatch Caregivers
Location: Northbrook, IL
Inspiration for this Nomination:
"One person caring about another, represents life's greatest value." - Jim Rohn
Born in a small mining town in West Africa, Charity learned at a very early age what it meant to cherish and embrace God, family & friends. By the tender age of 11, Charity played a major role managing her home and caring for her 12 other siblings. In a time where there was no internet, video games, or even a TV, Charity states, "We had no other choice but to use our gifted imaginations and have fun with the simplicity of life." Charity recalls, with a profound fondness, a favorite childhood memory in Africa - molding cans that were found in the street, and creating a vast array of toys to include race cars and beautiful dolls.
Raised in a very strict household, Charity's father, a prominent Doctor in Ghana, had big dreams for his little girl. Those dreams included shipping his tenacious daughter off to boarding school to become a Nun. Within a remarkably short period of time, with crystal clarity, Charity soon realized that the Nun lifestyle was most definitely not for her. To make sure her point was widely known, with undaunted boldness, Charity took great pleasure introducing the uneasy Nun's to her latest suitor.
At the vulnerable age of 18, Charity heard destiny calling. While working in a London hospital, Charity had a life-altering encounter with a woman that came in for a routine check-up and left with a grim diagnosis - she was given 1 week left to live. 1 week. Charity was utterly transformed by the realization that life truly can change in the blink of an eye. For the next week, Charity was glued to this woman's side. She was vigilant about providing heart-centered care to her new friend. Within days, the woman that left an everlasting footprint on her heart, would take her last breath, in the compassionate, loving arms of Charity. It was through this experience that Charity realized this was it. This is what her life purpose must be - to make a paramount difference in the lives of others.
I think we can all unanimously agree that all nominees for Caring Champion radiate a kind, caring and compassionate demeanor. However, the Caring Champion not only encompasses those characteristics, s/he has the ability to create a lasting legacy with their clients and their families. Charity does just that. She leaves a forever mark on the heart of each person she interacts with. When a client's dying wish is to have Charity by his/her side while they prepare to leave this life, you know you have an incredibly special champion who cares.
Caregiver's Best Skills and Attributes:
"The great gift of human beings is that we have the power of empathy." - Meryl Streep
A new study suggests simple displays of empathy by a medical provider can help improve medical care.
Researchers found that clinical empathy enhances patient satisfaction with care, and motivates individuals to adhere to treatment plans.
The study is published in the Canadian Medical Association Journal (CMAJ).
"Empathy is the ability to understand another's experience, to communicate and confirm that understanding with the other person and to then act in a helpful manner," writes Dr. Robert Buckman. "Despite some overlap with other compassionate responses, particularly sympathy, empathy is distinct."
With a brilliant smile Charity states, "Without question, my very best skill would be the level of empathy I feel when I am entrusted to the care of another human being. My belief is empathy is the #1 core characteristic of an excellent caregiver. I am often questioned if this is inherent within us or is this something which can be learned?" "I tend to believe it's a lot of inherent and a big mix of environment. I also believe there are degrees of empathy. Some can empathize more than others. If you can totally put yourself in the place of who you are caring for, you will do nothing but provide excellent care." "The question is always how would I want to be treated and taken care of under these circumstances? If that is the core basis for how you provide care, you will provide caring, compassionate, and dignified care with a great attitude."
To Charity, caregiving is a calling, definitely not just a job. Caregiving is a very rewarding, yet complex vocation, with both gifts and challenges. Charity views caregiving as very sacred work and has proven numerous times that she possesses the skills and qualities necessary to be a professional and heart-centered care provider.
Feedback About This Caregiver:
"Everybody dies, but not everybody lives. I want to make sure they live." - Charity N.
With a gleam in her eye, the daughter of one of Charity's clients states, "Charity has a deep understanding and embodies the true and sacred nature of this work with a deep knowing and awareness of the many challenges that arise when individuals and their families are confronted with the aging process."
In an unsolicited letter we received from the son of a hospice patient Charity cared for, he states, "Charity is a person who exudes love and compassion in all that she does. Whether it's engaging conversation, the way she encourages and motivates, or just the way she looks at you, you can just FEEL that she cares. Additionally, she is a woman of strength, confidence, integrity and a true self-starter. This is a rare and special combination that is truly a testimony to who she is and how she has been a blessing to our family."
Debbie, the daughter of another client, recalls how Charity helped her newly diagnosed mother with Alzheimer's. "It is extremely difficult to watch a loved one decline as dementia ravages their mind, robbing them of their of memory, thinking abilities, and judgment." Debbie goes on to say, "Even before my mom was diagnosed with Alzheimer's disease, her increasingly challenged condition was a very emotionally painful situation for the entire family. We never wanted to have live-in care, and mom particularly felt like it was a violation. We struggled with many caregivers that for one reason or another seemed to make the situation even harder to tolerate. Then, we met Charity and everything changed. Everything. Within a couple of days, my mom was cheerful, motivated, eating nutritious meals, and generally improving in mood and demeanor. When we would rotate to a different caregiver on Charity's days off, mom immediately regressed. Charity's very presence is a source of joy and comfort to my mom. Charity views her work as a ministry, and brings a level of hope that only comes from the Lord. It's truly beautiful to see. She listens to my mom and understands how to encourage my mom in ways that my mom embraces. My mom often mentions that Charity "just understands her." That is so awesome to hear."
"Beyond the emotional impact Charity has had on my mom, Debbie said, she works very hard. Where other caregivers might need to be asked to do something, Charity thinks of it before we do and it's done before the thought even crosses our mind." "She is an exemplary employee for Homewatch Caregivers who is loved and adored in her community. My mom looks forward to seeing her and misses her when she is gone. That speaks volumes since mom really loves her independence!"
More About This Caregiver:
"It's kind of bittersweet. The human spirit is not measured by the size of the act, but by the size of the heart." - Yakov Smirnoff
Charity states, "Over the past twenty years of being in healthcare, I've tried to embrace two types of treatment--treating the physical ailments of the human body and compassionately treating the emotional side of the human spirit. I firmly believe that you can not heal one without the other."
Charity goes on to say, "I thought I understood how important both were years ago, but it wasn't until I cared for the elderly, that I really understood the importance of treating the human spirit."
With a passionate zeal for caring for others, Charity states, "I try to apply everything I learn from my patients into my personal life. I try to take nothing for granted. No matter how long you live, it is always not long enough. As stressful as my job can be, I have been privileged and honored to be invited into the lives of my patients at what might be the most vulnerable time of life. They have all enriched my life in ways most people do not get to experience. It is amazing to watch the human spirit take over. If you are a caregiver, you too will learn that while the patient says they couldn't get through it without you, you will be the one who gets the biggest gift of all. You make it possible for your loved one to develop the courage and strength to get through the day."
Well done, Charity. We are forever grateful for your words of wisdom.
In closing, Holly, the daughter of another client Charity cared for, wanted to be sure she was included in this nomination.
"Charity is truly a bright and shiny gem. I can't say enough positive words about her. She is warm, caring, and genuinely interested in her patients and their families. She is a meticulous care provider in every sense of the word. She's careful, gentle and attentive to each and every detail in her patients lives. My mom, Mickey S. loved Charity. She brought sunshine into her life everyday that she worked. She shared herself with my family and we will all be eternally grateful to her for the love and the care she brought with her every day in her work with my Mom. She was with my mom, as we all were when she passed away. Charity was warm, supportive and so understanding in our time of sadness. Charity not only deserves a Caregiver of the Year award, she deserves Caregiver of the Century. We love her."
We love her too. Thank you for all of the lives you touch, Charity.
Read More Stories
|
Find In-Home Care
| Hire This Company:
Homewatch Caregivers
---
Stay Connected With Caring.com
Get news & tips via e-mail
---