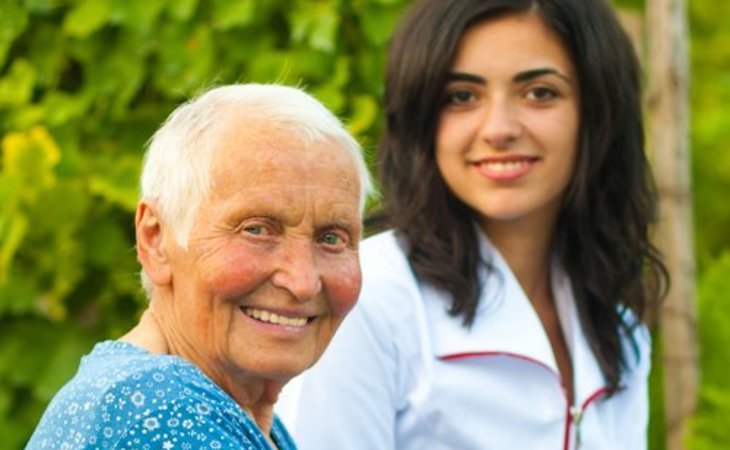 Top nearby In-Home Care Services
Reviews of NuevaCare
---
ama1
July 22, 2014
I am a current client of this provider
Nueva Care was one of the 3 that I did call and interviewed people. They seemed to have exactly what I needed. Kenya was the person I was talking to and promised she could provide the service. Within a couple of days, she found Monica, who is wonderful. She has been there ever since and she's perfect for my mom. Monica is there during the week Monday through Friday, 4 hours a day. She manages to fix them lunch, at least have plated dinner before she leaves. She'll put, for instance, a hamburger patty, asparagus and some rice or she'll put a lamb chop, some broccoli and some potatoes. Very nice balanced dinners. I'm just very pleased that she's doing what I asked. I have nothing but high regard for Nueva Care. We leave money for Monica for groceries and she leaves receipts and everything is there correct to the penny. My parents don't even know about the food money that they left there. They don't have to worry about it. The last thing is we have Monica to help bathe my mom because she's too old to be in the shower by herself. It's great.
---
Sandee2
July 18, 2014
I am a current client of this provider
Nueva Care has been taking care of my mom for five months now. They have been behind me 100% and I think they are great. We had a couple of caregivers that mom wasn't really satisfied with, but the ones that she has had now are fantastic and she dearly loves them.
---
s.benaynay
April 09, 2014
I am a current client of this provider
I was looking for a Farsi speaking caregiver and NuevaCare was able to provide us with a well trained and exsperienced caregiver who spoke Farsi and also cooked Persian food. My family and I are so greatful to the NuevaCare staff and the caregiver who helped us with our dad's condition. God Bless.
---
Julianne Y
January 10, 2014
I am a current client of this provider
We can't say enough about Nueva Care and would highly recommend it to anyone who is looking to hire a caregiver for their loved ones. We hired NuevaCare 8 months ago after my Mom had surgery, and the caregiver is still with us even after my Moms recovery, she now helps her with day to day stuff at home. The managing director met us at the hospital and personally visited my Mom at home to make sure there are no safety hazards at home. He asked my Mon a lot of questions about her needs and things she likes and dislikes to make sure to assign the right caregiver to her. My Mom is 80 years old and she lives alone and having the caregiver with her specially during the night, make me and my siblings feel much better as we know she is safe and not alone. Nuevacare has provided us with the best care for my Mom and we are truly happy with their quality of service and professionalism. We interviewed a lot of agencies and none of them came close to the level of service and care provided by Nuevacare, the managing Director Kamran is the nicest most genuine person you will ever meet and you know that he will make sure that you and your loved ones get the best care possible. He is very responsive and attentive to your needs and requests. We couldn't be happier, thank you NuevaCare!
---
EmilyAn
January 08, 2014
I interviewed this provider
My dad was hospitalized at Mills due to a really bad fall. He broke his head and right arm as a result of falling down the stairs going to our garage. The hospital gave us a list of care providers to contact. We picked Nuevacare because they actually guaranteed the quality of their caregivers. No one else had that level of service. We were very happy with the 2 caregivers they provided. We used them for about 3 weeks and we were all very pleased with the professionalism and quality of care they provided. EA.
---
josh.l
December 01, 2013
I am a current client of this provider
In June of this year my dad was hospitalized at Stanford due to a Supraventricular Tachycardia which is a rare heart condition that effects the function of the heart and without any notice causes an abrupt loss of consciousness. Since he was diagnosed with this condition the doctors recommended someone to be with him all the time. We called several home care providers and decided to go with NuevaCare. We felt that they had a very comprehensive approach to hiring and training their caregivers and although we have had to change our caregiver a few times due to scheduling conflicts, we are happy with the quality of care and the knowledge of their caregivers. My family and I are very thankful for their help.
---
Steuieg
April 23, 2013
I am a past client of this provider
Given my mothers condition, I wanted to make sure who would provide great care while I was away from her. After interviewing with nuevacare I felt at ease with them! My mom was extremely happy with the care giver that was assigned to her! Thank you
---
2putter
April 13, 2013
I am a past client of this provider
My dad had a hip replacement and we needed extra help around the house while he was recuperating from the surgery. We found Nuevacare online and they were very helpful and provided us with a lot of useful information. The caregiver they provided was excellent. My dad was very pleased with the service. We used Nuevacare for about a month. If need be I will definitely use them agin.
---
MJ Hillsborough
March 27, 2013
I am a current client of this provider
My mother fell down about a month ago and broke her pelvic bone. After being released from the hospital she needed care from someone who can be with her during day to just watch over her as she moved around so that she does not take another fall. I called a lot of places and talked to them about her situation and we chose Nuevacare because they were most professional and they were the only one who had a fall prevention program in place and a caregiver trained in that area. When they came to her house for the patient assessment they pointed out a few safety hazards that needed to be fixed to make the house safer for my Mom. We really appreciate their detail level of care and attention to the overall situation. My Mom loves the caregiver they provided her. She's been with my Mom for the past few months and she helps her with shopping, cooking and doing her laundry and above all she's become a good friend to her. The staff is friendly, professional and truly caring. Thank you Nuevacare, we don't know what we would've done without your help.
---
J and H
March 26, 2013
I am a current client of this provider
NuevaCare really helped me picked the right caregiver match. They were able to recognize what we exactly needed after my hospital stay and the caregiver they provided has been very helpful. I was extremely happy that they picked me up from the hospital after my shoulder surgery and totally took care of me when I was feeling very drowsy from effects of medications. They also picked up my meds at the Kaiser pharmacy and worked with the discharge nurse to handle my discharge process. I am very impressed by the service of the caregiver. She is very knowledgeable and always very courteous and she does our light house cleaning and has learned about the types of foods that we like. She has a very happy and pleasing personality and my husband and I enjoy our time with her. She also helps us with grocery shopping and driving to and from doctors appointments. We are very happy that we picked NuevaCare and we highly recommend them.
---
---
NuevaCare is an in-home care provider serving San Mateo, CA and the surrounding area. NuevaCare offers non-medical services in the home, such as meal preparation, housekeeping, and transportation. Contact the provider for more details on home care services and rates.
Request Info
Get full access to reviews, cost information, and amenities