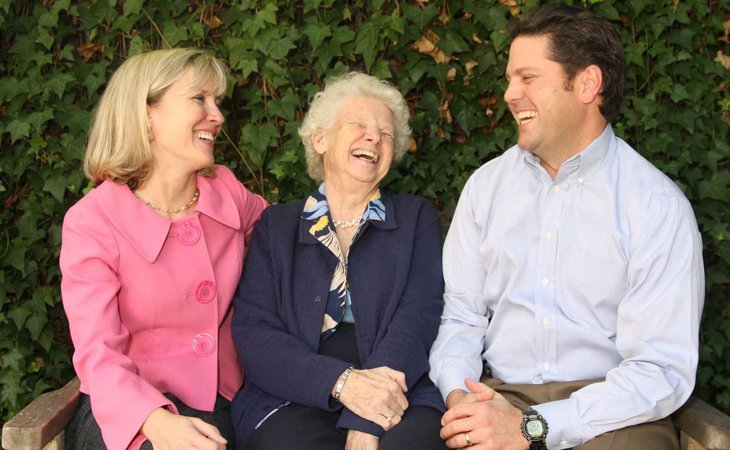 Top nearby In-Home Care Services
Reviews of Homecare California
---
EiNich
July 15, 2017
Other
I am planning to move my Mom from the East Coast to live here with me in San Jose. I contacted Homecare California to research services. Their representative, Stacey, was a tremendous resource. She pragmatically and emotionally encouraged me to prepare and consider a number of things to make the potential move successful for my Mom and my family. I will not hesitate to use them as a reliable and committed partner in my Mom's in home care.
Provider Response
Eileen, Thank you so much for your kinds words in regards to Stacey. I'm happy to hear that she was able to encourage and prepare you for a potential move for your mom. This can be a very difficult decision and it's nice to know that you can trust our guidance in caring for your mom in the future. Stacey will be a great partner when you are ready to make this move. Regards, Greg Hartwell
---
James5737
April 26, 2017
I am a current client of this provider
I contacted Homecare California in searching for an agency to provide care for my mother. I live out of state and it can be challenging looking for a care provider. I was able to get in contact with a care manager to set up an appointment to discuss what type of care is needed for my mother while I was in town. I was quite impressed how knowledgable and informative the care manager was. She sold me immediately with her soft approach and compassionate demeanor. I knew this was going to be a great fit for my mother and I. Homecare California was able to move quickly in finding a perfect match for my mother. Our care giver is attentive, caring, and passionate about what she does. I can not thank Homecare California for all of their support in this new transition in our lives. We have been with them for over 3 months and look forward to continuing our services with them.
Provider Response
Mr. James, I'm thrilled to hear this is a great fit for your mother. I know how challenging it can be when you are trying to set up care when you are living out of state. We are currently going through the same process with my father in law who lives in Louisiana. I will be sure to share this with our entire staff as they all play a part in making sure our clients are well taken care of. We take pride in knowing we are giving our families " peace of mind" and we are honored to take care of your mother. Thank you, Greg
---
stycy7
April 26, 2017
I am a past client of this provider
Homecare California provided care for my grandmother. They were very patient, kind, caring, and most importantly always there to take care of my grandmother. We started care 3 days a week and soon after noticed the difference in my grandmother. She immediately connected with her care giver and we decided to increase to 7 days a week. Homecare California took care all of our needs as a family so we can have peace of mind. We can not thank our care givers and the entire Homecare California team for the quality of care in supporting my grandmother. I would highly recommend Homecare California as they truly provide the service they committed to.
---
Marlene52
April 20, 2017
I am a current client of this provider
My mom is a current client of Homecare California and I am extremely pleased with the caregivers and they are truly caring and compassionate with mom. The caregivers cook good and help with laundry and other things around the house. They are also very well trained and have a lot of experience with Dementia care. At the beginning my mom and dad was not so receptive of having anyone come in to their home but after the lady from Homecare California came to the house and did the initial assessment, they felt relieved and so did I. Now mom is so happy to see her caregiver every morning and she truly looks forward in to doing the activities that they do together. I couldn't be more pleased when dealing with the Management and Staff at Homecare California, they take the time to make sure mom is cared for and I am well informed. I would like to thank Homecare California for helping improve the quality of life for my mom. I would recommend Homecare California to everyone!!
Provider Response
Hi Marlene, Thank you so much for your wonderful comments. We are so pleased that we are able to take care of your mom with her meals, laundry and activities. Nothings pleases us more to hear that our clients look forward in seeing their caregivers and that they are receiving quality care on a daily basis. I will be sure to pass this feedback on to your mom's caregiver. Thanks Again, Greg
---
Natis family
April 15, 2017
I am a current client of this provider
Our family needed a part time caregiver for our 99 year old father. Our first experience was with another company who could have cared less and who's service was below standard. When we changed to Homecare CA we were skeptical about the entire industry. After our first visit with the lady who does the intake for Homecare CA we were relieved and knew that Dad would be in excellent hands. It has been a few months now and we couldn't be happier. Homecare has the Skills and the Will to care for Seniors. Our caregiver (nope not gonna give her name.... she is ours!) is AWESOME!! She uses common sense, is always happy; dependable and knows how to cook! Thank you Homecare California for helping to improve the quality of life for Dad. To those who are not sure.... TRUST ME you will not go wrong with HOMECARE CALIFORNIA! From the ladies who do the intake to the Schedulers to the Caregiver to the Management... they all care and are sincere in their efforts. Thank you Homecare California for all you do! PS Dad will turn 100 in 1 month and he is doing well!!
---
rmartinez
April 01, 2017
I am a past client of this provider
Homecare California has been an excellent resource for our family. I would like to commend Client Care Manager, Rosa, for going over and beyond in helping us review all of our options in the transitional care of our beloved uncle who suffers from Alzheimer's. Rosa was compassionate and diligent in walking us through the process. Thank you Rosa and Homecare California for your attentiveness and support!
---
GT350man
March 29, 2017
I am a past client of this provider
Had a great experience with Homecare CA. The interview process was Easy. They answered all of our questions and provided a no commitment assessment of our situation. Everyone felt comfortable and they provided a great service for my mother-in-law. I would recommend them without hesitation.
---
calpolyd
March 27, 2017
I am a past client of this provider
Gave us really great service. Answered all our questions. would and have refer them to our neighbors and friends.
---
Colorado Cathy
March 23, 2017
Other
The ladies at Homecare California are the best. I suddenly found myself in a situation living out of state and caring for my very special great aunt in CA. I contacted Homecare and have had nothing but the best of all worlds. First, they had already been visiting my aunt from a previous illness so the transition was super easy. We discussed at great length the concerns I had for my aunt and what I wanted to see happen. Everything down to the smallest details have been taken care of for my aunt . She loves being in her own home and Rosa, Zoa, Belinda, Nadia and I hope I'm not forgetting anyone have been over the top in care and concern for my aunt. She loves them all also. I truly recommend them from the bottom of my heart. Thanks ladies for making this situation a little easier to deal with. Cathy Goza
---
Ken L
March 23, 2017
I am a current client of this provider
My 86 year old mother had a fall last month and needed daily help. Fortunately, Mom didn't need in-home medical care, however, she did need help around the house and outside (errands, appointments, etc.) as walking, even with her walker, was difficult. Homecare California has done an excellent job attending to my mother's needs. From the beginning, the staff has been professional, considerate and conscientious. We had an initial interview to determine how Homecare California could best help Mom. Since then, my family and I have felt comfortable that Mom, who lives alone in her house, has had the best care and attention possible. I highly recommend that anyone looking for in-home help for a loved one work with Homecare California!
---
HC!
March 22, 2017
I am a current client of this provider
My Mom is a former client of Home Care California. The caregivers they provide were excellent! The agency really worked hard at matching my mother's needs with caregivers who could take care of her (she required 24/7 care after her d/c home), The agency checked in frequently to make sure everything was going well and made changes when necessary. I would recommend Home Care California to anyone who wanted consistent, quality care for a family member who needed it. I would definitely use this company again!!
---
PeteInNorcal
March 20, 2017
I am a current client of this provider
My family has been incredibly impressed with Homecare California. As you can imagine, seeking support for a loved one is one of the most several stressful things when so much else is simultaneously going on. Greg (who owns it and also dealt with my situation) does a great job understanding the needs of his customers - asking thoughtful questions that helped get us the right caregiver "fit". They seem to do a great job recruiting talented and caring staff - as we were very impressed with those we met. A highly recommended solution for a stressful time.
---
Dave805
March 17, 2017
I am a current client of this provider
Great company. Homecare California provided care for my mother who has Alzheimer's disease. They found a great caregiver who is very patient and experienced in dementia care. I recommend them highly.
---
Curtis O
March 16, 2017
I am a current client of this provider
I had been having trouble finding a good care provider for my Dad. I ended up getting a referral from a client of mine that had used Homecare California. I met with Greg and his team and was very impressed. I have to say the care they have been providing my father for the last 2 months has been excellent. Taking care of an aging parent is very difficult but Homecare California has sure made it easier
---
client673310
October 06, 2016
I am a current client of this provider
I have in home care services from Homecare California. They are good, except for the bookkeeping. They send an invoice every week instead of once a month. However, they are very good. I don't have any complaints, and I have caregivers that I really like. I think I have three different caregivers for four hours, five days a week with my mother. They play dominoes, talk, and watch TV. They help her to the rest room and with her walker around the house. I think they are a good team of caregivers.
---
Caring106107350
May 27, 2015
I am a current client of this provider
I think that any homecare agency is only as good as the individual caregiver. The company itself is very reliable, they are obviously outstanding, and they have their bonds and insurance. That is the first criteria that I would ask. Beyond that, Homecare California has been very helpful in getting the right caregiver for my mother. She has two different ones, and if somebody can't come because they are sick or have another situation, they find another person right away. It is only as good as the caretaker, and my mother is very pleased with the two ladies that help her. If we can never find anybody she is happy with, I wouldn't be able to give this agency a very good score. It really depends on who you get. I'm very satisfied. I've never had another in-home care agency, so I couldn't compare it. So I can only compare the ladies that have come to the house. I have gotten to know them, and I like them. They seem interested and helpful in caring for my mother. One of them in particular goes out of her way to talk to my mother all the time. She fills her in public events and what is happening in the world. She really treats her like an individual as opposed to just a patient. But that is just the way this person is.
---
caffeineplease
October 21, 2014
I interviewed this provider
We contacted Homecare California to see about part-time care for my Sister-n-law's Father, having heard good things about them in our local newspaper. From our first contact with Homecare California we received a wealth of good information from the Care Manager we spoke to, she asked just the right questions to help us decide our next steps. The staff there works diligently to make the process the most caring for you and your loved one. They provide a full no-commitment assessment and were ready for all of our difficult questions. We selected them and have been very comfortable with their Care Services since. Our family is very thankful for the caring and competent in-home services provided by Homecare California. We suggest you call them too if you have similar needs for caring for a family member who needs help.
---
---
Homecare California is a family-owned, local, non-franchised and licensed home care agency serving San Mateo and Santa Clara county residents.
Two primary things matter to our organization:
1) To greatly improve the daily lives of our elderly clients - to make each day as meaningful as possible
2) To provide peace of mind to our client's loved ones in knowing their investment in care is making a positive difference
As they saying goes - "People may not remember exactly what you said, but they will remember how they made you feel." Feeling loved and cared for leads to positive mental and physical health. And we've seen in over 100,000 care visits that our caregivers make a huge impact on our clients daily lives. That is how we train our caregivers. Its not just the tasks of preparing meals, transportation, meal preparation and personal care. Its about the human connection.
Rest assured that Homecare California has been certified as a Home Care Aide Organization by the California Association of Home Care and Hospice since its founding in 2008. We were one of the first home care organizations to be licensed by the Department of Social Services. And all of our aides are fingerprinted, screened and registered by the State. Our aides are trained upon hiring and annually thereafter. We provide one-on-one training in cases that require special attention like some Alzheimer's, Parkinson's, Stroke or ALS conditions. Before we take on a client, we determine if we can make the long term commitment to their well being. Its rare that we decline working with a family but upon occasion we will refer other resources to the family if we feel we aren't the best choice for care.
So give us a call and determine for yourself if we are the right fit for your family. We're honored to have the opportunity to serve you in every way we can.
Features of Homecare California
---
Range of services
Companion Care
Personal Care Assistants
Range Of Services Extra:

Alzheimer's Care
Types of care
Transportation:

Yes

Doctor Visit Companionship
Light Housekeeping
Transfer Assistance
Dressing And Grooming
Bathing And Toileting
Exercise
Walking Wheelchair Assistance
Memory Care
Companionship
Meal Preparation
Errand And Grocery Assistance
Travel
Travel Details:

Staff Will Travel 15 To 30 Miles To Provide Care.
Screening
In Person Interviews
Reference Checks
Immunizations
Driving Record Check
Residency Confirmation
Background Checks
Sex Offender Check
Training Areas
Patient Transfers
Stress Management
Family Communication
Transition Issues
Memory Care Training
Ethics
Validation Techniques
Training Areas Extra:

Hospice
Payment options
Credit Card
Check
Payment Options Extra:

Ach
Payment details
Payroll Provided For Caregivers
Request Info
Get full access to reviews, cost information, and amenities