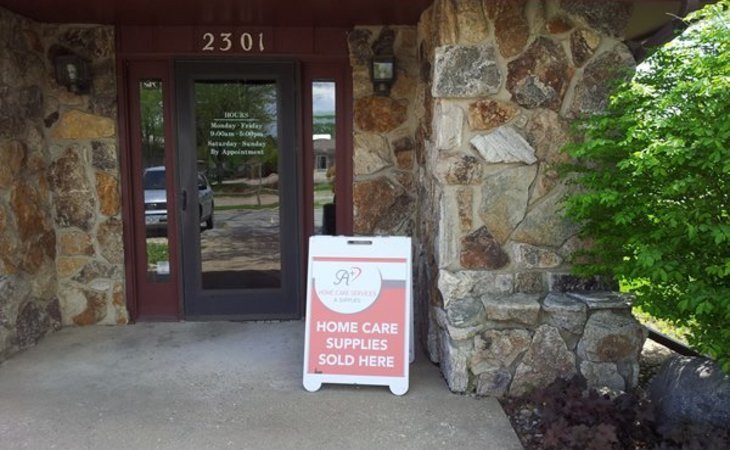 Top nearby In-Home Care Services
Reviews of A Plus Home Care
---
saab87
March 04, 2016
I am a past client of this provider
I was very disappointed with A+ home care services. My father had a stroke and as I am in my mid-20's and his next of kin and power of attorney I was in charge of taking care of his care after he left the hospital. I did not have a flexible schedule or family in the area who could get my dad to therapy. So, I enlisted the assistance of A+ Dad loved them they would take him to additional appointments if needed, almost suggested he do other things while they had him out. Which seemed fine. Throughout this entire process I only had received one bill. Keep in mind dad had therapy 3 times per week and a regular dr appt 1 time per week that he would get taken to. When the final bill came in it was outrageous. They had double charged my dad, without telling him they would, for taking him to his dr appt on the way home from therapy. I never signed a contract, I was never given a reason why they hadn't billed me weekly like we had discussed. So, I called to discuss payment options, they were less than nice. I was met with a very rude person who didn't seem to understand my problem, and that I could not pay this bill in full. I continually asked what would be acceptable stating what I could pay. They didn't seem to think that was ok. Yet, never gave me an amount. My dad was still using the service maybe 1 time every other week at this point. I discontinued services with A+ home care as they were rude and lied to my dad who at that point was 3 months out of having had a very bad stroke which affected his mental capacity. I felt very hurt by this company, and then they continued to neglect sending me a bill after services were rendered. To only send me a bill threatening debt collection. I would rather slam my foot in a door repeatedly than ever use them again. I hope others had better luck, but if you do plan to use them make sure their office stuff is in line first. The drivers were very friendly, punctual, and dad loved them. But, we would never use them again nor recommend them.
---
Caring103814050
January 04, 2015
I am a current client of this provider
A Plus Home Care is very good. They've been in business for four years. The lady that founded it has been a registered nurse for 4 years. She has 40 people that works for her. Part of them are registered nurses and part of them are caretakers. She does background checks on them and if any of them drives for her, she checks the department of transportation too. I called all the references she gave me and they all gave really good reviews. On Google, all her reviews were 5 stars. They help mom take a shower and they're teaching her to take a shower by herself because she wants to do that. I hired them for two hours twice a week, but you can set up whatever you want. They're $23 an hour if you do at least 2 hours together. The very minimum, if you just have a one-time visit is $35. They'll actually do anything that you ask them to do. She'll only let registered nurses help with the shower to make sure that they're taken care of properly. And she also has other services like cut toe nails. My mom can't cut her own toe nails so she actually comes in, gets on the floor, soak mom's feet, cuts her nails, and actually massages her feet. She also sells supplies like bath mats, and if you can't go out and shop, she'll shop for you. Whatever she shops for, she'll put it on your bill at the end of the month. It's all itemized when you get it back. She also matches her staff with the person and if one doesn't work out, she'll find one right away. She's really good.
---
Barbara74511750
August 27, 2013
I am a current client of this provider
A personal friend of mine referred A Plus Home Care to us. We're very pleased and very happy with the care my mother gets. They're very helpful. When we have special request they send qualified nurses. There's nothing I can complain about.
---
Louise12
August 09, 2013
I am a past client of this provider
When I started with Anne, my grandpa was extremely difficult. He needed nobody. Anne actually came in and worked with him. I didn't even think it was possible. I think my grandpa also knew it was time but Anne still has the technique. Anne would slowly assess how he was feeling. He was doing great and then he had a heart attack and we went to a 24/7 situation with Anne. They treated him so well that I swear he loved them. She found a perfect match for him. We were very happy with them.
---
Jim27
August 09, 2013
I am a past client of this provider
I came across A Plus on the internet. When I was talking to Anne, I wasn't really ready to go with her. However she did offer her service to help me. She's very attentive and very knowledgeable about the care for my dad. My father was in a hospital several times and we had caregivers from them around the clock. The caregivers were very attentive. They were doing a job they truly wanted to do and love.
---
Jerry11
August 08, 2013
I am a current client of this provider
I went on the internet and check providers in the area. I had 3 providers come out to the house and one of them was A Plus. Out of the 3 providers, A Plus was definitely by far the best. The caregivers they sent are exceptional. They do whatever they supposed to do and what we ask them to do. One of the things I like about them is that when they come in to the home they see things that they think that they could help us with or they could improve and they would give an option on what we could do and I like that. We had one lady that had personality conflict with my wife and A Plus corrected that right away.
---
Gini1
August 08, 2013
I am a past client of this provider
I met Anne, the owner in a senior service organization here in our town. My husband and I were in Mayo Clinic last September of 2012. We were there for 9 weeks. During that time, we needed to move out of our home because of his diagnosis which was stage 4 cancer. We needed to move out of our home into a town home. Anne and A Plus homecare were responsible to make a connection with our hospice for our return in December 2012. I asked Anne to set us up with a hospice that she would recommend and take care of those initial things for me and to go into the townhouse where we would be returning and put in all the accessible features such as high rise stools with arm attachments. She purchased bedding for the hospital bed that hospice brought in. She setup up everything for my husband to be comfortable. I'm totally satisfied with Anne and A Plus did for me.
---
Anne22
July 30, 2013
I am a current client of this provider
A Plus was recommended to us. The care is very good. We like the workers that came in. They were very prompt. They come at exactly the time on the day or night that they say they will. They always come. They're very dependable and conscientious. The owner is very attentive and make sure that we get good care. We like A Plus very much. I've been pleased with them and I would recommend them to anyone.
---
---
A Plus Home Care is an in-home care provider serving Ankeny, IA and the surrounding area. A Plus Home Care offers non-medical services in the home, such as meal preparation, housekeeping, and transportation. Contact the provider for more details on home care services and rates.
Request Info
Get full access to reviews, cost information, and amenities