Tucson Medical Center Hospice (Peppi's House)
Talk to a Family Advisor: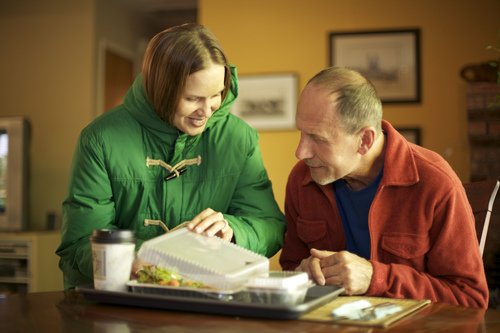 Reviews of Tucson Medical Center Hospice (Peppi's House)
---
ACAlvarez, Tucson, Az
August 10, 2017
Other
Back in January 2016, once the Physicians learned there was no more they could do for our mother, it was recommended that she go to Peppis House. At that time, it was the hardest decision my siblings and I had to make. However, once we arrived, from the time we entered the doorway, we were met with such a loving and compassionate welcome. From the care our mother received once she arrived to her departure, she was treated as an elite patient. Our family and friends were treated well and accommodated at every turn. Peppi's House made the worst time of our lives comfortable and bearable, The staff was compassionate, friendly and helpful. Not knowing how much more time we had with our mother, the staffing never limited us or made us feel uncomfortable. Although we brought food, they had accommodations that helped those who may not be prepared for that situation After the day we lost our mother, the staff and counselor Mary Kay periodically checked on me and our family and continuously offered their services even a year later. We cannot thank them enough... They were gentle with our mother, our feelings and our needs. THANK YOU!!!
---
moralsupport
January 14, 2016
I am a current client of this provider
My brother actually spent 5 days at Peppi's twice during the terminal journey of his illness. The facility is exception and the staff beyond compare. When he spent his last days there, the care was great with the nursing staff taking time to keep John clean and gentle when they had to meet. If I had to say the best point (except nursing care) was being able to keep the outside doors open for a man who spent his life outside. Of course, there was also a veteran that came by with encouragement, gifts and a small ceremony. We had outpatient care as well. They ordered all equipment, reassessed his needs a couple times a week, and had a man come bathe him (I couldn't)It has been less than a year, I hear from them often to see if I'm doing OK. The previous year, while I was living in Michigan, my sister-in-law spent 2 days. They eased her pain and helped her gently through her fears.
---
Jojojojo1234
May 09, 2015
I am a past client of this provider
This place was so wonderful. My mother was there for the last two days of her life. The nurses were so warm and they had such a calming way. Peggy was my moms nurse and she was wonderful, compassionate and very helpful. We were so comfortable there. She helped make a tough time bearable. Highly recommend it.
---
Kingman
June 12, 2014
I am a past client of this provider
My father was here for 5 days and the care was amazing! Clean, compassionate, and the staff couldn't do enough for our family to make sure we were comfortable. They also honor veterans, so they arranged a surprise ceremony to honor dad on the day before he died. What a touching tribute that capped a remarkable 5 days. I would highly recommend Peppi's for any family that wants the best.
---
Betsy P.
January 09, 2014
Other
What a beautiful place. My sister passed away Jan 4. Ppistola52@ The care she received was was both caring and her nurses and staff did everything to keep her comfortable in her final hours. Her nurses Jane and Peter kept us totally informed as to my sister's progress at all times. A+ for an outstanding experience at such a sad and helpless time for our family.
---
Warthog5
September 19, 2012
I am a current client of this provider
When my mom and I heard that "medicare" would cover the hospice, we were afraid my Grandmother was going to be placed in a Tuff Shed behind the TMC hospital. When we arrived to Peppi's House, my Mom and I were absolutely amazed at the beautiful facility, the kind staff and the courtesy from everyone including the cleaning crews. The rooms were very clean and EVERY SINGLE nurse, provider, Chaplin, and associate were nothing but kind and gracious to us. Tony Redhouse played his music for my Grandma which helped comfort her and us. The nurses were always keeping us in the loop and even suggested that we stay the night before her passing. To have a nurse (angel) suggest that, was so much appreciated. We were there to hold her hand as she took her last breath. When we asked what Peppi's House needed, they said tissues. So we are going to be shipping several boxes of tissues in Grandma Trudy's name. Thank you just doesn't seem to be enough. Our hearts and love to you all.
---
AuntieCarol
July 28, 2012
Other
We had the opportunity to have my mother in law at Peppi's House for the last week. As a family we cannot say enough about the wonderful care that she had. Unfortunately over the years we have used hospice and it is never a easy journey to lose someone you love. Peppi's House is run very well, it is very CLEAN [Joann did an outstanding job of picking up even the smallest amount of trash] and comfortable both for the loved one and the family. The peaceful environment is extremely important. The staff was always there for us and made sure our Mom was safe, secure, pain free, she was kept clean and tidy and they always kept us informed. Also, there was never any unpleasant smell in the facility, as is sometimes the case. We as a family are TRULY grateful for Peppi's House and in lieu of flowers etc. our family will be notifying family and friends to donate to Peppi's House in memory of Loretta.
---
fadtastic
January 06, 2012
I am a past client of this provider
They took wonderful care of my Mom. This is an amazing place. They helped with making her passing easy and painless.
---
Blingle
December 02, 2011
I am a past client of this provider
My mother would not make the effort to continue living and here she was able to pass with dignity and care that would have been insurmountable to manage at home. I thank all the wonderful people who touched her life before she passed and thank the counselors who gave me such support and strength.
---
Jackie C.
September 23, 2011
I am a past client of this provider
While my husband was only in Peppi's House for two days before he passed, I nor my children shall never forget the wonderful, caring individuals who took such good care of Don. The nurses are NOT nurses, they are ANGELS. I cannot say enough about them. Their treatment of the sick is done with such love and dignity. One nurse especially stands out for us. She is an evening "angel" and her first name is Peggy. She not only took loving care of Don but his family as well. What a wonderful place. Thank you everyone.
---
lus728
February 20, 2010
Wonderful
This is our third experience with hospice services at TMC, although the first in the new building. There are not enough words to describe how caring, supportive, and understanding almost everyone is (the only exception: one member of the housekeeping staff could use a bit more training in hospice philosophy -- it really does not matter if a chair in a patio outside an empty room gets moved!). The freedom to allow pets is priceless. Without exception, staff members walk the fine line between being attentive, and providing personal "space." They are wonderful. [AND...THE PONY IS ABSOLUTELY TERRIFIC (as are his humans!!!). WHAT AN INCREDIBLE PERSONAL TOUCH.] Thank you for being there, for being who you are, and for doing what you do.
---
About Tucson Medical Center Hospice (Peppi's House)
---
Tucson Medical Center Hospice (Peppi's House) is a hospice care provider serving Tucson, AZ and the surrounding area. Tucson Medical Center Hospice (Peppi's House) offers care and emotional, social, and spiritual support for patients and their families in end-of-life scenarios. Contact the provider for more details on services and rates.
Request Info
Get full access to reviews, cost information, and amenities